Black Cabin by Atelier Schwimmer Boasts a Playful Twist
Montreal studio Atelier Schwimmer has created a modern Black cabin for two brothers, who are outdoor enthusiasts and wanted a playful adventurous element within their abode. As a result, this lace-facing house in a small town of Lac-Brome in Quebec, Canada boasts a recreational quirky indoors.
The modern abode makes the most out of its surroundings by bringing in the outdoor views through giant windows, overlooking the lake outside the house. The home has three entrances – the one entrance opens up to a stunning triple-height atrium living area.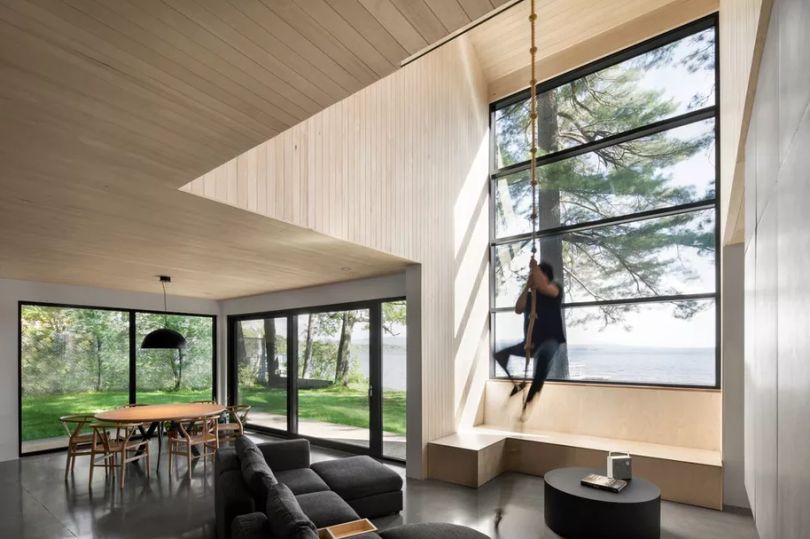 In this living area, you'll find a long knotted rope hanging from the ceiling for climbing up – just like a fun outdoor activity, such as rock climbing. This dangling rope falls between a sitting area and a concrete fireplace, indicating that this living space is intended to offer more than just a sitting space.
This cabin is built around an atrium, which opens to outdoor areas. This interconnecting design is formed around the fireplace set alongside the triple-height area, which makes everything visible from different areas inside the cabin. Therefore, it generates a great canyon for welcoming the guests. The canyon glazed walls provide clear views of the surrounding landscapes from both sides.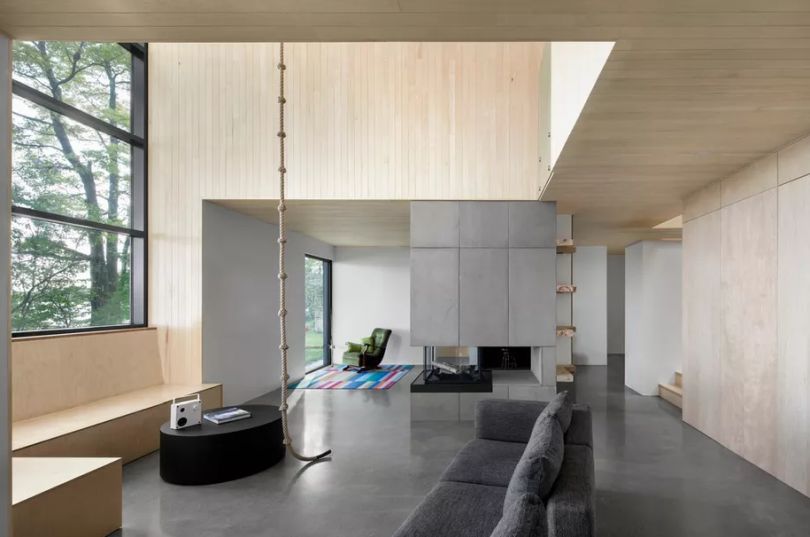 Traversing these canyon walls on the second floor, there is a bridge to form a common space. Furthermore, four bedrooms also open to this bridge. The flooring is made of slab concrete with a dark finish that contrasts against the pale wood, which is clad on the walls and used on inbuilt furniture. The overall minimalist aesthetics of the living space complement the exterior, where dark charred larch wood is installed to creating subtle contrast against the oiled larch wood.
Exterior cladding has been made using two methods. The charred planks are facing the elements and natural oil helps in protecting the less exposed planks. The striking play of light and dark elements further enhance the exquisite appeal of the dwelling. It is indeed a great cabin for two adventurous brothers, who wanted to incorporate fun activity into their living space.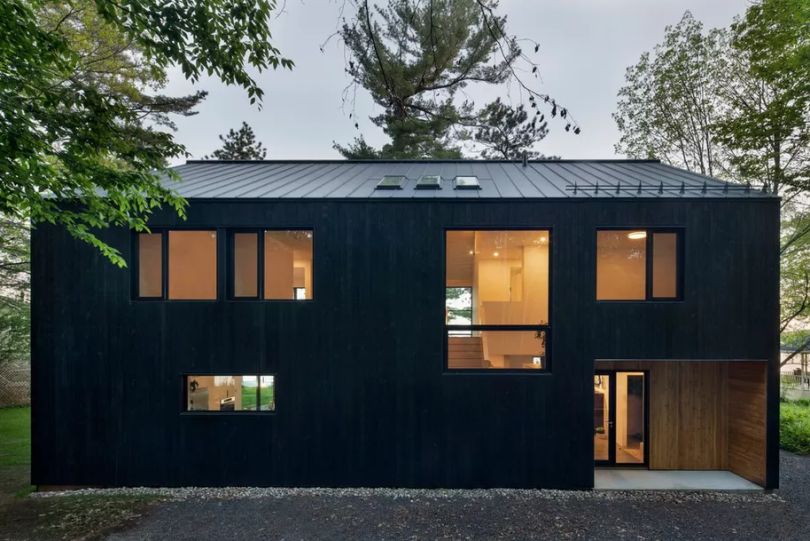 Via: Curbed