10 Brick Wallpaper Ideas To Dress Up Different Areas in Your House
The brick wallpaper ideas are getting bigger than ever before. It is because many homeowners are inclining to add industrial, rugged, rustic, and modern interiors. And, a brick wallpaper is one perfect decor accessory to achieve that. For many years, we are seeing the painted walls around us. It's because most of us think that painted walls last longer than wallpapers.
But today, wallpapers are getting created with advanced technology. So, these are also very long-lasting and more durable than good-quality wall paint. With endless possibilities than ever, from real brick wallpaper design to minimalist white brick textured design, there is a wallpaper to suit every interior decor.
Brick Wallpaper Designs For Different Areas of Your Home
These days many brands are developing both wallpapers and paints to help you create perfectly coordinated interior decor combinations. You can stick to minimalist design or go bold when it comes to finding the brick wallpaper design ideas for your living space.
If you are new to pasting or using wallpaper, you can get it installed by someone who knows how to do it. Or choose easy-to-use wallpapers that are easy to put up yourself. You can start with wallpaper pasting from a small area, like chimney breast, and then take a whole wall or room to put up wallpaper.
You can also find creative inspiration on how to transform your living spaces using Wallpics Photo.
For those who want to add an industrial touch of rustic charm to your interior, choosing the right brick wallpaper is important. Given below are the 10 interesting ways to add brick wallpaper into different areas of your house – from the living room to the staircase wall.
Have a look!
Brick Wallpaper Designs For Living Room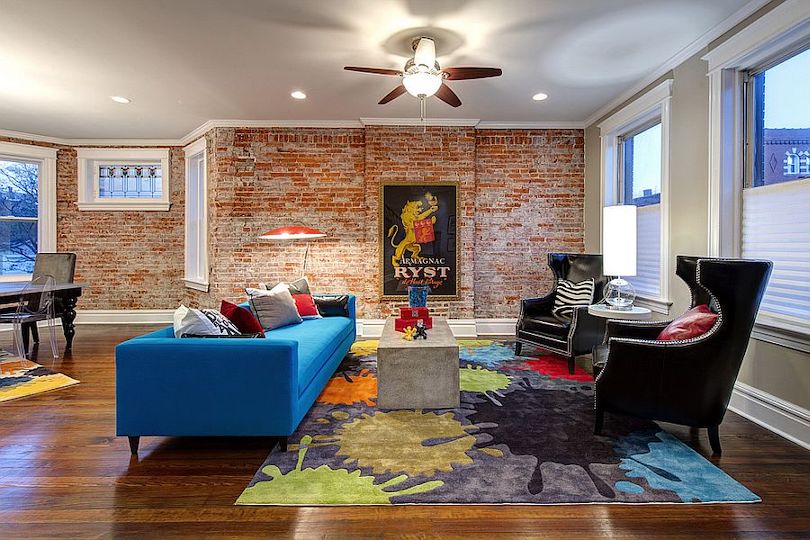 Using faux brick wallpaper, one can create a perfect visual appeal of the exposed and rugged bricks. So, you don't need to consider putting up the real brickwork. The best thing about the brick wallpaper is that it's very easy to install or remove. Moreover, homeowners can get it customized a per their preference, as you can with the real brickwork. For example, a white brick wallpaper is one exquisite and aesthetic way to add minimalism yet interesting texture to your living room wall.
You can even use a living room wallpaper for adding character to your home decor, such as the rustic country-style setting. It is best to use a striking design for improving the look of your living room. So, choose a wallpaper design that goes around the existing decor. This way, you won't have to change the whole look of your living room.
Brick Wallpaper Bedroom Ideas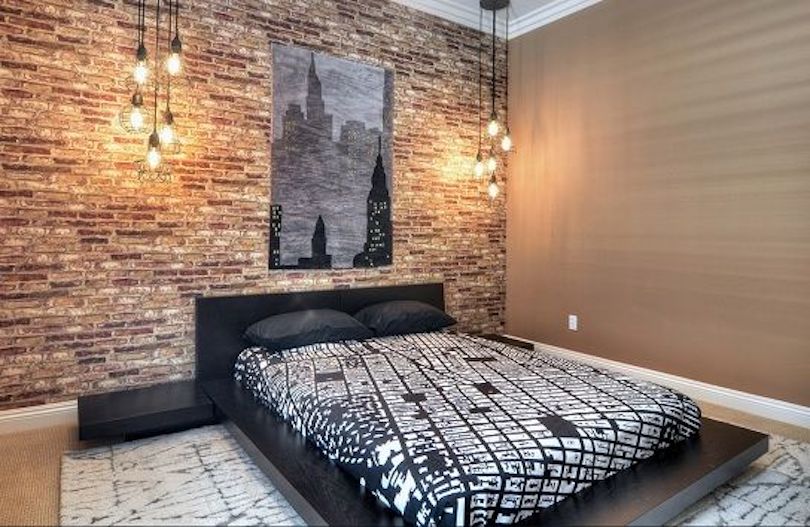 Want to add interest to your walls but without a bold pattern? If so, you can look for the right brick wallpaper bedroom ideas. It is because the distressed look of the brick wallpaper will ooze unique interest and character to the overall interior. But this brick-wall design is quite subtle. So, it won't overpower the interior decor scheme with too much pattern.
If you look at the shades of the brick wallpaper shown above, you can see that design offers a subtle warmth to the interior while giving it a soft yet interesting touch.
Brick Wallpaper Ideas For Dining Room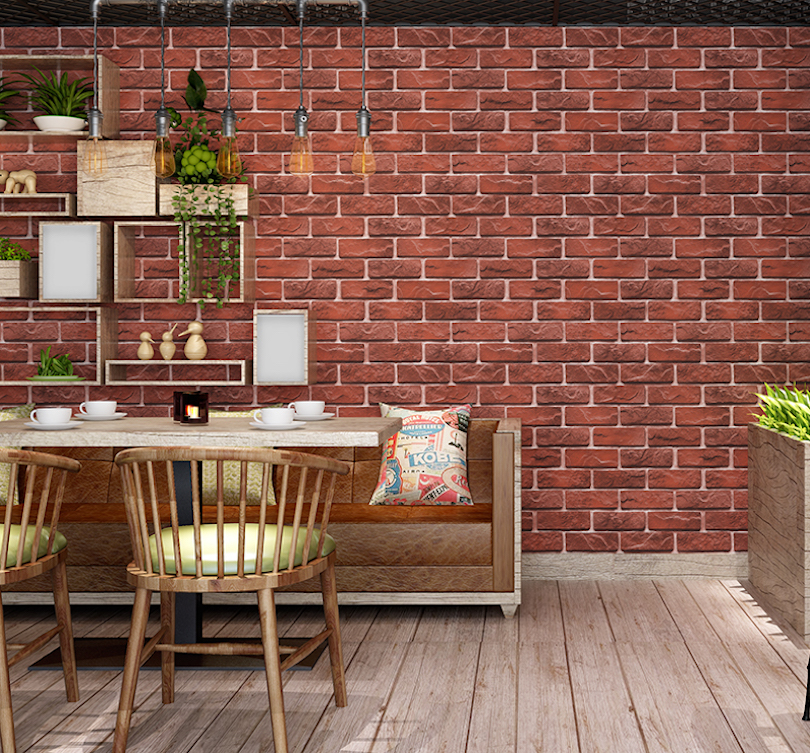 For enhancing the overall look of your dining room, you can choose brick wallpaper designs for only one wall. You can select the most dominant wall in the dining area and turn it into a feature wall with the right brick wallpaper design.
You can even add a floating shelf on the wall with wallpaper or pendant lamps over the dining table. These design elements are perfect to add character to the given space without overpowering it.
When you create a feature wall, it helps you to anchor the rest of the decor and also directs your eyes towards the wallpaper.
Brick Wallpaper Designs For Entryway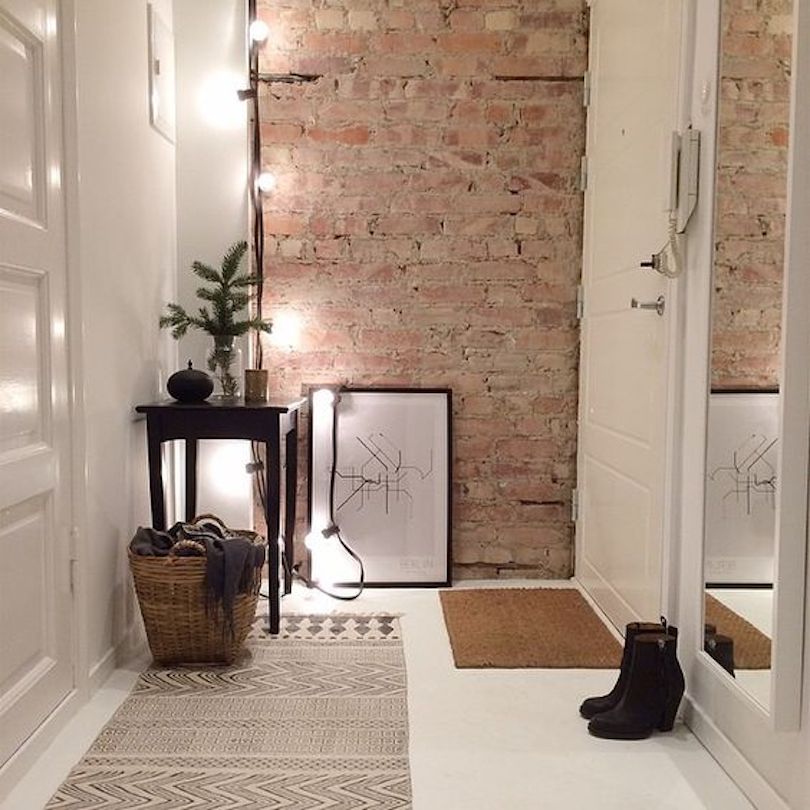 Since minimalist style home interiors are popular these days among urban homeowners, it's best to look for a subtle wallpaper design for your entryway. For instance, you can consider the pictured brick wallpaper design, as it has a subtle hue. But it is not over-the-top. So, it is perfect to add life into the accent wall while keeping the rest of the entryway minimal.
You can also add some natural elements, like a planter, at the entryway for adding dimension to the minimal area. If you want complete minimalism, you can go for all-while brick wallpaper. But do add a patterned rug or natural plant in the given space for some interest.
At times, it may become difficult to add an authentic brick design into a given space. When in confusion, pick the same style as shown in the image above. Also, add a freestanding or a wall mirror to the given space. This entire look shouts minimalism at its best. We're sure, you'd impress the visitors with this design scheme as soon as they step into your house.
White Brick Wall Design For Study Room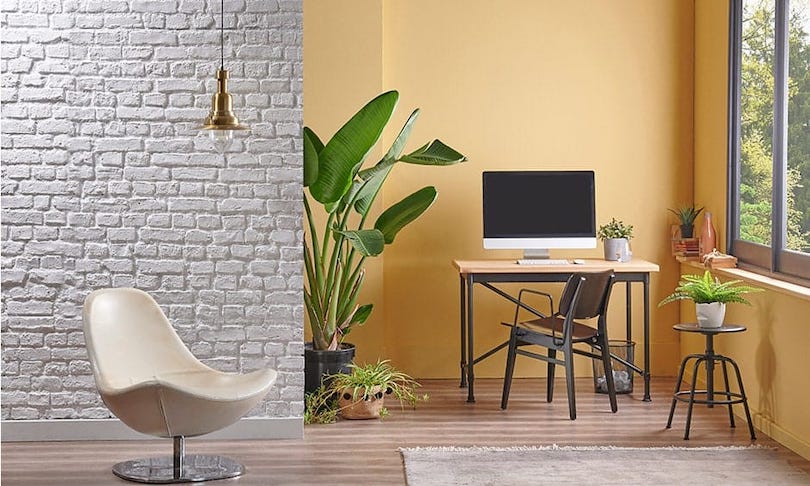 While red brick wallpapers have their own charm, there is something special about the white brick wallpaper designs. You can consider including a white brick wallpaper in your study room or study corner near a window. Just keep the rest of the walls in some subtle color, like blue, yellow, or pastel shades. And, add one white brick wallpaper accent wall to the given space.
We agree that the white brick wallpaper is not earthy and raw like the red bricks, it still adds elegant texture to the walls. Plus, it works amazingly as a featured wall behind your study desk.
Brick Wallpaper Ideas For Bathroom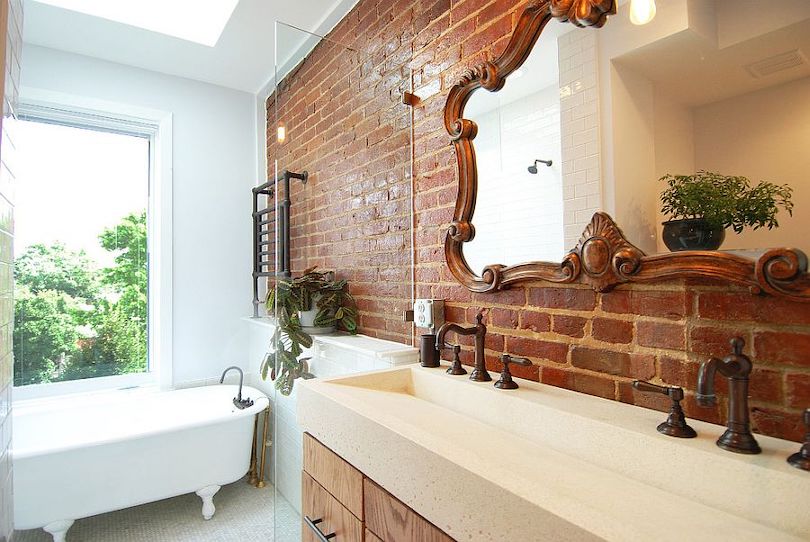 Brick wallpaper ideas for the bathroom can also add distinct warmness to the bathroom interior. If you wish to add some aesthetic appeal to your bathroom, you can fit the walls with a white or red brick wallpaper design of your choice. The rust or red-colored brick wallpapers appear dark, while the white ones are perfect to add a color palette.
If you have a small bathroom space, you can consider adding white brick wallpaper. And, add red brick wallpaper into a spacious bathroom interior. However, always remember to add waterproof wallpaper to your bathroom area.
Wallpaper Design For Balcony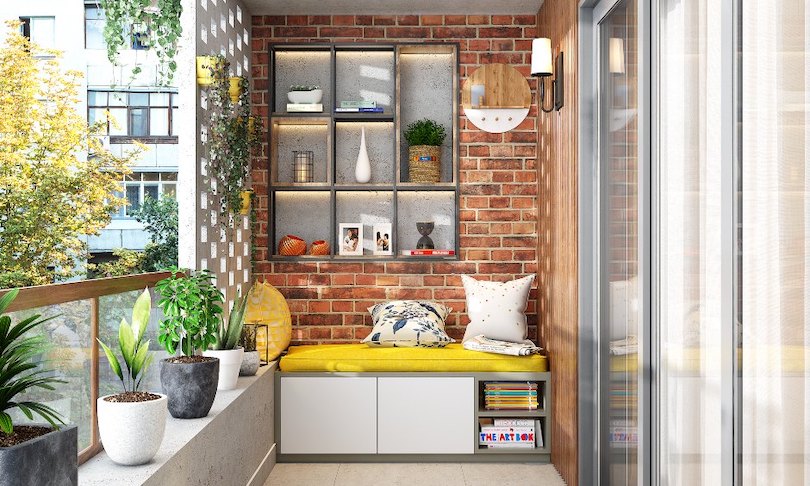 You can even add the rugged and raw brick wallpaper to your balcony area. This will add an attractive and unique rustic vibe to this open area of your house. After all, a red brick wallpaper design is a perfect decorative element to spruce up the look of any interior or exterior space, including your balcony.
If you feel your balcony is missing some element of interest due to those plain, dull walls, consider adding brick wallpaper to it. You can use the wallpaper all across the balcony or just to create an accent wall in the given area. Either way, it will an attractive feature to this particular area of your home.
Wallpaper Backsplash Designs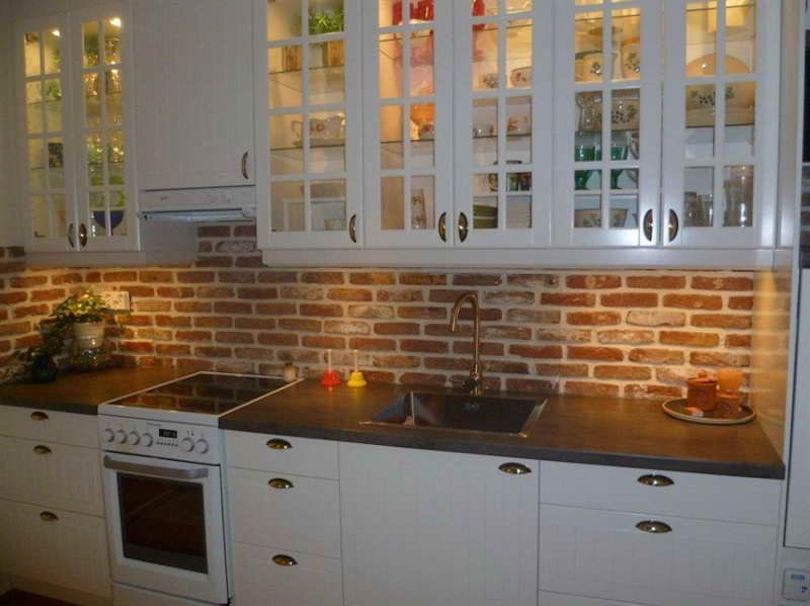 Also, go a little organic and rustic in your kitchen space with the addition of a brick wallpaper backsplash design. When you add a brick backsplash design to your cooking space, it will make your cooking time more interesting for sure. Why? Well, you don't have to stare at those boring plain walls while preparing meals. The brick wallpaper also makes the whole interior more interesting and stylish to look at.
While there are various brick wallpaper designs to choose from, we recommend choosing the authentic brick backsplash design due to its exquisite appearance. Just give it a try and see how it transforms your entire kitchen interior.
Brick Wallpaper Ideas For Pantry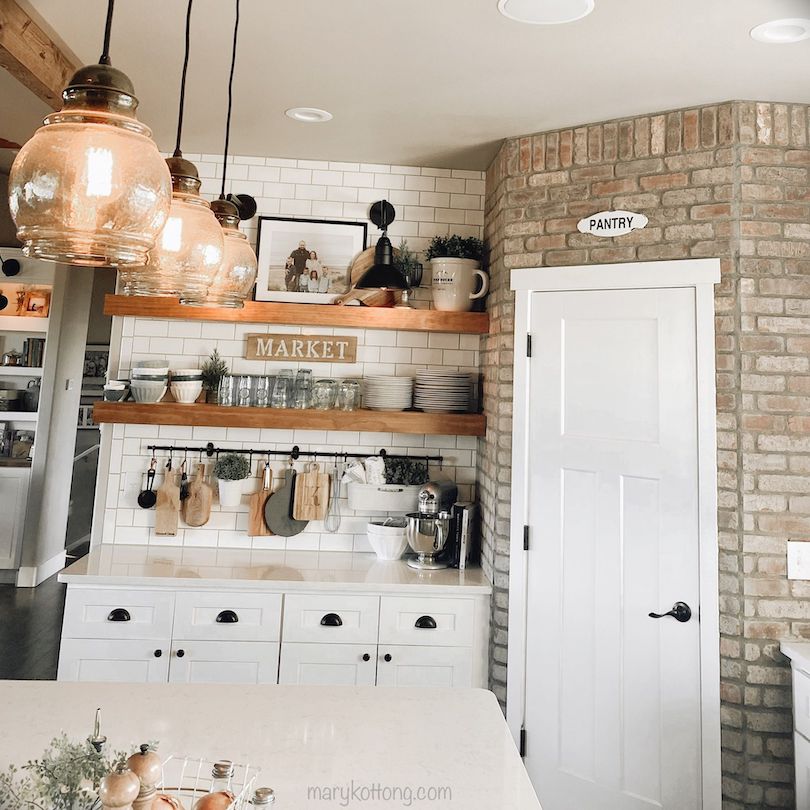 A brick wallpaper made by professionals is one aesthetic and attractive option to enhance the visual appeal of an interior. A pantry is one of the most neglected spaces in your kitchen or near your kitchen. But you can consider making it visually interesting without putting in much effort.
With brick wallpaper on the wall of your pantry area, you can draw more attention to this overlooked space in your house. You can choose a red brick wallpaper or a white brick wallpaper for aesthetics.
Brick Wallpaper Designs For Staircase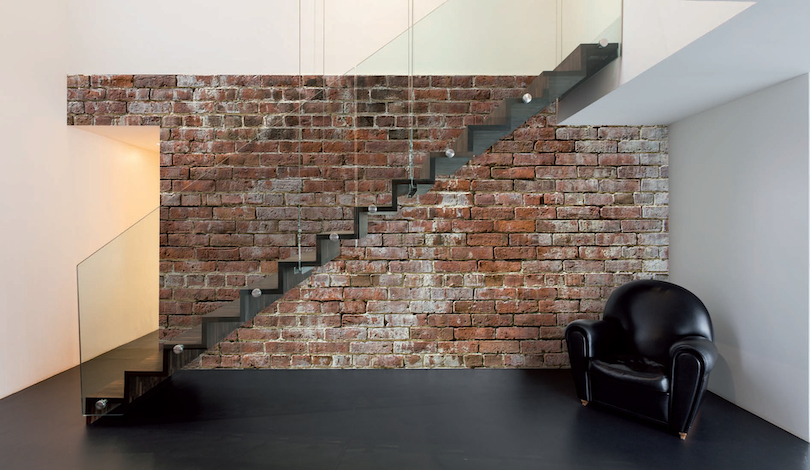 Give the staircase an edge with a trendy wallpaper design. You can opt for red or white wallpaper that goes well with the staircase at your home. When you think of wallpaper, you often think about exciting colors and various patterns. But brick wallpaper design is one interesting way to add rustic charm into your home interior.
But how to put wallpaper around the wall of your staircase depends on the staircase design and style. When you add wallpaper to stair risers, you need to consider understated, subtle flair. It is because minimalist style is the best for this area of your interior.
Want to add some earthy and rustic touch to your home with brick wallpaper designs? Choose the given ways to inculcate some punch of visual interest into your dwelling.