Amazing Staircase Designs With Steel or Wrought Iron Railings
Even the extremely well-crafted and grandeur staircase demands a practical railing to keep you protected and secure. When remodeling your home or building a new home, stair railings may be an afterthought for many homeowners. You may feel that you only need railings to fulfill your local building code requirements.
However, staircase railings are beyond just safety measures. While functionality is a good thing to consider when choosing a railing, giving it some more thought can turn your staircase into a striking focal point. Your creative staircase railing will add an interesting flair to your home interior.
Moreover, creative stair railing ideas are for every type of home – from conventional wooden banisters to modern and minimalist wire cables. Have a look at the following 15 amazing staircase stainless steel or wrought iron railing designs, as well as stunning ways to incorporate them into your dream home.
1. Industrial Stairs with Metal Railing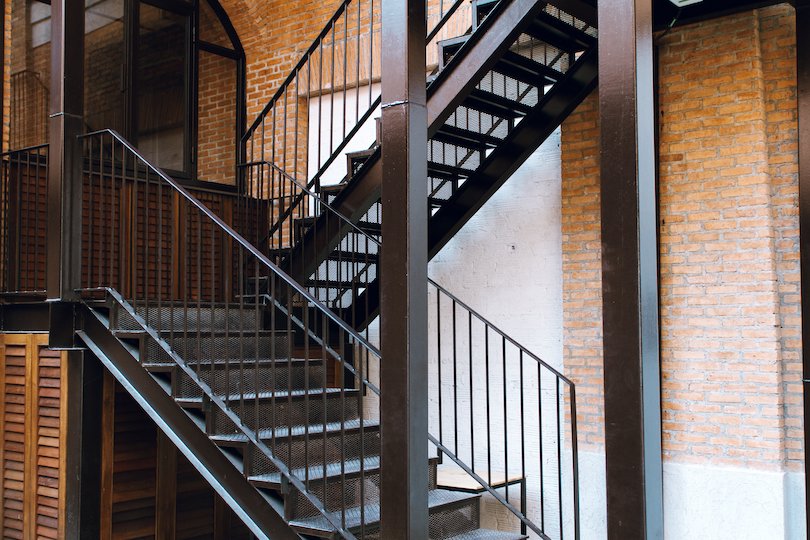 Railings are a wonderful feature for stairs, decks, and other places for proper support when ascending or descending safely. While initially designed for safety, they are now available in so many stylish designs – from simple and rustic to refined and elaborate.
If you consider this ornamental wrought iron railing (shown in the picture) for your home, it can spruce up your minimalist interior with its picturesque pattern with straight vertical railings. If you want to create a similar look in your house, you need to ask your staircase designer to look for this pattern for inspiration. Furthermore, there needs to a perfect balance with vertical lines for creating a unique sense of order. Plus, make sure there's no visual clutter.
2. Elegant Staircase with White Steel Railing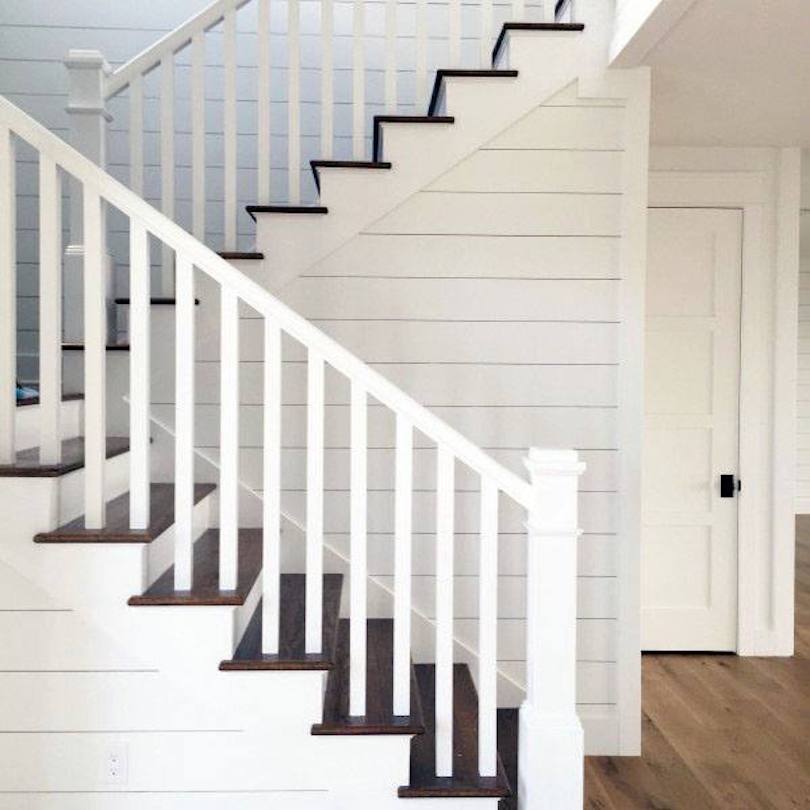 Another interesting yet minimalist style of staircase railing is given in this picture. This simple white steel railing is made from welded steel and further powder-coated in a similar color that's used for the trims all around the home. This particular geometric staircase railing can give an instant striking touch to the architectural details of your house without looking overboard.
You can either choose the same design or ask your staircase designer to show you more similar designs to add minimalist yet striking visual appeal to your house.
3. Black Stair Railing For Modern Flair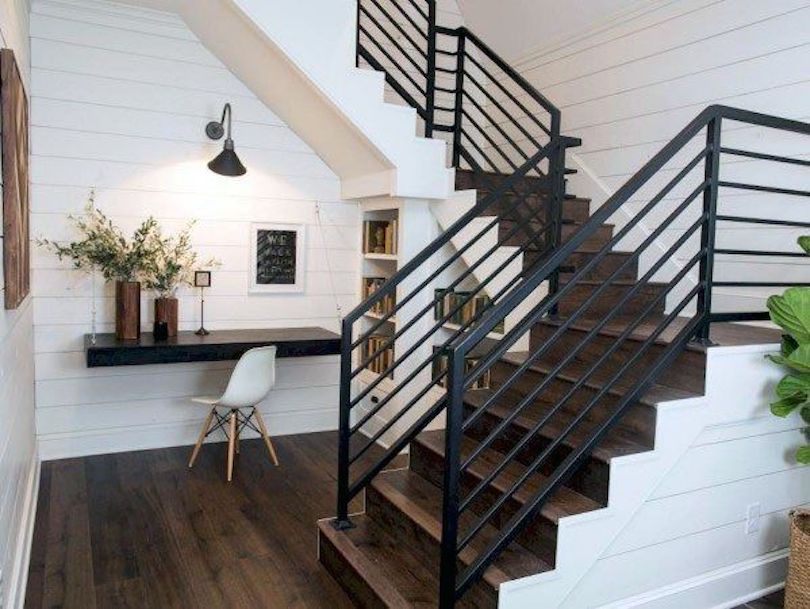 If you have white walls in your home, you can consider adding black stair railings into the interior to crisp clean lines and angles. If you are looking for unusual but creative design exuding contemporary style with a classic touch, this particular design is a great choice. This particular black wrought iron staircase includes straight and sharp lines. Plus, the black paint transforms the railing into a modern art statement.
For recreating this particular design in your home, you can ask your steel staircase designer to create a railing with a clean appearance. Choose a classic black and white color scheme. If you don't want to be that simple, you can add some unusual details, like loops, for creating a quirky yet elegant vibe.
4. Modern Foyer With Curved Staircase And Iron Railings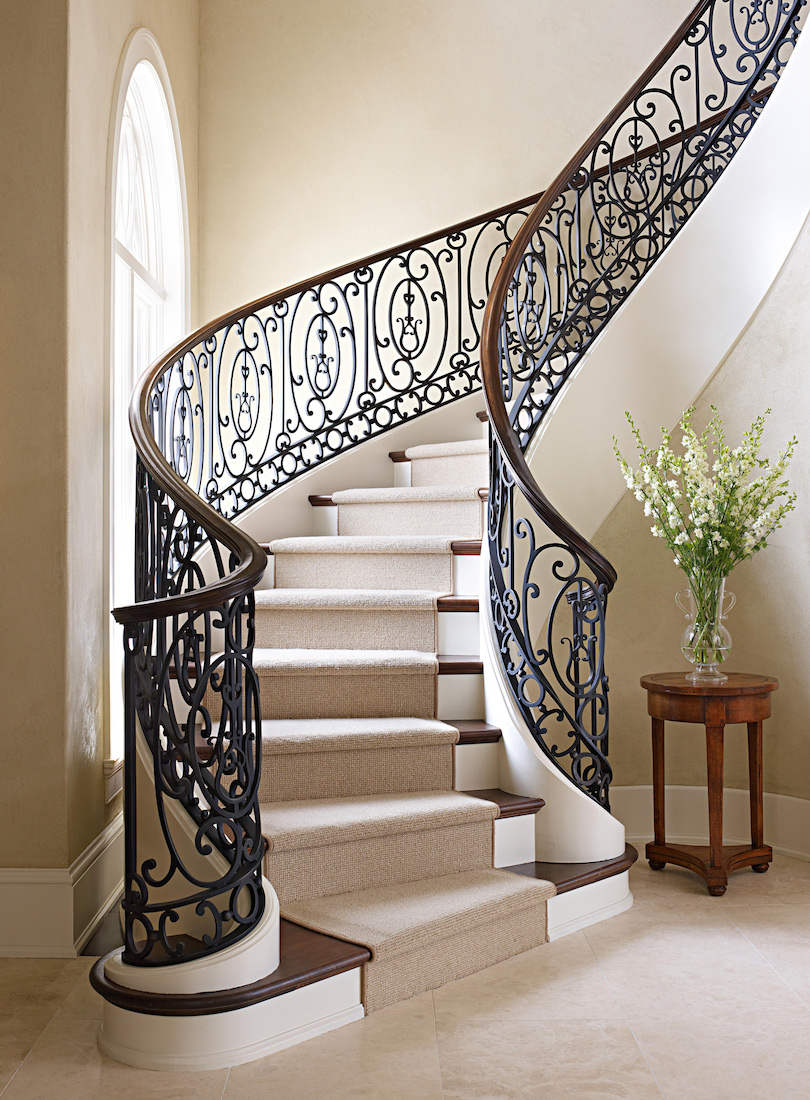 This dramatic foyer is perfect for welcoming visitors with a stunning contemporary vibe of a curved staircase. This iron railing is a great addition to a living room with one grand or two to three more chandeliers that add both light and style to the interior. An oversized chandelier with this foyer with flair will look to maintain the formal room feel in the given space.
This Victorian-style classic staircase railing will look good on any carpeted floor or beautiful wooden flooring with walnut and dark oak stain. You may even choose to add the grain of white oak to let these stair railings shine through while creating a cohesive space.
Plus, the intricate motifs and other details create a simple yet timeless visual appeal. For creating this particular staircase look in your home, you need to maintain a balance between the intricate details and the surroundings. This way you can ensure that there's no visual clutter. Also, ensure that the details are stylized and clean.
5. Open Modern Staircase With Black Metal Baluster and Wire Railing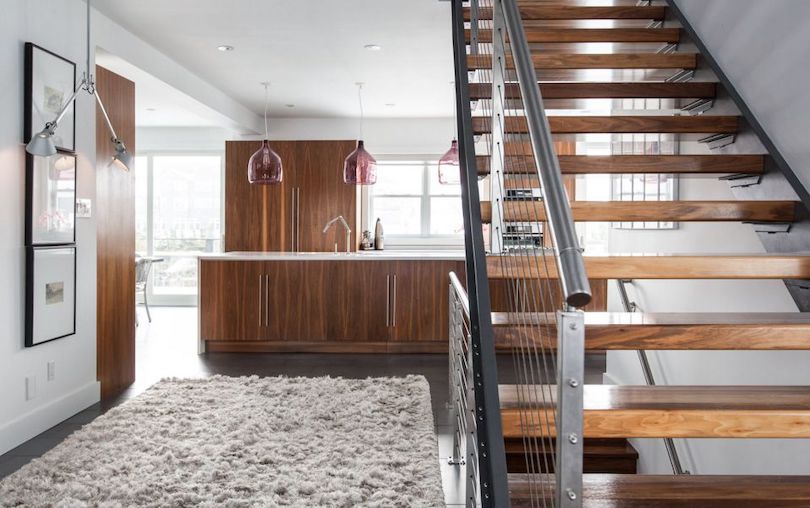 This particular steel railing running along with wood steps is perfect to create a sleek and simple look in your living room. The stainless steel railing connected to wooden treads is perfectly forming an open, modern design.
This particular staircase railing style is ideal for an ultra-contemporary home with minimalist flair. It will look amazing when the living room is flooded with natural light coming through huge glass windows and sliding glass doors.
6. Southwestern Entryway with Steel or Wrought Iron Railing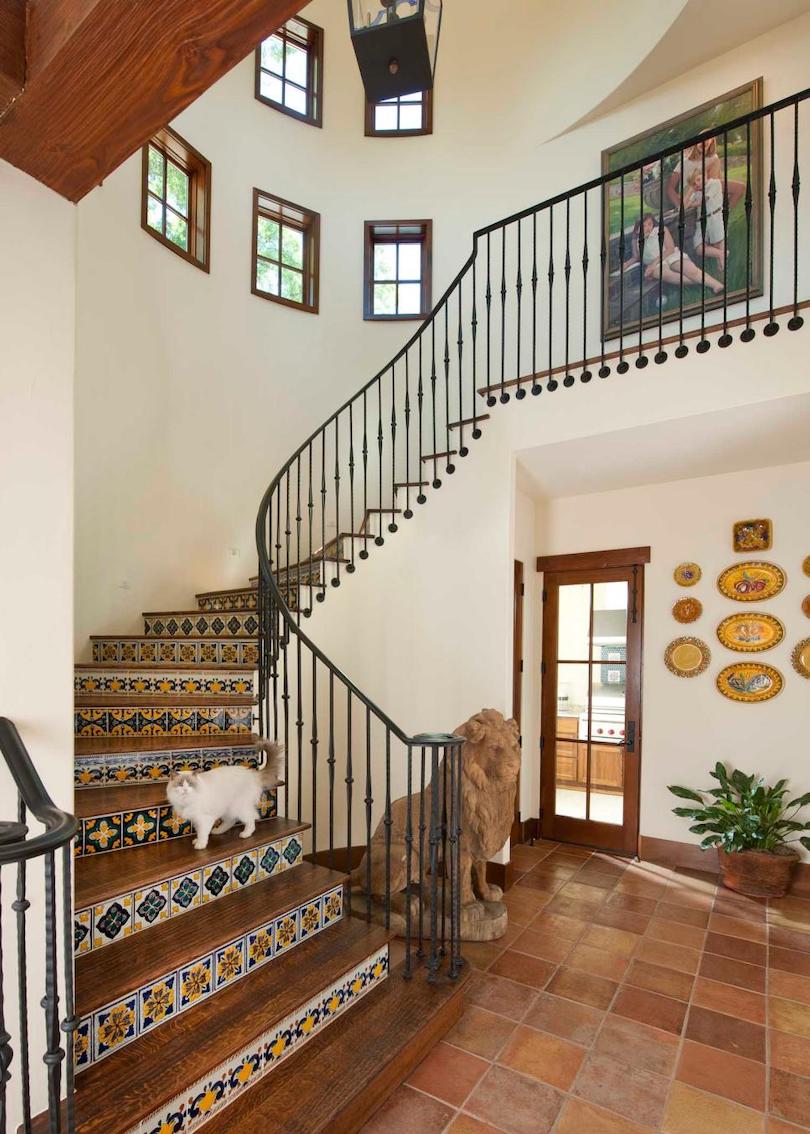 This particular staircase railing style is ideal for a home with a Southwestern entryway, as shown in the picture above. With Mexican-inspired tiles on the staircase treads, this black railing gives a contrasting touch to the interior against the warm woods. The terracotta floor tiles add more style underneath.
Furthermore, the wrought iron or steel railings in black perfectly complete the Spanish-inspired look. However, you need to make sure that the railing design is stylish yet simple with so many details going on the staircase. That's how a perfect balance of style and functionality will be formed without making the space appear overwhelming.
7. Dramatic Entryway With Custom-Designed Iron Stair Railing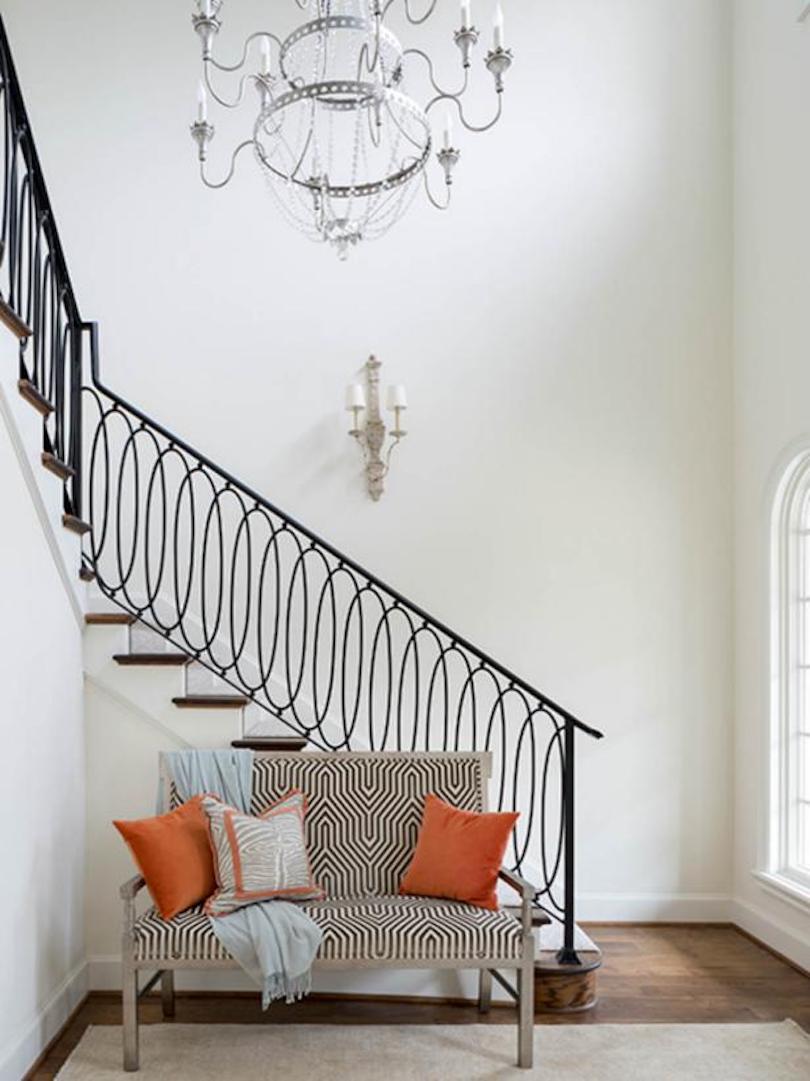 Another interesting way to set a dramatic and welcoming tone for your entryway is by adding such stylish custom-designed iron stair railing on the staircase. Along with a statement chandelier, this particular railing will look absolutely stunning. Furthermore, the staircase will feature flowing spirals with a seamless and smooth railing that runs down straight.
To recreate this look, you need to draw a mockup featuring these loosely tangled designs. Also create a straight, smooth outer railing that further ends in a straight line. This look will complement the timber steps and off-white or white-walled interior.
8. Black and White Stairs and Foyer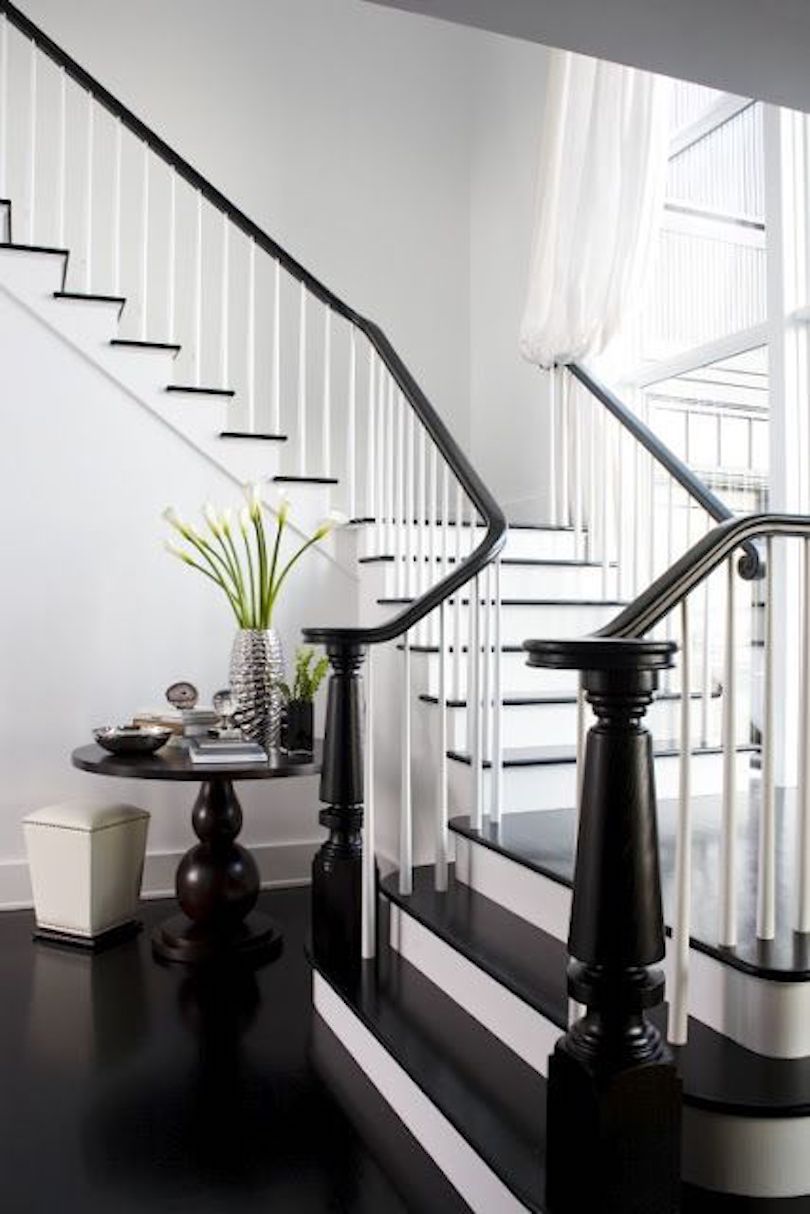 These simple black and white stairs and foyer finished in a black powder coat are great for including in a living room with massive space. This way it will add a dramatic touch to the interior. This railing style looks more impactful in black and white tones.
To recreate this look, you need to have a broad staircase area. Plus, add a similar color scheme to have a more stunning visual impact.
9. Wooden Stairs With Wire and Metal Railing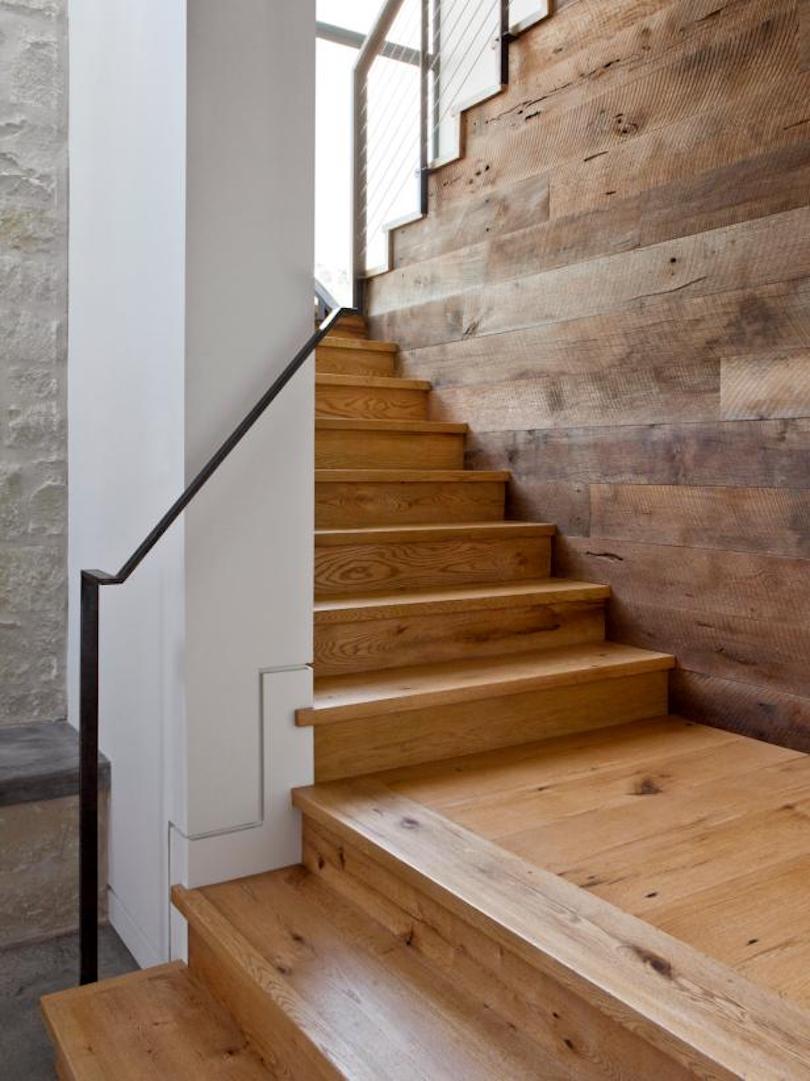 Another interesting way to have easy access to the second floor with an interesting visual impact is to add wire and metal railing to your simple wooden stairs. A thin metal railing provides support along the way but without drawing attention from your elegant wooden siding.
This particular style is more likely to look great in a simple contemporary living space. Plus, minimalist neutral colored walls will have more impact on the overall look of the interior.
10. Entryway With Plush Chaise and Intricate Railing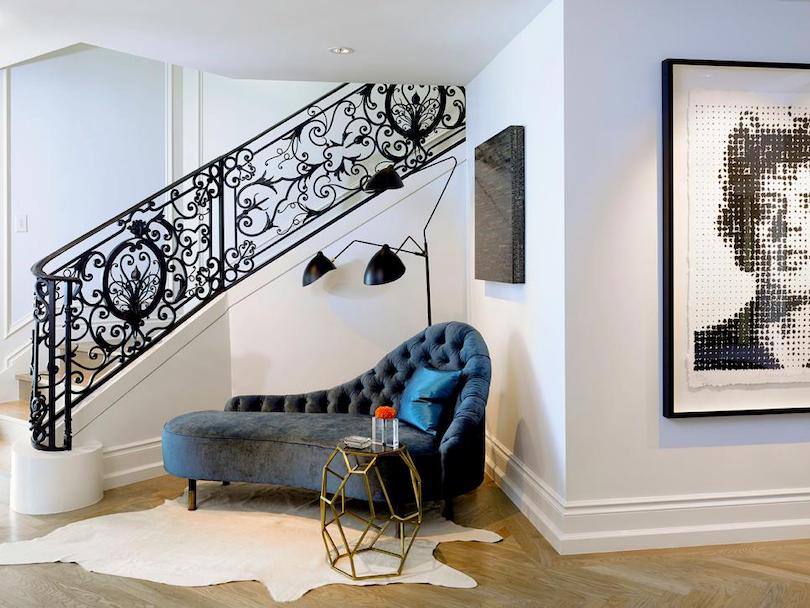 Another sophisticated way to create a striking interior is to have a minimalist entryway with a plush chaise and intricate railing. By creating such a cozy corner in your living room, you can easily create an elegant and more welcoming space for visitors.
To achieve this lavish look, ask your staircase designer to design motifs and a tiny spiral at the end while creating amazing visual interest. Also, install the black iron railing onto the white oak base with white accents for an eye-catching design.
11. Grand Foyer with Marble Staircase & Ornate Wrought Iron Railings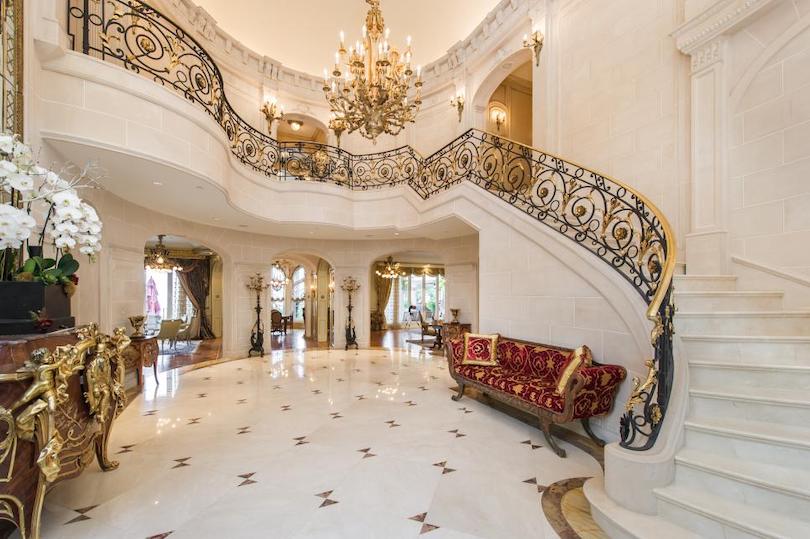 Even the entrance to the home is grand and elegant. The two-story foyer boasts marble flooring, a marble staircase, an ornate wrought iron railing, and a fabulous chandelier that echoes the gold accents found in the handrails. A red and gold upholstered bench adds a luxurious finishing touch to the design.
The right staircase railing design for your home will reflect its architecture. With its flourishes of the Baroque style, this unique staircase evokes French grandeur with a contemporary edge. The curves of the wrought iron suggest opulence, adding unconventionality and elegance to a neutral interior. To achieve this look, you can draw inspiration from French and Parisian staircases, incorporating simple leaves, flower bulbs, etc. into the design. Meanwhile, pay attention to visual balance and symmetry.
12. Decorative Foyer Wrought Iron Railings in Italianate Style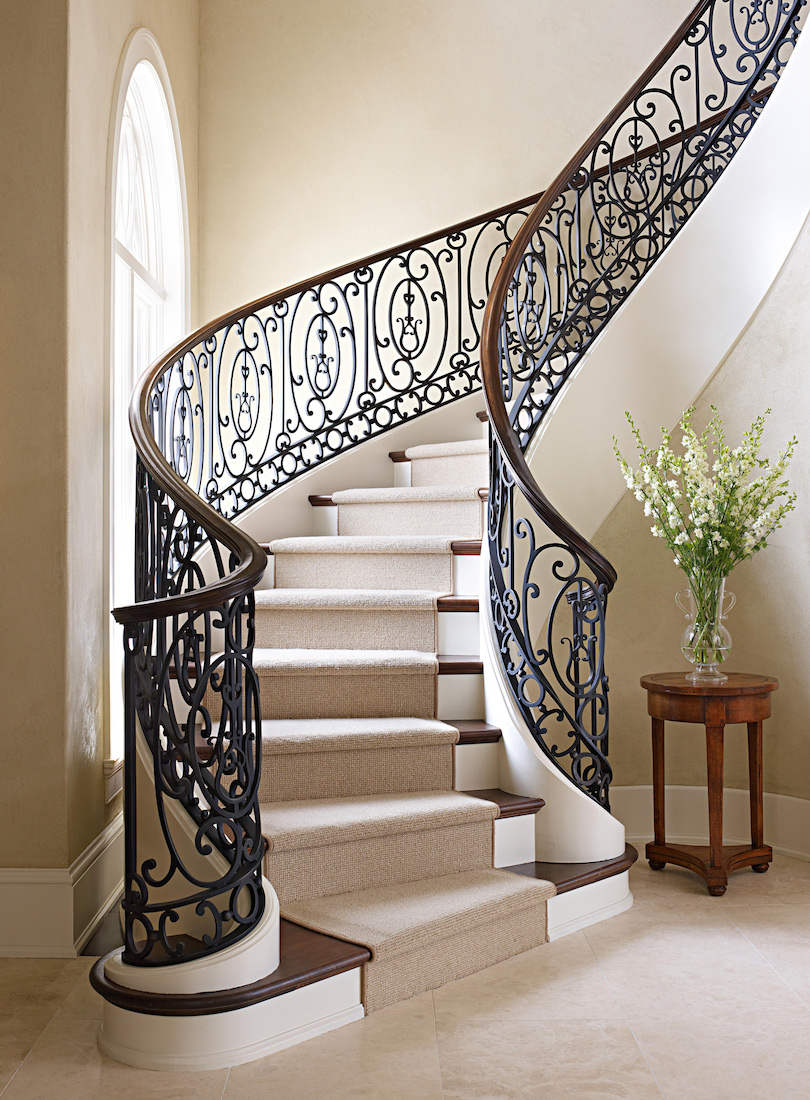 This home features a grand two-story foyer that makes a dramatic statement against white moldings and neutral walls. An ornate wrought iron railing fits perfectly with the Italianate-style interior. This delicately subtle design appears artfully sculpted to mimicking delicate stalks and wines. If the wrought iron is weather-resistant, this same style can also be opted for the outdoor staircase to complement your garden area.
For achieving this look, you need to form smooth, thin organic spirals and lines in-between the railings. Also, include gentle twists while considering native flora for the cue.
13. Modern-Eclectic Foyer in Contemporary Reno Home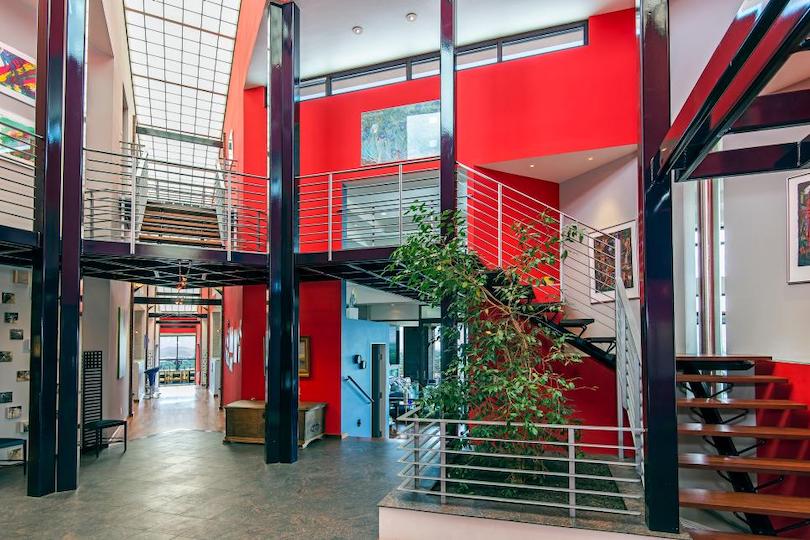 This high foyer is built around glossy metal beams and further topped with gridwork skylight to flood the area with daylight. The modern stainless steel railing lines the stairway while enclosing the upstairs balcony. Meanwhile, the bright vermillion walls provide a strong presence to the given space. Plus, a live tree in the middle of the living space perfectly brings a touch of nature indoors.
This simple yet noteworthy staircase boasts tight twists in its curved long arches and black circles. The paneled posts are stained to blend with the matching handrails and staircase trim. This way the entire stairway adds a regal touch to the interior.
To achieve this particular look, you need to create a series of metal panels featuring streamlined vertical lines. For creating a lavish appearance, you can combine three types of materials: stainless steel, marble, and timber. Plus, the contrasting rectangular and rounded shapes in both the newel posts and the steel design are perfect to uplift any interior space.
14. Wrought Iron Railings with Matching Glass Door Panels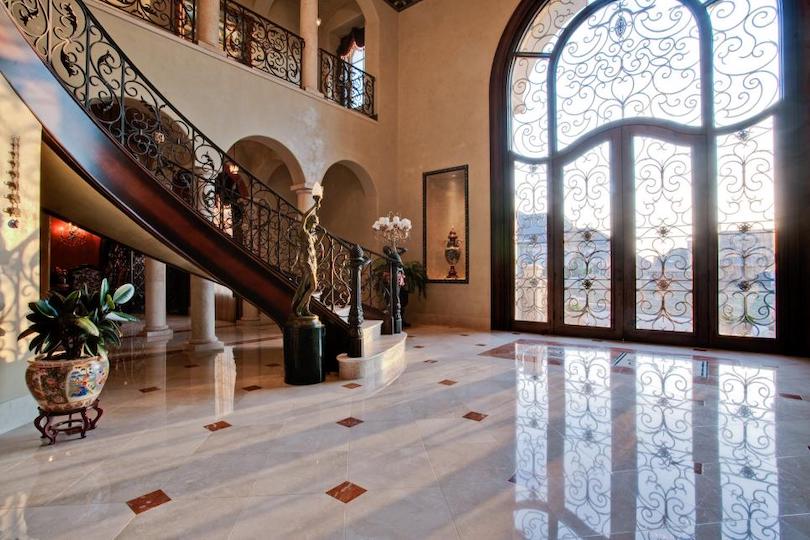 Wrought iron railings matching with stunning glass front doors are another magnificent way to add opulence into your light-filled living room. This space boasts two-story ceilings and luxe marble flooring.
This subtle and beautiful staircase design resembles an unfurling vine. To create this striking and organic look, you need to design the balusters with organic, abstract lines with a straight base rail and handrail. You can even include gentle twists at the staircase's bottom part for more elegance.
15. Modern Spanish Style Staircase With Iron Railing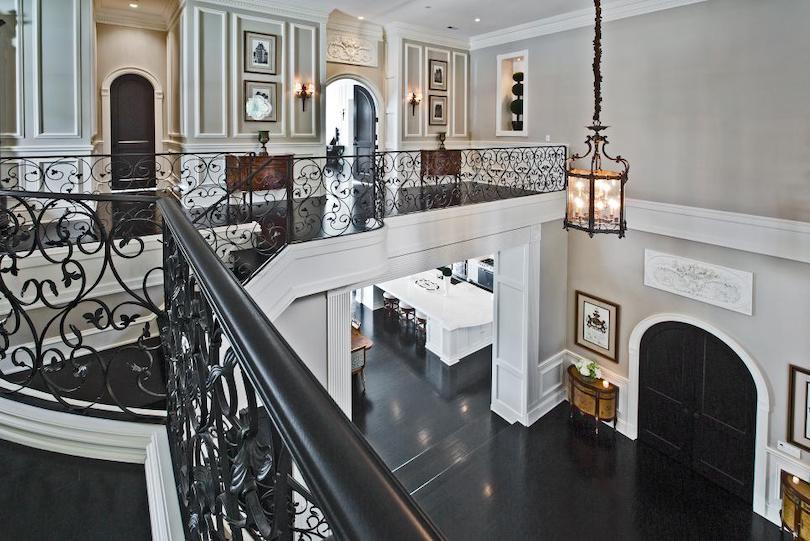 The classic iron railing appears more refreshing in a contemporary space with a lantern pendant light on the wooden beam ceiling. This streamlined balustrade perfectly results in sheet music while adding sophisticated yet minimalist touch to any home.
To create this particular look, you can create simple, clean diagonal lines resembling bars of music. Furthermore, bend the wrought iron for creating a minimal spiral design at the top and bottom of the stairs. Also, include simple circles in the design for more balance and simplicity.
You can consult the expert craftspeople in your area to bring any one of these gorgeous staircase ideas to life with quality, precision, and aesthetics. This will further ensure that your staircase is the centerpiece of your living space for many years to come.