Two-Sided Fireplaces For Your Spacious Homes
Do you live in a region with harsh winters and below zero-degree temperatures? If so, you need to think about incorporating a fireplace in your house – if you don't have one already. The fireplace is a great addition to a home to improve its aesthetics, as well as warming up the interior and making things more enjoyable – especially if it's open and spacious.
Two-sided fireplaces work as visually-appealing and practical room dividers that connect the living room with the dining room, primary bedroom, bathroom or simply break up a huge living room into two separate seating or lounging spaces.
Installing a two-sided fireplace is a great option for open-plan homes. Moreover, it serves as a focal point in a particular area. Check out the amazing and functional two-sided fireplaces here to fit them perfectly into a spacious home so that you can enjoy the warmth from two and more rooms in your home. You can think of installing them between the dining area and kitchen or living room and any other room in your abode.
Without further ado, let's find out some of the stunning double-sided fireplace designs for recreating your living space like never before.
1. Primary Suite Double-Sided Fireplace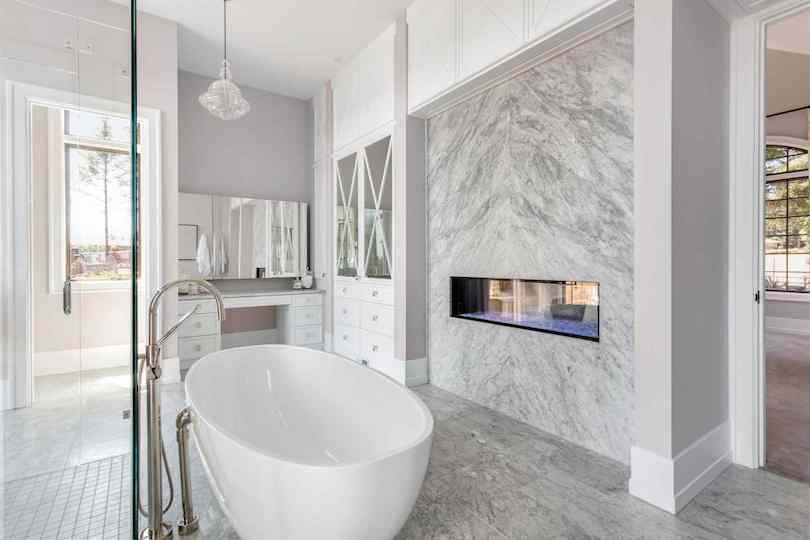 If you have a sleek modern gray and white primary bathroom in your home, you can consider adding such a luxe two-sided fireplace into the given space. This way it can add warmth and style to your bathroom and adjacent bedroom. The sleek profile of the see-through glass fireplace is ideal for creating a visual and virtual connection between different rooms. Plus, the peekaboo aspect between the bathroom and bedroom adds a sensual note to the intimate space.
2. Contemporary Double-Sided Fireplace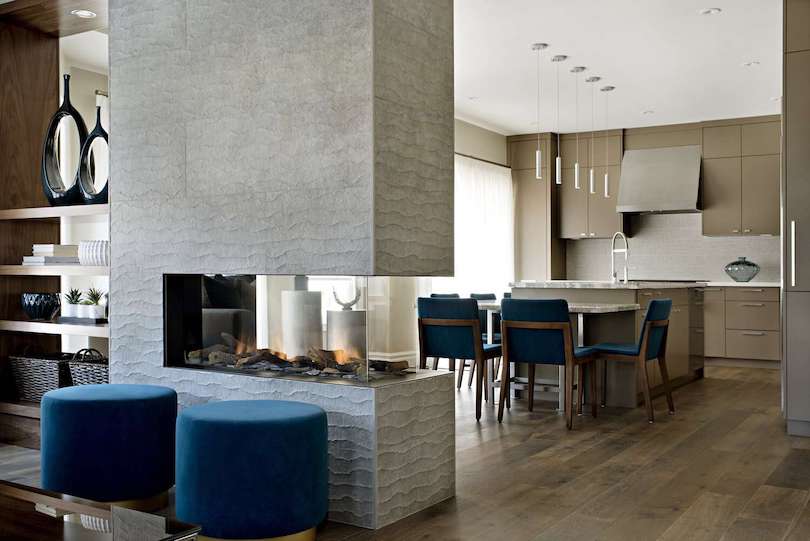 This textured double-sided fireplace is ideal for a sophisticated home. Imagine installing it in a place that separates the family room and the kitchen while maintaining the airy feeling. Both kitchen and family room will become warm and inviting with a contemporary flair along with practicality. It even helps in adding a cohesive flow from one room to another. You can even install such a fireplace into a room with lower seating and an open concept layout that's divided by a two-sided fireplace, exuding lush comfort.
3. Rustic River Rock Two-Sided Fireplace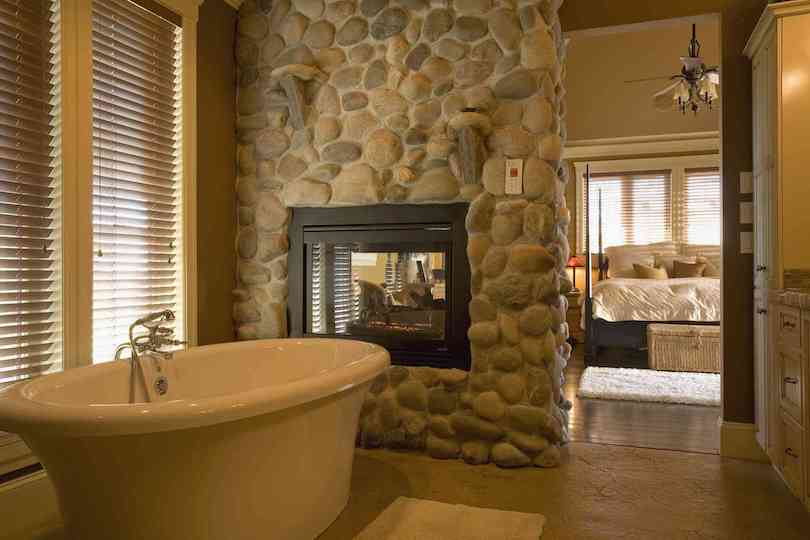 This huge river rock two-sided fireplace will look great between the bedroom and bathroom to add a rustic note to the interior. When installed in a master bedroom, you'd certainly enjoy the pleasant view of flickering flames while sitting on a cozy armchair. And, the same view will look amazing even when you are relaxing in a bathtub. The interior's neutral-toned palette draws inspiration from the gray, sandy, and beige tones of the huge round stones that help in creating a comfortable place to sleep or enjoy a bubble bath.
4. Traditional Two-Sided Fireplace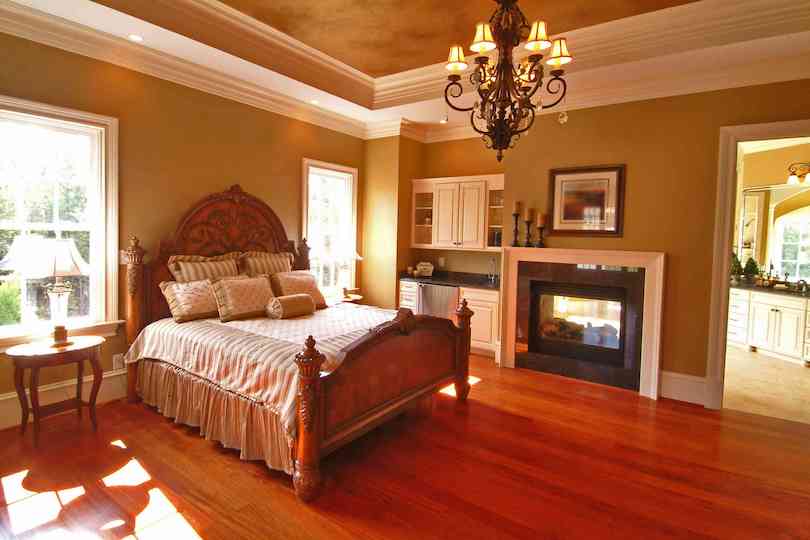 Installed between the bathroom and the bedroom, a two-sided fireplace will look amazing in such a luxurious suite. Such interior helps in creating a perfect interplay of daylight or firelight for passing through what would otherwise be a plain solid wall. Such a spacious room with equipped kitchenette looks amazing for Sunday lounging and enjoy stay-at-home evenings in the coziest way possible.
5. Arnold's Walk-In Closet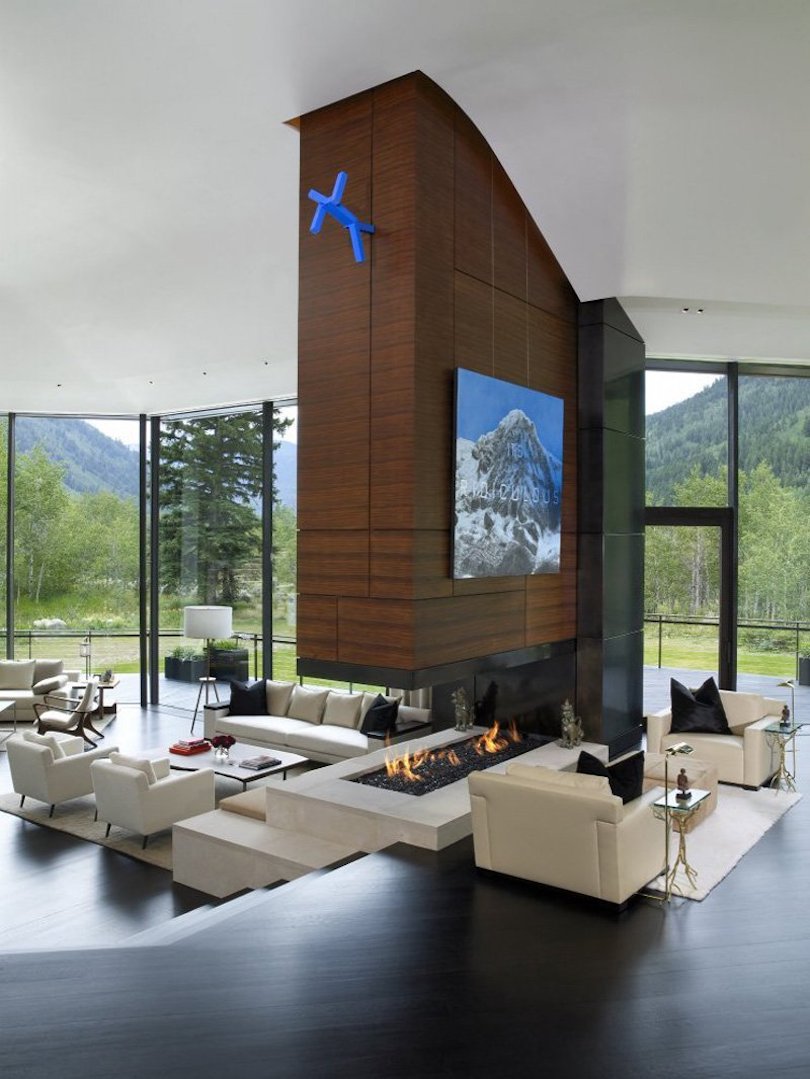 This is a renovated house in Colorado with a gorgeous floor-to-ceiling fireplace wherein the top-level include wood and the bottom part consists of concrete. This particular two-sided fireplace separates the given room on two levels – as the other one is quite higher. Since the striking human-inspired decor appears like walking on the fireplace, hence it attains its name – Arnold's Walk-In Closet!
6. Indoor-Outdoor Two-Sided Fireplace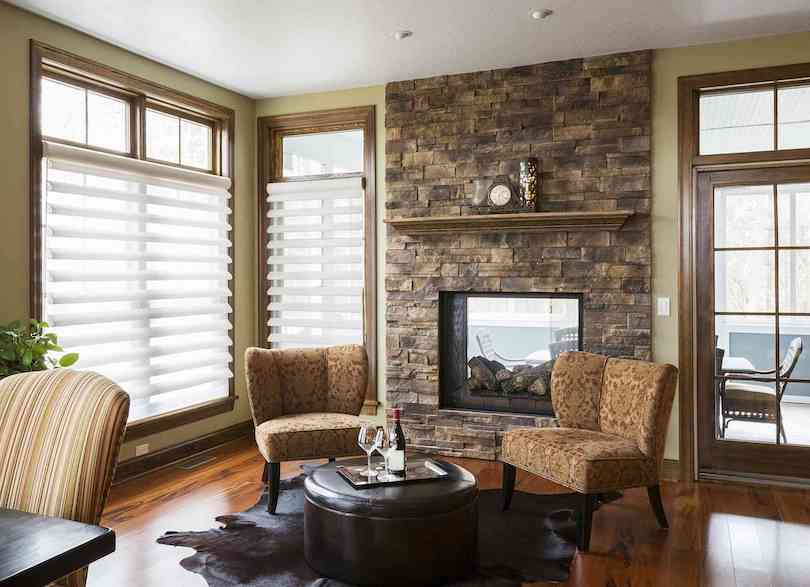 This particular large two-sided fireplace forms a focal point in an open-plan living and dining room. Moreover, there's a screened-in porch on its other side. All this makes it a perfect indoor-outdoor fireplace that works like any other window during the daytime, letting natural light from the outdoor get inside the living space. If your house has a similar setting, you must consider installing this double-sided fireplace into your living space.
7. Rustic Two-Sided Fireplace Doubles as Room Divider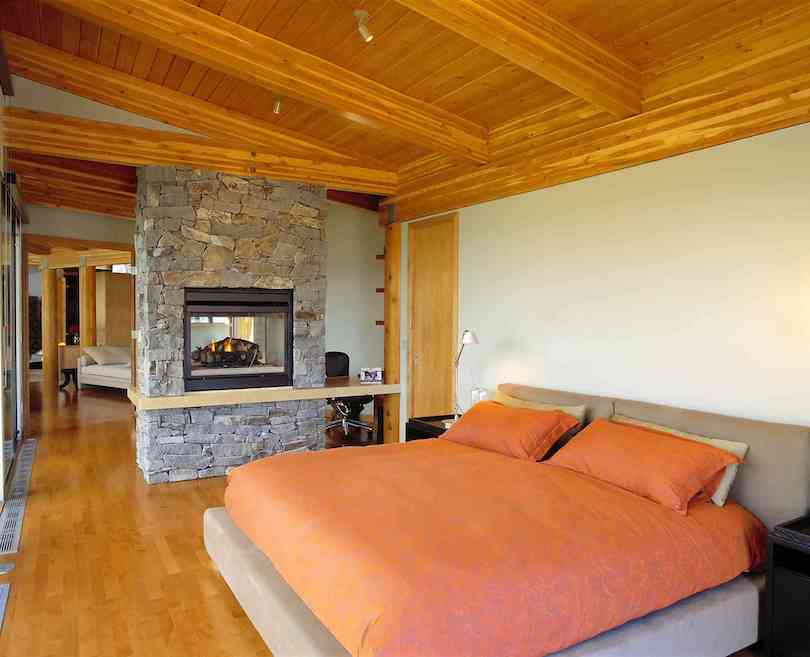 This two-sided fireplace boasts large stones that add rustic charm to both the living room and sleeping area of your home. This particular two-sided fireplace also acts as a rustic room divider and creates a perfect cozy atmosphere whenever it's ignited in a country cabin space. The huge stone wall is further lightened up by a glass fireplace insert and the mineral elements offer relief from heavy wooden beams on the ceiling to the matching wooden flooring.
8. Modern Pop Two-Sided Fireplace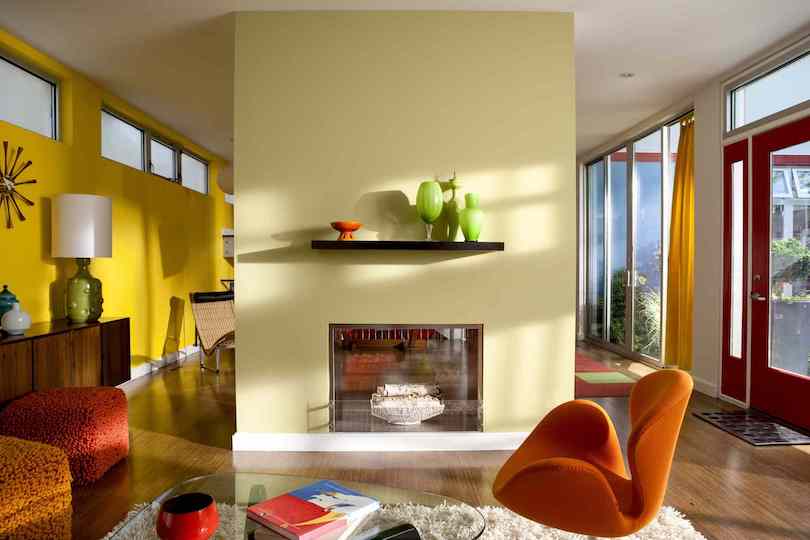 This mid-century-inspired double living room is decked up in poppy shades of yellow, orange, and green for creating a warm and cozy interior. With the help of this double-sided fireplace, a unique structure and separation are added to otherwise open-plan space.
9. Minimalist Two-Sided Fireplace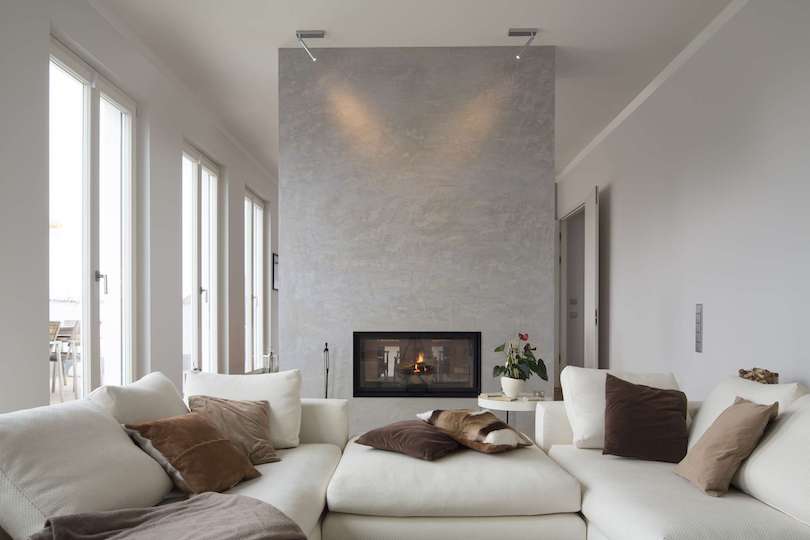 In particular minimal living room boasts a monolithic pale gray stone two-sided fireplace, creating a focal point. Dividing high-ceiling, window-filled contemporary room for creating a cozy seating area with large-scale overstuffed sofas and soft throw pillows. The two-sided fireplace even adds aesthetics and warmth to the given place. Furthermore, the downward spotlights placed near the ceiling highlight the stone as a work of art.
10. Two-Sided Fireplace Connects Living Room With Guest Room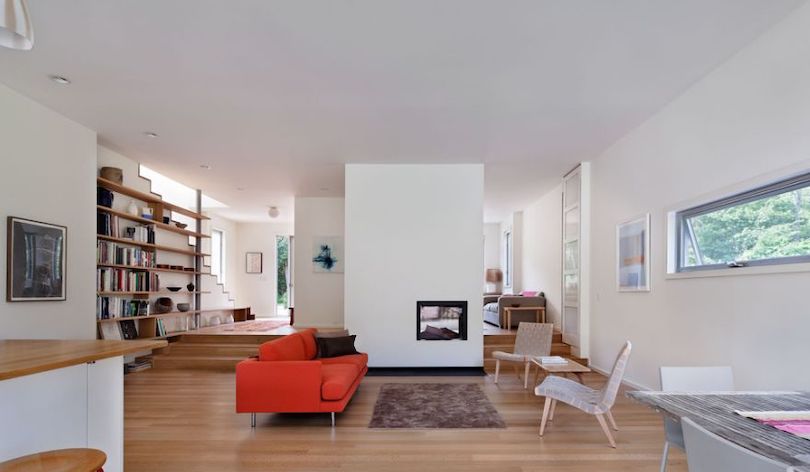 The smooth flow of this living space is unbeatable with the addition of this room partition, which adds luxury and versatility to your interior. On one side there is a beautiful living room for a family to gather around the fireplace and on the other side, there's a guest room for easy entertainment.
11. Two-Sided Fireplace to Add Grand Opulence into Interior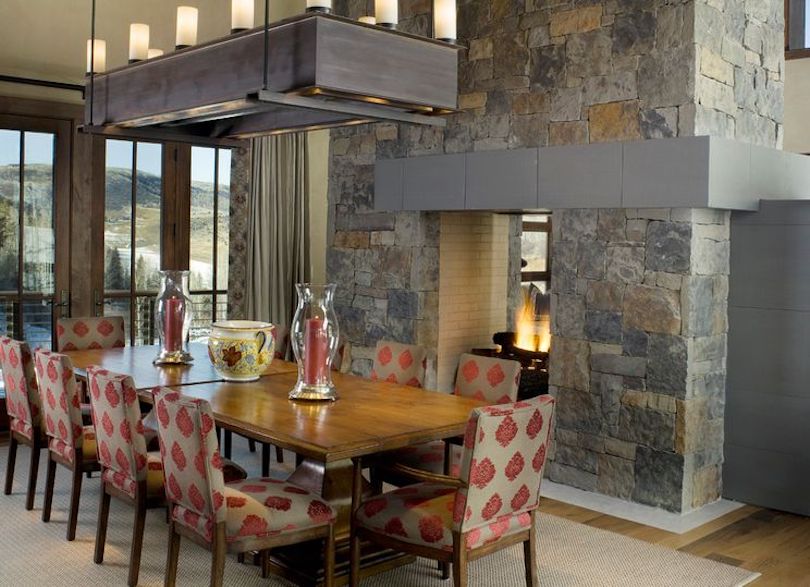 Another great example of installing a two-sided fireplace into your home is shown in the picture here. You can see that a double-sided fireplace is added into a dining room and on the other side there is a living room. Such a fireplace is great for adding dramatic and royal touch into the living space. Plus, it's breathtaking at the same time.
12. Two-Sided Fireplace With Texture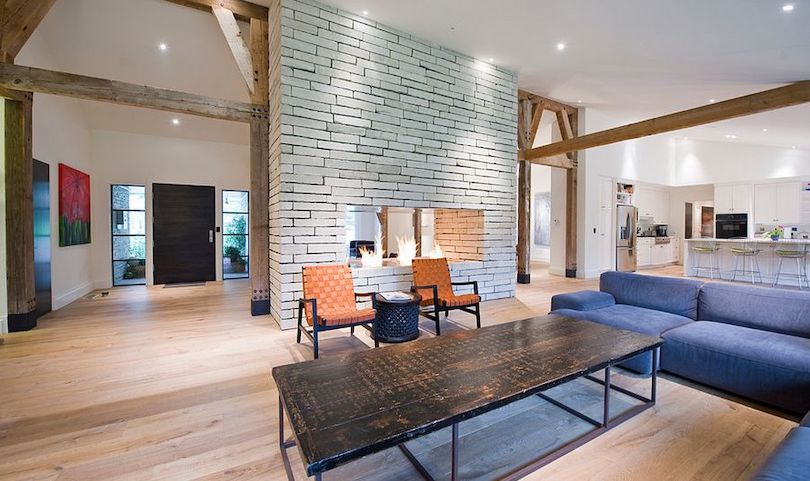 A double-sided fireplace with unique textures is also wonderful for adding interesting design appeal to your home. A brick wall filled with a fireplace is a wonderful way to add textured aesthetics to multiple rooms.
13. Beach-Vibe Around Two-Sided Fireplace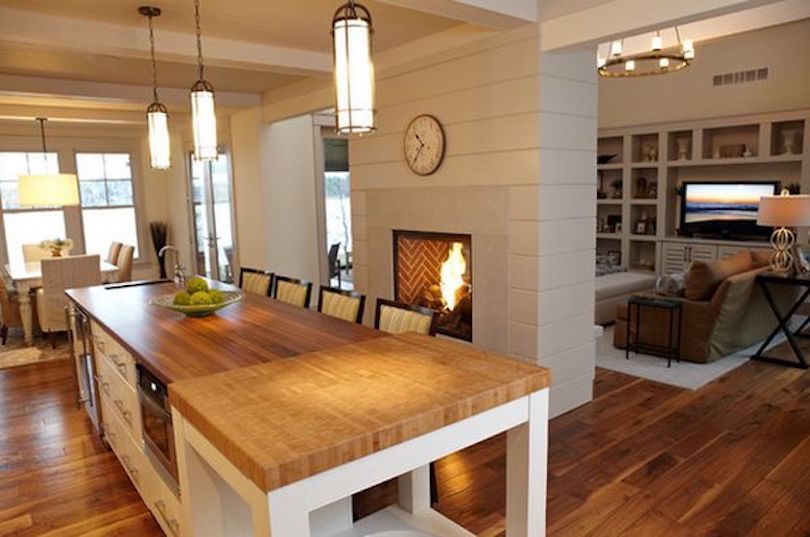 You can feel a subtle beach-vibe around this abode that features an elegant two-sided fireplace as a focal point at the division between the living room and the kitchen. Looking into this hearth will give you another interesting design element, which is hiding within the chevron brick.
14. Two-Sided Fireplace to Add Industrial Touch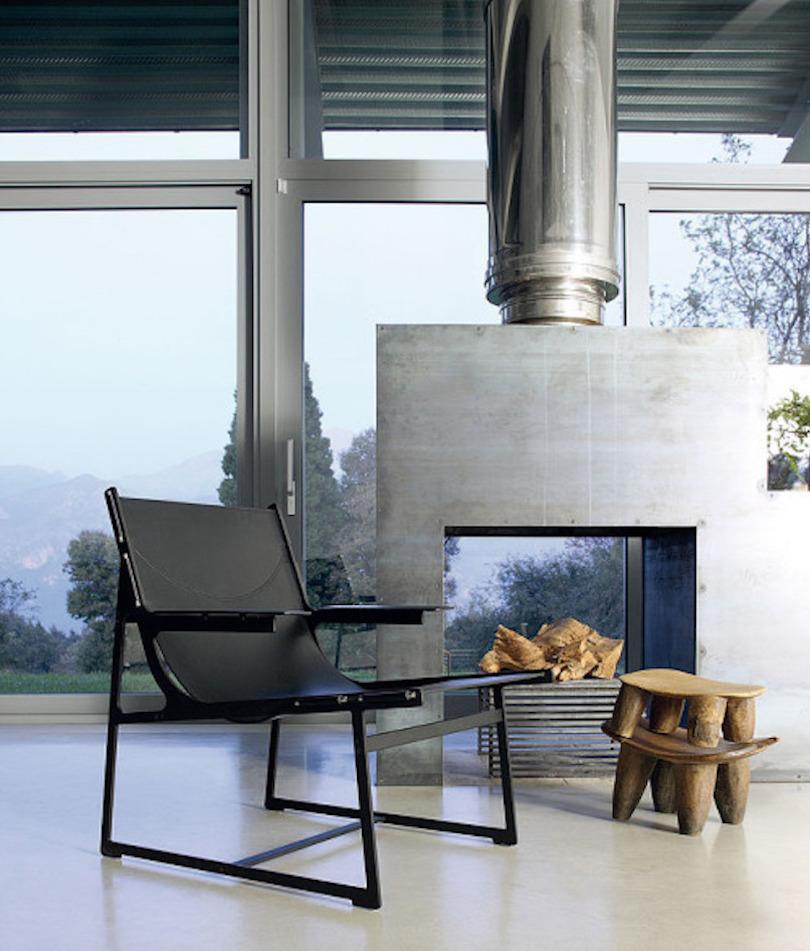 If your house boasts an industrial design, it's best to add a similar two-sided fireplace with industrial touch into the given space. We love how the adjacent floor-to-ceiling windows further help in creating an organic touch to the living space while still, the house enjoys the warmth of the fire.
15. Bring Two-Sided Fireplace Outdoors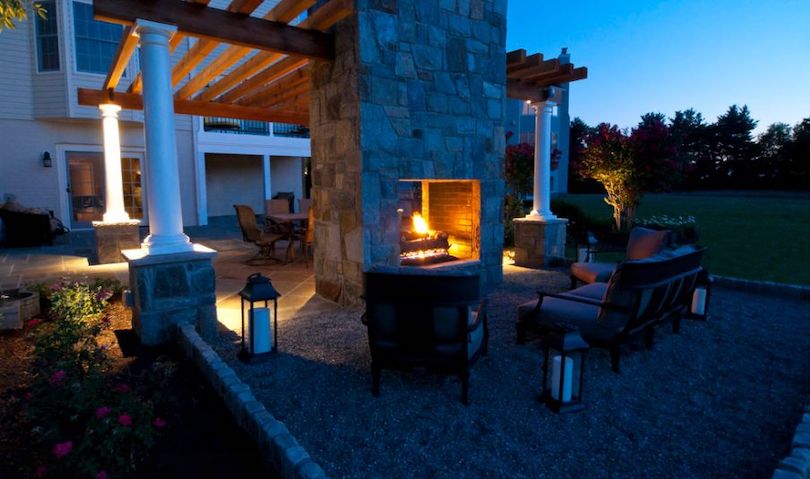 Of course, you can even take out the two-sided fireplace outside your living space. You can set a similar-looking double-sided fireplace in your garden or backyard. Plus, surround the fireplace with covered seating areas to add more coziness to the outdoor area. It is a great addition to the spots where you entertain your family and guests.
16. Two-Sided Fireplace With Artistic Flair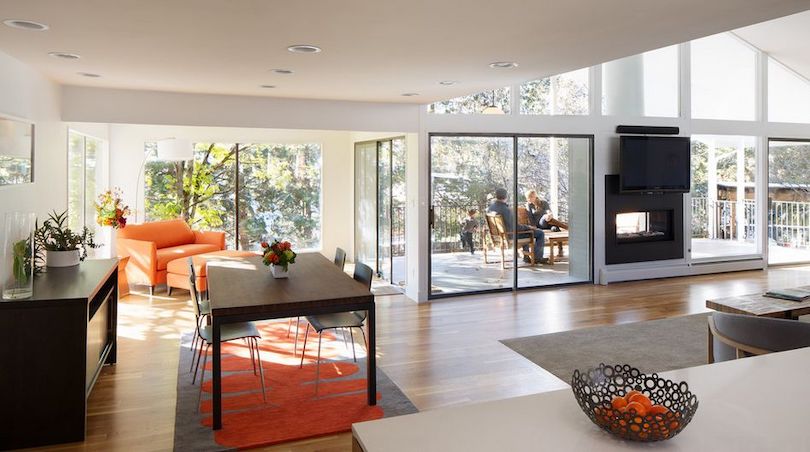 This house was built in the 1970s and is known for its amazing interior that seems to be an artistic dream with its beautiful floors, stunning windows, and centered fireplace. This hearth acts as a stunning piece of both indoor and outdoor entertainment. Hence, spruce up both the interior and exterior areas of your living space.
17. Two-Sided Fireplace With Natural View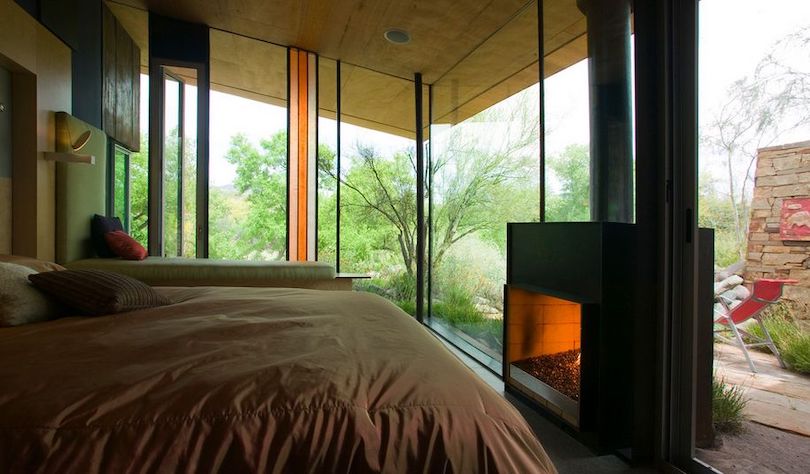 Glass windows surrounding a double-sided fireplace with natural views are a great addition to a home that's situated in a breathtaking landscape. The best part of this fireplace design is that it reaches out to the terrace to offer coziness to the outdoor setting in the evening.
18. Stone-Covered Two-Sided Fireplace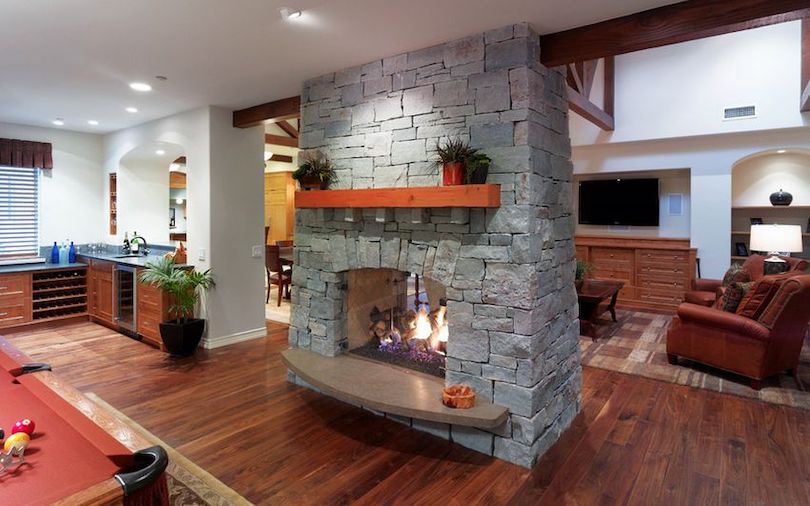 You'd instantly fall in love with this stone-covered, two-sided fireplace. It is perfect to add a fun and welcoming vibe to any family home, especially when it's complementing the living room and kitchen alike.
19. Quaint Two-Sided Fireplace With Luxe Touch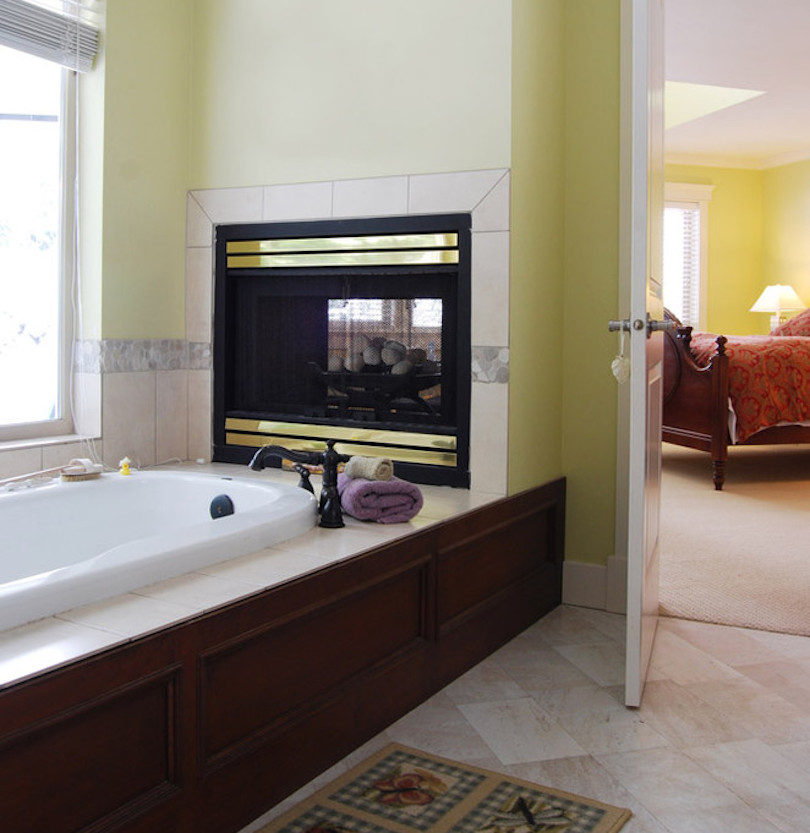 Here's a luxurious small, quaint two-sided fireplace that would be a great addition to a home with minimalist aesthetics. You can insert such a fireplace into your master bedroom to provide warmth to both the resting areas, as well as the bathroom. This will certainly give you an amazing resort-like feel.
20. Add Edgy Two-Sided Fireplace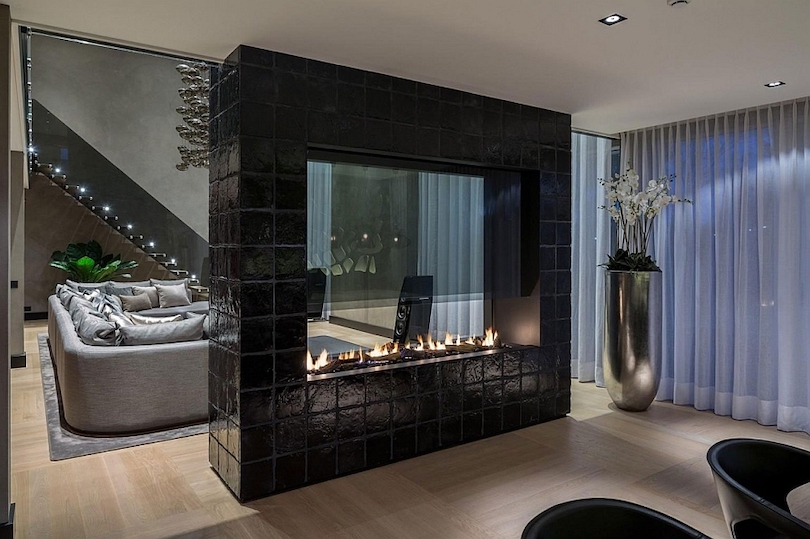 Another interesting way to fill up your abode with an edgy vibe is by adding such an exquisite two-sided fireplace with contemporary details. This fireplace design can be built into a room partition loaded with texture and masculine charm. It would certainly add a "wow" factor to your interior.
With any of these gorgeous two-sided fireplaces, you can easily transform the overall look and feel of your home. Just pick the one that goes well with space and aesthetics available in your house. You'd feel the impact and magic of transformation instantly.