10 Christmas Living Room Decor Ideas For Joyful Celebrations
The living room often tends to be a place where major Christmas festivities take place. It's the main room where you put a large Christmas tree along with gifts and ornamentation. This room is also your perfect spot to cozy up on a sofa while having bites of cheese or drinking hot chocolate. Therefore, you need to look for stylish Christmas living room decor ideas to add festive charm to this space. After all, this is where you allow your guests to soak in the complete holiday spirit.
Whether you choose a daring color scheme, add subtle touches, or match the interior to a Christmas theme, there is always a way to make its interior as inviting as Santa would prefer. Are you ready to give your home the much-needed festive flair? If so, check out our top 10 Christmas living room decor ideas to look for a perfect way to deck up the main room in your house.
Add Disco Like Effect To Festive Tree – Christmas Living Room Decor Ideas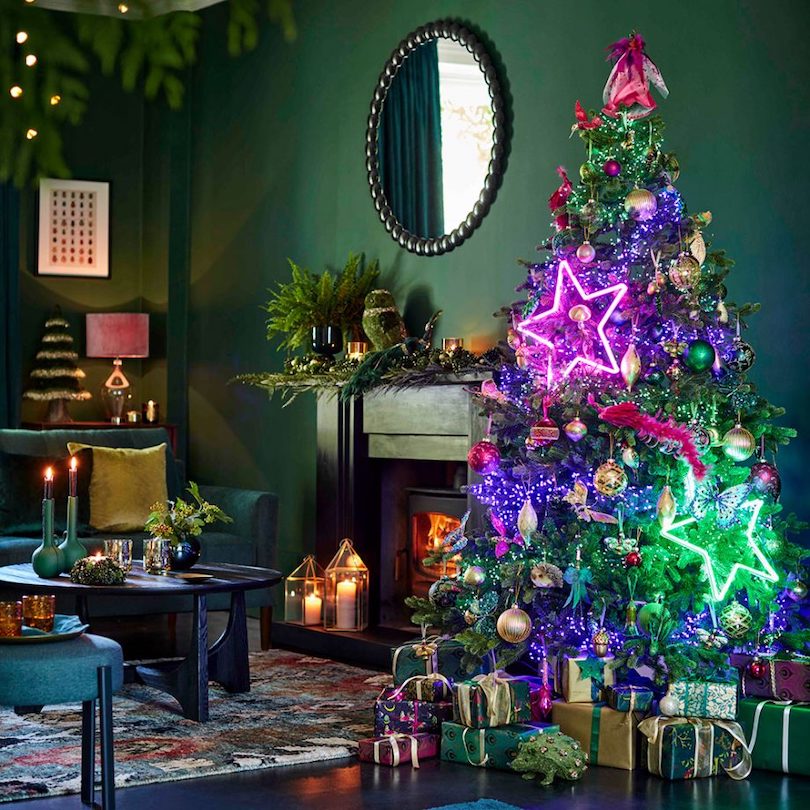 Add disco to your living room with a perfect scene of Christmas. Firstly, you need to go for an all-over, glitter-laden, and mirror-balled look in each corner. Furthermore, add all the party magic to your Christmas tree but without making it appear overwhelming. This way, it will have an impact when the tree becomes the focal point of the room.
When creating such type of Christmas living room decor ideas, you have to add small but striking ornaments everywhere. This is how you can create a simple yet chic living room decor. We recommend you wind warm lights around the tree's trunk for giving it a wonderful glow. Also, add additional lights around the tree to add some sparkle for lighting up beautiful baubles.
Remember the rule of thumb that balanced trees with added baubles work with around six similar decorations. So, you can add them in the zig-zag form down the tree starting with plains. After that, work on adding decorative pieces and some of your favorites at the last. Adding unusual shapes, stems, clips is one great way to add some interest and texture to the tree.
Add Christmas Extras To Already Existing Pieces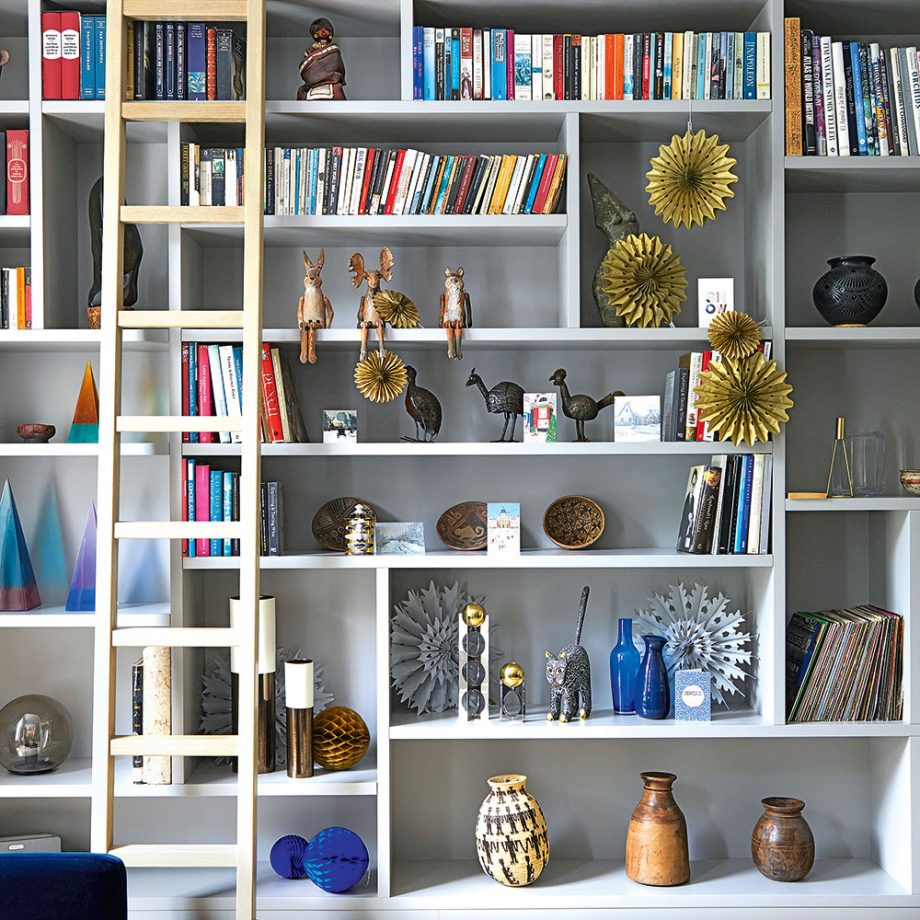 You can be easy on yourself while creating Christmas living room decor ideas. You don't have to take everything non-festive or hide it away behind fairy lights. Instead, you need to add beautification to the simple interior elements.
For instance, rather than moving your favorite decor piece from the bookshelves, you can simply add some Christmas extras to it. For enjoying the differences without any clash, you need to look for more abstract shapes. You can consider adding geometric cutouts, paper waffle spheres, and colored pyramids that hint at the specific shape of a Christmas tree.
It is one easy way for creating a strong appearance. Do give it a try this festive season and see how it transforms your living room.
Add Pops of Color – Christmas Living Room Decor Ideas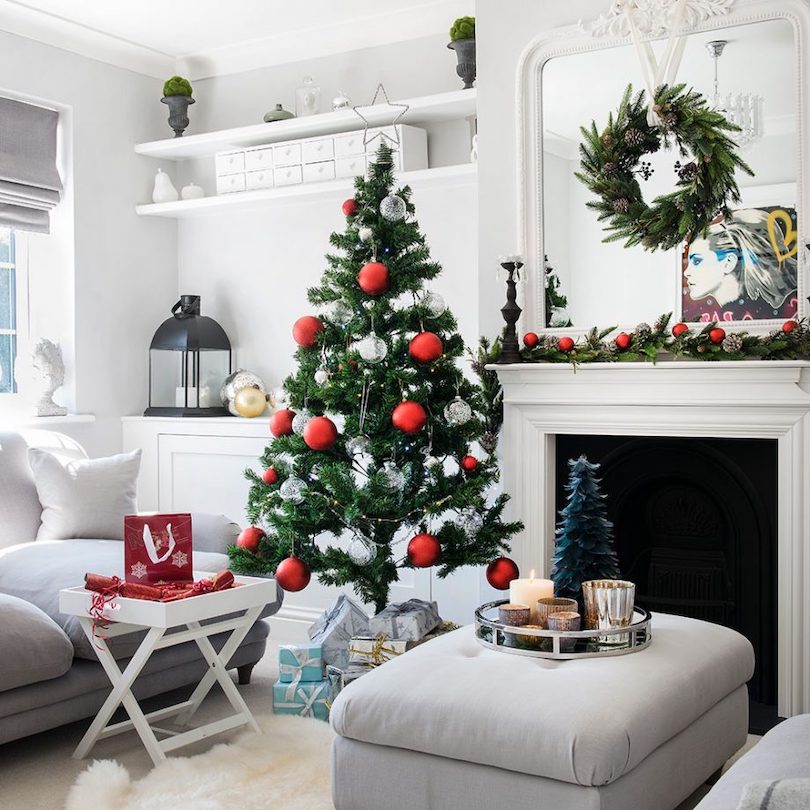 One of the fun Christmas living room decor ideas is to add pops of color to your Christmas tree. Some people like to be all-out, while others like subtle touches. Most of us are somewhere in the middle. So, you can add a festive touch to the living room without compromising on style.
If you are following the white color scheme, consider adding a few pops of color to make the difference. This helps you create suitable Christmas decor. You can even choose larger than normal cherry red baubles for the Christmas tree. Also, fill the gaps using clear decorations.
Follow the red decor scheme on the Christmas mantel decor as well. Or you have to choose the finishing of gifts with red ribbon. With these simple pops of red on green Christmas trees and white walls, you can attain a perfect Christmas theme without having to redo the whole room.
Use Your Favourite Shape for Cohesion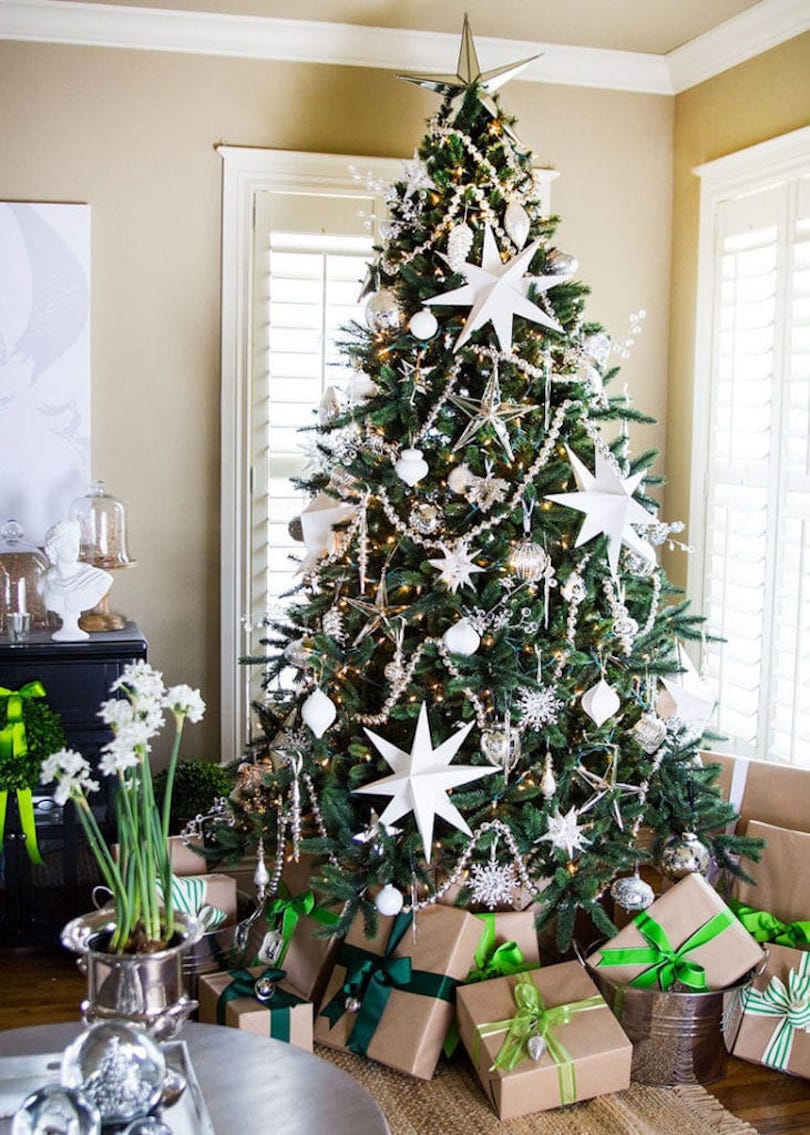 There are various ways to add cohesion to a living room decor. But the main three ways are using texture, color, and shape. The first two are self-explanatory. However, the shape is harder to work on. That too, at the time of Christmas.
You need to choose your favorite festive shape. It could be stars or circular wreaths. Not just on the trees, you can even choose these decorations in your preferred shape to add a cohesive look to the entire space. The best way is to add Christmas lights around the tree. It is one simple but effective way to add festive charm to the given space.
Decorate From Top To Bottom – Christmas Living Room Decoration Ideas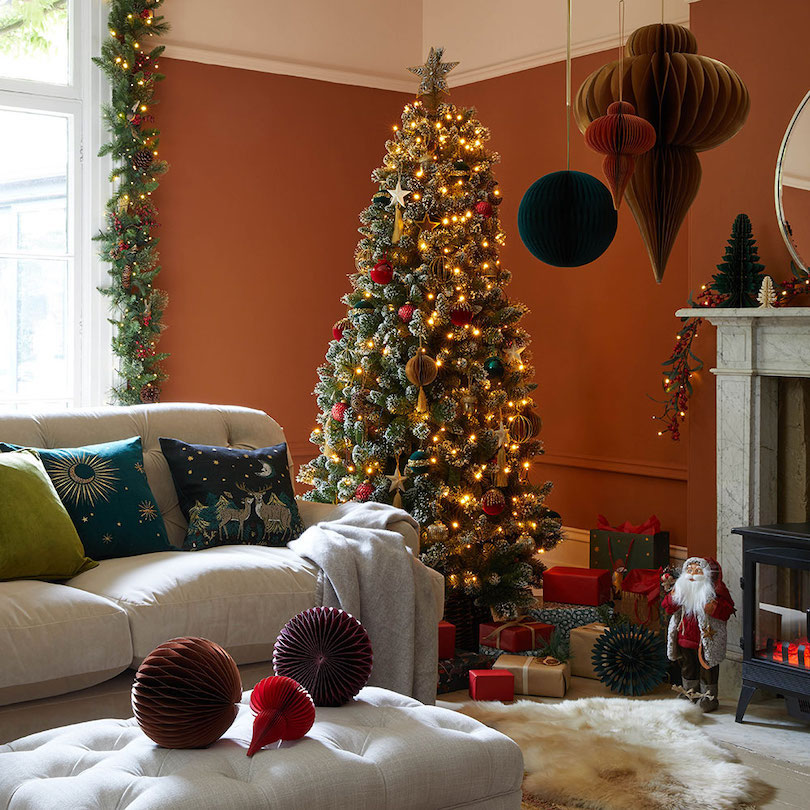 Creating Christmas living room decor ideas give you a perfect opportunity to go all out. You can make the most of the fun elements by decorating your tree and walls from top to bottom.
Also, hang larger decor pieces that you otherwise may use on the floor or shelving. By hanging them at varying heights, you can create visual interest in your living room. To take the eyes of guests upwards, you can drape a garland on the top of a wall or window frame, instead of a mantel. After that, finish the look with hanging statement decor pieces around the tree.
It is the best stick-to-paper option, as shown in the image. These are easy to attach without causing any damage. All you need is a washi tape or light hooks to hang them from the ceiling. So, you don't have to worry about decoration pieces falling off or paint chipping. Hence, it's one of the best Christmas living room decor ideas for seasonal flair.
Go For Deep Yet Muted Color Tones – Christmas Living Room Decor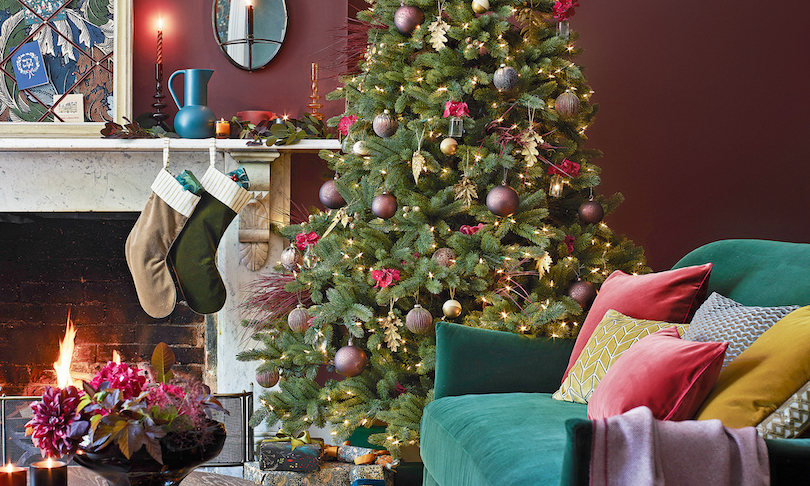 Dark schemes and jewel tones are always known to add a glam factor to Christmas time. But these are not for all. The brighter ruby and bold sapphire shades are overwhelming for some. It looks best even throughout the year.
One great alternative is for deep but muted tones. You can think of a garnet-Esque maroon wall, which would look slightly paler against green and decorative Christmas trees. These shades work well with festive plants. So, you got to co-ordinate without any problem.
Since it's more like a more grownup look, you need to add some festive touch to the fireplace. You can consider adding stocking to the mantle for a perfectly cohesive and well-finished look.
Choose Green Theme For Christmas Living Room Decor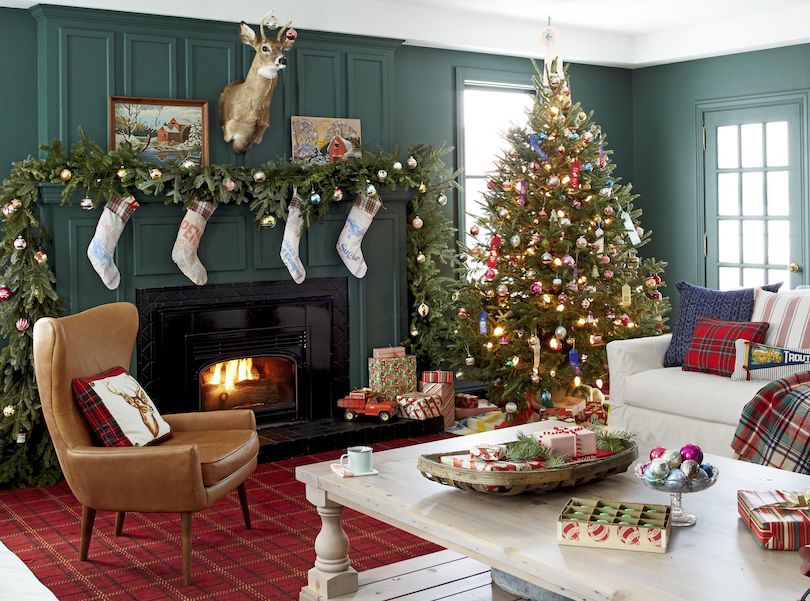 The classic green theme is not going anywhere when it comes to Christmas decor. From walls to accessories, and even furniture, this is a popular share in all living room ideas. And, that's for a good reason. Not only it appears amazing, but it reminds you of nature as well. This hue is also for making you feel calmer and creative.
You can put your creativity to use in a green walled room. And, if you have a fireplace then you're sorted for a perfect Christmas look. You need to add a decked-up Christmas tree to one corner and add stocking to the mantel along with a green garland. Also, change the throw pillow cover with some festive theme.
Don't forget to add some festive treats and decor elements to the coffee table. The metals and whites are best to pair for this look. However, stay away from too much red unless you're looking for classic decor.
Mix Whites and Blues – Christmas Living Room Decor Ideas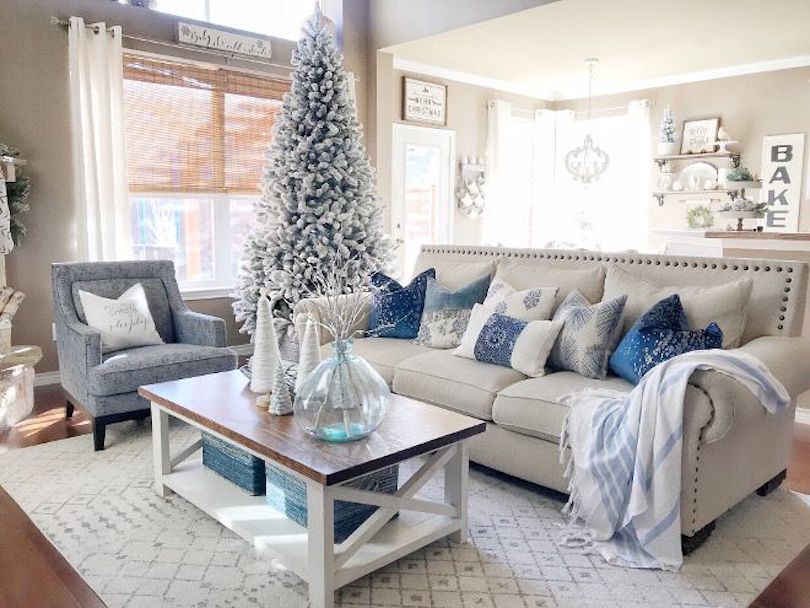 A white tree with a muted hue is one of the fun Christmas living room decor ideas for 2021. This is a contemporary Christmas interior look. You can even embrace the white across the trees, walls, tree skirt, and lights for setting the scene.
The difference comes when you add some unexpected moments of pastel, soft blues. This helps you create a more interesting look. But the two colors are not miles apart in the color wheel, as they appear very gentle to the eye.
If you are looking for something unique for Christmas decor, this look is perfect for 2021.
Embrace Industrial Rustic Style – Christmas Living Room Decor Ideas
If you have a more industrial, rustic interior, adding Christmas decor can enhance the overall theme. Christmas living room decor ideas are a great start to adding a festive glow to such a rustic interior.
If you want this simple, just add a fully decked-up Christmas tree to the living room. And, add new metallic star-shaped decor pieces on windows. This is how you want to enhance the visual appeal of the entire space. It will help you maintain an elegant and gentle appearance.
Embrace Paper Crafts for Decorating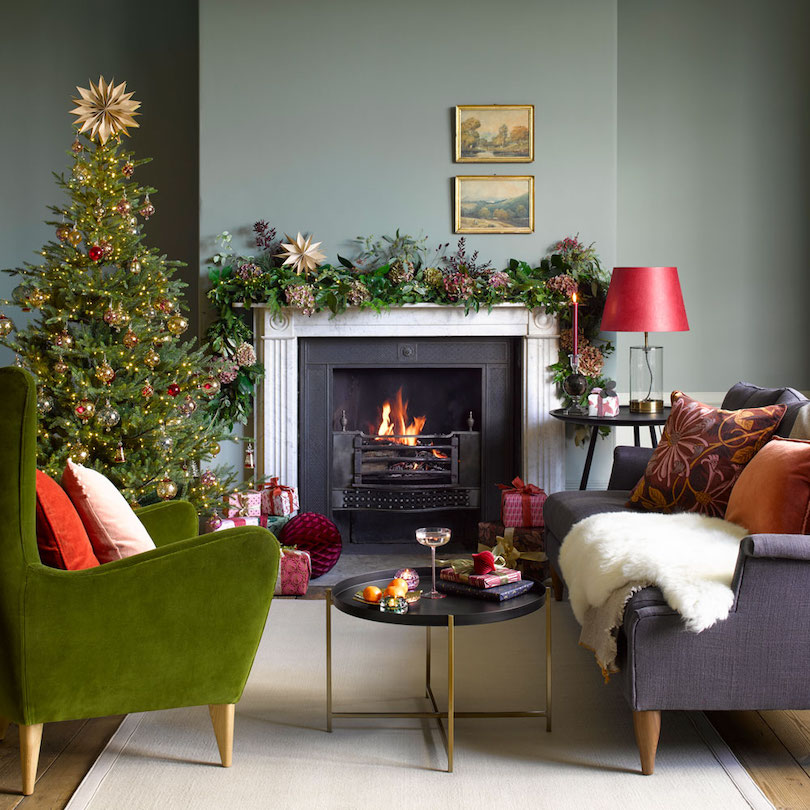 Paper crafts are one simple way to involve your entire family. You can create making your paper decor pieces. With budget-friendly and fun homemade paper decor pieces, you can complete a unique decoration scheme.
From the stars and tree toppers to embellishing the mantelpiece, you can add unique Christmas decor for your living room. You can even add a playful honeycomb ball for placing around the base. There are endless possibilities with decorative paper decorations. The paper garlands, paper chains, and more, there are various ways to add a homemade touch to the interior.