Interior Designs Built Around a Modern Fireplace
Various interior design trends last for a few seasons and disappear over time. But one everlasting trend that transforms with time is the installation of a fireplace in living spaces. A modern fireplace has never completely gone out of style. Designers often come up with innovative and adaptive ways to modernize the fireplace for a contemporary lifestyle.
Even if you have the most minimalist and modern interior design, modern fireplaces are still a wonderful addition to your home. There are a lot of styles and types to choose from when installing a fireplace within a living space. The modern fireplaces add charming allure into a living space and are considered to be the centrepieces of an interior.
You may either choose a minimalist hearth design that blends seamlessly into a living space or the one with sculptural appearance. While the simple fireplace design will not have a prominent position and won't overpower the given space, a sculptural fireplace will act as a statement piece.
Importance of a Fireplace in Modern Houses
Many modern-day homeowners are not aware of the importance of fireplaces to uplift the feel of an entire room. After all, it can transform a whole interior design. Therefore, one cannot overstate the significance of a fireplace.
Here are take a closer look at some advantages of installing a cozy fireplace in your living space. Plus, it will throw some light on how this addition in a room can dictate the aesthetic appearance of your modern home.
1. Focal Point of a Room
One of the key advantages of a fireplace to a home is that it acts as a focal point in a room. No matter wherever you choose to install it, you can be assured that it will add a significant impact to the interior. Moreover, it is brilliant at catching the attention of the visitors to your home.
With an extravagant fireplace in your house, you can make a real statement to everyone who enters your house. Plus, installing a fireplace in your house may have a significant impact on your property. After all, it gives an equally profound effect as your room's interior decor. That's why many people used to install this addition into their homes in the past centuries.
2. Dictates Entire Interior of Your House
Are you in the middle of an interior overhaul in your property? If so, we would recommend you pick a perfect fireplace for your home as soon as possible. With a good quality fireplace, you can build a perfect interior design dedicated to your fireplace.
When a fireplace acts as a focal point in your room, you have to consider other aesthetics as per the design of a fireplace. It is because a fireplace as a centerpiece will be the main attraction point in a room. So, when planning an interior design project, we suggest you get in touch with a professional team to arrange the interior under expert guidance. After all, the experts know what goes well which is what design and materials.
3. Historical Significance
Fireplaces are a symbol of historic significance in some cultures. It is because people used them back then to cleanse their homes. How? Well, lighting a fire is similar to spring cleaning in many cultures, as per a spiritual sense. So, when people ignite fireplaces, they let warmth radiate within their homes. Meanwhile, it overwhelms the bad vibes through light and heat.
4. Cost-Effective Heating Solution
While it is clear that the addition of a fireplace is a great aesthetic option to install in your home, it's even a great cost-effective heating solution. It is because it enables you to heat specific areas of your property. For instance, if you use it in a living room area, you can keep the room warm in the winter months. Find it effective? If so, you need to consider investing in a fireplace.
The fireplaces are ideal to efficiently heat a room. And, it is great for people looking to get away from using central heating for warming up the entire house. Over time, it also helps you to save a lot of money on the heating bills.
You can even consider installing an electric fireplace in your modern home, as it is a highly cost-effective way to heat a home. On average, a good quality electric fireplace can cost you around 12p an hour on energy. Moreover, it can quickly heat a smaller room, due to its efficient 1.2kW-1.7kW heat output.
So, adding a gorgeous fireplace to your home is a good way to transform your interior decor. If you are in the process of a home renovation or want to add a fireplace to your home for a long time, it's the right time to go for it.
Today, you might only want to light up a fireplace in the winter or when feeling cold. But you cannot deny its rich history and significance in the traditional houses. Its use was way beyond providing warmth. In many ancient cultures, a fireplace is also an integral part of people's daily lives and spiritual wellness. If you feel the same way, do consider making it part of your home.
Interior Designs Built Around a Modern Fireplace
Here are some amazing designs and concepts centred around the modern fireplaces to bring warmth and stunning charm to your living space:
1. Floating fireplace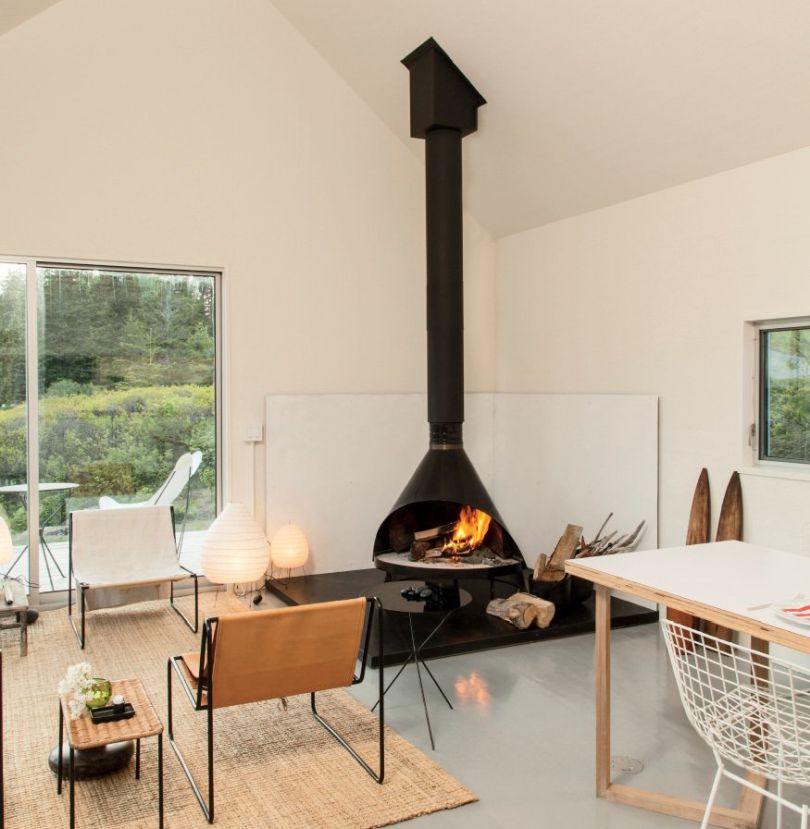 If you look at this fireplace design, there are three small pavilions are connected by a deck for creating an elegant summer retreat to balance privacy while bringing in the panoramic view to the living space. Among the three pavilions, there are standard comforts within a home, including a kitchen, a dining area, and a living space. All these spaces are well-organized in an open floor plan within the main cabin, where the collection of vintage pieces are included along with lounge chairs and a modern floating fireplace. This is one of the stylish and modern ways of making your living room appear warm and cozy along with an exquisite style element.
2. Modern fireplace in the chimney stack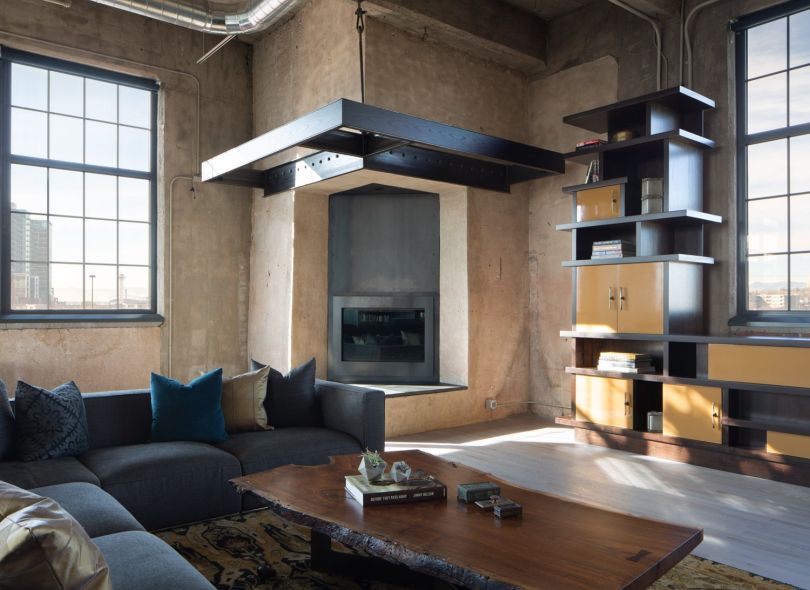 Another simple way to make a modern fireplace a part of an original chimney stack within a building. This given interior design has a sculptural fireplace, exposing steel, concrete, and wood for hearth seat. This design will look perfect within a subtle living space with minimal decor.
3. Open plan home with a towering chimney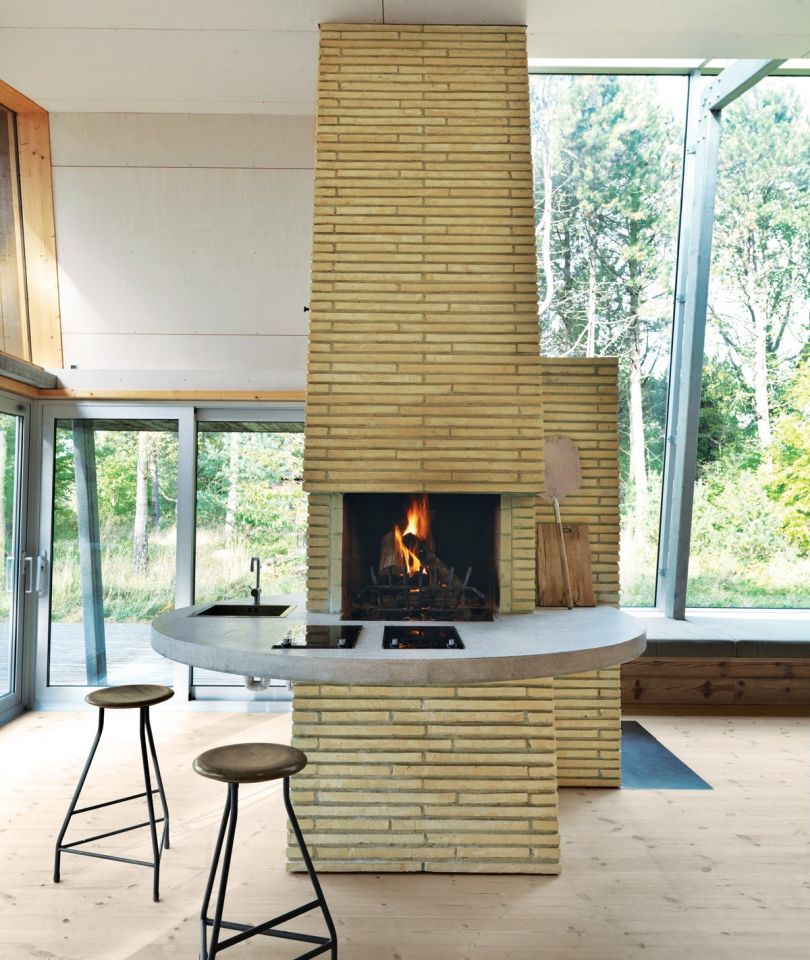 This open-plan home has a beautiful towering chimney within the interior. It is further clad in double-long and thin bricks. This towering design holds three fireplaces, a pizza oven, and a conventional oven. All three distinct flues emerge from the chimney as its own kind of architectural statement. Such fireplace design is a perfect option for space whether you'd like to cook while staying warm and cozy at the same time.
4. Fireplace with pivoting chimney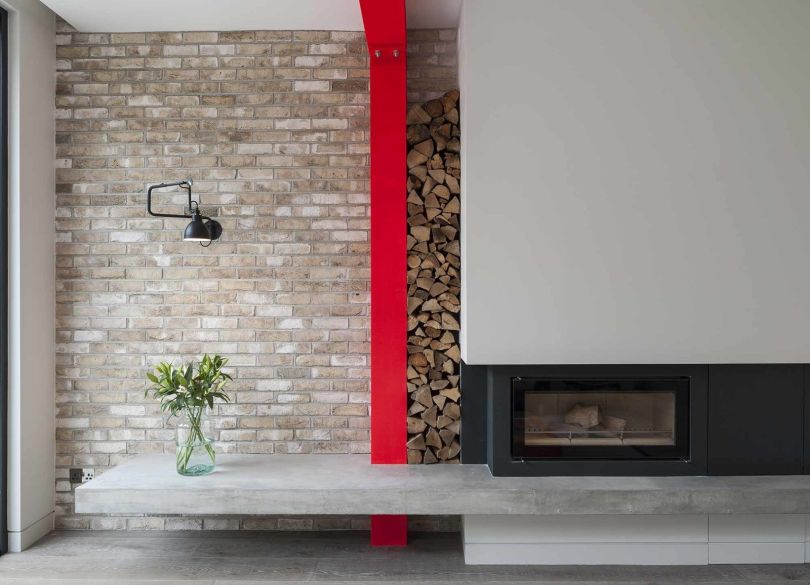 If you want to take a new approach to the straightforward town house renovation London , you may consider this simple yet practical fireplace design. Here a wood-burning fireplace is decked up with pivoting glass doors, as well as sharp red support beams. The overhanging concrete plinth serves as a hearth and has a sort of contemporary inglenook. Even woodpiles are arranged neatly between the wall and beam. This fireplace design has a cleverly stored narrow space in-between fireplace and red support beam. This creates a fun element in a practically textured room.
5. Dramatic brick outdoor fireplace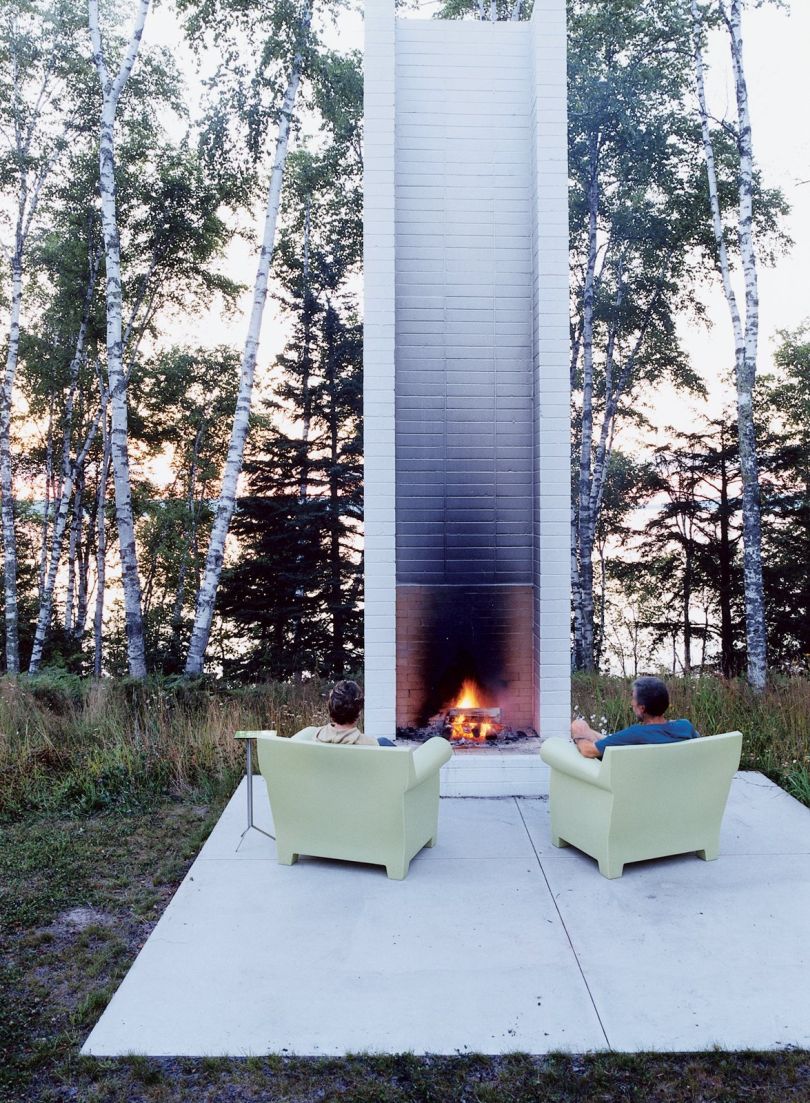 This is a beautiful design for creating a dramatic fireplace in a beautiful outdoor location. This unique retreat adds beautiful shades of black to a tiny island awash with a subtle color scheme. The modern brick outdoor fireplace can be tall and slim so that you may even enjoy the stunning views of the surroundings while relaxing on cozy fireside seating.
6. Contemporary fireplace on concrete flooring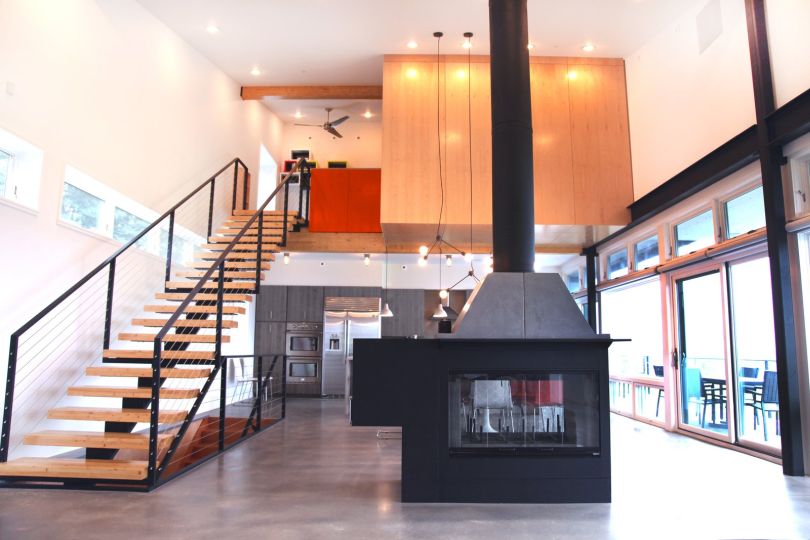 This is a 3,500-square-foot home within the New York designed with simple materials, as well as passive design principles. You may create such a contemporary fireplace in your home along with concrete flooring in the middle of the room. This fireplace layout will help the entire space keep warm, especially in cold winter months.
7. Open, large fireplace with wood storage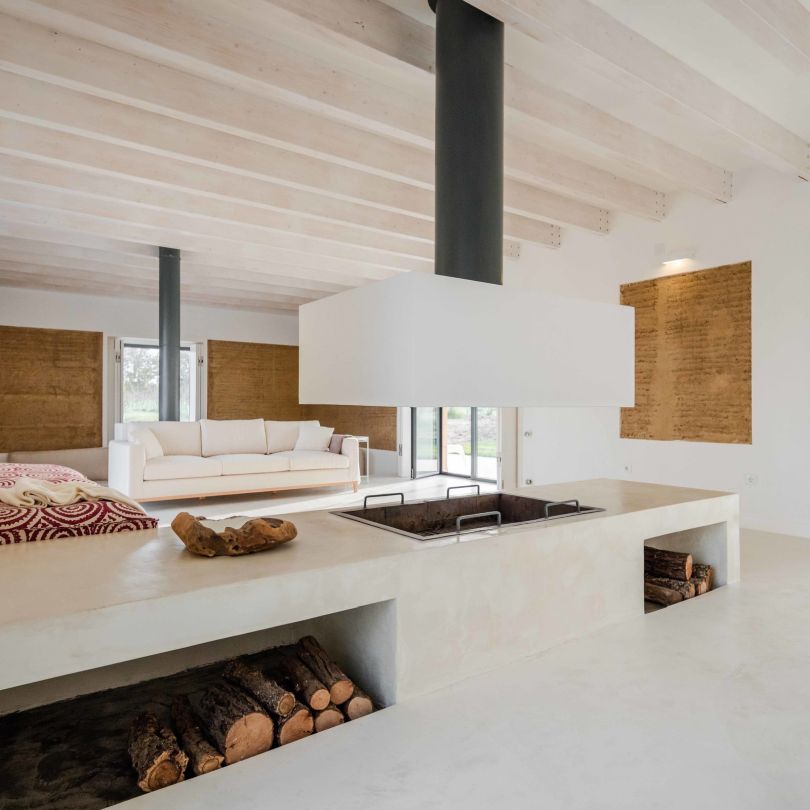 This is the design of an agricultural estate in Portugal made by Blaanc Studio. This simple retreat is designed in a minimalist style to not interfere with the stunning backdrop. The house has been built with rammed earth that's known for its thermal properties and maintains a mild temperature throughout the year. In such an interior, a large, open fireplace is installed with plenty of wood storage to keep the living area warm in winter. Furthermore, you may consider installing similar firewood storage and keep it on open shelving carefully on the side of the island, which does not face the living room. This ensures that it is only visible in some particular locations.
8. Fireplace firewood stacked in a glass wall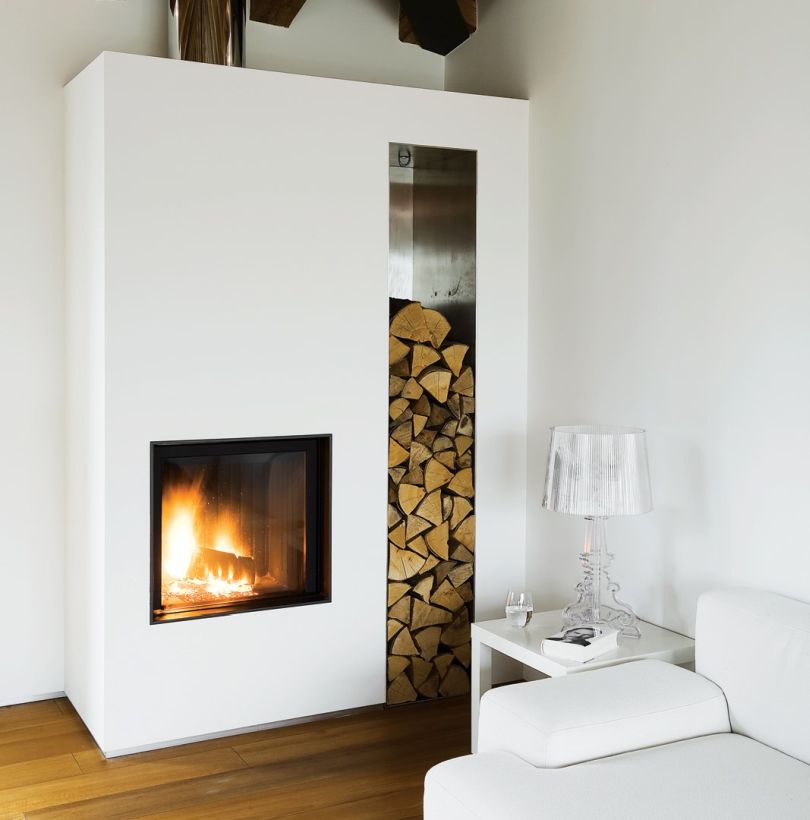 Another crisp and modern fireplace is this stunning design that's clad in white plaster. There is also a hearth infuse in the interior to add warmth and coziness to the given space. The firewood is further stacked in a transparent, nearly-frameless niche beside the fireplace. This section is lined with metal to add a little bit of shine to contrast with the rustic wood ceiling, firewood, and beams above.
9. Fireplace in the middle of your home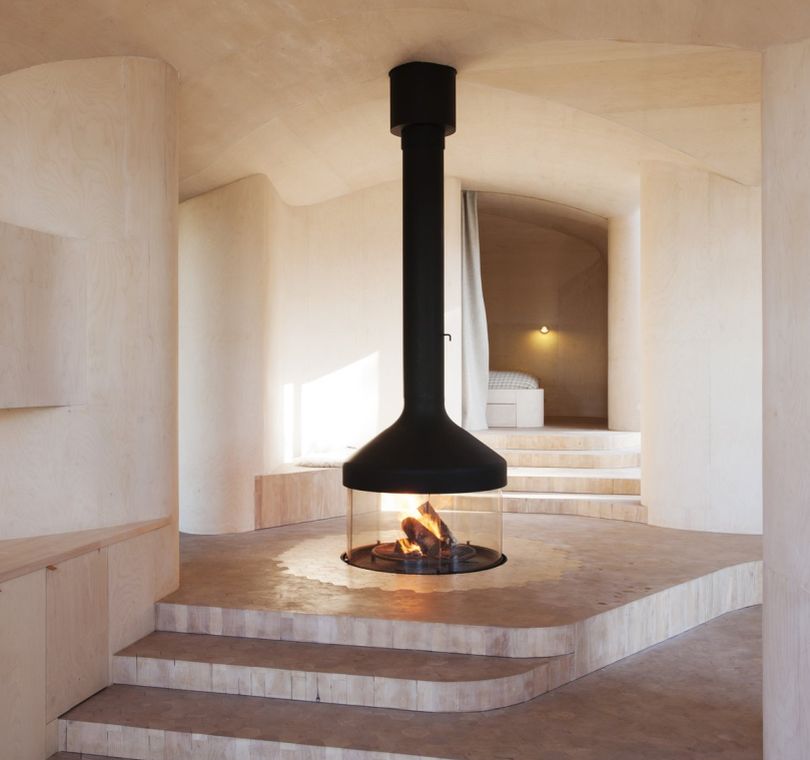 This is a fireplace design in an eco-friendly seasonal retreat on a steep hillside facing Lake Steinsfjorden. The home interior revolves around a metal and glass campfire that slowly burns beneath the suspended mantel. Since it has been located at the access level, the fireplace's flickering warmth can be felt all around the house. Furthermore, the surrounding floor is covered with hexagonal tiles that cut from marble and further transition into tiles made from birch log throughout the house.
10. Minimal gas fireplace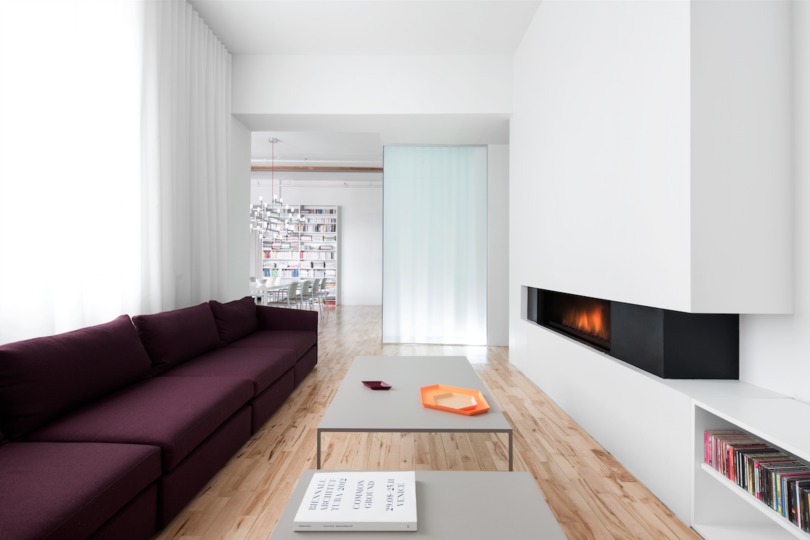 This is another stunning minimal gas fireplace from an apartment revamped in a former factory. You can create such a fireplace design in a bright room with a contemporary interior. This minimal gas fireplace acts as a focal point in a living space and comes complete with the integrated shelving.