This Transparent Toaster Uses Graphene Technology To Toast Bread
South Korea-based Graphene Square has unveiled a transparent toaster 'kitchen styler' at CES 2022 in Las Vegas. What's unique about this transparent toaster is that it makes use of graphene technology to heat the device and toast bread. The transparent and flexible graphene works like a plastic wrap to conduct electricity.
Taking advantage of graphene's efficiency, the company aims at achieving a perfect toast with only half of the power consumption. Since this new toaster is transparent, it lets the users keep an eye on the level of bread toasting.
The device is even foldable and expandable due to dual warming/cooking plates. You can even connect it to your smartphone to control/download a recipe. Apart from all that, it also makes a great outdoor toaster using rechargeable batteries.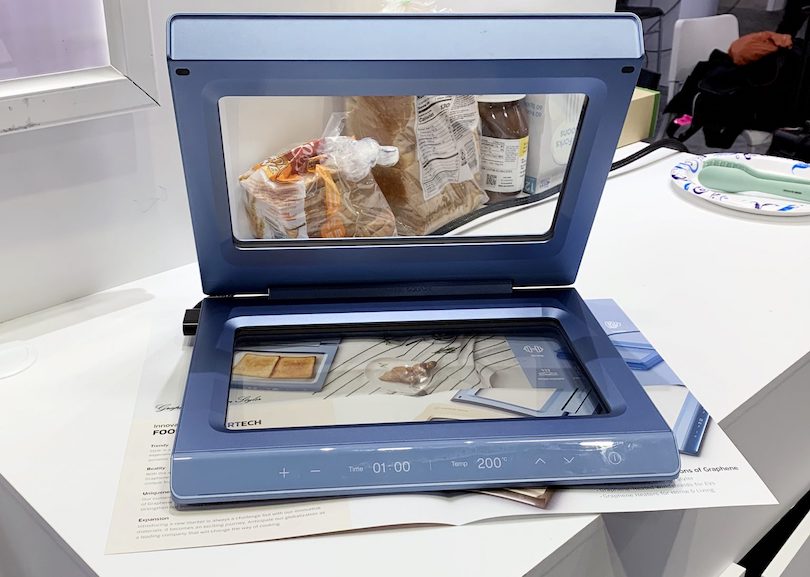 Usage of Transparent Toaster
For making our toast with ease, you can insert bread slices between the two transparent clamshell sides, close the toaster, and watch it turn the bread brown. According to the company, graphene can reach up to 200-degrees Celsius in just 90 seconds.
While the video only shows the appliance toasting bread, the company mentions that they have used it to cook chicken, steak, and boiling water.
Availability
Graphene in itself is a very interesting material technology. But it remains to be seen whether consumers would prefer this particular appliance for their homes. Although Graphene Square estimates their product to hit the market by 2023, it may only be the company's way of enticing LG or Samsung to consider graphene to make their future kitchen appliances. We're saying this because Graphene Square is more like a B2B manufacturer rather than a consumer products firm.
No matter what's the real deal, we would love to see this transparent toaster in the market soon.
Via: TheSpoon