Best 4th Of July Home Decorations Ideas
The 4th of July is a time for celebration, and what better way to celebrate than by decorating your home in patriotic style? Here are some ideas to get you started:
Hang flags: Flags are a classic 4th of July decoration, and they're easy to find at most stores. Hang them from your front porch, windows, or even your mailbox.
Inflate patriotic blow-ups: An engaging and distinctive approach to decorating your home with a patriotic theme is with inflatable decorations. Any figure can be made to order, or you can switch between enormous Uncle Sam figures and inflatable American flags. Fourth of July inflatables for Independence Day can make a festive environment if placed on your doorway or lawn creating the warmest welcoming experience and creating the patriotic atmosphere. Just make sure you anchor them securely to prevent wind from taking them away
Use red, white, and blue: The 4th of July is all about red, white, and blue, so be sure to incorporate these colors into your decorations. You can use balloons, streamers, tablecloths, and more.
Add some stars: Stars are another classic 4th of July symbol, and they can add a touch of elegance to your decorations. You can use star-shaped balloons, streamers, or even candles.
Get creative: Don't be afraid to get creative with your 4th of July decorations. You can use anything from construction paper to glitter to create unique and festive decorations.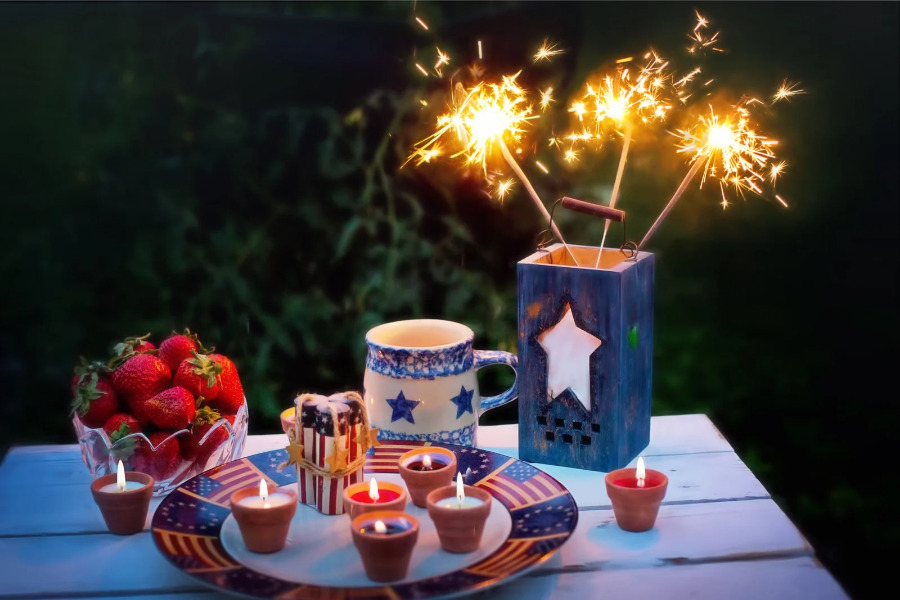 Here are some additional tips for decorating your home for the 4th of July:
Start planning early: The 4th of July is a popular holiday, so it's important to start planning your decorations early. This will give you plenty of time to find the perfect decorations and get them set up.
Set a budget: Decorations can add up, so it's important to set a budget before you start shopping. This will help you stay on track and avoid overspending.
Be mindful of your space: When choosing decorations, be sure to consider the size of your home and the amount of space you have to work with. You don't want to overwhelm your space with too many decorations.
Have fun: The most important thing is to have fun with your 4th of July decorations. Let your creativity shine through and create a festive atmosphere that everyone will enjoy.