Easy Window Sill Decorations to Spruce Up Your Space
Out of all the small nooks and areas in your house, window sills are quite underrated. Besides collecting dust and bearing the impact while you draw the blinds, these are hardly given a second look. However, the window sills deserve a little more attention for their adaptability. Not for what they are but for what these areas can transform into. Yes, that's right! The window sill decorations have major potential with the right window sill accessories.
Maybe you already have added a plant or a dreamcatcher as small window sill decorations. But you need to consider revamping the space for making a statement. Or make it work with a small table for making the perfect bedside setup that you always wanted. Or even consider pushing your furniture in the front and making use of the area as extra seating. The possibilities for indoor window sill decor are endless.
But if you have not brainstormed all the fun small and large window sill decorating ideas, let us help you. In this post, we share with you amazing window sill decorations to modify these otherwise underwhelming ledges into something useful. For instance, you can transform them into decoration dioramas, storage space, or a focal point on their own.
However, let's find out the purpose of a window sill before figuring out its decor potential.
What is the purpose of a window sill?
The functionality of window sills often flies under the radar of several people. But the functions these areas perform cannot be neglected.
Upholding the window structure –
The window sill provides a strong base for a window from the bottom. The main purpose of this base is to keep your window in place. If it's placed and constructed correctly, the sill can have a strong base for strongly upholding the window structure. This further prevents the rest of the window from shaking during any disturbances. In turn, the window remains fixed strongly to prevent any unnecessary cracks on the wall on which it's installed.
Preventing water seepage –
Window sills within the room's cover can prevent water from seeping into the rooms while it's raining. Even if water cannot enter the room, it can still weaken the wall's integrity. However, a window can protect beyond that.
Usage as an accessory –
You can elongate the window sills to transform them into a shelf. It is becoming one good place to keep your potted plants. The potted plants can nurture through the form of both interior and exterior window sills. The plants' positioning makes a great difference to let the plants bask in the sunlight. And, also in providing the water during the rain (but it's possible only when the plants are on the exterior window sill).
Furthermore, there are many modern window sill ideas to decorate this space. For instance, you can make use of accessories, like pictures and vases. The outside view from your window can also complement the practicality of a window sill shelf. If there's a wide shelf, the sill serves as the purpose of a workspace. Or it becomes a great space for you to spend your leisure time (reading, painting, etc.). You may even transform the sill into a small relaxation area to enjoy the outside view.
Ways To Consider Window Sill Decorations
Now that you know the purpose of window sills, let's jump into the window sill decorations. We bring you amazing living room or bedroom window sill decor ideas. These ideas are effective space savers and decorative at the same time.
Let's find out the practical decor ideas in detail.
Window Sill Decorations as a Reading Nook or Window Seat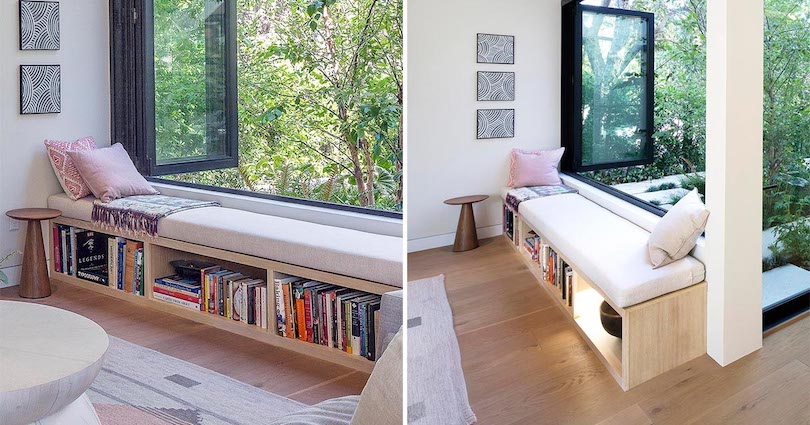 The very first idea on how to decorate a window sill is something that gives you extra seating space. It's possible when you decide to transform your window sill space into a reading area or a seating space. No matter what you decide, it gives you an ideal vantage point for overlooking outside views while having your tea or coffee.
The window sill cover ideas as extra seats is a practical transformation. This idea is quite easy to execute if your home has bay windows with a sizable sill. Just add a few throw pillows and plush cushions on the window sill and keep a rug on the floor.
Nonetheless, if the window sill is not wide, you can extend it with tailor-made benches that match the interiors.
Flourishing Pocket Gardens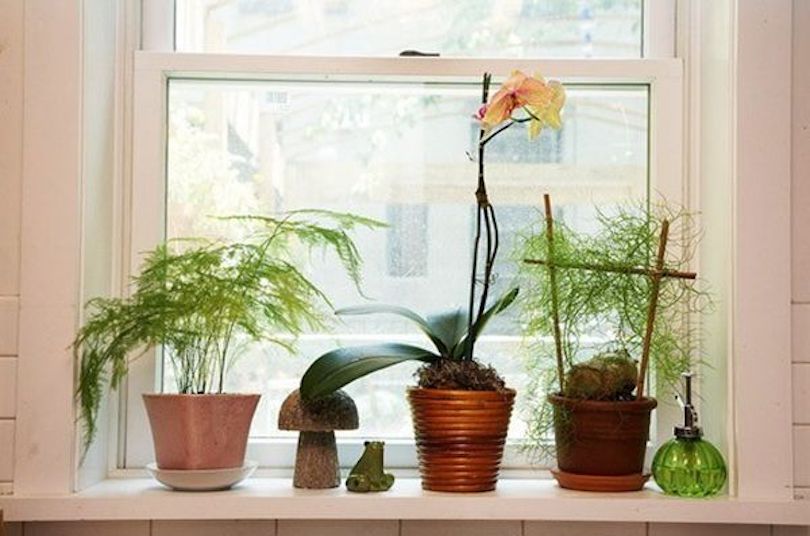 A window sill is also a perfect spot to grow various indoor houseplants, including herbs. After all, this is the space that gets enough sunlight. But it happens when it has north-facing or south-facing windows.
Plus, windows draw the viewers' attention. It means that such window sill decorations can help you show off your green beauties without effort. So, consider adding them to a window sill rather than tucking them away on a corner or a shelf. Do you live in a city? If so, the touch of greenery on your window sill is a refreshing sight every day.
In case, you want to grow kitchen herbs, you'd have your own readily available home-grown produce at all times.
Here are a few plants that you can consider to add to your window sills:
Orchid Plants
Geraniums
Miniature Succulents (Haworthia, Aeoniums, Lithops)
Fragrant Herbs (Thyme, Basil, Rosemary, Chamomile)
Trailing Indoor Plants (Neon Pothos, String of Pearls, Devil's Ivy)
You may even consider hanging planters if a window sill has enough vertical space. Additionally, you can use plant boxes on the window ledges. It will help you to maximize every inch of the given space.
With these pocket garden ideas together, you can easily beautify your home inside out.
Window Sill Decorations as Inspiring Workspace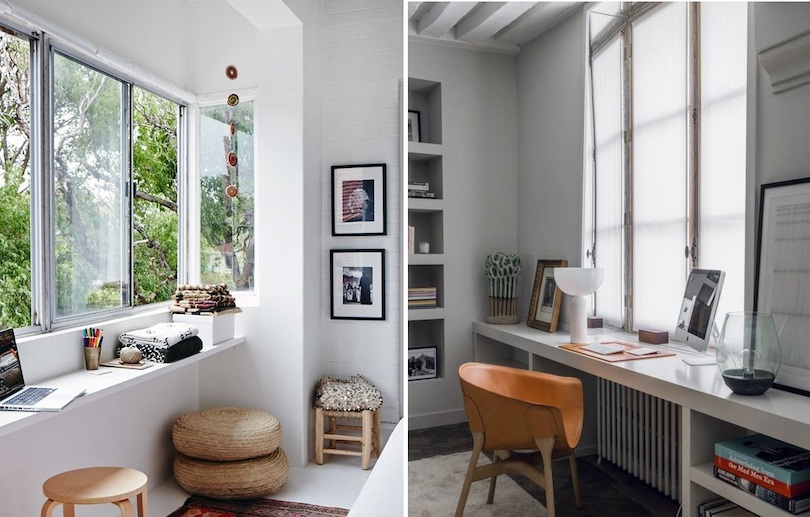 Another interesting way to transform your window sill is to turn it into a functional workspace. You can place your work desk on the window sill's front. This gives you plenty of space for working and storing work accessories. Also, get your workspace by the window sill customized to match the taste of a particular window sill and the interiors.
Window Sill Decorations as Extra Bookshelf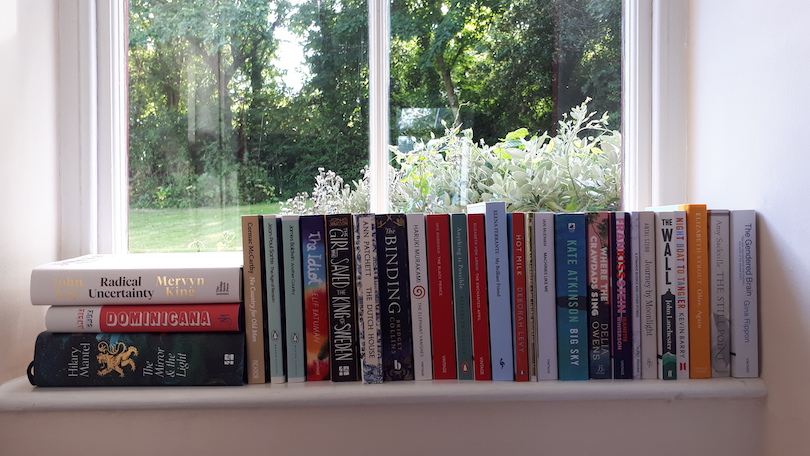 Even the slimmest of window sills typically have enough space to hold books. This is an easy-to-access spot for your favorite books or the ones you're currently reading. And from an aesthetic standpoint, hardbound books with decorative covers would look amazing.
In addition, you can also add a comfy chair in front of your window sill-turned-bookshelf and create an instant reading corner.
Easily Accessible Coffee Nook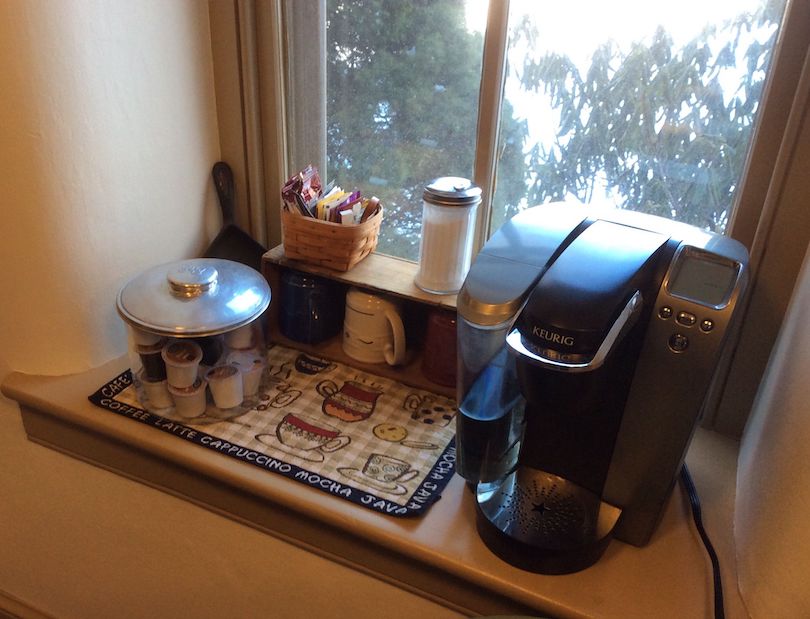 This window sill transformation is great for coffee lovers. All you need to do is make your window sill into a coffee-making bar. Such window sill decorations are great to enjoy coffee along with outside views. You can use your window sill to place your coffee cups, French press, or jar of beans. One perk of this modification is that it instantly makes your room smell of aromatic coffee. Amazing, right?
A Practical Space for Kitchen Essentials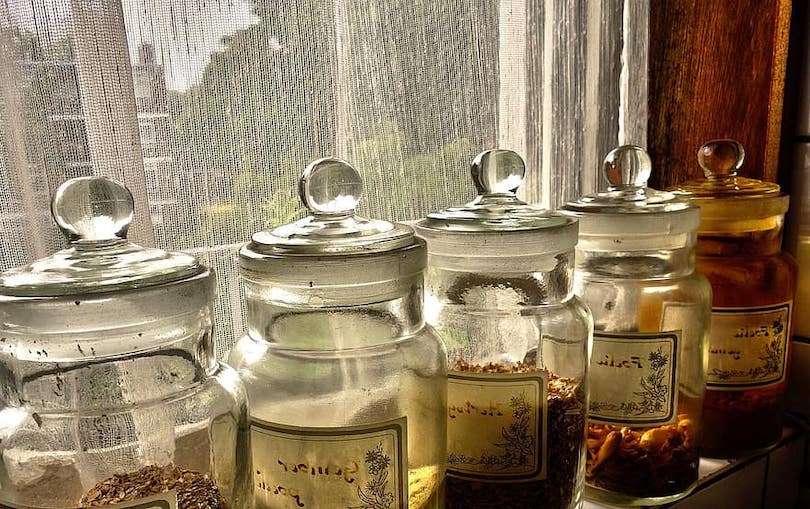 If your kitchen window has a deep sill, save the counterspace by making the sill a storage space. You can use this area to store the following:
Recipe books
A collection of bottled spices and dried herbs
Fresh vegetables and fruits in a ceramic or woven bowl
Mason jars or cookie jars full of treats
When you place these essentials in your kitchen window sill, you create an inviting atmosphere within your home kitchen.
Window Sill Decorations For Bathroom Essentials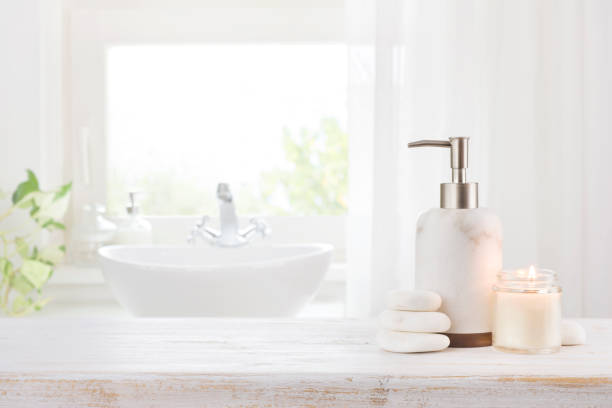 Another window sill decorations idea is for your bathroom. You can make use of your bathroom sill for storing your soap, shampoo bottles, and other essentials. It provides you easy access to all these bathroom essentials when you are in a shower.
Use a window sill to place small things, like cotton balls, bar soaps, and other staples. You can place them neatly in transparent jars. This is going to make the space appear more aesthetically pleasing. If the conditioner and shampoo bottles are available in pretty packaging, you can refill them to keep the packing. Also, consider adding scented candles or little potted plants to complete the decoration.
All these bathroom essentials and decor items are great to add a warm and inviting feel to the interior.
A Vignette of Happiness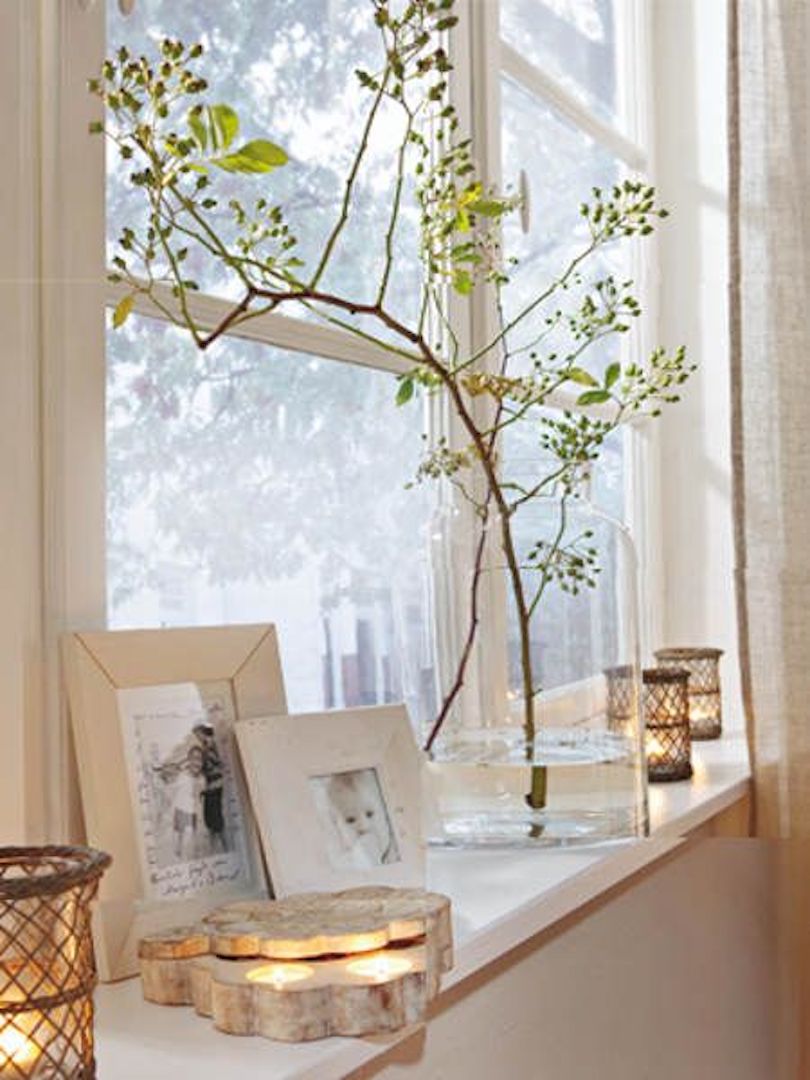 Another creative and fun window sill decoration is to make it a vignette of happiness. How? By simply adding little things that remind you of special moments or bring happy memories. The decoration possibilities are endless.
Here are some nostalgic bedroom or living room window sill decor ideas:
A collection of family photos
Personal collection of special crystals or scented candles
A mix of attractive trinkets from different places you've traveled.
There are no specific rules. Just go ahead and make a stunning mix of special embellishments. These will help you bring in more positive vibes in your living space. If there are tiny pieces for a window sill, you can make use of some color-coordinated trays for keeping thee items. This will also avoid any clutter on the window sill.
A Focal Point for Seasonal Decorations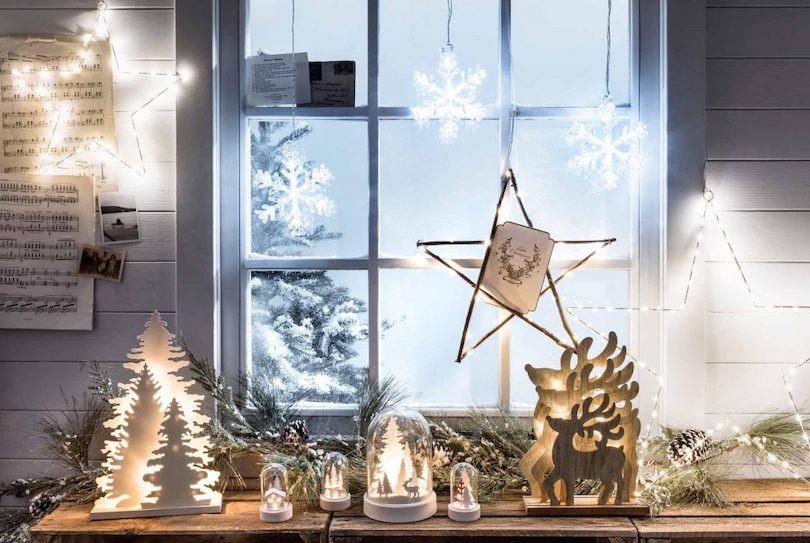 Since the windows are an instant focal point of any room, they make a stunning area to display seasonal decorations.
You can use this space to boast your tiny Christmas ornaments, fairy lights, and a miniature Christmas tree. For Thanksgiving and Halloween, you can consider adding orange pumpkins on the window sill. These are perfect for a classic Autumn look. You can even dress up the window will with white or glittery pumpkin varieties. Just do as you feel like.
No matter what time of the year you want to celebrate, a window sill is a great place for any decor.
Conclusion
In this article, we shared with you some amazing window sill decoration ideas. These ideas are great to add a minimalist or glamorous touch to this space. Depending on the decor, you can easily glam up or mellow down the interior as per your preferences.
So, if your home already has the optimal windows ready for decor, you can make use of the given decoration ideas. Which of these decoration ideas are you thrilled to try? Share your views with us.