Moba Mobility Beverage Bar Trolley To Mix, Serve, and Store Liquor
Ever dreamed of building a home bar in your home? So, what's restricting you? The limited apartment or tiny house space? If so, you can consider Moba mobility beverage bar trolley for your small living space. This is a mini bar cart on wheels to easily relocate from one room to another. What makes this bar trolley special is the fact that it's a multifunctional station for mixing, serving, and storing liquor in one place. Moreover, it can even turn into a casual seating space to taste the liquor.
Each detail of this bar trolley is aesthetic and practical. Be it round edges, wheels, interior compartment, wheels, or leather handle, every detail is the result of great craftsmanship. Besides elegant aesthetics, this bar trolley is highly functional. Hence, you can enjoy a bar-like experience just at your home.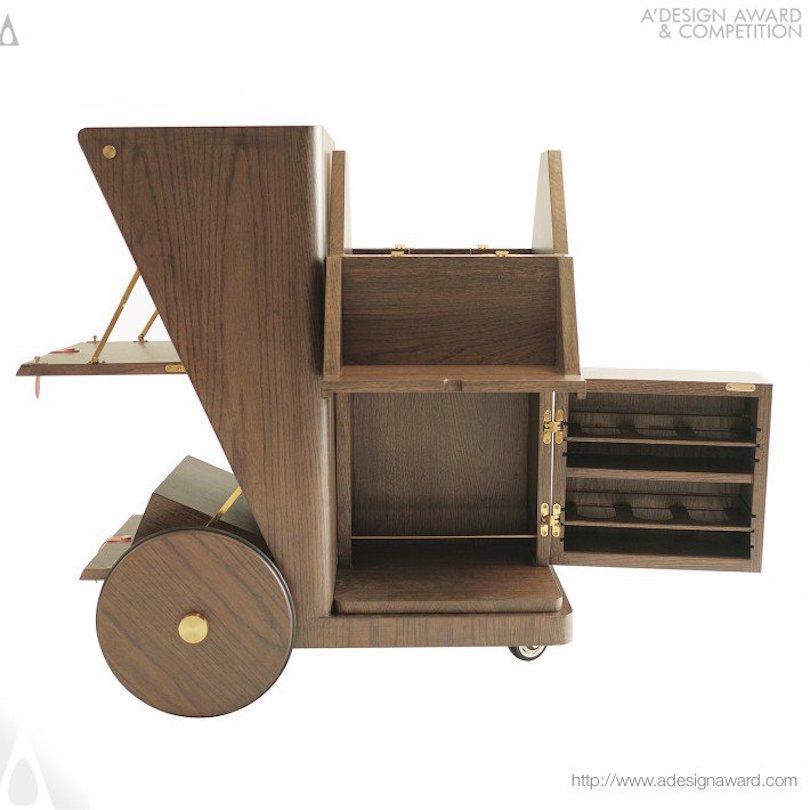 Developed and designed by Enoch Kwan and Ronnie Chan from Hong Long-based Dream Ticket Workshop, this bar trolley is designed to smoothly move around your house. What we really like about this bar trolley is its ample storage for wine glasses and bottles within its internal compartment.
Unlike many other bar carts available only for displaying the spirits, Moba is your small multi-functional home bar. The mobile bar also makes use of stunning finishes and materials that make it suitable for any interior setting.
Operation, Interaction & Flow
Just with a simple push of a leather handle, you can open the internal storage compartment. You can use the storage space to place bar accessories and ice buckets. The typical cube one has two top upward-opening doors to store tall beverage bottles. On the other hand, the typical cube two comes with a half swing door to store beverage glasses. Both these cubes double up as a seat or a bar tray.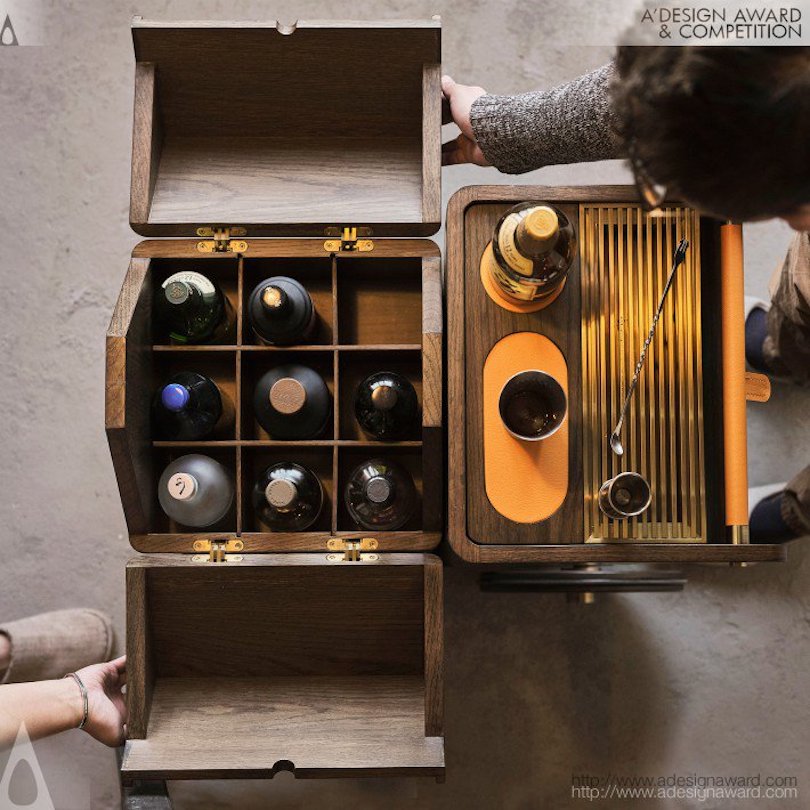 You just need to find the perfect location and place it like any other piece of furniture. It can be moved around the home easily thanks to the leather handle with two large side wheels and one small wheel under the trolley.
Creative challenge to create bar trolley
The team behind the creation of this bar trolley had to face a few challenges. For creating this design concept, the minibar setting had to fulfill mobility and functionality in a small trolley and storage space. The team also wanted to create a trolley design that appears as an art piece using simple materials, form, and proportion with amazing aesthetics.
Besides that, the designers faced different obstacles to manufacturing the right size of the side wheels. It is because the size of the front wheels could impact the trolley's outlook applications and forms. Furthermore, the craftmanship remained tuned most of the time for stackable beverage glasses and bottle storage cubes.
Final outcome: Portable bar trolley
The outcome is an all-in-one Moba mobility bar beverage trolley, which is perfect for indoor and outdoor use. You can take it out to a porch, backyard, balcony, or any other place in your house.
Design Award
The beauty of this mobile bar trolley is within its simple yet attractive design profile. The layout of this trolley elevates the shape of this trolley effortlessly. Due to its aesthetics and functionality, this home bar trolley has bagged Bronze at the A' Design Award & Competition 2020-2021 in Furniture Design Category.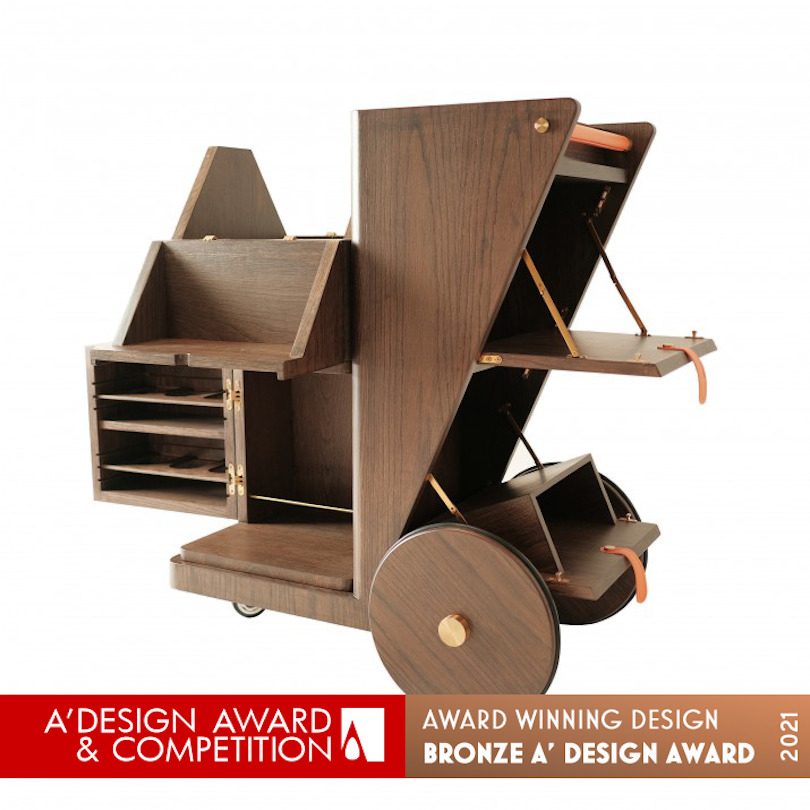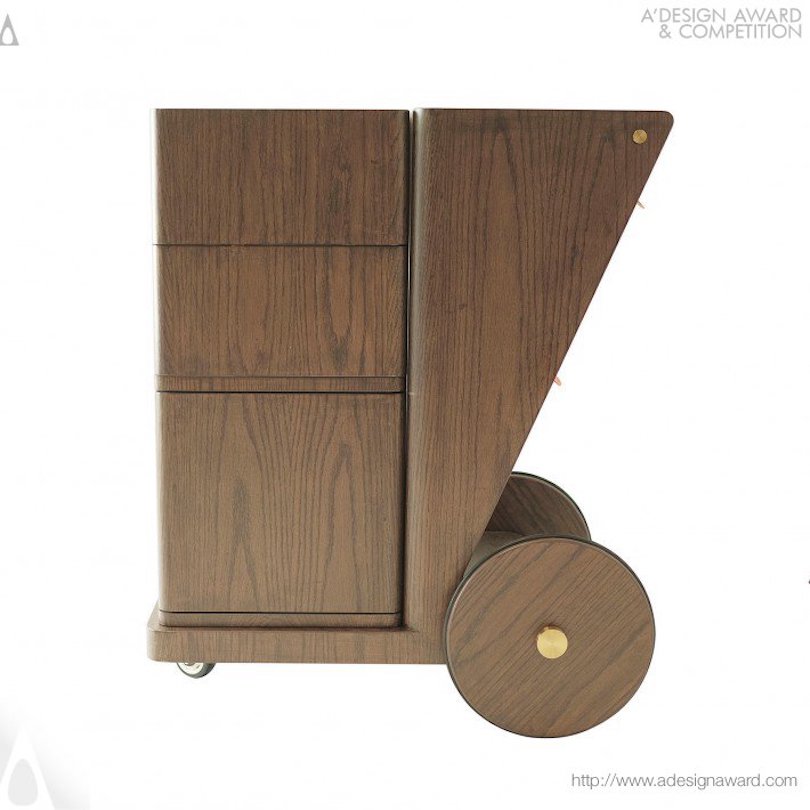 Via: Tuvie