Everything You Want To Know About Sunken Living Room
A sunken living room is again gaining popularity in contemporary homes. Whether you like it or not, we have been observing this interior trend more and more lately. The sunken spaces are nowadays seen everywhere from classic TV shows, such as the popular shows like the old Dick van Dyke Show or Mad Men. Not just the period-appropriate TV shows, thus living space trend is also seen in more unique areas, like contemporary design magazines.
How Deep Should Your Sunken Living Room Be?
You need to define the living room's specific boundary. In many cases, sunken living areas encompass a pit section, as well as the elevated living space that's present at a standard floor height.
You even need to determine the available space to make it sunken in the living room. It is possible with the measurement of the width and length of the given space. At least, you need proper space for the couch and table as well. Furthermore, the end tables and chairs need to be placed in the well-defined sunken room.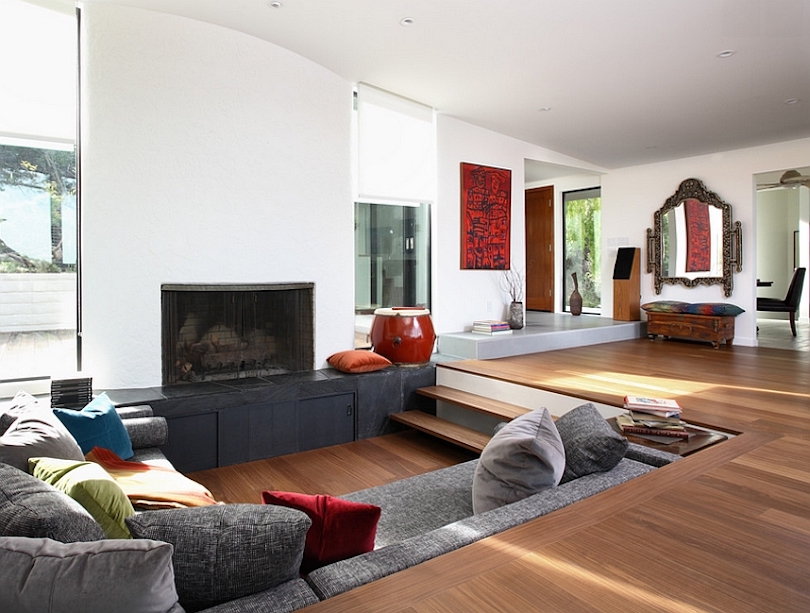 The sunken spaces can be of any size or form, as well as their depth may range from a few inches to various feet. It all depends on your personal preference and the style you like.
Advantages & Disadvantages of Sunken Living Rooms
The sunken living rooms are perfect for homes with large and open layouts. When there are some walls, you need to create low-level rooms that clearly define the area without sight obstruction. The openness needs to sustain without any hindering distinction between the living room and your kitchen.
They provide a sense of spaciousness to any room
All thanks to the sunken spaces, you can create a sense of openness between the floor and the ceiling. This further makes an illusion of enormous space. Plus, the additional space between the ceiling and the floor makes the area feel bigger than it is. You can also consider installing an eye-catching lighting fixture or skylight on the ceiling right above the sunken area. This highlight draws the eye upward, hence creating an illusion of a bigger space.
They create amazing interior personality
Compared to the regular box-like layout, a sunken room helps you add unique character to any living space. Some homes also have a circular recessed chamber, as well as exquisite woodwork to draw attention to the details.
Sunken living rooms foster closeness
The cozy sunken living rooms when furnished with luxe sofas and pillows are perfect to create an intimate indoor atmosphere within your home. Whether you need a sunken space for social gatherings, watching a movie, or chit-chatting, it offers your family members to have a cozier and smaller atmosphere.
Disadvantages of Sunken Living Rooms
Just like anything else around us, there are certain drawbacks to sunken living rooms. Some of these disadvantages are:
They have the potential to create certain mishaps
If you ask many homeowners about one thing they don't like about the sunken rooms is that these are inconvenient. It is because these are prone to accidents and mishaps. There is a chance of falling and tripping if someone is not sure about the few steps in a sunken living area. Although it may appear an insignificant point, it can be harmful to people with disabilities.
They are not quite adaptable
You cannot make big changes to your sunken living room. While you may reuse the space as a playroom, a recreational area, or a room for relaxation, you are limited in terms of the layout due to the strange space.
More disadvantages
Even the conversation pits may remain in a similar location. So, you will get constrained by its shape and size. One more disadvantage is that you have to consider scaling in the living space. If you have a small living area that's recessed, it may have a claustrophobic effect, just like a bathtub sitting.
One more disadvantage of the sunken living room is the lack of flexibility of the given space. The furniture may not be rearranged and the flooring needs to have a 'hole' in it. All this makes it useless for any other function. Moreover, the conversation pits are quite costly to create. So, you need to have a good budget.
How To Make a Sunken Room?
Recessed Living Area Concept
Do you have a living room with a sunken design? There are various ways to make the interior harmonious with your vision. You can use the given tips to ensure that the sunken room is updated and stylish.
Take Precautions
Don't neglect the safety of the living room. So, remember that all visitors will not be familiar with the sunken space as your living room. You even need to install handrails or make use of materials for ensuring the steps are marked with railings. For instance, you may use various sunken living area solutions for the stairs. You may even paint the stairs so that these are easy to notice and not mix them with the rest of the flooring.
Install the Right Furniture
Make the given sunken spaces less uncomfortable and more meaningful by adding the right furniture. You need to use the right sofa weights, pillows, and tables to give the sunken area a clear purpose for resting. When filled with activity centers and toy storage, it's clear that the area is specifically for kids. No matter how you want to use this space, fill it with items without awkward corners.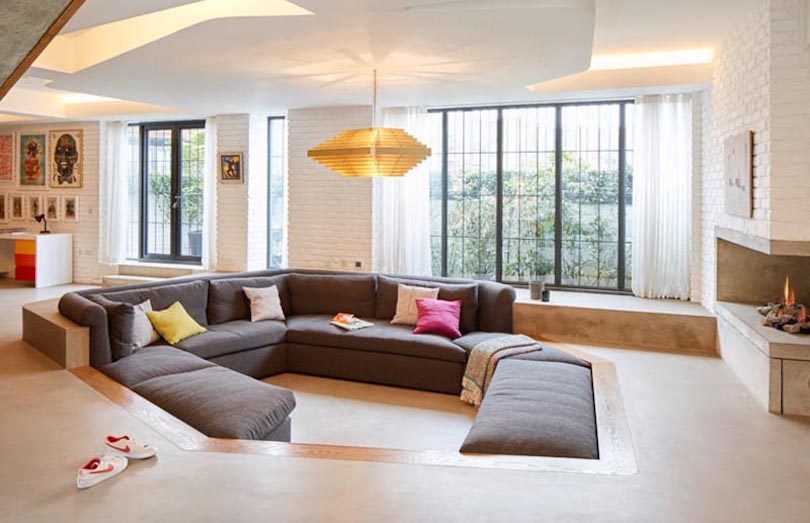 Use Right Color and Light
The sunken living area railings may sometimes appear inhospitable and dark. You can use some light colors and bring lights to make its space more inviting. You may even use the same colors in the sunken areas as the rest of your house. It is best to select furniture and upholstery to make your room a major part of your house. Plus, don't forget to add a striking ceiling and accent lighting fixture. All these lighting fixtures will make your sunken room brighter. So, it will not look dark and damp.
Whether you like them or not, the given design tips can make your sunken living area chic and fun. With the right appearance, this step-down area in your living room may be no less than a hidden gem.
Design considerations when designing sunken living rooms
Here are a few things to consider when building a stylish sunken living room. Here are a few things that you need to keep in mind:
Size and shape of the seating area – It must fulfill your seating requirements while maximizing the complete area. These two are the major factors that may impact the project's cost. The larger and highly complicated the shape is, the higher is the price.
Stairs – The stairs are the right features that go in and out of the sunken space. So, when you are planning for the stairs, you need to think about the future. So, don't build something that may be a problem for you in the oldage.
Depth of the sunken living space – It depends on your style and preferences. The factors like the age of the residents and the amount of foot traffic are also important considerations. After all, you need to think about avoiding accidents in and around the sunken living areas.
Placement – The sunken area, be it indoors or outdoors, must be accessible.
Handrails – You need to build the handrails with the stairs. These are needed to make the way easy when going in and out of the sunken area.
Stunning Sunken Living Room Ideas
Here are a few stunning sunken living room ideas you need to consider for your home:
Mid-Century But Modern Sunken Living Rooms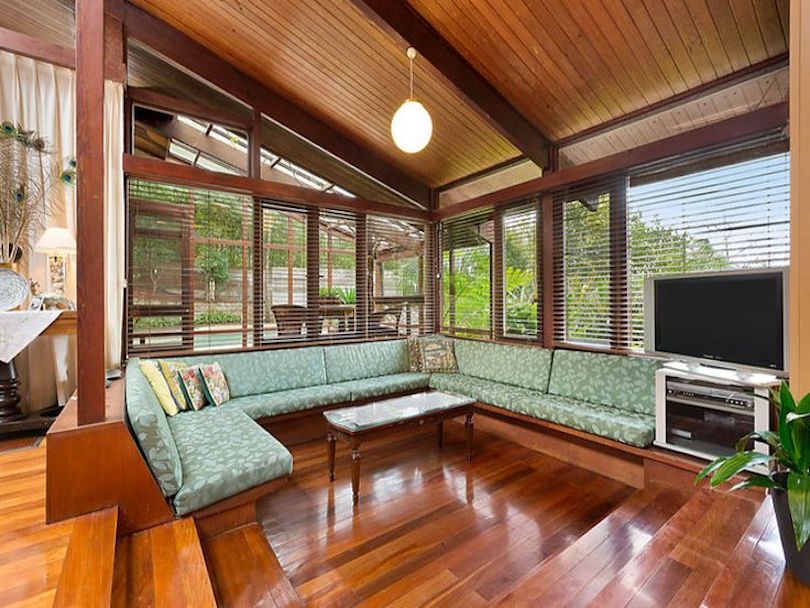 A mid-century modern step-down living room is easy to pull off but likely to add a striking touch to the given space. The elements are perfect for such room decor with specific lines, shapes, and colors. Moreover, the sunken space needs to fit ideally to the desired home design. However, you need to do thorough research and planning to create an interior of your choice.
Open-Concept Sunken Living Room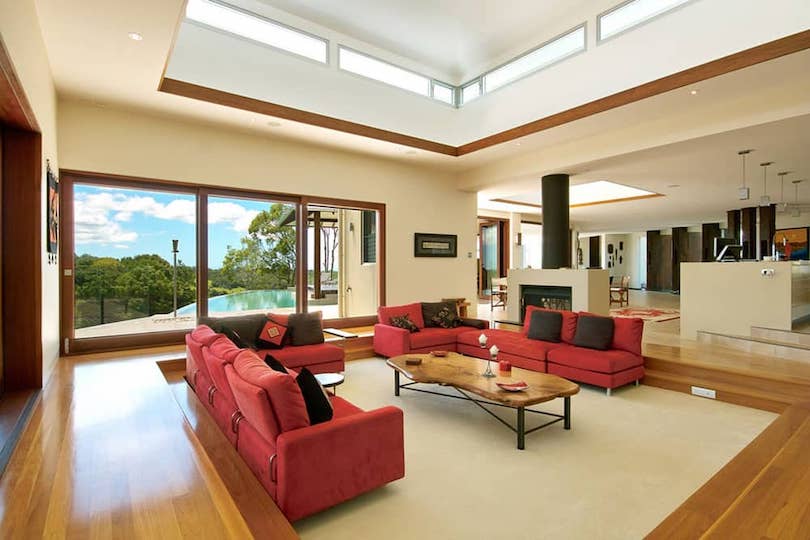 Another cool idea for sunken living rooms is the one with an open concept interior. It offers you a perfect interior with cozy ambiance light just in front of the glass patio. We love how the colors in this interior are warm, bright, and cozy but still very modern. The conversation pits like all these are great to manage while creating a very intimate atmosphere within the open concept home. There is also a small and sleek coffee table in the middle for creating a perfect visual grounding but the practical layout.
Beach House Step Down Living Room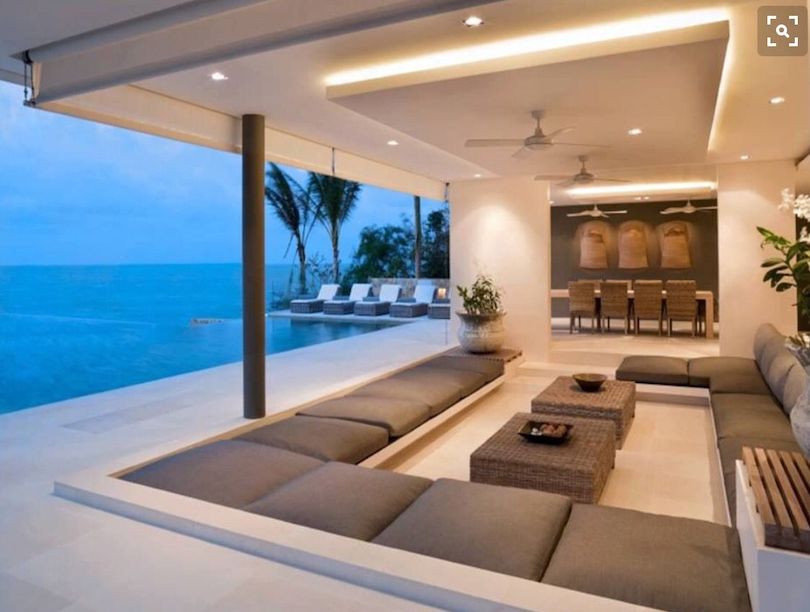 Do you own a perfect beach house? But want to make the sunken living area within the given interior space. If so, have a look at this perfect beach house sunken interior design. The coastal interior decor has a perfect blend of colors while offering you an amazing entertainment area with gorgeous sea views.
Transitional Sunken Interior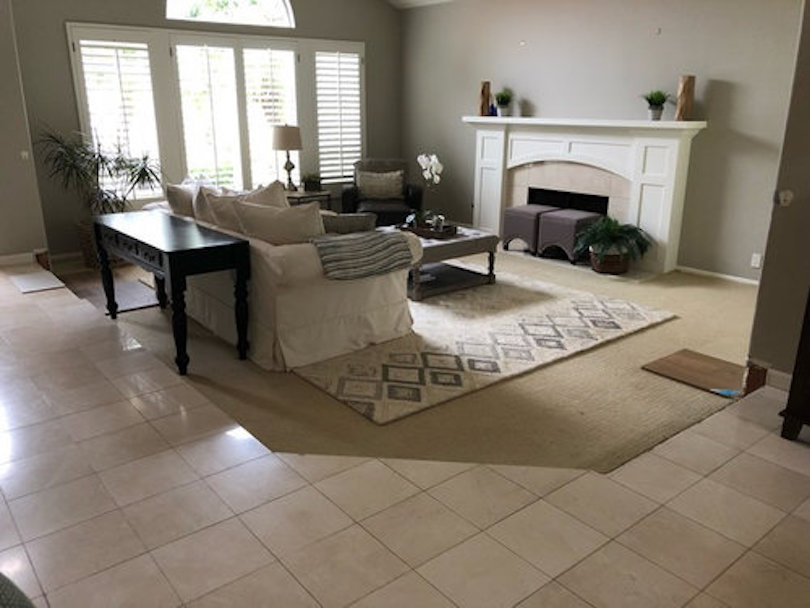 Simple but elegant, that's how this transitional open-concept sunken interior is. This is the one that any home designer would feel cozy and comfortable in. This is a great interior style for large families. So, they can use this specific area to spend quality time together.
Mad Men-Inspired Living Room With Sunken Design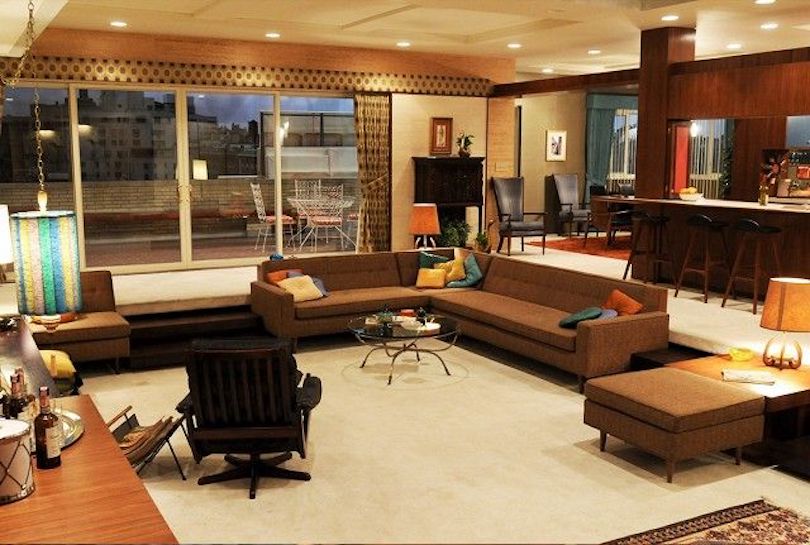 If you love the period drama Mad Men, you can consider creating an interior with a sunken area in your home. This is a mid-century design with a contemporary touch. However, it still has got the 1960s feel. The whole idea is to create a perfect sunken room that defines the confines. It is an ideal design idea that suitable for anyone who loves simple but sophisticated home style.
Curved Design For Sunken Interior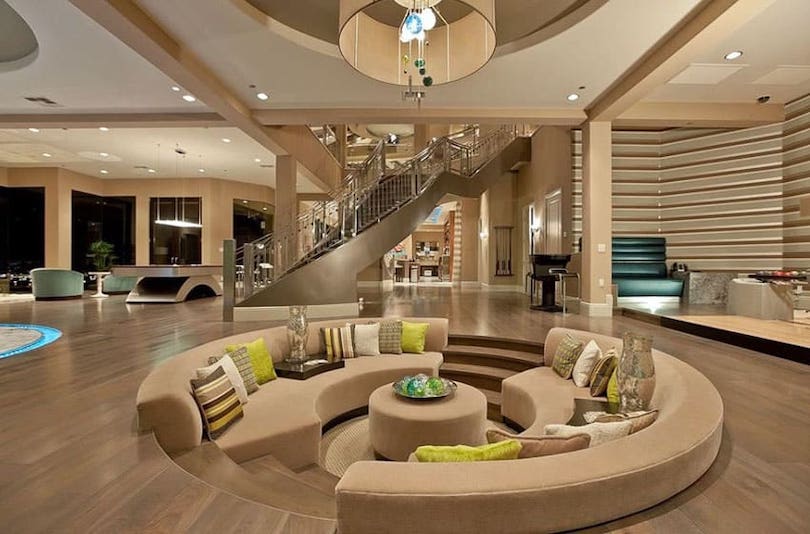 Want to create a stylish conversation pit in your home? One striking way to do so is by adding a curved sunken space in the center. This circular seating area looks not only aesthetic but quite functional as well. However, you need a large interior for this sort of design. And, don't forget to add a lot of lights within the interior to brighten up the given space.
Outdoor Sunken Patio Area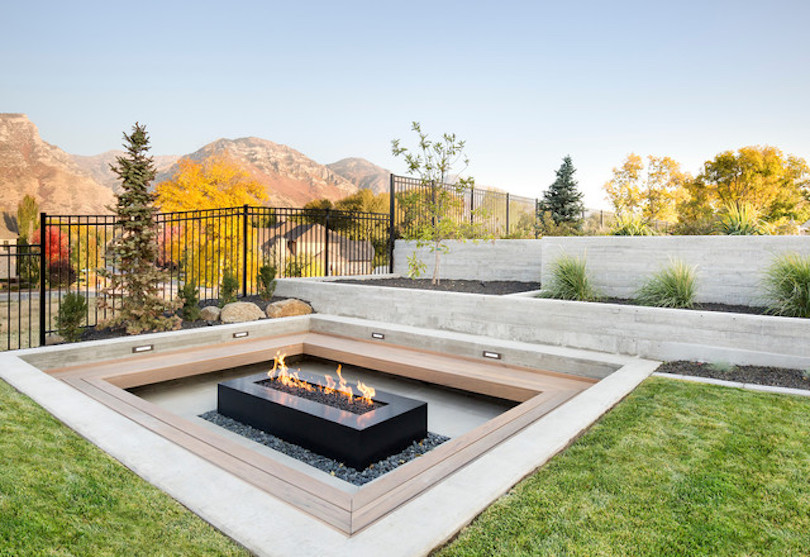 Not just the interior, you can consider adding a sunken seating area outdoors as well. Just have a look at this gorgeous recessed patio area that reinforces the architectural geometry. Meanwhile, it offers you a practical area in your garden or backyard to sit and relax in peace. This is a good design option for people with a beautiful lawn, garden, or backyard.
Recessed Seating in Pool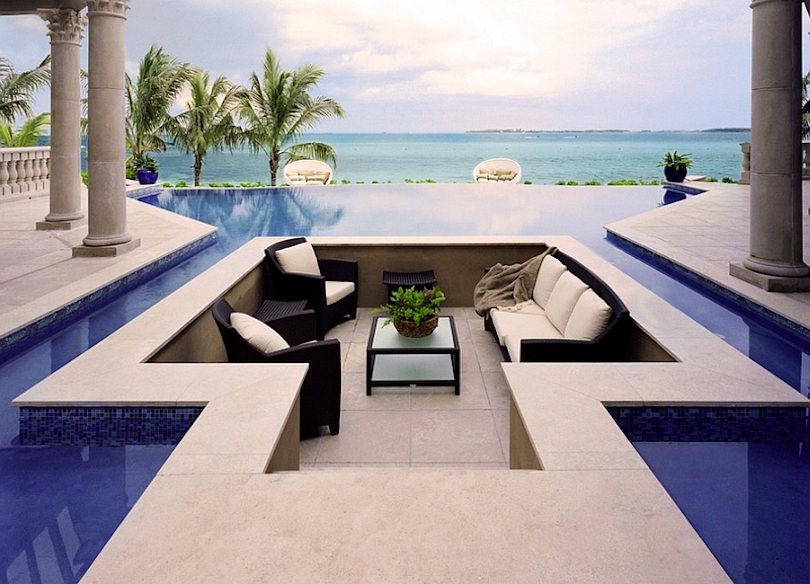 How about adding recessed seating within a pool? It's a perfect idea to add some drama to your property. The recessed seating in the middle of a pool makes a great conversation pit. Meanwhile, it serves as a great epitome of luxury and style. This sitting area adds a lovely design statement to the given space if it's at the right pool height. You can even consider lowering it below the waterline to give some exquisite touch to the given area. But make sure it does not interfere with the gorgeous view of the surroundings.
Conclusion
While the opinions may vary, it is clear that the concept of the sunken living room is still going strong. The sunken spaces may help you define the living area within an open floor plan with no additional walls.
Although this design approach has its advantages and disadvantages if the idea is appealing to you, just go for it. Your whole family will benefit from it with various cozy times to spend together. With the right decor and design, a sunken living area is easy to become your favorite space in your house.