Andrés Reisinger Architects Metaverse For Its Dreamy Winter House
Taking a cue from the frosty winter season in the metaverse, digital artist Andrés Reisinger designed this stunning Winter House. He designed this house in collaboration with architect Alba de la Fuente. This project is more like a virtual dwelling with soothing colors. Plus, it boasts the clear geometries. It's amazing to see how the duo envisions this space with winter tranquility in mind. Moreover, this winter haven has a dream-like aesthetic that's in the metaverse.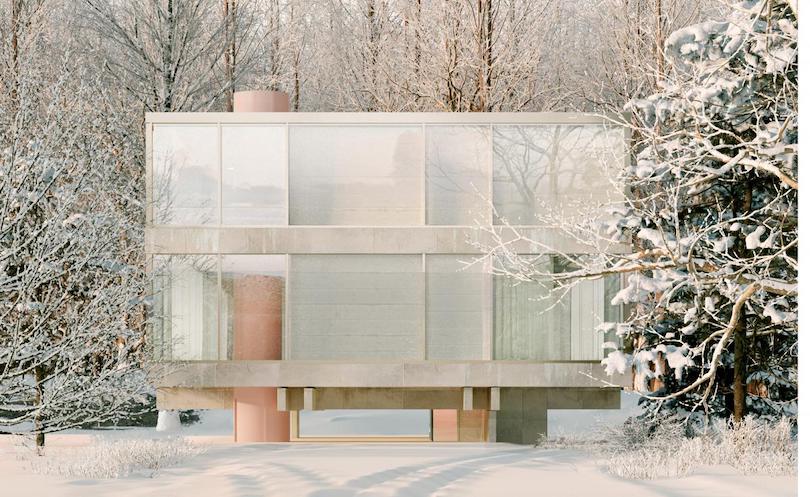 This transparent, rational, and oniric house nests in a gorgeous mountain landscape. And, the house effortlessly isolates in calm snow-covered surroundings. What's even more interesting is the subtle but stunning color palette. See how peacefully white snow dialogues in continuation with the intimate interiors. Moreover, the interiors boast icy white and soothing pink hues.
About Andrés Reisinger
Argentine Andrés Reisinger is one of the very sought-after digital artists. He's known to create projects with a recognizable yet distinctive style. He is also defined by Forbes as one of the finest under 30 artists. With his designs, he creates the future of art and so he has a significant market. So far, he has designed various galleries. And, even collaborated with various international brands and collectors.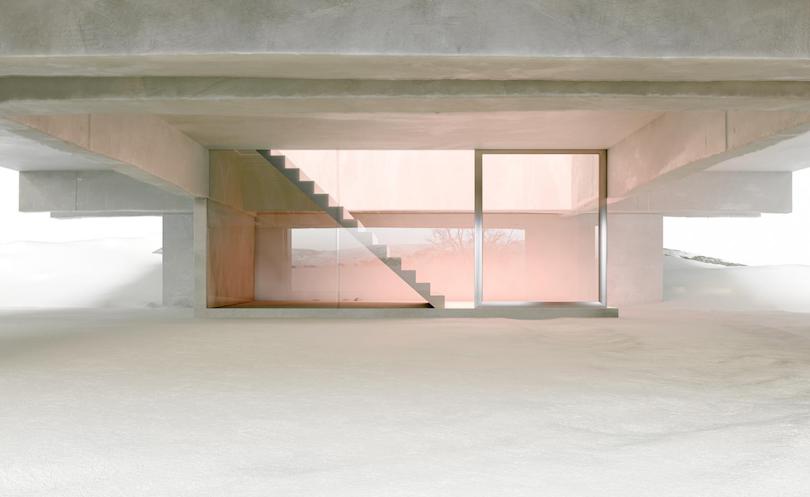 Some of Reisinger's virtual works belong to the Shipping collection. It even includes the popular Hortensia chair. This design has collected almost half a million dollars in the 2021 auction. The virtual pieces' exclusive ownership is ensured by NFT technology. This technology is further based on blockchain. And, these pieces can get sold against a deep of buying.
An architecture studio committed to Metaverse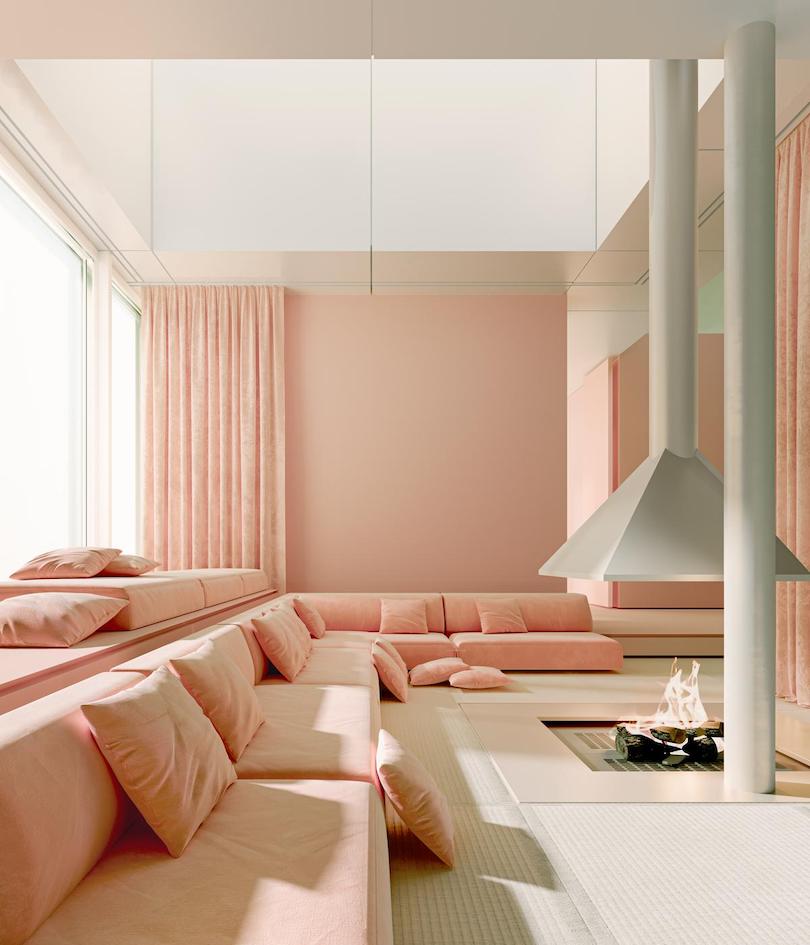 Showcasing the oniric aesthetic, the Winter House is a residential project. And, it's workable to install on any existing and futuristic metaverses. It depicts another step towards the virtualization of buildings and interiors. After all, digital technology can design a universe with endless possibilities. It's also great to shape various houses and alternative existences.
Winter House: a tranquil winter hideaway
The Winter House's design depends on balance. It seems to fuse indoors with outdoors for creating a stunning winter hideaway. The designer has brilliantly created a general subtle atmosphere. It's the result of the combination of various architectural movements.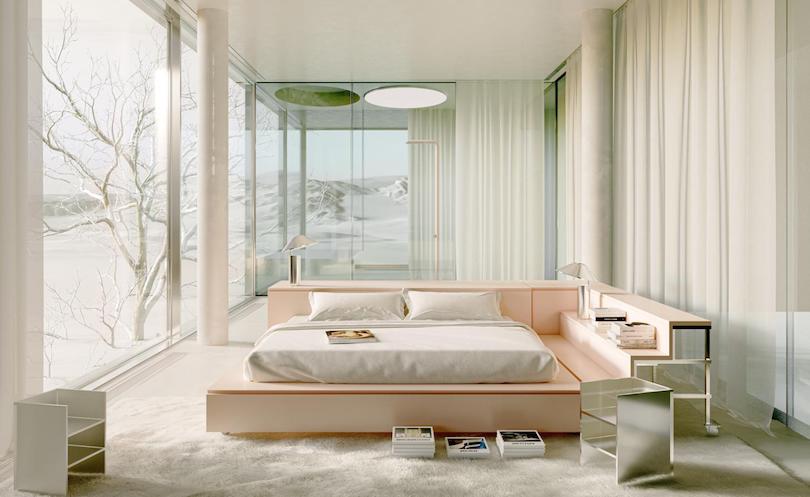 The building stands tall with the firm support of a large concrete structure. This structure erupts from the soil and imposes a floating floor. This juxtaposes with its glass walls, welcoming natural light into the living space.
The clear floor-to-ceiling walls make natural is an integral part of this winter house. The abode's dualities and contrasts are other main elements. These form a distinctive habitat that runs around seclusion and intimacy. Most areas of this house seem open and immersed in the dreamy winter wonderland. Despite that, the interiors also convey a sense of warmth and intimacy.
Interior of the Winter House
The interiors of this house are bright and airy. Plus, the accessories and furnishings define the given space. Some of the furnishings and accessories are the creations of Reisinger himself. And, others are tailor-made in pink tones, reminding the inhabitants of the sunset.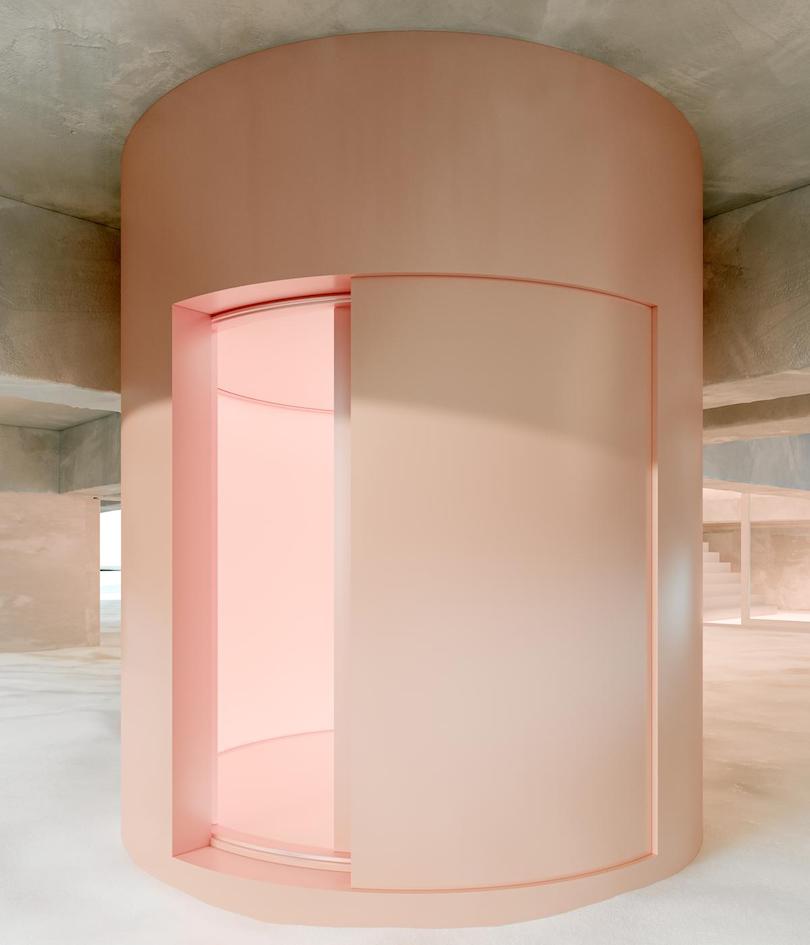 All around the house you can see sophisticated combinations of textures and colors. So, there's a unique sense of warmth in each room. And, comes with the use of different materials. Some of the materials are glass, concrete, metal, and elegant finishes.
Digital migration into the real rstate
This Winter House is the designer's second virtual home in collaboration with de la Fuente. Their architectural visions and creativity find a sense of harmony in new ways. It's the result of their deep understanding of spaces. And, this is how they take new steps towards the digital migration into Real Estate. With this Winter House, they together envision how a cold season may appear in the metaverse. Collecting all the feelings of stillness, quietness, and comfort, they created this design. And, it screams 'metaverse'!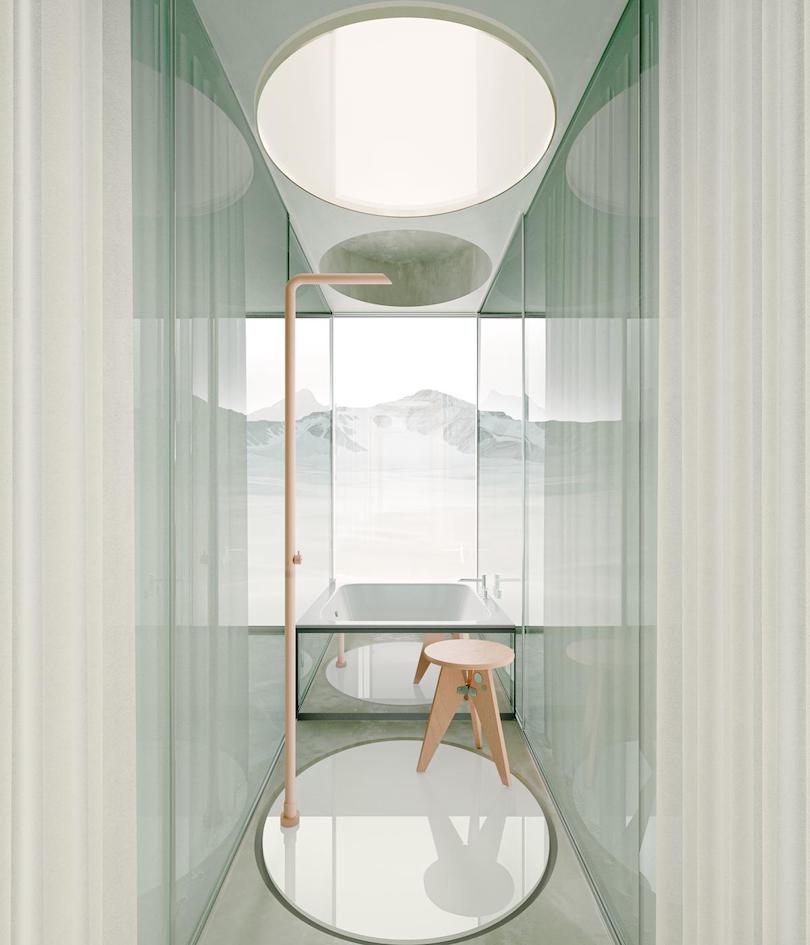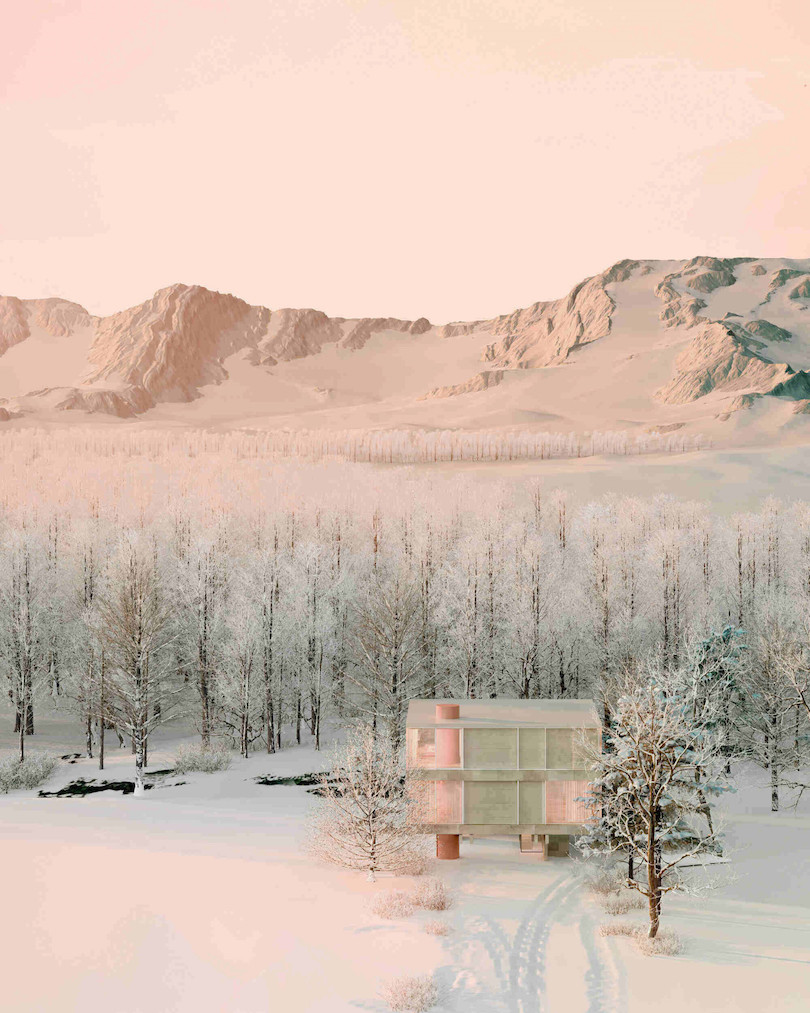 Via: Designboom