Best Golf Bags 2022-2023 To Keep Golf Clubs Safe & Secure
Do you love to travel to different destinations to play your favorite golf? If so, you need to check out the best golf bags 2022-2023 to conveniently carry your equipment to any desired location. The golf travel bags are best to keep the golf clubs secure while traveling. They also offer better protection from outside elements. That's why you need to look for durable and sturdy gold bags for travel.
But how to choose the best golf bags 2022-2023 for keeping the golf clubs safe:
TaylorMade Select ST Stand Bag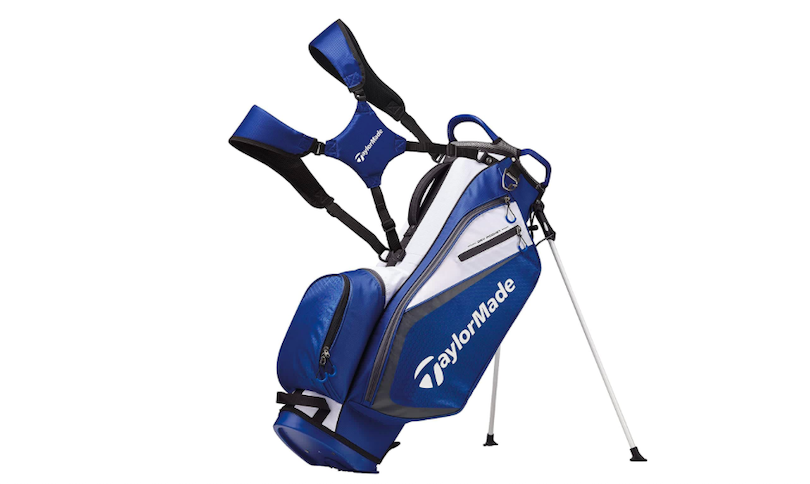 Product Details:
The Taylormade 8.0 Stand Bag puts a big emphasis on comfort and convenience so that you can focus on your game. Hence, it is one of the best golf bags 2022-2023
It weighs only 4.5 lbs., has an 8-way top that resists crushing, and utilizes a special stand system for seamless performance. It enables you to set the bag down and focus on getting ready for your shot without being sidetracked.
The uniqueness of this design is appreciated by both pedestrians and riders. It is because it comes with an adjustable padded dual-strap system.
There are grasp grips on the top cuff's built-in pocket.
Pros:
All pockets are accessible while riding thanks to the golf cart strap pass-through
The magnetic rangefinder pocket offers quick, simple access
When walking, the rain hood storage pocket adds additional padding
Excellent for push carts, golf carts, and carrying
Cons:
Clubs can occasionally become stuck, according to some users, especially when using larger grips.
Zero Friction Stand Bag
Product Details:
Versatile storage with 7 zipper compartments, including an outerwear section, a lined valuables pocket, and an insulated water bottle pocket.
Included in the essential accessory holders are holders for gloves, towels, scorecards, pens, and umbrellas.
7-way full-length bottom bag dividers to separate your clubs and prevents shafts from tangling
Includes a free 40″ golf towel and a men's left-hand golf glove with a universal fit.
Convenient features: Hip pad is comfortable, it weighs only 5.5 pounds, and the matching rain hood matches.
Pros:
Great value with a tonne of features
The scorecard pocket is a great addition for walkers
Comes with a glove and a towel
Lots of storage for a small bag
Cons:
No rangefinder magnetic or snap-back pocket
Sun Mountain H2NO Lite Speed Stand Bag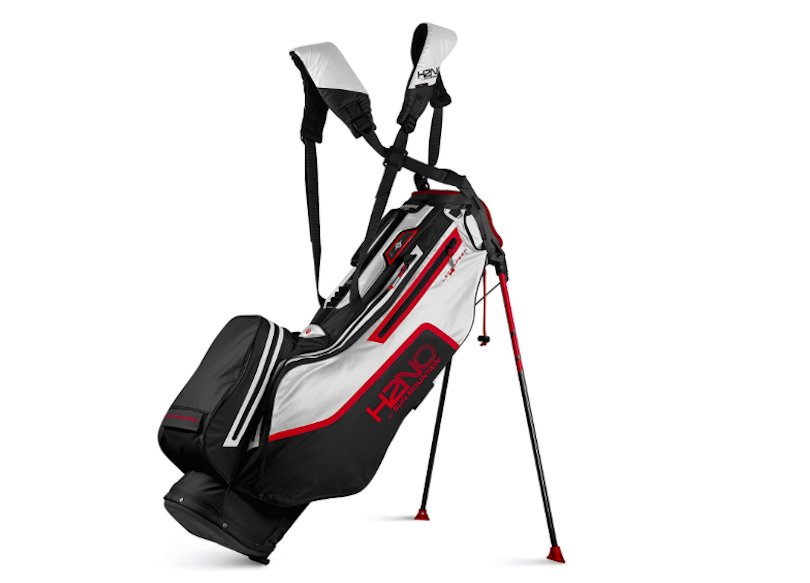 Product Details:
Taped seams, premium waterproof fabric, and water-resistant zippers.
Less than 5 pounds in weight.
A hydration sleeve, a full-length apparel pocket, and a two-compartment, velour-lined valuables pocket are among the 6 pockets.
The X-Strap System works well as a single strap for short carries and is simple to put on and take off. It makes it one of the best golf bags 2022-2023.
For a more comfortable carry, the shoulder straps are contoured and equipped with carry-assist grasp loops.
Includes a matching rain hood.
6 Pockets, 4.2 lbs., 4 Dividers, 8″ Top
Pros:
Fully waterproof
Lightweight & Well-built
Also functions well on a push cart
Very comfortable as a carry bag
Cons
There are better options if you frequently ride
Titleist Hybrid Golf Bag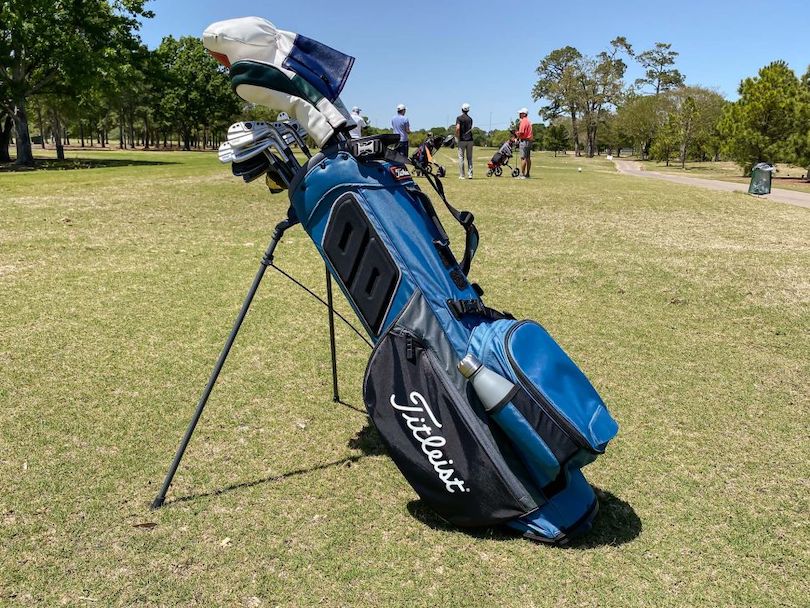 Product Details:
The stand bags from Titleist are a wise investment that not only functions well but also, quite frankly, reveals something about the player.
It has a timeless appearance and excellent functioning.
Design that is appropriate for push trolleys.
Premium twin strap tunnel integrated into the cart straps.
Extending clothing pocket
Waterproof pocket for valuables
Pros:
Traditional Titleist style
Many pockets, including a large valuables pocket with protection
Very comfortable as a carry bag
Easy removal of straps
Despite having a great volume of pockets, it is very maneuverable
Cons:
If you frequently cycle, you might want to give a hybrid bag or a cart bag more thought.
Callaway Fairway 14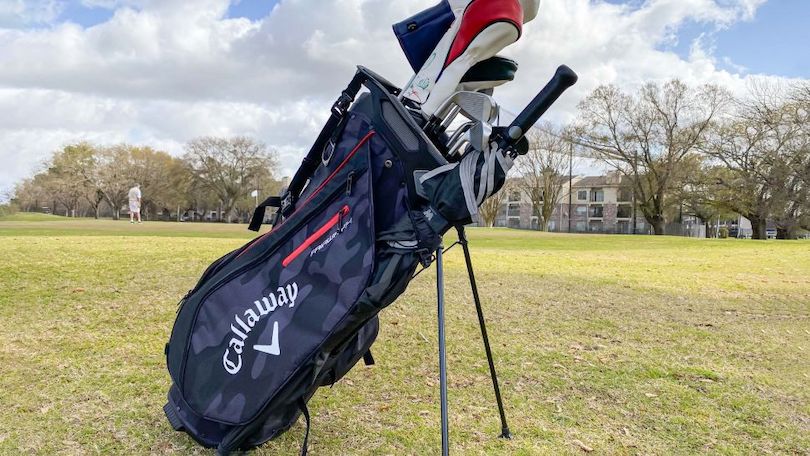 Product Details:
You can fit everything you need in this sizable and well-designed stand bag that works well on both push carts and powered golf carts. It's possible due to its unique 14-way divider "Low-Rider" top with a rubber "overmold" putter hole.
14-Way Lowrider* top with grip blocks and rubber over mold putter well (Pushcart friendly).
Personalized full-length dividers.
Metal zip pulls.
Alloy towel ring dependable and robust material.
Pros:
Combines seamlessly with a push cart
Because of the 14-way top, clubs never get tangled
Plenty of storage room for storing anything you intend to bring with you on the course
Magnetic GPS or rangefinder pocket
Pockets with a through-hole for the cart strap
Cons:
Golfers who occasionally carry their own clubs should think about a true hybrid bag.
Nike Golf Stand Bag
Product Details
The 14-way full-length divider system in this golf bag keeps your clubs organized.
An insulated compartment keeps food and beverages cool, while other interior pockets help you stay organized.
A waterproof rain cover guards against outside forces.
100% polyester is used to create the body and lining of the sturdy, lightweight aluminum construction.
Base compatible with cars is included.
Pros:
Amazing technological characteristics
Three easily accessible magnetic compartments
Outstanding design, materials, and craftsmanship of the bag
Environmentally friendly construction Comfy double-strap system
Cons:
Golfers who like to cram their bags full of items may want to consider something bigger.
OGIO 2022 Woode Hybrid 8 Stand Bag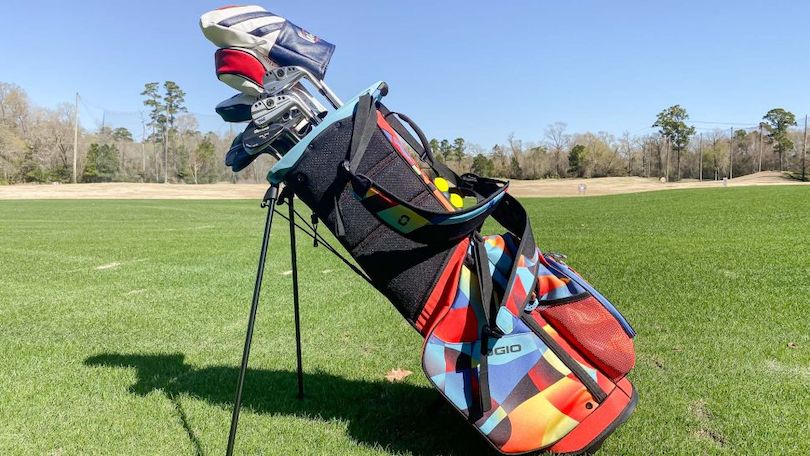 Product Details
With more area for big putter grips, the new 8-way WOOD top organizes your woods and irons better.
There are nine front-facing pockets, including a ball pocket with a rapid access snap and a fleece-lined valuables compartment with a rapid access snap.
Low Profile Ball Silo Molded Double Shoulder Strap with Fit Disc Self-Balancing Strap System Velcro Glove Patch, Towel Loop, Pen Holder, and Umbrella Holder
Pros:
It's simple to remove and replace clubs because of the WOOD top.
Two snap-back pockets are among the other cutting-edge features. The item has a tonne of Storage space in a manageable package.
One of the top rain hoods available Plus
Pleasant color schemes
Cons:
This bag is too big for golfers who carry it most of the time.
Sunday Golf The Loma Standbag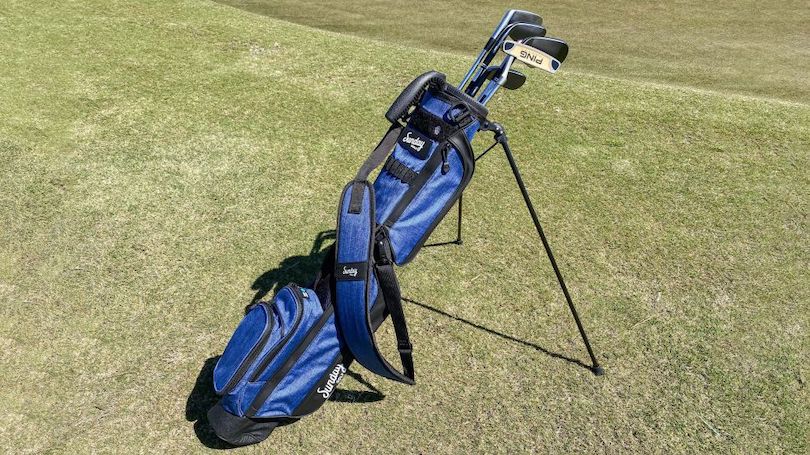 Product Details:
Lightest Golf Stand Bag: Up to 6-7 clubs fit comfortably in this Sunday stand carry bag, which is lightweight. The ideal bag for an executive course or a Sunday evening round. includes a strap and carry handle.
For the safe storage of your belongings, including your wallet, phone, keys, and other items, the Sunday Golf pitch n putt bag includes a valuables pocket that is lined with velour on the inside.
Keep your beverages cold while you are out shooting with the Cooler Pouch. It also comfortably holds one bottle or two cans.
Your Sunday Gold Bag fits easily into any trunk and is perfect for use at the driving range when you only need to bring 4-5 clubs to get some practice in. This eliminates the need to carry a bulky golf bag. Your shoulders and back will appreciate it!
Pros:
Ideal for practice, casual rounds, and par-3 courses
For a Sunday bag, the stand is a major plus.
Superior components and construction
Superb style.
Cons:
Although a single strap is adequate, the bag hangs awkwardly when in use.
IZZO Ultra-Lite Cart Bag
Product Details:
Compact and Lightweight: 3.2 lbs; Dimensions: 34.75 x 13.5 x 10
Easy To Transport: Our lightweight golf bag is incredibly simple to carry and comes with a Smart grip handle that makes it simple to load and unload the bag from your car, SUV, or truck.
The 4-way padded top of our golf club bags has two full-length dividers for exceptional organization and shaft protection.
With four total pockets, including a waterproof valuables pocket, dual carry straps, an umbrella holder, a towel clip, and a rain hood, our golf stand bag has premium features.
Golf stand bags are made of high-strength 4200 polyester fabric, which is durable and attractive.
Pros:
Because it is lighter than many carry-on bags, it is simpler to transfer.
One strap rests behind the bag when it is mounted on the cart, making it simple to reach all pockets.
Price-to-value is excellent.
Several places to store things.
Cons:
Not recommended for walkers.
CaddyDaddy First Class Premium Padded Golf Bag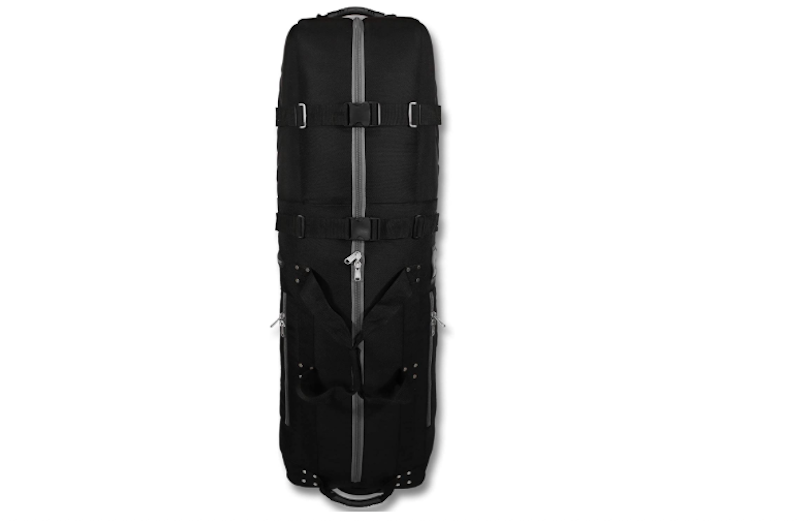 Product Details:
It comes with a durable gold travel cover for protecting the bag and the equipment while traveling. It is an essential travel bag for all golfers and offers exceptional value.
The golf travel cover bag is made with military-grade hardware and rivet reinforcements and is constructed with heavy-duty 1000D Ballistic Nylon. Additionally, 2 Layer Foam/EVA padding is offered to shield your golf clubs from any outside harm.
Comes with large side pockets. The bag also includes 2 sizable outer side pockets with exterior zipper access. These lockable zippers can be used to store extra golf gear or other items of your choosing. There are also compression straps available, both internally and externally, for securing clubs.
This cushioned golf cover bag is the ideal travel companion, regardless of whether you play golf professionally or just enjoy playing on courses all over the world. Use handles or shoulder straps to carry the bag containing all of your golf necessities.
Pros:
Great value
Superior padding
Durable
Convenient
Lots of storage area
Folds easily for storing
Cons:
The stitching might be improved.
So, these are some of the best golf bags 2022-2023 to consider for keeping your equipment safe and secure.