Continental ContiHome: Futuristic Tiny Home Made of Automotive Parts
The tiny home movement is a popular trend that's still going strong for many years now. Many automotive brands keep showing off their mobile tiny homes every now or then. But recently, tire manufacturer Continental has come up with its futuristic tiny home called ContiHome. The company claims it to be the "possible future of mobile living."
Comfortable and sustainable living in tiny home
Minimalism and micro-housing are two trends that are seen in the ContiHome. These tiny houses also aim to be the answer to the increasing house rents, resource scarcity, and lack of living space. Whether you want to cook, sleep, relax, eat, or work, the ContiHome offers you an ideal 32-square-meter of floor space.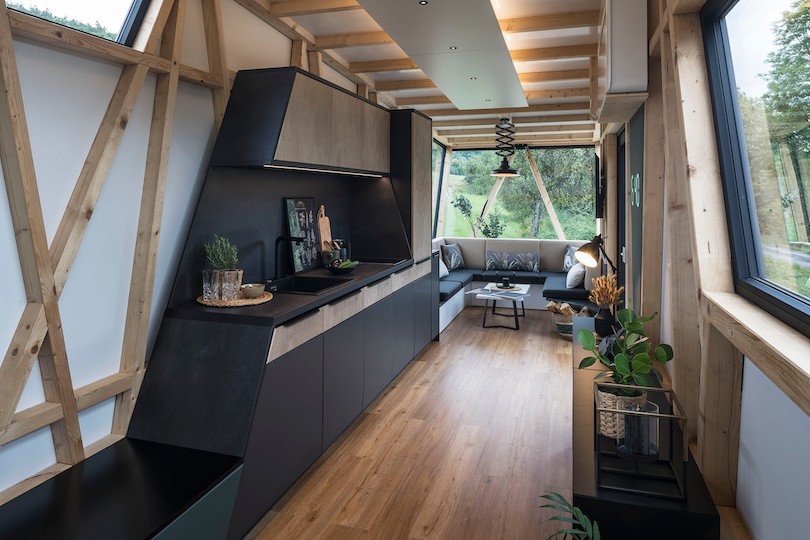 It's all possible with its holistic design concept that includes various surface design elements, materials, and functional areas that are easy to select as required. It includes coordinated mood elements and entertainment, like sound and lighting, for easy control via an app or a touchscreen that's situated at the main door.
You may even create the desired atmosphere within the tiny home, using its companion app. ContiHome also makes living in a tiny house not just eco-friendly but also more comfortable.
Mobile and flexible living space
The ContiHome boasts the main characteristic of flexibility and mobility. When mounted on a trailer, its location is easy to relocate anywhere, anytime. This mobile tiny home is even fully furnished and includes multi-functional furniture that serves as a workstation, sideboard or eating area.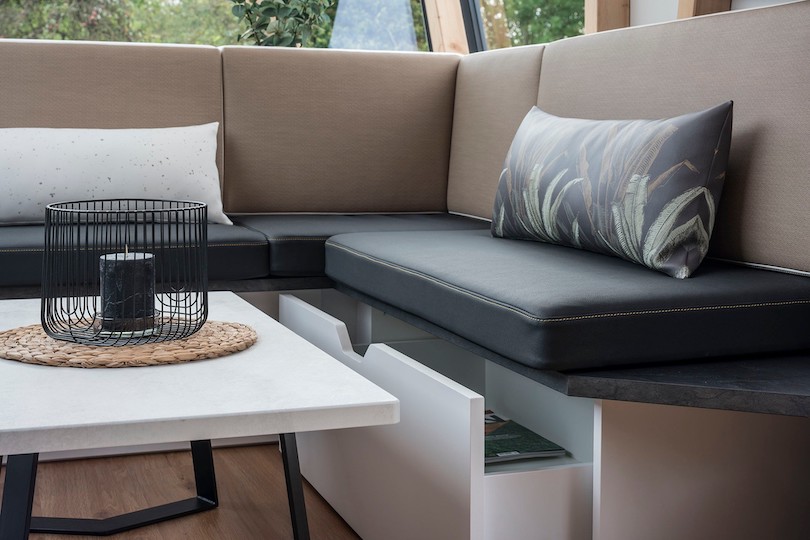 It even includes a flexible and retractable deck along with hidden storage compartments in the seating area and the stairs. Furthermore, the concealed electric fireplace within this kitchen offers another smart solution to remain warm and cozy. It even works with steam and also doubles up as a room divider.
Recyclable and durable surfaces
The laminated window profiles are 100-percent recycled and easy to utilize to manufacture new window elements for its new lifecycle. The floors, furniture, walls, facades, windows, and deck are also covered in easy-to-maintain and long-lasting surfaces. All this is the core competency of the Continental team. They also excel in other areas, like design, haptics, aesthetics, functionality, and comfort.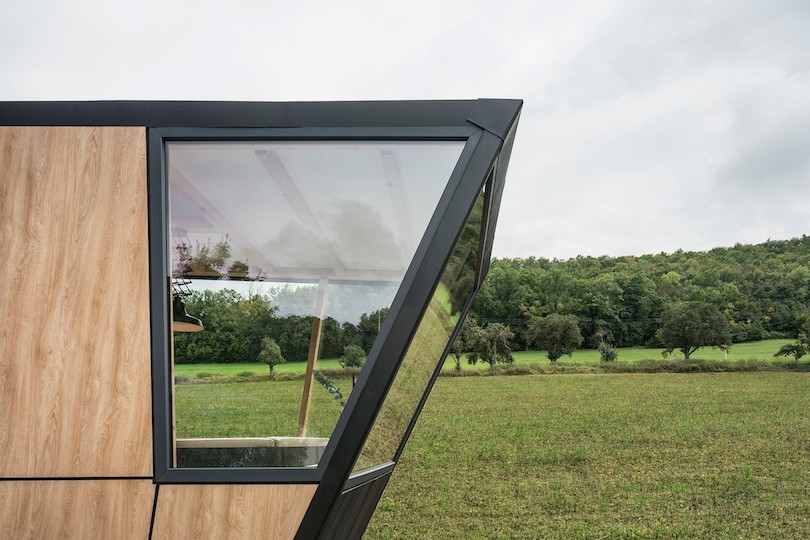 With the use of recycled materials, the company wanted to reduce the impact on the environment. As a result, they installed laminated window profiles through recyclable materials. In general, they strive for durability and longevity while ensuring that our materials are useful for long-term use.
Tiny home with modular furniture
Just like many other RVs, ContiHome also boasts modular furniture. You can have a look at the large U-shaped sofa and its social lounge. These furniture pieces make this area flexible to use for socializing, dining, or sleeping. Besides that, it even includes an entertainment area with high-tech features, like a sound system and large TV, ambient lighting, and large windows.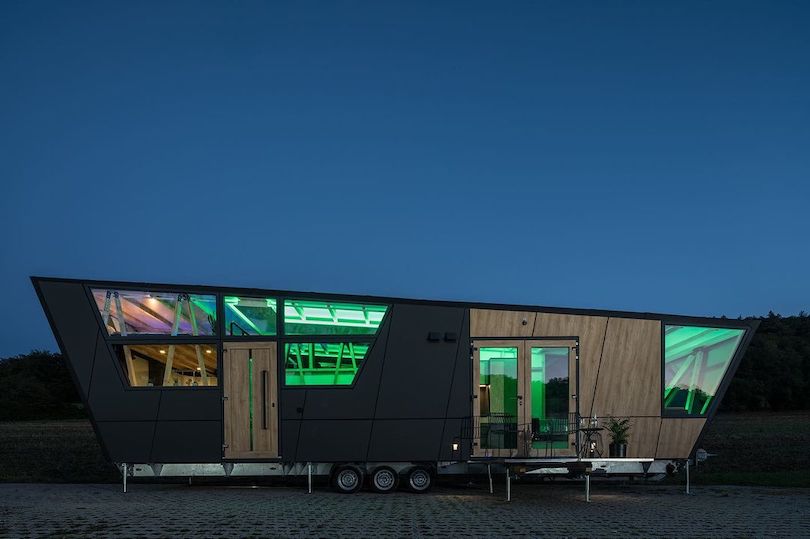 Another area to boast a very modular design in the workplace, which sits next to the kitchen. There are also two work tables and seats that are pulled out of a very simple storage area. Furthermore, this tiny home comes integrated with smart technology. It includes a touchscreen mounted at the front door and is easy to operate by an app on your smartphone. Hence, you can control its features, such as temperature, lighting, and certain appliances. Make sure to check the hidden clock that's visible through a translucent material.
Interior of This Tiny Home
For entry, the trailer home has two entrances. One if via a simple door and another one is through the patio. Once you're inside, you can start the tour from the living room and head to its other side. While doing so, you will come across a kitchen and modular work area – as shown in the view. At the rear section, you can see the bathroom and other amenities.
Right above the bathroom, you can find a loft bedroom with a queen-sized mattress. For complete visibility, there are lateral endless windows. These windows help you connect to the outdoors.
Materials Used
In the end, let's discuss the materials used for developing the ContiHome. Well, the bedroom boasts a conceptual Acella Hylite material. This material is likely to react with ambient light and also aims to get integrated within the dashboards and other door panels in real cars. Furthermore, it boasts the artificial leather from skai, as well as the vinyl floor from d-c-floor. Moreover, its wood framing and beams need no introduction.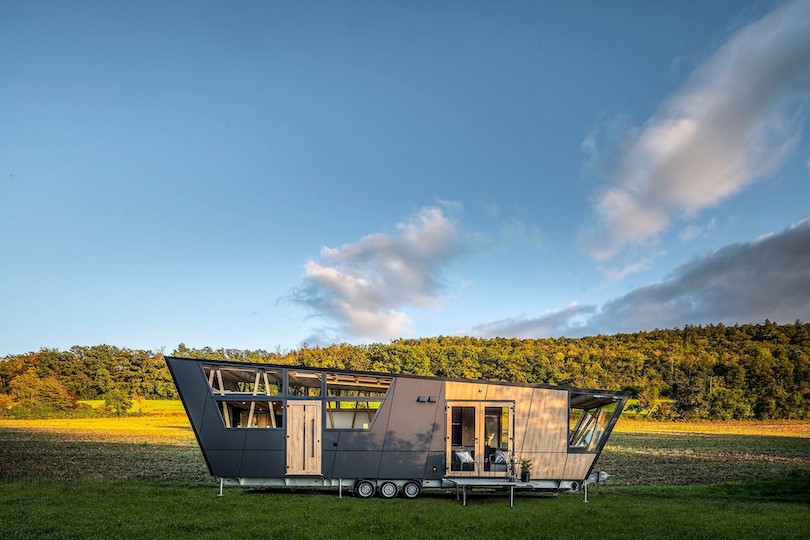 Downstairs, skai manufacturer is called upon for creating most of the surfaces. And, the flooring again is of d-c-floor. Now, you know what exactly is in this mobile home. And, how it's set up with a 3D walk-through, which is a feature intended to help you experience it virtually.
Via: AutoEvolution