Halloween Dessert Recipes To Try in 2022
Although candy and Halloween may go hand in hand, there are plenty of other delights you may savor in the days and weeks leading up to October 31. These include a variety of Halloween dessert recipes. While there are many opportunities to get something sweet from a grocery store, you can make something at home to make your family and friends feel special.
Here are our top three picks for the best Halloween dinner party desserts to try this year:
Pumpkin & caramel cake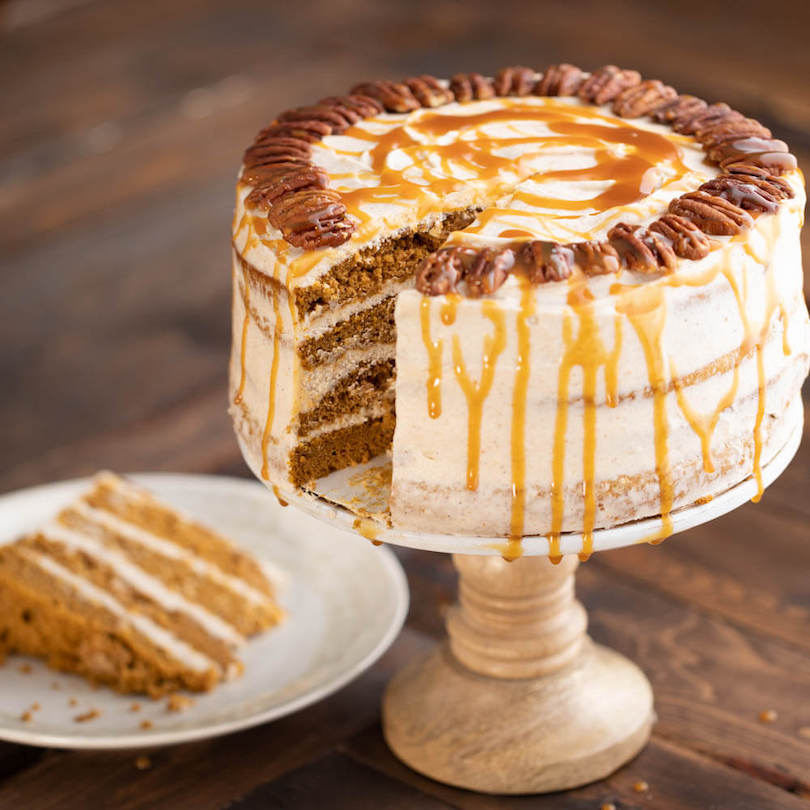 Although there are some shortcuts in this cake, the result is a very excellent sponge cake with dulce de leche and pumpkin spice.
Ingredients:
80ml vegetable oil
½ x 425g can of pumpkin purée
450g pack vanilla or white cake mix
4 large eggs
125ml full-fat milk
1 tsp pumpkin pie spice
Method:
Heat your oven to 180°C/160°F fan/gas. Take two 23cm cake tin bottoms and grease them. The oil, cake mix, pumpkin purée, milk, eggs, and spice mixture should all be thoroughly combined in a large bowl. Fill the cake pans with the batter, and bake for 22 to 25 minutes, or until a spear inserted in the center of the cakes emerges clean. As you prepare the filling, let the cakes cool in the tins.
In a medium bowl, whisk the cream cheese just until it becomes frothy. Add the icing sugar, spices, and pumpkin purée, and beat until combined. Don't overbeat it or it will get runny. Whip the cream in a separate bowl, then gradually incorporate it into the cream cheese mixture.
Cut each cake in half horizontally once it has cooled to create four thin sponges. Place the bottom layer on a dish, top with a quarter of the filling, then pour 1 tbsp dulce de leche over it. Repeat adding layers until you have a stunning tower of pumpkin, cake, caramel, and cream; then top with pecans. Boom.
Halloween toffee apples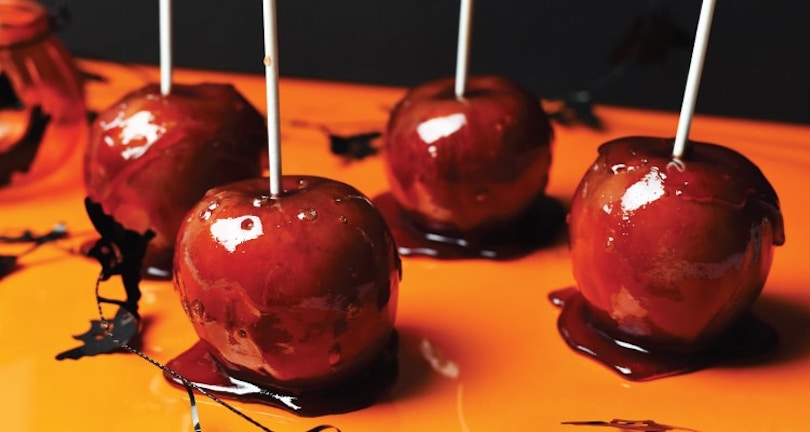 The toffee will be very hot, so only grownups must prepare them. But kids can later enjoy them. After all, they are an ideal Halloween treat.
Ingredients:
8 red apples
1 tsp lemon juice
400g caster sugar
4 tbsp golden syrup
red or black food glitter (optional)
red or black food coloring
8 sturdy twigs or lolly sticks
Method:
The sharpest tip of each stick (or the lolly sticks) should be pushed into the stalk-end of each apple, making sure it is firmly wedged in. Pull any remaining stalks from the twigs. Place a sizable piece of parchment paper on a wooden board.
Pour 100 ml of water and 100 ml of lemon juice into a big pot with the sugar. When the sugar has dissolved, bring it to a simmer and continue cooking. To move the sugar around, gently swirl the pan; do not stir. The golden syrup should be added, and the mixture should bubble (watch out for a boil-over) until it reaches the "hard crack" stage or 150C on a sugar thermometer. Test the toffee by placing a small bit in some cold water without a thermometer. It should immediately become hard and become brittle when removed. If it's tender, keep boiling. Add some food coloring when it's prepared and swirl to blend. If used, add the glitter after turning off the heat.
Each apple should be swiftly dipped into the toffee, tipping the pan to coat the entire surface. Lift out, then place on the baking parchment, letting any extra drip off. Continue by using the remaining apples. If necessary, gently reheat the toffee once more. It is best consumed the same day.
Halloween apple & strawberry pie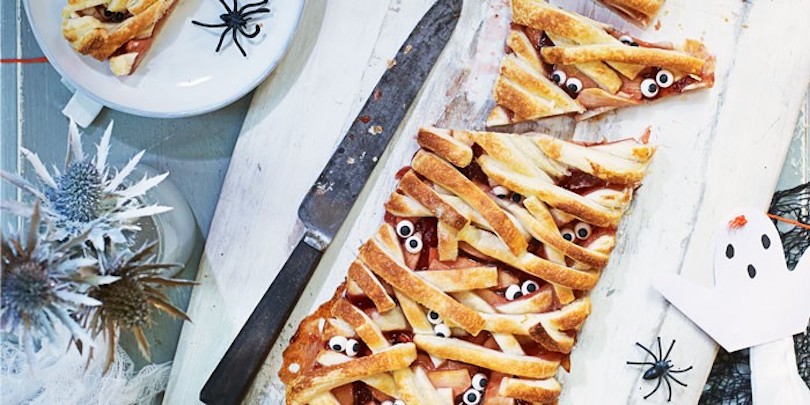 Make a fruit pie like this one for Halloween. For an Egyptian-inspired "mummy" look, puff pastry is filled with strawberry jam and apple and then garnished with icing eyes.
Ingredients:
500g all-butter puff pastry
plain flour, for dusting
1 large apple, peeled, cored, and thinly sliced
6 tbsp whole-fruit strawberry jam
1 beaten egg
Icing eyes
1 tsp golden caster sugar
Method:
Dust a work surface with flour very lightly. Puff pastry should be rolled out to a 30 x 45 cm rectangle before being placed on a sizable baking sheet covered with parchment paper.
2. With the short edge closest to you, place the pastry in front of you. A line of jam about 12 cm broad should be spread through the middle, leaving 2 cm of pastry at the top and bottom. Place thin layers of apple slices on top.
Mark the jam with a faint 1 cm border to create the bandage design. From the line outward, slice the pastry edges into 1 cm broad strips.
Starting at the top and working your way down, fold the pastry strips over on both sides, making some of them straight and some of them diagonal so that you can occasionally see some jam and apple. It doesn't matter if they aren't neat; this should resemble a mummy. You can occasionally break off a strip to reveal more filler. 20 minutes of cooling. can be frozen for up to a month after being covered in cling film.
Activate gas 6 and heat up a baking sheet in the oven at 200°C/180°F. Sprinkle sugar over the pastry after brushing it with the beaten egg. Onto the hot baking sheet, slide the tart that is wrapped in parchment. Bake for 20 to 25 minutes, or until the top is golden brown. After a few minutes of cooling, insert pairs of icing eyes into the pastry spaces to make them appear to be gazing out.
So, these are the three amazing Halloween dessert recipes to try on October 31. Do give them a try.