AirHood: World's First Portable Range Hood For Apartments
Having a range hood over your gas stove is a great option, as it keeps the kitchen free from grease and smoke. But cleaning it is certainly a tedious task that no one wants to get into. With the same thought in mind, designer Maxime Augay has come up with the idea of a portable range hood, the AirHood.
Claimed to be the world's first portable range hood, AirHood is a compact device that appears like a countertop fan. But don't be mistaken by its compact design, as it's powerful enough to filter and suck away the fumes coming from the stovetop. But the best part is that it's much quieter than the regular kitchen hoods and exhaust fans.
Designed like a Dyson Bladeless Fan, this portable hood can easily rest on a countertop to remove fumes and grease while cooking or grilling. It comes in both wired and wireless formats and works partly like an air purifier and partly like a pep There is a switch on the top of this portable hood to let you select between three fan speeds. So, you can decide the fan speed as per what you are cooking. This portable hood also comes with a Base Boost, which is an optional platform to elevate the hood by two inches.
How to Use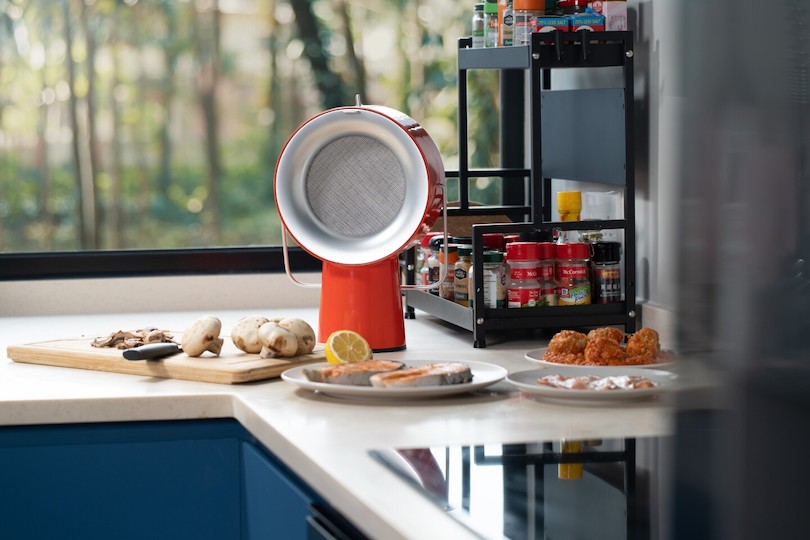 To use the AirHood, switch on the power button for pulling the fumes into the inlet for passing air first through an oil filter for trapping grease. After that, the activated carbon filter purifies the air of any possible toxins in the air. The clean air further makes its way to the outlet at the device's back. This keeps the air in the kitchen clean. Besides that, the device also turns up a triggering smoke alarm to eliminate any risk of accidental fire.
When you're not using it, the AirHood serves as a decor piece in a kitchen due to its minimalist sculptural design. You can hang it on a wall or simply place it on a countertop – whatever suits you. Besides its portable design, the portable hood is also very easy to clean. Its simple polished plastic layout is very easy to clean with a damp cloth. Even the internal filters are easy to replace. It means that you can keep this hood with you for as long as you desire.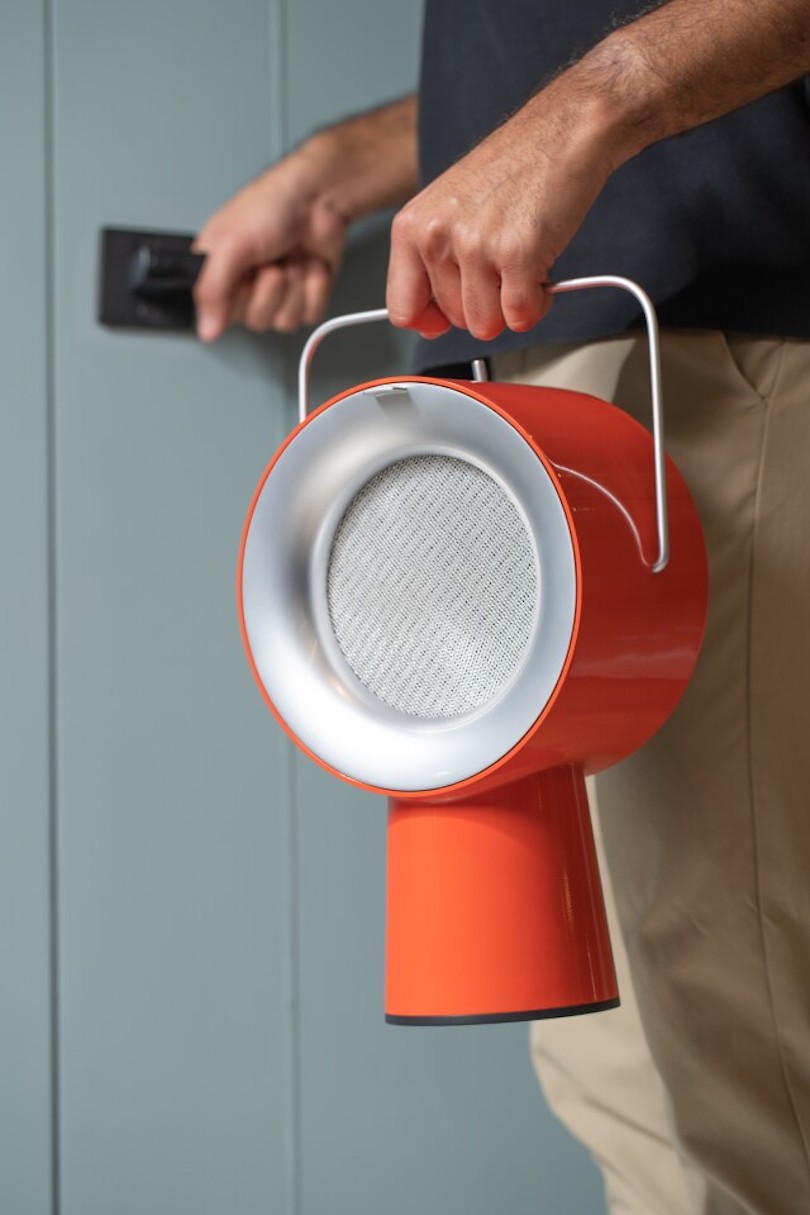 Generally, there is a concern about the toxic fumes coming from food polluting the air in your kitchen. Another concern is about the grease that may eventually form a sticky, thin film on the ceiling or cabinets of your kitchen. But the AirHood also addresses these issues by constantly removing the smoke and fumes when you cook, fry, or grill.
Since it can easily sit beside your stove, it won't obstruct the view and also enable you to capture the overhead cooking videos. If you don't mind, you can even capture it in your cooking videos – as it's quite stylish to hide away.
Availability
Currently, AirHood is seeking funding on Kickstarter to get to the production phase. So far, the campaign has elevated over $300,000 from its initial target of $20,000. If you want to get one, you need to pledge $99 which includes a wired portable hood along with one oil filter and five charcoal filters. For the wireless model, you need to spend an extra $20. If everything goes as per the company's plan, the portable range hood must start shipping to the supporters in October.
For you, have a look at this portable hood in action in the video given below:
Via: NewsAtlas