Metal Lark Glassy Steel Cabin is Perfect Getaway in Northern Wisconsin
Contrived by Sala Architects, Metal Lark is a perfect glassy steel cabin that offers tranquility in Northern Wisconsin. This multi-generation family holiday retreat consists of half-steel and half-glass. It's elegantly positioned on 140-acres of land that includes a delightful lake.
The aim of this cabin is to offer to provide a peaceful living space to inhabitants. Moreover, it offers ample views of the natural surrounding landscape. So, the inhabitants can completely immerse themselves within the natural environment.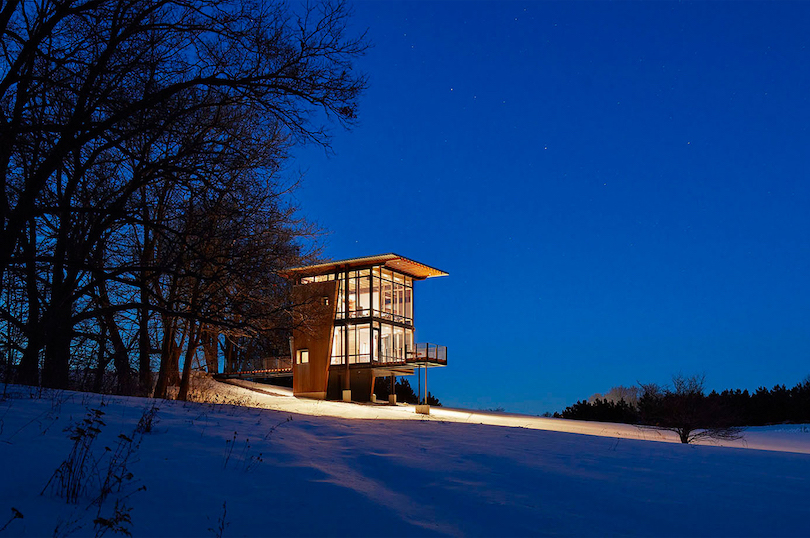 Glassy steel cabin on slight hillside
This stunning cabin, nesting on a rugged woodland plot, is surrounded by recently replanted native prairie grasses by the property owners. The location of this isolated cabin is positioned downslope on a hillside. So, it can overlook a nearby, small lake. There's also a pleasant treeline that partially provides shade to this home. The treelike slightly covers the gravel driveway view.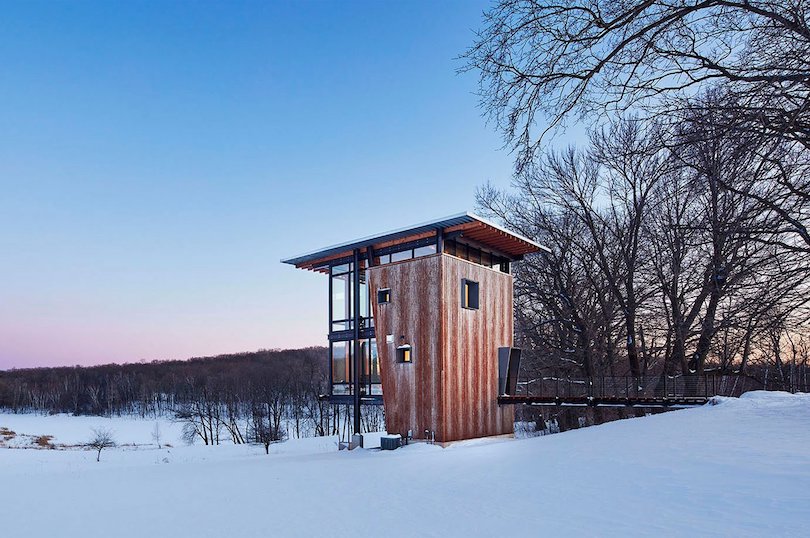 The owners and guests can enter the property through the gravel driveway. There's a wooden footbridge from the driveway to take you straight to the property's entryway. You can enter through the house's ground floor and further the bridge leads you to a transparent backend. In this area, some huge floor-to-ceiling doors and windows open up to a large deck. The deck area further cantilevered above the hillside for gorgeous views.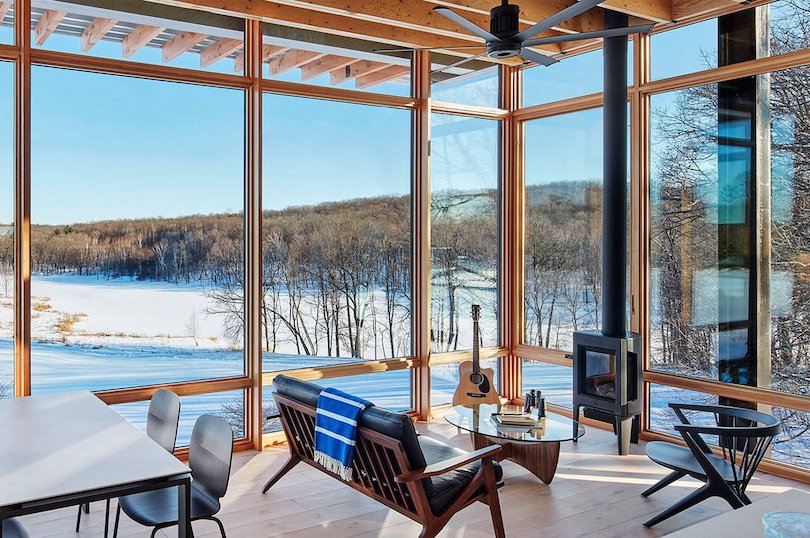 Further, you can head to the mudroom that lies within the 20×20-feet ground floor. In this area, you can remove your shoes and head to the bedroom and bathroom area. There is also an additional sleeping area that's present upstairs.
There's more to this stunning cabin
Next, climb the wooden staircase to reach the upper floor of this property. Here, the residents can entertain their guests within the glass-paned living room, which offers unmatched views. For meals, you can head to the kitchen for simple meals. In the kitchen, there's enough storage space that's integrated within the walls. If you like to read or write, you can sit on the writing to work in a tiny space without any disturbance.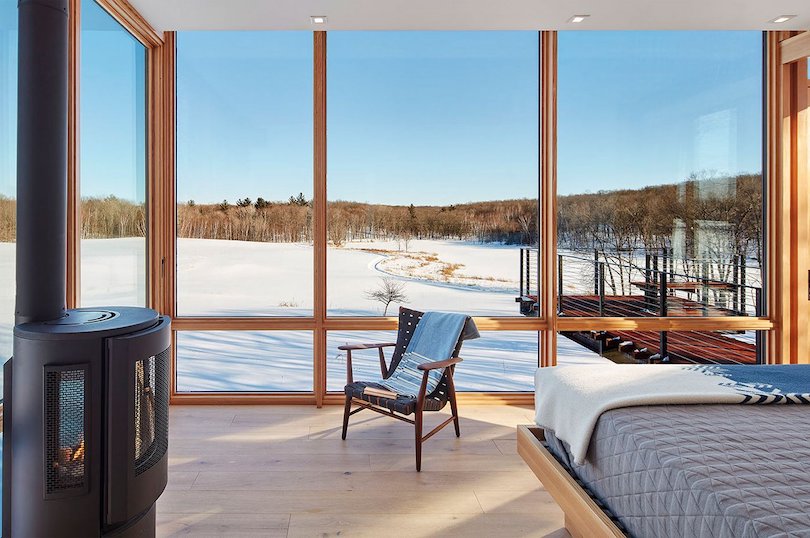 The front facade of the house is nicely concealed with an uncoated, raw, corrugated steel wall. This wall protects the home's interior from outside elements. And, the rear views of the property provide ample insulation. The steel wall also insulates the entire propety. Meanwhile, it protects the home from unpredictable elements. For instance, it protects the home from the northwest winter storms.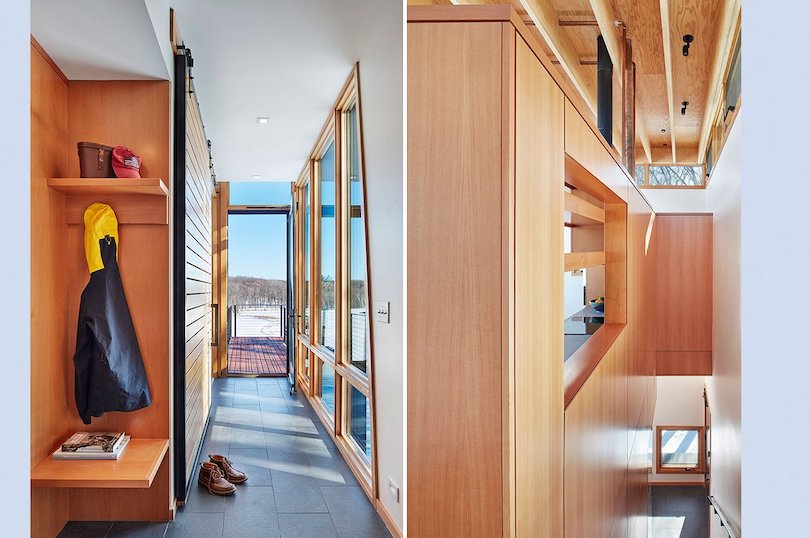 For maintaining a small but overall carbon footprint, the architects have oriented this isolated cabin well. This way it optimises the passive solar heating intake. It also incorporates summer shading through roof overhangs. Next, it embraces natural cross-ventilation from the operable, triple-pane windows.
Overall, it's a great getaway in this region to escape the stress of your routine life.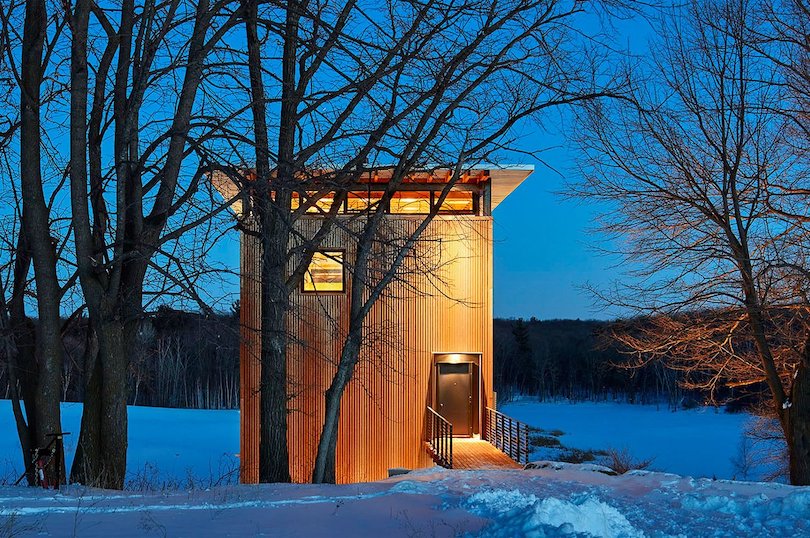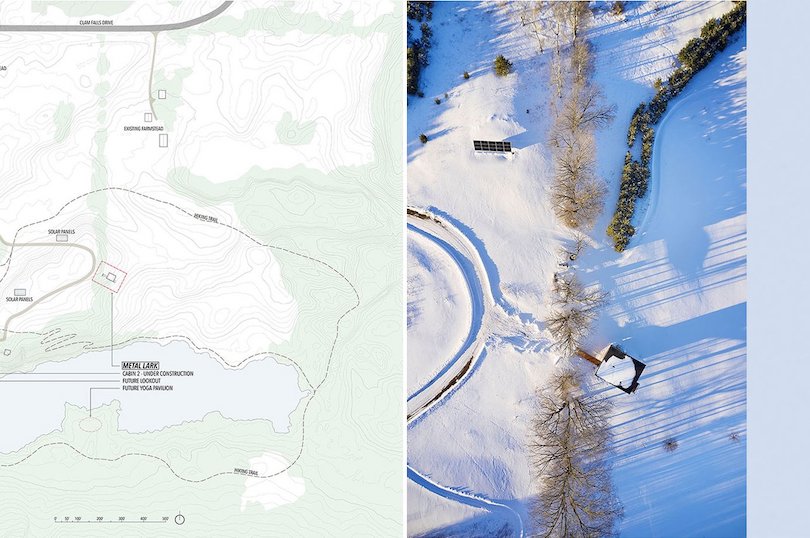 Via: Yankodesign