Best Home Treadmill 2023 For Your Personal Gym
One of the simplest pieces of exercise equipment is treadmills: simply get on and get moving. However, buying them is a trickier task. (Sadly, it's not as simple as visiting a store and putting on the brand-new pair of running shoes you intend to use on them.) So, do your research to pick the best home treadmill 2023. It is because they are large (and frequently expensive) and difficult to move and install.
In light of this, we consulted with running and fitness professionals to get their advice on the top treadmills for various user types. But before buying it, you need to know some major factors.
Things to Consider Before Buying Best Home Treadmill 2023
Even a light-duty folding treadmill is a sizable piece of equipment that won't blend in with your living room decor. Even though the majority can be tilted and rolled by one person, setting one up or transferring it to a different room (or floor) of your house can be rather difficult. Here are some vital factors to keep in mind when buying the best home treadmill 2023 for your home gym.
• 15 inches should be added to your body height to determine your ceiling clearance. Therefore, if you are 6'0″, your ceiling needs to be at least 7'3″. There should be at least three feet of clear space behind the treadmill.
• Installing a treadmill mat will greatly reduce the transmitted noise in circumstances when there is another apartment or bedroom below the room where the treadmill is located.
• Verify that the floor is sturdy and that the treadmill's four points of contact are firmly planted there. A treadmill's stability can be improved by placing it close to a wall.
• Hire professionals to move a treadmill into a basement or small area. If you must move and install the deck yourself, do so before moving the uprights and console. In either case, make sure you have clearance for tight corners by checking the base's dimensions.
• If at all possible, provide the treadmill with its electrical circuit. Plugging in more appliances to that circuit could result in a power overload and an unintentional shutdown.
Top 5 Home Treadmills to Consider for 2023
NordicTrack Commercial Incline Treadmill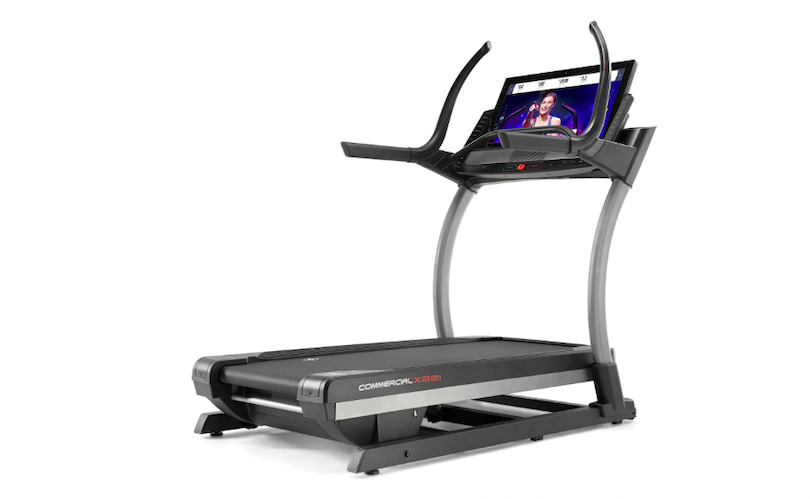 Product Details:
iFIT Family Membership Included; Global Workouts & Studio Classes allows you to stream live and on-demand workouts to your equipment. up to five users; Your equipment will be adjusted by top trainers ($39 value).
A 32-inch interactive HD touchscreen that is fully immersive broadcasts live and on-demand iFIT exercises to your equipment; An incline motor with self-cooling for efficient running and cardiac exercise.
12 MPH SMART OneTouch speed control; OneTouch inclination control from 6 to 40%; Your iFIT Trainer automatically changes your pace and incline to fulfill the demands of the trainer and correspond with the actual terrain.
ActivePulse; The treadmill will automatically adapt so that you stay in your desired heart-rate range; Purchase a Bluetooth pulse reader separately; 22″ x 65″ tread belt with elbow and leg room; Reflex deck with cushioning; 300-pound user capacity; 10-year frame guarantee, a 2-year parts warranty, and a 1-year labor warranty protect this product.
Pros:
Quiet during operation
14-inch touchscreen
Various training options
Cons:
Cannot use the same display for other entertainment
Sunny Health & Fitness Sunny Health & Fitness Exercise Treadmill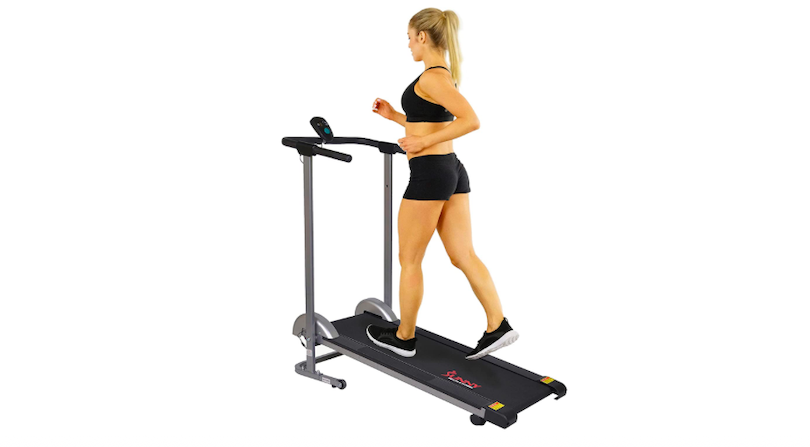 Product Details:
You can begin your fitness adventure with the aid of this reasonably priced treadmill. Health, both physical and emotional, can be considerably enhanced by walking. Regardless of the size of your home, the treadmill's small form will help you stay in shape.
This lightweight, the portable treadmill is ideal for confined settings. 42 inches by 13 inches. Power walking or a little jogging can be done on the treadmill without damaging it.
Utilize the easy-to-read digital LCD panel to monitor your fitness progress. The treadmill's display shows the time, speed, distance, and calories.
Low maintenance, a space-saving treadmill that doesn't need an electrical outlet. Mobility and storage are made simple by the simple folding functionality and transportation wheels.
Enjoy a snug and safe ride on the supple belt. The maximum user weight is 220 lbs.
Pros:
Very affordable
Well-suited for walking
Highly rated by Amazon buyers
Cons:
Narrow belt
Max speed is only up to 9 mph
ProForm Pro 2000 Smart Treadmill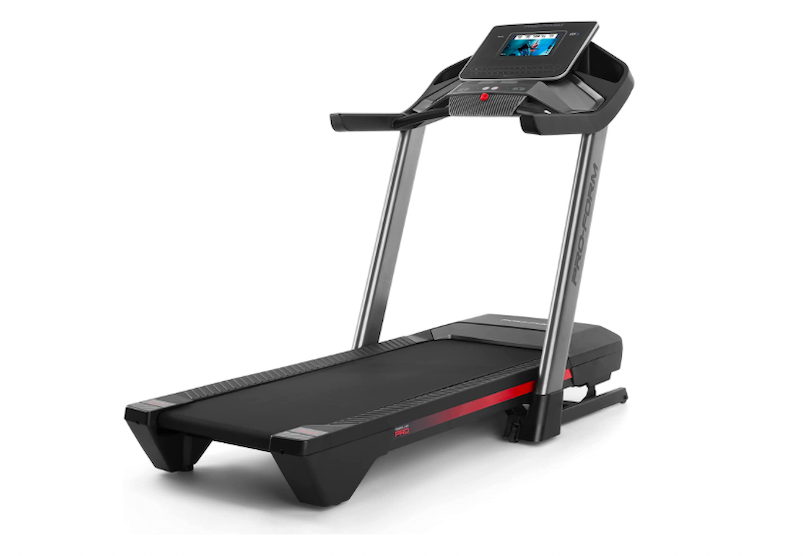 Product Details:
Included is a 30-day family membership to iFIT; With Global Workouts and Studio Classes, you can stream live and on-demand workouts onto your equipment; for up to five users; Your equipment is adjusted by top trainers (dollar 39 value).
Interactive HD Touchscreen, 10″ On your treadmill, a display brings in-home iFIT workouts on demand; Self-cooling Mach Z motor for efficient at-home aerobic exercise.
300-0-12 MPH Digital QuickSpeed Controls, -3 to 12% Digital Incline Controls With the stroke of a button, you may change your speed and incline; Your trainer will use iFIT to automatically change your treadmill's 20″ x 60″ Tread Belt; This roomy belt, which is advised for tall runners, enables you to widen your stride; Space-saving folding design for small storage
300-pound user capacity with Rebound Pro Deck Cushioning; A 10-year frame guarantee, a 2-year parts warranty, and a 1-year labor warranty protect this product.
Pros:
Walking surface comes with cushioning
Cons:
Cannot exceed beyond a certain limit
LifeSpan Fitness Under Desk Walking Treadmills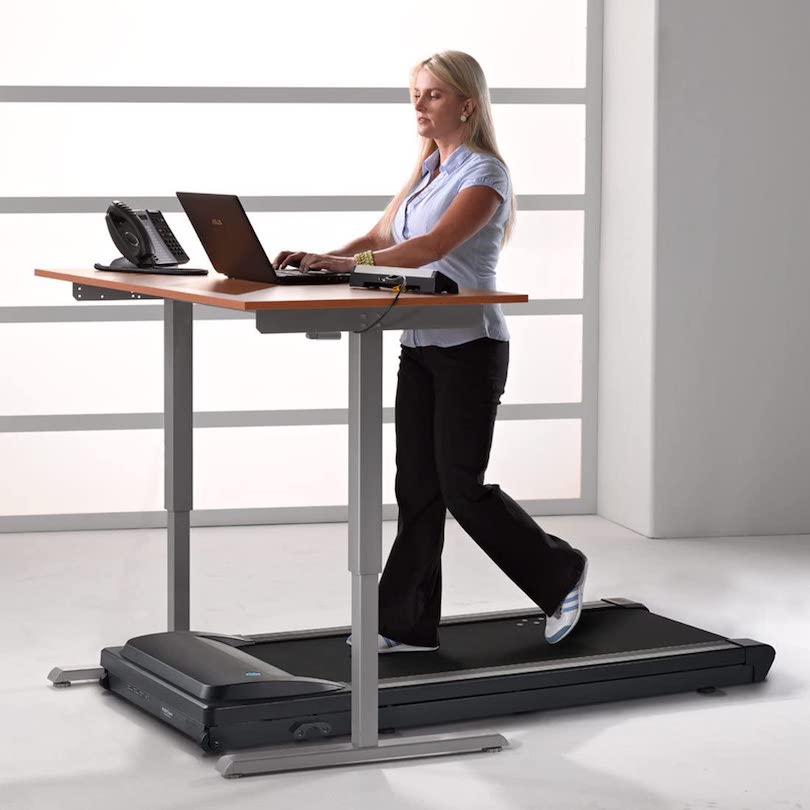 Product Details:
Enjoy your workout on this under-desk treadmill, which comes ready to use; With a whisper-quiet exercise, you can burn calories while showing respect for your shared area. 2 HP DC motor with Continuous Duty.
This smallest walking treadmill has a 58-inch shorter base and a 4.6-inch higher deck for the best ergonomic position. It includes two wheels for convenient mobility and speeds that range from 0.4 to 4 miles per hour.
The LED display is mobile for a customized desk arrangement and maintains controls within arm's reach. Use the choices to set your favorite pace and turn off the button beeps.
You get a sturdy treadmill with a high-quality steel frame, a 2-ply belt, six impact-absorbing compression shocks, and non-slip plastic side rails; 350-pound maximum user weight.
To encourage a safe workplace, Intelli-Guard stops the treadmill belt as you step off; Each step, distance walked, calories burned, speed, and walking time is tracked by cutting-edge technology.
Pros:
Fast top speed
Large motor
Slim console design
Cons:
Tall walkers and runners may find this console very low
Sole F80 Treadmill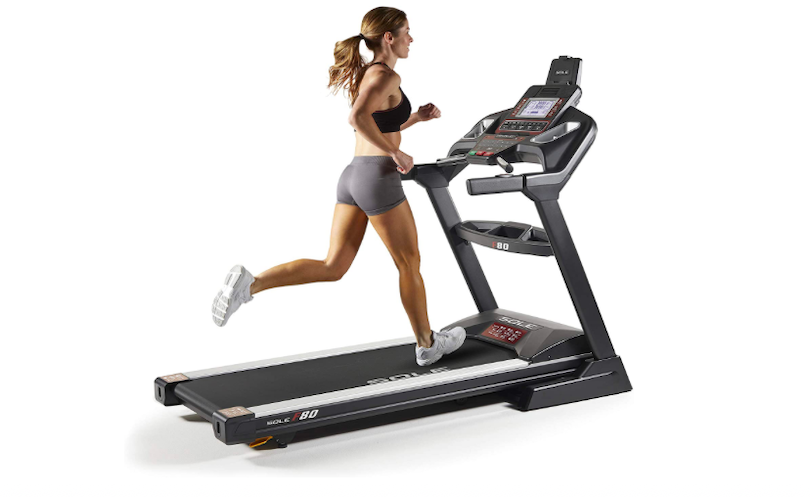 Product Details:
The Sole F80 treadmill is a good training machine even if it lacks the fancy touchscreen you see on other models and has a lesser engine than the NordicTrack and LifeSpan machines here.
The sturdy frame can accommodate runners weighing up to 375 pounds, so it can withstand any punishment you can dish out.
Additionally, the light underfoot bounce is not excessive enough to compromise stability. (The Sole F85 treadmill performs even better because of its 4.0 HP engine and larger rollers, but it costs $1,000 more when it's not on sale.)
The F80's rail-mounted speed and incline control buttons are a useful feature because they allow you to grab the rail and squeeze the button with your thumb rather than jabbing at the console when you're running at full speed.
With the iPad holder, you can use your own device if you require interactive instruction.
You could also simply set this device in front of a large television and watch Netflix while going for a long run.
Pros:
Concentrates on basics
Stable frame
Rail-mounted buttons provide convenient adjustment
Cons:
No training platform
Small motor
We hope that now you can easily choose the best home treadmill 2023 for your gym. These five treadmills are the top choices of many buyers, so won't be disappointed with the purchase. However, do research on your own to choose the right equipment as per your needs.