Living Room Decor Ideas 2023 For a Stylish Home
There are many fascinating living room trends to look forward to in the upcoming year as living habits evolve and so do our senses of interior design.
In our living rooms, which serve as gathering spots for friends and family, convenience and comfort come first. Savings trends will also be a factor in many of our new design choices as the cost of living rises. So, what are the best living room decor ideas for 2023?
Here's our living room trend forecasting for 2023!
Eco-friendly Living Room Design 2023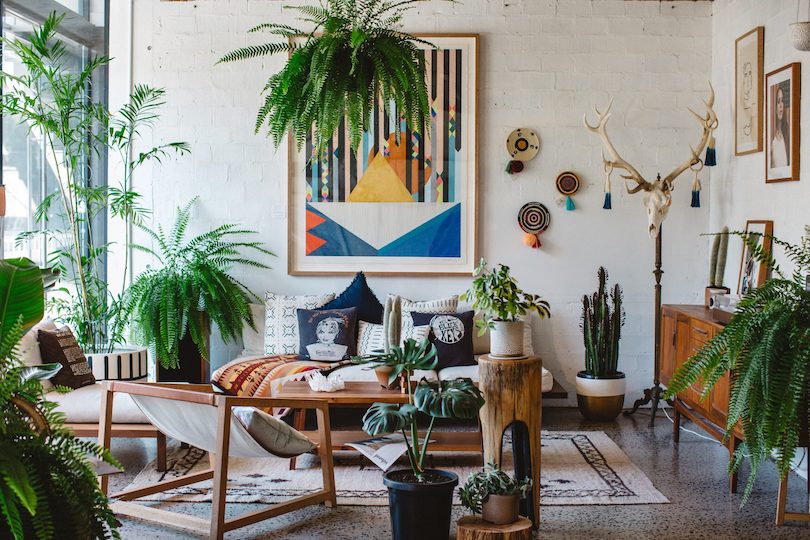 Eco-style started more than ten years ago. However, it still stands valuable today. Additionally, only those who were concerned with environmental protection previously chose it.
However, the living room of 2023 is stylish and prominent now. Many famous persons and others with progressive worldviews have this type of decoration in their homes. What makes Eco-Interiors 2023 unique? Answering this question is not too difficult.
Designers want to transform homes into little greenhouses. The living room wall will look unique if it is entirely covered in ivy or other climbing plants. I assure you that this type of living "wallpaper" is far superior to any other type of wall covering, even the most expensive ones, in terms of beauty and unusualness.
By the way, if the term "eco-interior" originally meant decorating a space mostly with natural wood, the living room of 2023 astonishes with daring mixes of natural stone of all different forms and varieties. It will have a particularly organic appearance for the alleged wild stone. A fireplace or wall plinths may be decorated with it.
And when it comes to selecting furniture, consider investing in a sustainable wooden TV unit. These materials not only add a unique touch to your decor, but they also have a lower environmental impact compared to traditional materials like plastic or metal. So, why not make a conscious decision and choose both stylish and eco-friendly?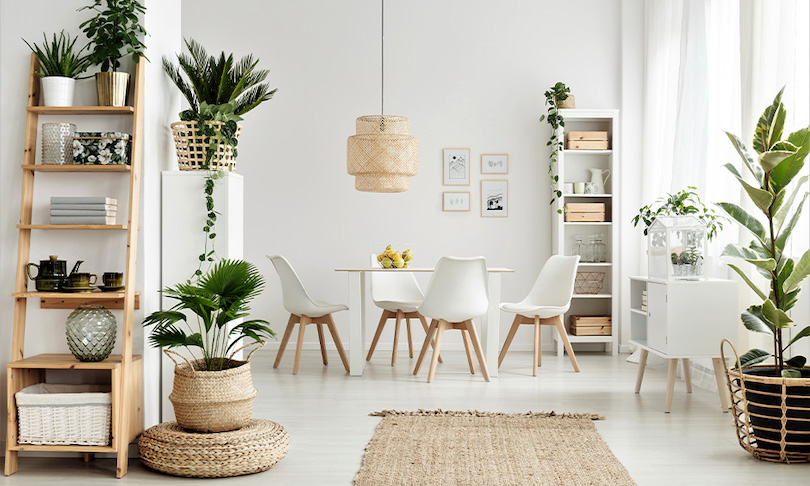 One of the most popular decoration choices for living rooms is still white or a blue-and-white combo. The predominant hues of Scandinavian design are those mentioned above. With "knitted" wallpaper, the "North" living room of 2023 will appear odd. They are photographs of a canvas with a rough weave.
We might suggest employing an original ceiling chandelier fashioned out of various knitting needles as a unique touch to such a wall décor.
The furniture should be really simple and have a hint of vintage at the same time. Particularly appropriate are living room pieces of furniture from the 1960s. So feel free to reach out to a senior relative. They might still have a TV stand or a small coffee table in their dacha that is simple to fix.
Loft Style Large Living Room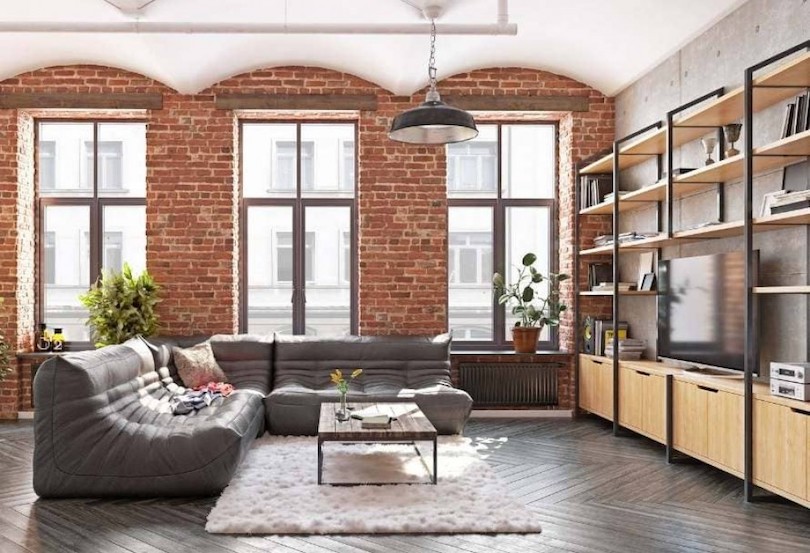 The loft-style living room is likely to become popular in 2023. Such a design looks best in a brick structure. Unfortunately, it's not always possible to do this. Textured wallpaper that shows masonry beneath a layer of deteriorating plaster will be useful in these circumstances.
A large sofa should become an obligatory element of a loft living room. It can be upholstered in natural leather or suede. Various designer pieces of furniture will complement the interior. They must be made from industrial equipment parts. For example, a coffee table with a large fan base in an aluminum case and a glass top will look unusual.
By the way, a lot of businesses sell laminate flooring in the Loft design that has a design that looks like an old board. The 2023 living room will appear as authentic as possible thanks to this flooring.
High-Tech Style Living Room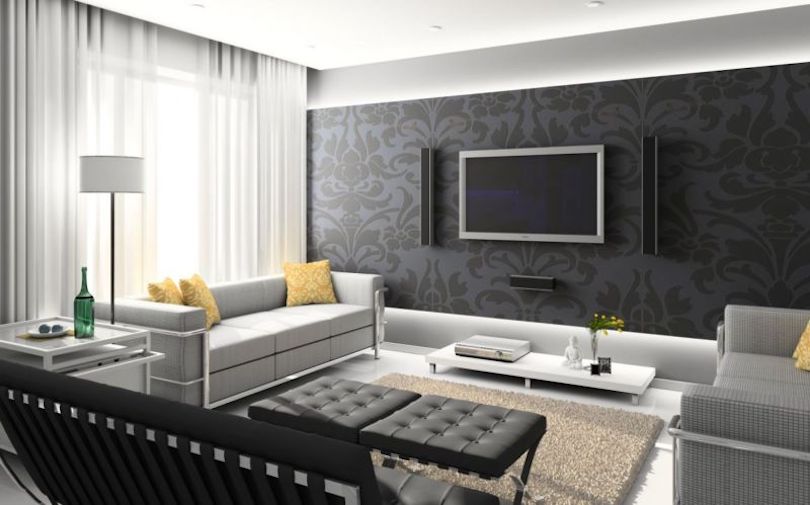 Special consideration should be given to the light in the new season when designing such an interior. He ought to take the centre stage. It is advised to use it for zoning in particular. For individuals who live in studio apartments or have a kitchen that is also a living space, this tip is very pertinent.
Designers advise separating the bar's work area from the seating area with unconventional lighting. Additionally, the two regions can be divided using various lighting colors. A metallic slatted ceiling with numerous built-in bulbs is fashionable right now. It will complement glossy ceramic tiles and even the most basic wall finishes.
Tempered glass is the best material for furniture. With their assistance, the living room in 2023 won't appear cluttered because they appear to be almost weightless.
Neoclassic Living Room 2023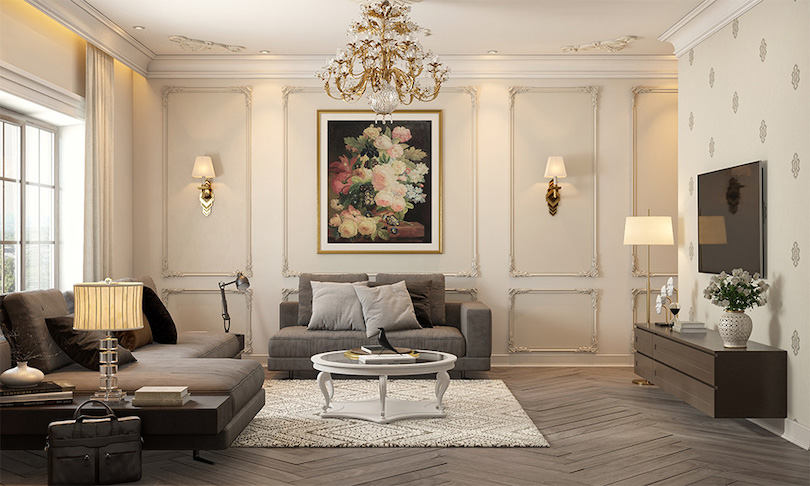 A 2023 neoclassical living room would be a wonderful option for individuals who think a property should reflect the high social position of its owner. The combination of metallic wallpaper with floral embellishments and furniture covered in exotic textiles is appropriate for the new season.
Natural stone mosaic flooring with a carpet pattern is a fantastic option. The décor will be complemented with opulent crystal chandeliers. Please take note that we are not referring to the ceiling lights that were part of my grandmother's legacy. They ought to have modern chandeliers with really long, swaying pendants.
Eclecticism Living Room 2023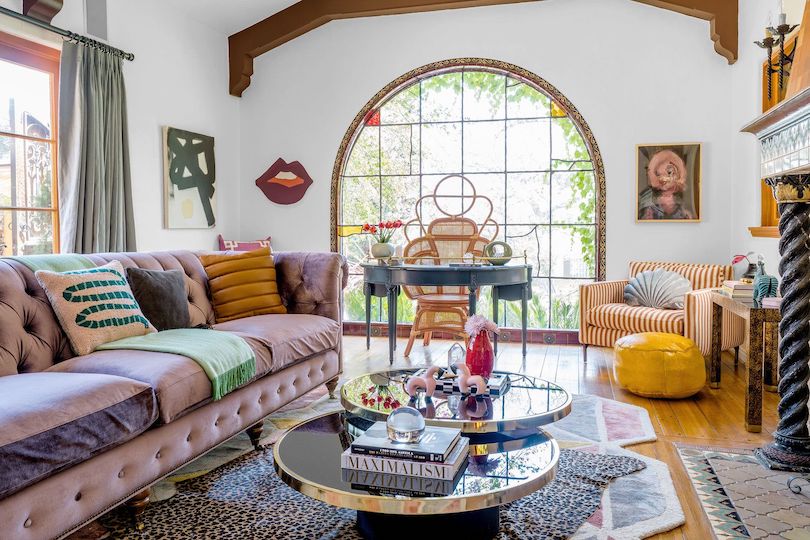 Eclecticism will dominate home design in 2023. This implies that you will be able to incorporate the most alluring aspects of several styles into the design.
Note: Only if you appropriately blend furniture and décor pieces of various colors and styles will an eclectic living room theme from 2023 be truly successful.
If you don't, your house will resemble a furniture showroom.
Please be aware that the colors of the things you choose must match. Additionally, if you opt to select furniture in various designs, the walls, floor, and ceiling should be decorated simply and in light neutral tones. For instance, you can decide between standard painting and meticulously excellent surface plastering.
Minimalist Living Room Decor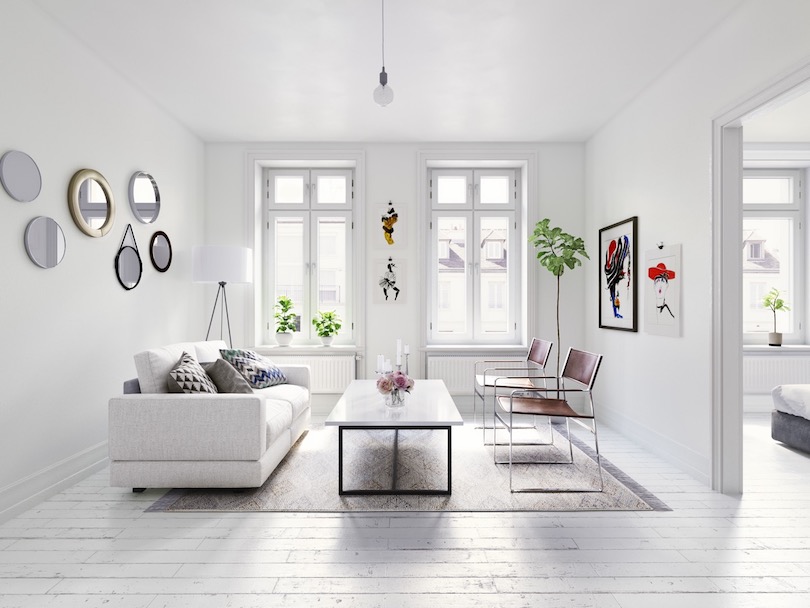 Unfortunately, a large number of Russians still reside in cramped apartments. The minimalist living room 2023 will be a great option for them. By the way, open-concept apartments are still popular. Therefore, feel free to convert your Khrushchev flat into a studio if you are a "happy" owner of one.
The modern 2023 fiberglass wallpaper can give the minimalist decor a sense of urgency. You can quickly update the interior with just a few cans of paint because they are frequently stained. The use of adaptable furniture and interior accessories will make your living space in 2023 more comfortable as well as more attractive.
Be aware that minimalism necessitates the usage of a very subdued color scheme. However, navy blue can be used to create a modern, laconic living room in 2023. Additionally appropriate are other emerald hues.
A novel solution is suggested for a very large living room in the shape of a completely wooden wall and floor décor. Panels made of solid wood or veneer in a light, warm tint are glued over them. In this instance, the shelves "pass" seamlessly into the walls.
A floor that is snow-white and bordered with ceramic tiles or natural stone is used to contrast with this pattern. If you add indoor plants to the shelves of this living room in 2023, it will look more "alive." One should not, however, go overboard with their number.
These are some popular living room decor ideas 2023 to consider for making your home stylish and valuable.