Easy Valentine's Day Decor For Your Home
When it comes to Valentine's Day, you want to decorate a special area in your house to celebrate the romantic occasion with your partner. That area could be a terrace, patio, bedroom, balcony, any other space where you two like to relax together. This is when you start worrying about Valentine's day decor ideas. After all, you want to be creative for Valentine's day home decor. However, there are some easy to craft DIY Valentine's day decor ideas, such as cut-cut heaters, paper streamers, etc. You can even buy them from a home store near you if you have got little time to decorate.
Besides store-bought items, there are plenty of Valentine's Day decoration ideas to create yourself at home. From indoor displays to front porch decorations, there are tons of crafts and tutorials out there to make your V-Day special. While some people may think that February 14 is just a day to spend your money on gifts, chocolates, and decorations, this day is more about love. So, when we celebrate every other occasion or special moment, why not love?
If you also believe in celebrating love, here are some creatively exquisite ideas for the valentine's day decor 2022:
Valentine's Day Wreath To Front Door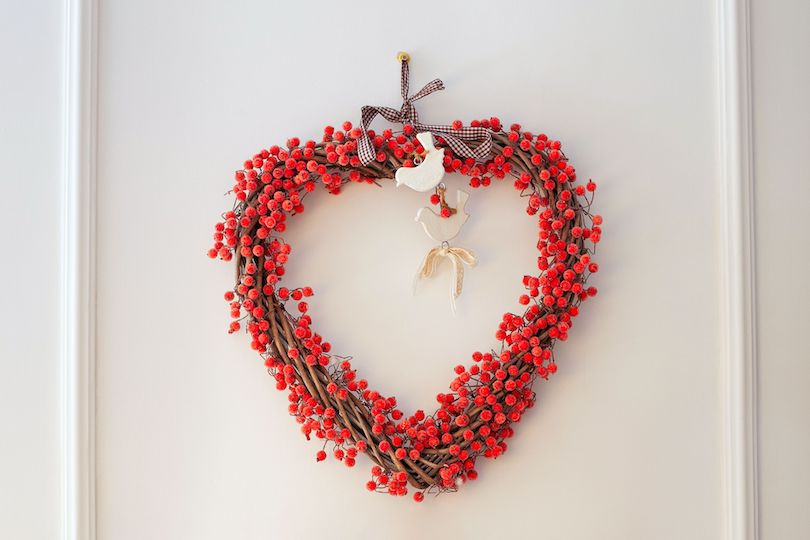 Who says wreaths are only for Christmas and Halloween? The decorative wreaths have become a trend to spruce up a front door throughout the year. But this Valentine's day, you can consider adding a romantic charm to our door with a gorgeous display of flowers or any other decor items that screams love.
Whether you choose red roses or pink peonies, you have control over the decorative details if you choose to DIY it. You can consider adding additional decorative details to personalize the decor piece. Or simply work with a florist to make a custom wreath. There are many retailers out there who offer DIY wreath services. So, you can contact them for a special piece. If you are found with any design available online, Amazon is the best place to look for wreaths for valentine's day.
Valentine's Day Decor on Front Porch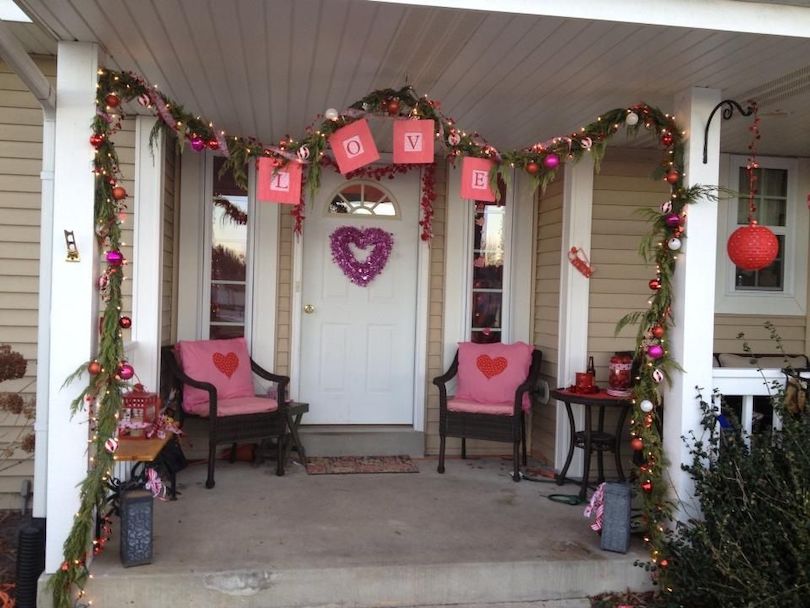 Why leave the front door just plain on Valentine's day? If your house has a generously-sized front porch, you may consider decking it up with a front yard display as one of the amazing V-Day decoration ideas.
A well-decorated porch is one good way to make a statement, without adding any decor indoors. This idea is good if you have limited space inside or you simply want to spruce up this area. A few simple ways to do so are by decorating the porch by adding Valentine's themed bunting to the frame. Or, you may simply add love-themed cushions on the chairs along with other decor elements. If you need something special, why not put some oversized vases full of faux flowers on the front porch. All this is going to impress your partner, as well as the neighbors, who may also take inspiration from your decorations.
Craft Love Letter Bunting For Valentine's Day Decor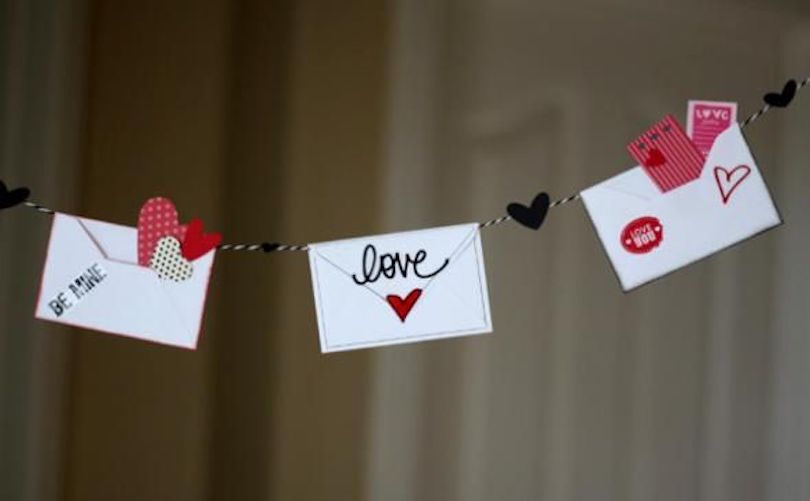 The love letters are the ultimate symbol of romance. So, why not embrace the sentiment to your Valentine's day decor outdoor or indoor? You can even add a special hand-written love letter to the garland to make the decor even more special. You can look for some easy tutorials on garland designs and start crafting them. It is a cute way to add an authentic feel to modern-day Valentine's Day decor.
To make this decoration more personalized, you can select everything from the garland thread to envelope color in your partner's favorite color. Or match it with the decor scheme. These small details won't go unnoticed for sure.
Don't have a glue gun? No issue! You can make the envelopes using cardboard and paper instead. Or you may use actual envelopes to include love notes or some inspirational poetry quotes within each. It's another great way to express your feelings.
Put Up a Valentine's Day Tree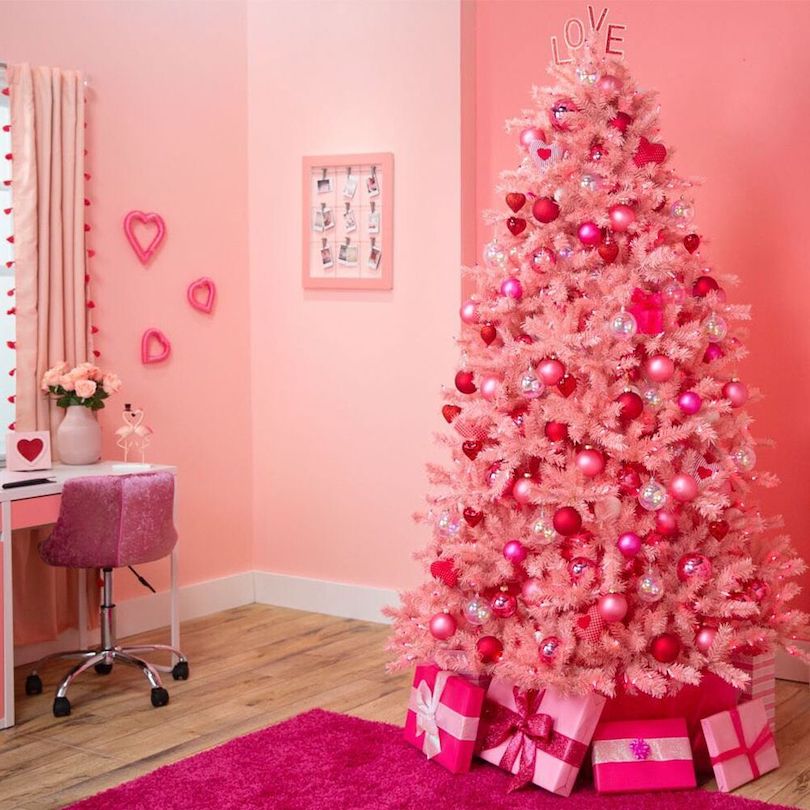 Thought decorative trees are just for Christmas decor? Think again. Whether you opt for a simple artificial tree that sits on a tabletop or wants a bigger one for a living space, a Valentine-inspired tree is very creative and also on-trend for romantic decor. Believe it or not, Valentine's Day trees are trending on social media. Fairy lights, baubles, and tinsel are replaced with pink and red themes and abundant sweet decorations.
But how to style a Valentine-inspired tree? The artificial rose garland can appear stunning decking up the branches or weaving in ribbons in subtle shades of red and pink. This is going to make the decor a little more romantic. Garlands and bunting with cute messages are great when draped around a tree and also make an ideal Instragrammable backdrop.
Use Playing Cards For Unique Valentine's Day Decor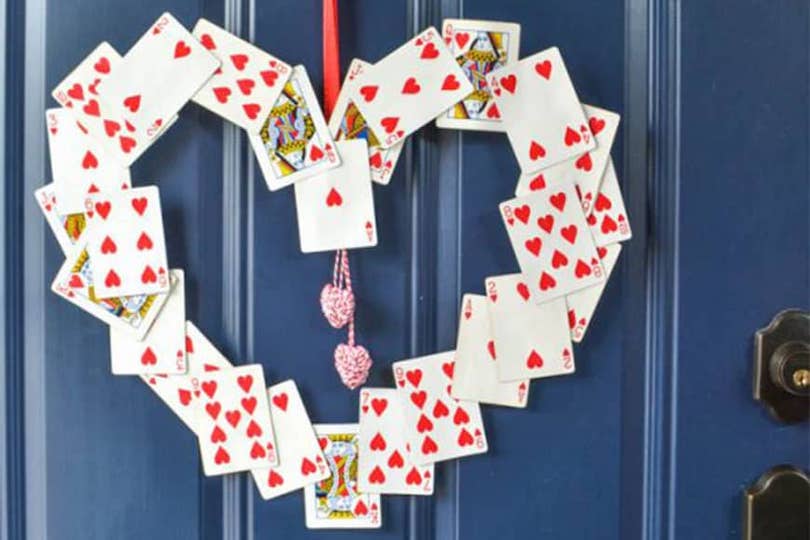 Playing card decor is not something that you have considered before. But they can make a really unique and fun way to deck up home on February 14. From quirky table setting to card bunting, there are various ways to add the 'Queen of Hearts' within decorative plans. Plus, it's quite affordable DIY Valentine's Day decor ideas if you have got a pack of hands.
Pop a Fun Valentine's Day Decor With Heart-Shaped Balloons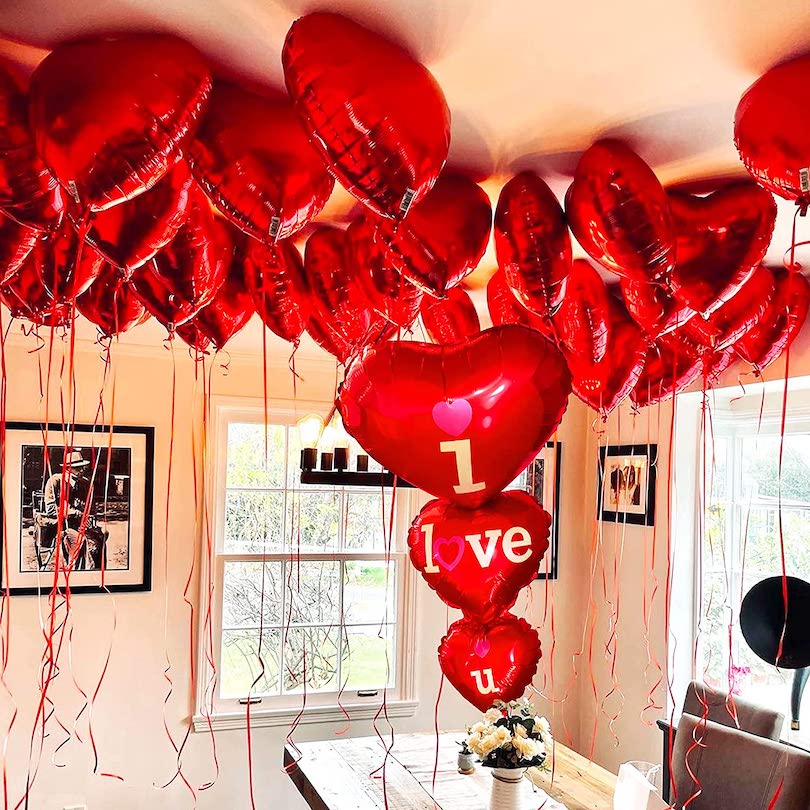 Whether you choose one statement balloon to decorate for Valentine's day or choose a large number of heart-shaped balloons, these are great to add a fun touch to any decor.
Here are a few ways to add balloons to your V-Day decorations:
Fill a room with balloons: You can consider adding a lot of balloons to your living space to create a big impact. The heart-shaped balloons offer you a great way to fill a bedroom with exquisite touch to impress your partner. You may even add fun and flirty balloons for turning up the heat.
Use individual letter balloons – You can spell a special message to your loved one with letter balloons. These are great to add a personalized touch to an interior.
Use a balloon arch kit—Whether you select a classic pink and red scheme or any muted nude or metallic tones, these are all great to add a wow factor to the given space.
Be Creative with Blackboard Valentine's Day Decor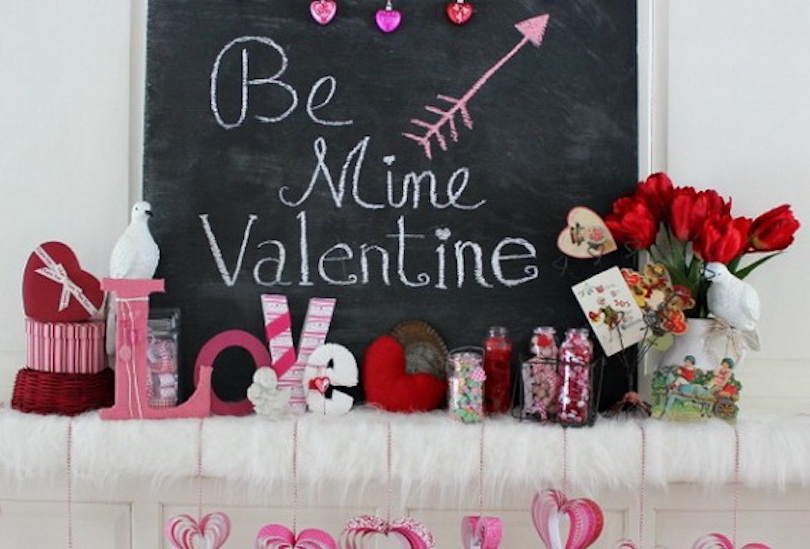 A blackboard is another great way to add a low-key Valentine's sentiment to an interior. Whether you use it for drawing pictures, sharing love quotes, or writing love notes inspired by books, movies, and poetry. It is low-cost and low-effort, but it may add a lovely feel to your interior easily and quickly. This idea is great for the bathroom and kitchen to surprise your lover differently. For an extra special touch, you have to pop it into an elegant frame as per your desire. You can consider Valentine's day decoration online shopping for desired blackboard display in a unique design.
Add Valentine's Day Decor To Your Coffee Station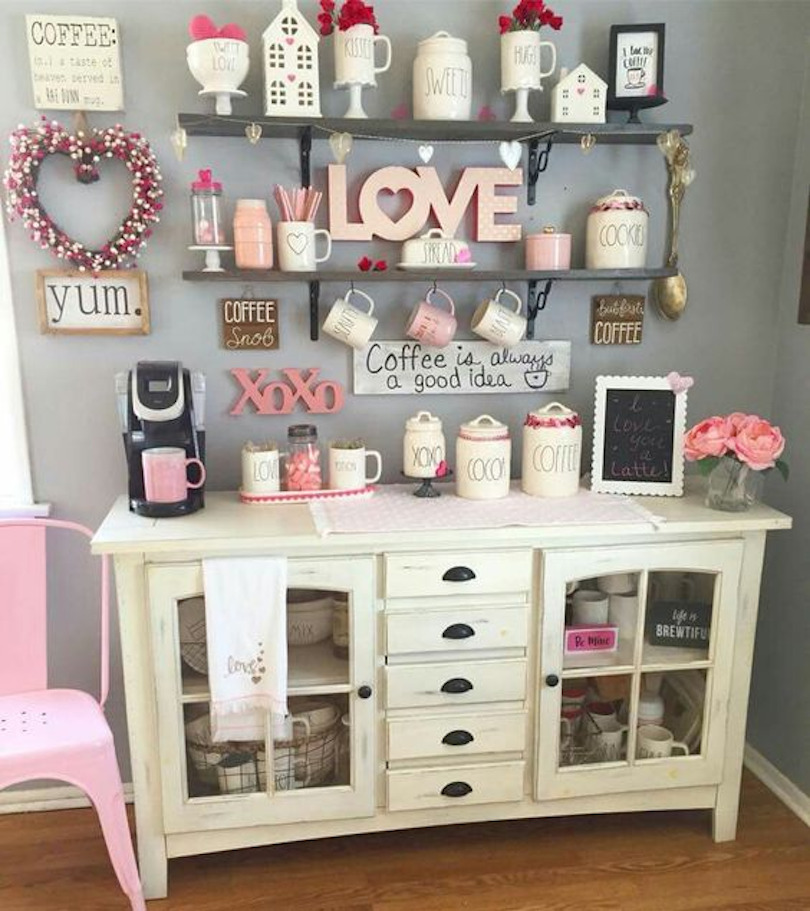 Do you have a morning coffee station at home? You can consider decorating the area and transforming it into something special for Valentine's Day. It is another amazing way to add a special touch to this official day of love. It is also a great part of any home that doesn't generally offer decorated touch to a given space.
You may splash out some heart-patterned napkins, linens, or crockery as romantic signage. All you need to do is make sure that the home decor is not interrupted on how you use the best coffee machine. The decorations must add some fun and joy to your life without causing any inconvenience to the daily tasks.
Design Heart Shaped Paper Chains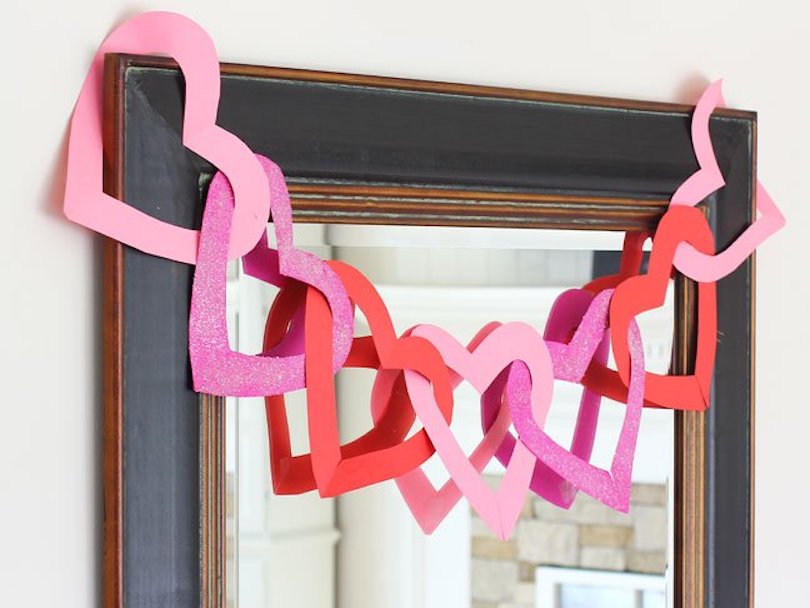 If you want to make the whole family part of the Valentine's Day decorations, you can get them involved to make an easy craft, like these paper chains. These are very simple to make. All you need to do is cut them into strips of paper in the shape you desire. After that glue them together. Wrap the second strip of paper around the completed shape, and fixed it together. Likewise, you need to make more paper hearts and increase the length of the chain. It may appear fiddly but it's great to make with kids and complete the look totally.
Whether they are hung in a living room, hallway, or even down the banister for a subtle look. These are quite affordable and colorful to embrace the season of love through decor.
Add Some Letter Lights
Whether you buy letter lights valentine's day decor on Amazon or hire them, the carnival-style light-up letters are zero-fuss, easy decorations to display and set up. Place them on a floor of the living space or a large cabinet. One simple option is to use those to spell 'love.'
If you are trying to impress your partner, you can spell their name, initials, or write a message for them. Want a more affordable option? You can consider the fillable letters. Decorated with the desired filling, these are more budget-friendly ways to express your feeling than the illuminated setup.
Make Fireplace a Decorative Focal Point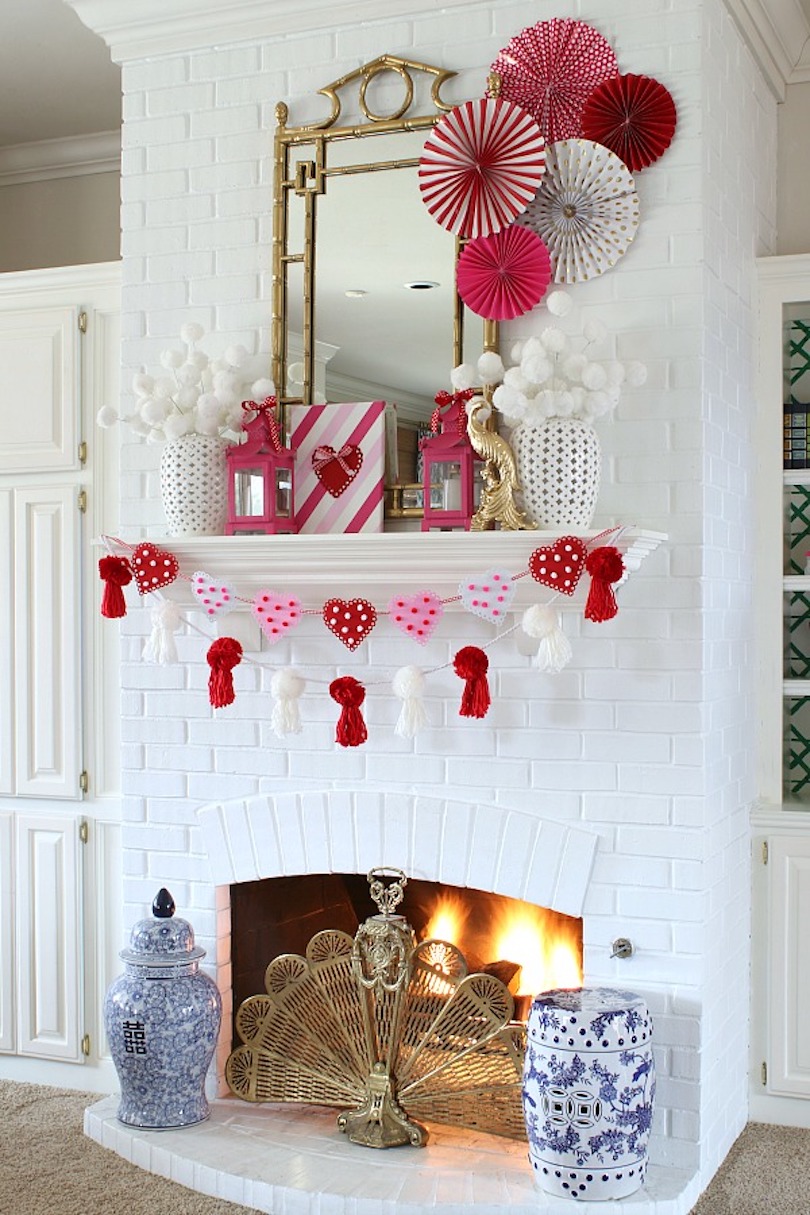 If you are lucky to have a fireplace in your house, consider adding Valentine's Day decor to it. A fireplace is a great way to add a focal point to many living rooms. So, consider them to decorate it for Valentine's Day to admire it whilst you relax on the sofa with your partner.
General Take-Aways
When thinking of the Valentine's Day decor, borrow from other seasons or decor pieces that are already in your home. But choose the ones in pink, red, or white. It is best to use faux or fresh flowers for decor. Or use inexpensive items from gift wrapping supplies.
For the design ideas, you can consider given ideas to spruce up your home this Valentine's Day.
Happy Decorating!