Halloween Dessert Table
What is the highlight of any Halloween party? A dessert table! The planning process for a Halloween party may also be the most thrilling. Remember that it's crucial to select a Halloween party menu that will please every visitor. Plus, you have to keep in mind some creepy and entertaining suggestions for how to put up the Halloween dessert table.
If you are hosting a Halloween party for the first time, here are a few vital tips to keep in mind for a perfect dessert table:
Choose a Good Space
Finding a fantastic location is the first step to any outstanding dessert table. Everyone should be able to easily access the table, so place it there. Once you have a perfect space – whether indoors or outdoors – you can start thinking about the placement and decor.
Make Use of Halloween Colors For Your Food & Other Essentials
It's usually a good idea to be festive and use Halloween-themed colors for your festive dessert table.
A fantastic place to start when planning is with the food, tablecloth, paper goods, or serving utensils. After that, you can consider adding some decor elements that remind everyone of the spooky affair.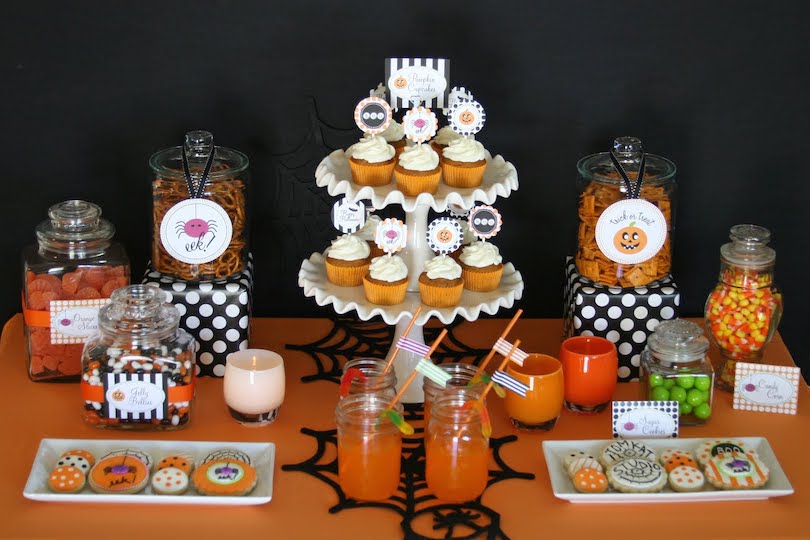 Add Distinct Serving Pieces in Different Heights
The serving pieces must be of different heights for your sweets to stand out.
You can see all of the desserts by using both pieces that are flat on the table and pieces that are taller with varied heights.
Adding color and texture to your Spooky dessert table can also be done here.
Have a Clear Beginning Point
Forks, plates, and napkins should all be placed on one end of the table to provide a clear starting point for your visitors.
This makes it possible for everyone to know where to begin and prevents confusion from arising from people starting in various places.
Add Silverware, Plates, and Napkins
Make sure you have dishes, napkins, and silverware for your guests to utilize. Your menu and the needs of your guests will determine what you provide.
Only set out napkins if you are serving finger foods, but make sure to have forks and plates on hand in case someone needs them.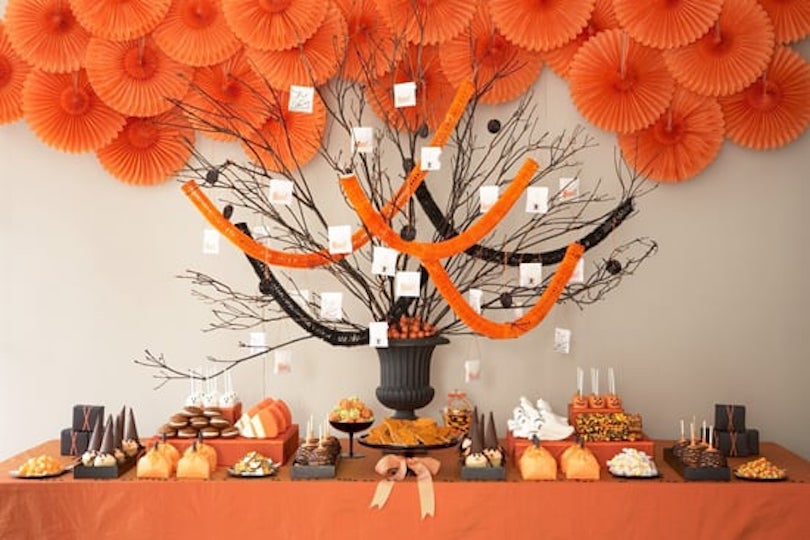 Add a Focus Dessert
Go through your menu and select the centerpiece dessert for the Halloween Dessert Buffet.
The dessert should be something showy or vibrant that merits the spotlight.
For instance, Halloween brownie bites, presented on a spider web serving dish, are the ideal centerpiece for a dessert table.
Add Labels to Your Desserts
Desserts should be clearly labeled on a dessert table so that guests may choose what they want.
It is a fun way to give your Halloween table personality, whether you prefer to label each treat individually or place everything on one board.
Keel Dessert Table Simple Yet Spooky
When deciding what to offer, try not to overdo it. An excessive commitment to desserts might be distressing.
Choose desserts for your menu that can either be prepared in advance and frozen or that won't require much preparation on the day of the Halloween celebration. The most essential thing is to have fun.
Place Both Store Bought & Homemade Desserts
Be sure to include some store-bought desserts in your inexpensive party menu preparation.
You'll have the luxury of more time to spend with your guests if you use a combination of homemade and store-bought things.
Add Simple Table Cover to Make Food Stand Out
Avoid using a tablecloth that is excessively busy since it will detract from the cuisine. It's crucial to use something straightforward.
You can guarantee that your meal will stand out, which is the purpose, by utilizing a rather basic covering.
No Bake Treats To Save Your Time
Without ever turning on the oven, you can make a tonne of delicious no-bake desserts. So, consider making them if you don't have much time for food preparation. Such desserts are easy to make and simple to serve. Plus, these quick desserts are loved by kids and grownups alike.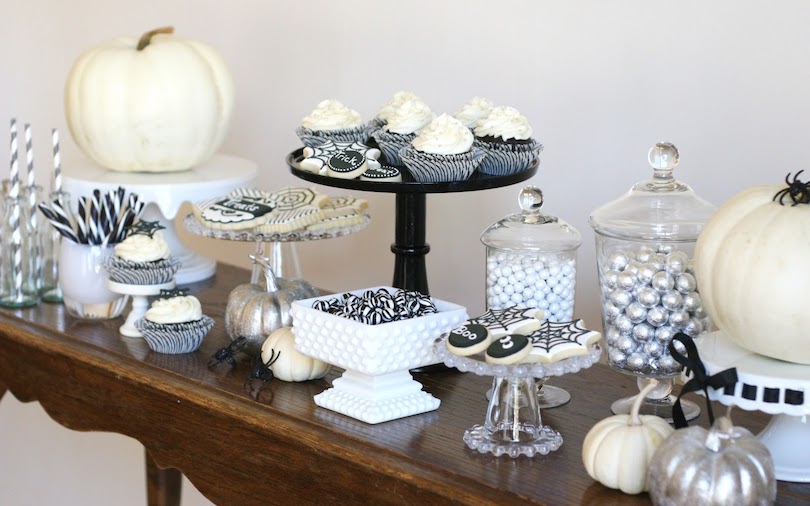 Add Halloween Candy
The ideal method to include a colorful and festive addition without putting in the extra effort is to add a charming bowl of Halloween candy to your Halloween Dessert Table.
This adorable idea to bring a touch of sweetness to the table was with this tiny bowl of candy pumpkins.
So, follow these simple yet effective tips to set up a fun and exquisite dessert table on Halloween. We're sure everyone will love your table setting. Give it a try!