Z-Triton 2.0 Amphibious House Boat Trike Available For Pre-Order
At first glance, it may be difficult to recognize whether the Z-Triton 2.0 is a trike, a boat, or any micro-shelter. But when you see it up close, you will be glad to know that it's all three of them. And, the best part is that it works on both land and water. This amphibious houseboat was first revealed in 2020 as a prototype. But now Z-Triton's designer Zeltini is releasing a production model that starts at around €14,500 (US $16,300).
Features of Z-Triton 2.0 amphibious house boat trike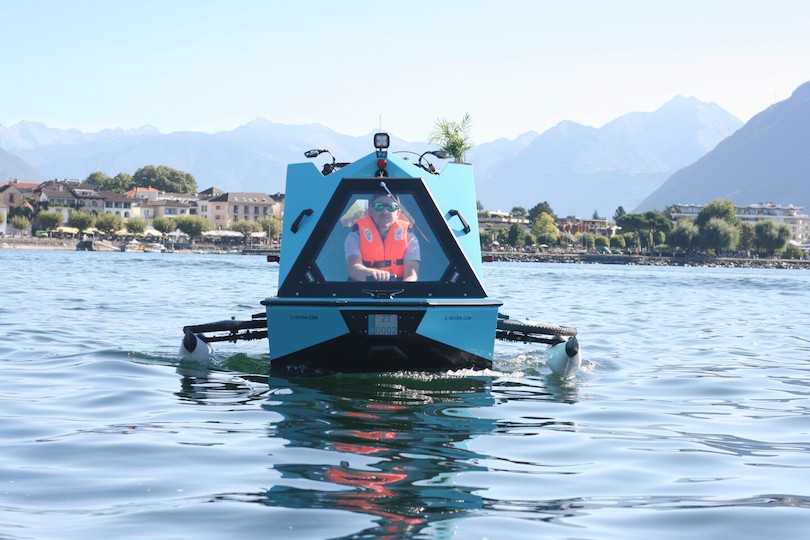 Latvia-based startup Z-Triton has been testing the Z-Triton 2.0 since 2020. after two years, they are presenting the updated version of this amphibious trike-cum-boat-and-camper. To begin with, its interior is less roomy but still enough for two adults to lie down or sit comfortably.
With a length of around 12.7-feet, a height of 5.5-feet, and width of 4.7-feet, this is a compact but sufficient camper and trike for those who want to enjoy tiny living for a while. Its body includes a fiberglass and steel frame along with polyester made using recycled plastic bottles. Moreover, its 3D-printed sections are made using bioplastic.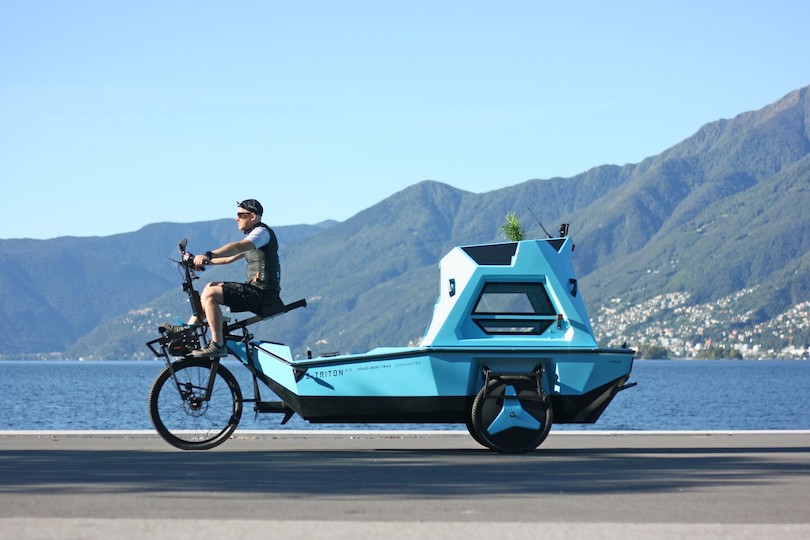 In the bicycle mode that seats the rider high up, there's some major redesigning to provide a comfortable experience. It even boasts a rear suspension, hydraulic disc brakes, an adjustable seat, a 1000-W motor for assisted pedaling, and seven gears. Overall, this model is quite improved since the original prototype launched in 2020.
If you want to hit the waves, you can turn the Z-Triton 2.0 into a boat mode within 5 minutes. This involves folding away its wheels while adding stability floats to this mode. Even the boat mode has some noticeable improvements. Even though you won't venture out into a large sea with this boat mode, it still comes with a stronger built-in 1,150-W motor within its body. Moreover, you can find some manual windscreen wipes and basic controls, such as an N-shaped steering wheel and striking lighting.
What the designer says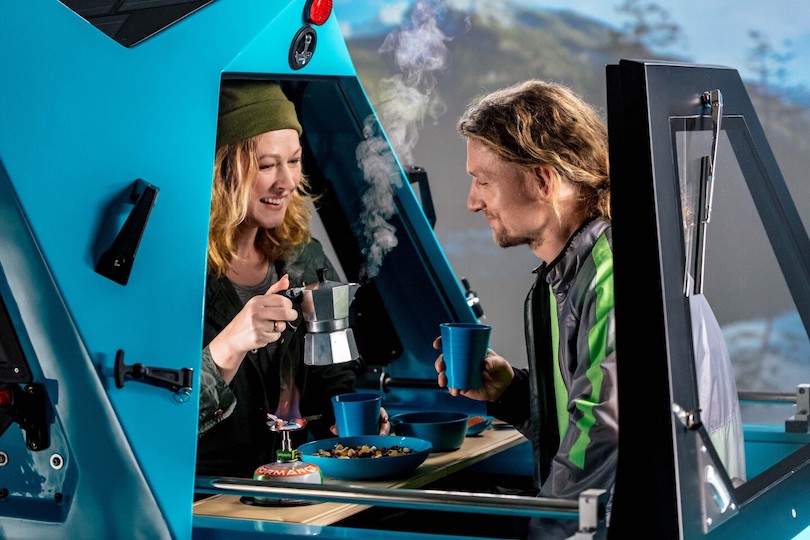 According to Zaltini, soon after completing the prototype in 2020, this product generated huge public interest. And, the first pre-orders started coming in and even some world-renowned investors joined in to bring this revolutionary way to explore the outdoors. While the prototype was fully functional, it needed some improvements before mass production. Slowly, a team was formed of the top engineers and change-makers. And, within 14 months of their effort and dedication, the new Z-Triton 2.0 version is in front of us.
More features of Z-Triton 2.0
The Z-Triton 2.0 comes integrated with a Li-ion battery pack. However, there is no word on its capacity. According to the firm, it is good to run for more than 31 miles overland and around 12 miles on the water. When the fuel runs out low, you have to pedal or row it to the nearest powerpoint.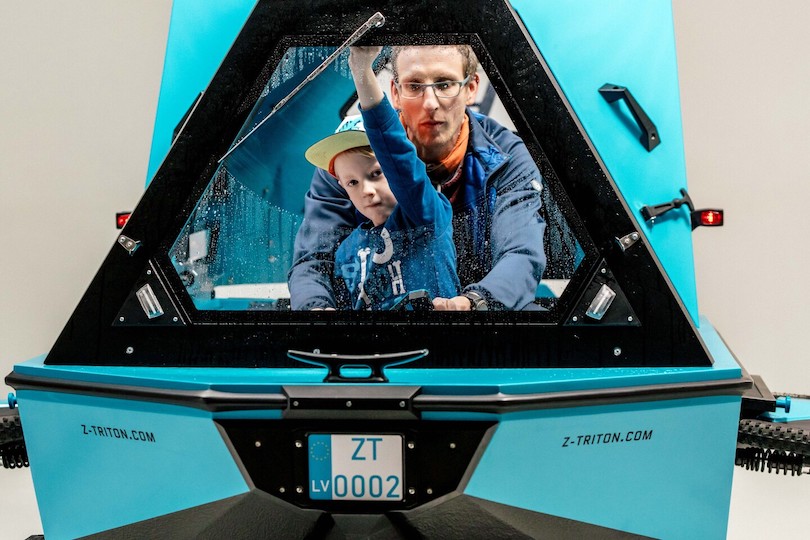 Aside from that, it features a solar panel array on the roof. However, the designer says that it is not sufficient to charge the batteries on its own. Some more minor features in this houseboat trike are a GPS, a Bluetooth radio, some luggage space, a small folding table, a place to put a plant, and USC charging ports.
Pre-order
The pre-orders are open for the new Z-Triton 2.0 with expected delivery in Eupore around late 2022 and the US in 2023. Even a simplified DIY kit of this houseboat trike is available. Plus, it is available for rent too. But only in Zeltini's home country, Latvia.
For more information, visit the official website.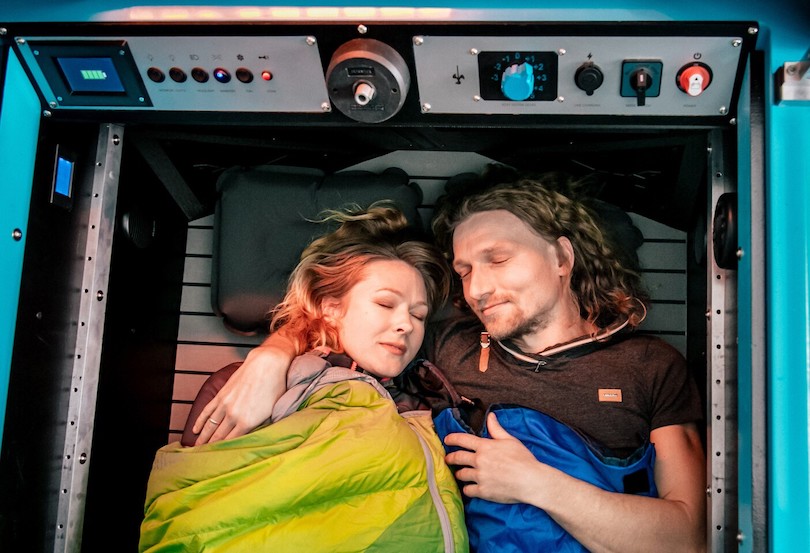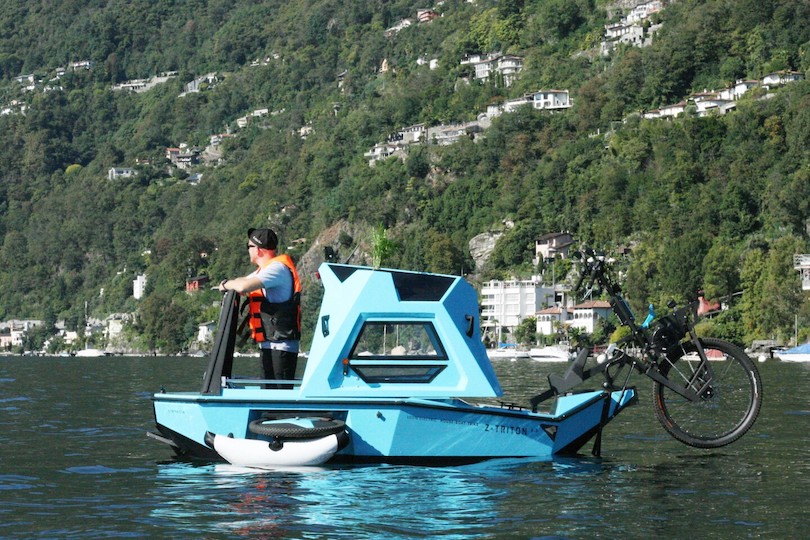 Via: Newatlas