Hello Wood Creates Workstation Cabin To Take Work Space Outdoors
Bored of working indoors all day long? Not anymore, thanks to the new pebble-shaped Workstation Cabin. Budapest-based design company Hello Wood has come up with this mini cabin. This tiny cabin takes your workspace to the outdoor environment. The tiny cabin covers around an 8-square-meter area and works as a multi-purpose space. So, it enables the users to install it in their backyard, private garden, or any other secluded environment of their choice.
Workstation Cabin Works As Multipurpose Space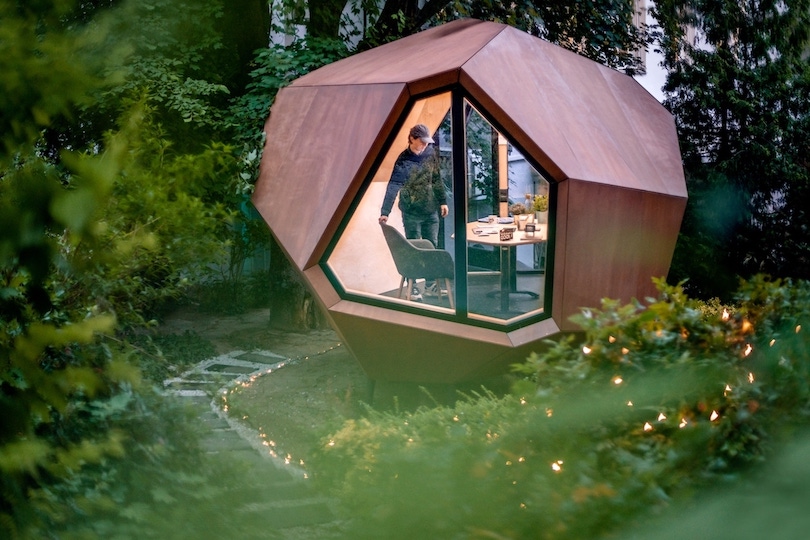 This unique-shaped cabin aims to offer an alternative work area to homeowners. It is because people don't like working in the same space every day. But when you have such an outdoor workspace that also lets you interact with nature, you won't feel monotonous again. Besides being a workspace, this tiny cabin can also serve as a separate cabin for your guests to enjoy some privacy.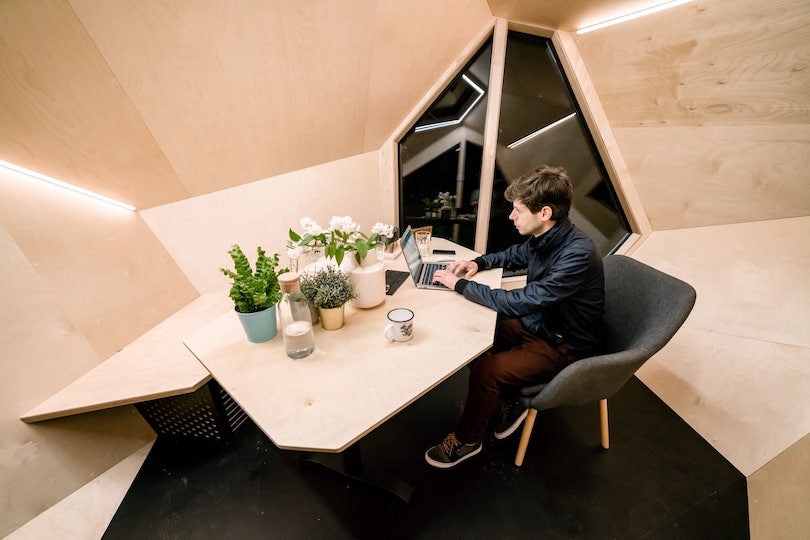 Conceived as a tiny wood house, besides its movability, the functions of the cabin depend on the users' imagination. It is a well-insulated and soundproof cabin to cater as a meeting room, workstation, a kids playroom, or an escape room for enjoying some quiet time. This cabin also comes integrated with an air conditioner, heating system, sound system, mood lighting, wireless network setup, TV screen, terrace, and landscape. Hence, you can comfortably work or relax in this cabin while witnessing the landscape around your garden.
Hello Wood's Perspective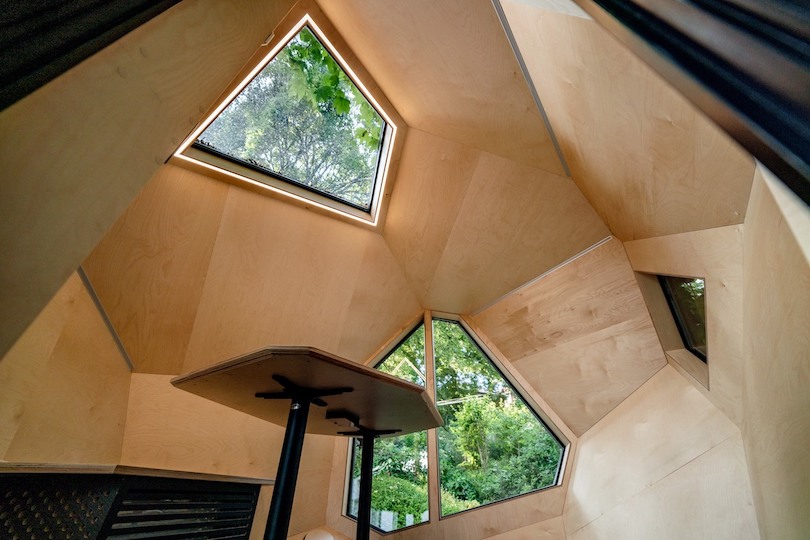 While designing this concept home, the company aimed to make an extremely functional space. It is a perfect getaway for those who want to adopt a minimal lifestyle without leaving their big house. Even if someone wants to live in this cabin, they can stay inside comfortably due to the proper insulation. This workstation further transcends a traditional cube-shape into a fun area, which is more like an artwork to blend within the landscape.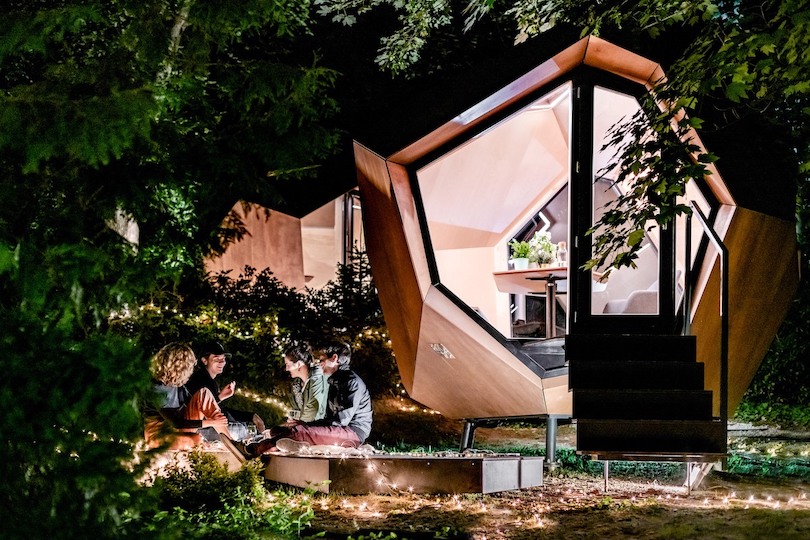 If we look at the images, it seems that the cabin brings the illustrations of your childhood book to life. Meanwhile, nature feels quite close, thanks to the interior that boasts huge windows and natural Scots pine wood.
Due to the environmental focus and low energy consumption, this cabin is also sustainable compared to a house built for non-renewable materials with traditional technologies. Besides this cabin, the company is also working on other tiny cabins that are in construction and development phases. These cabins range from intimate spaces to community accommodation requirements.
About the Company
If we talk specifically about Hello Wood, the company was established as an art camp in 2010. over the years, the form has grown into a worldwide hub for designers, architects, and woodworkers seeking new ways to share knowledge.
For more information about their small wood cabins, you can visit their website.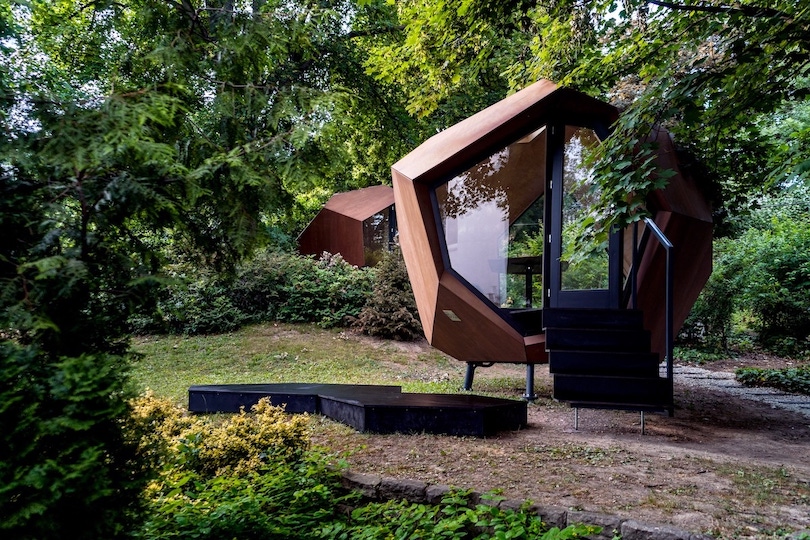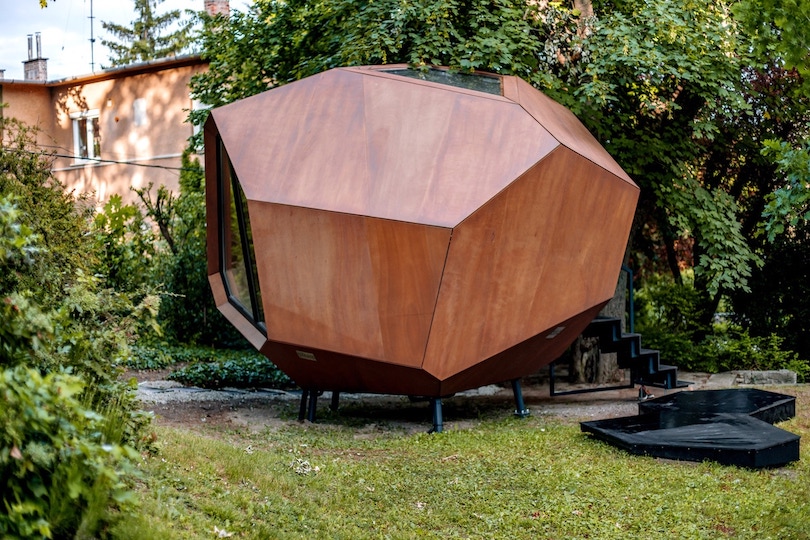 Via: StirWorld