White Oak Kitchen Cabinets For Classic & Versatile Cooking Space
When selecting the wood for your kitchen cabinets, the options may seem endless. The most important step in designing or modifying your space is selecting a solution that suits your personal preferences and functional needs. White oak kitchen cabinets can be your finest choice because it is timeless and versatile. With the correct species and treatment, oak can have a vintage appearance or be the perfect foundation for a sleek, modern kitchen.
Don't overlook the potential of white oak as you look for the ideal oak cabinets to finish your project. White oak is a rising star in the field of interior design and has a lot to offer. It offers many of the functional advantages associated with wood in general. Meanwhile, it has a more trendy appearance to win over other oak varieties.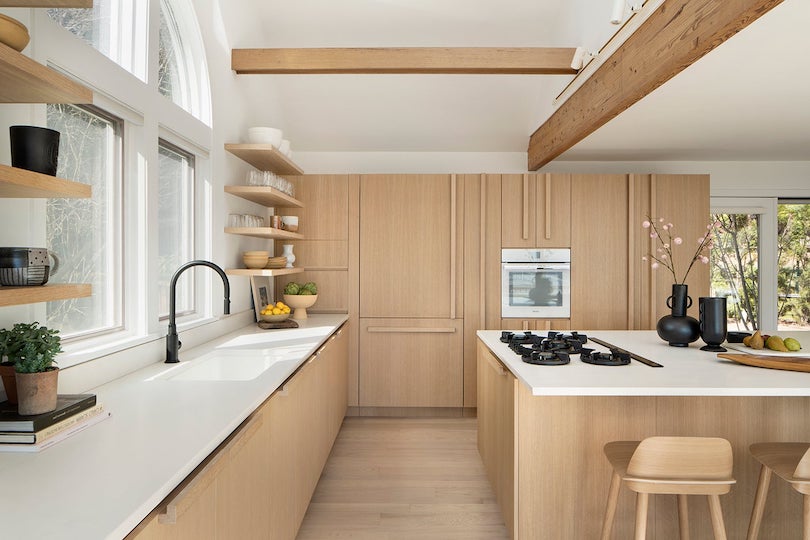 You don't like oak? We're here to alter your perspective. We will share with you the advantages of white oak kitchen cabinets. Additionally, you'll discover useful ideas for utilising them in your kitchen.
Why Choose White Oak Kitchen Cabinets
often you think of dark colors when you think about oak cabinets. At that time, honey oak was particular very trendy. So, most kitchens in the 80s were made using dark-colored oak. But over time the oak cabinets lost their charm. Many homeowners in the early 2000s completely abandoned oak kitchen designs in favor of a different kind of wood, rather than making minor adjustments.
Red oak has undoubtedly fallen out of fashion, but oak as a whole doesn't have to be ignored in the field of interior design. With a few little adjustments, it may reclaim its prior dominance in the kitchen, but in a more adaptable, aesthetically beautiful way that would enable it to continue to be fashionable as fashions again change. The crisp, modern appearance of white oak can serve as the beginning of this transformation.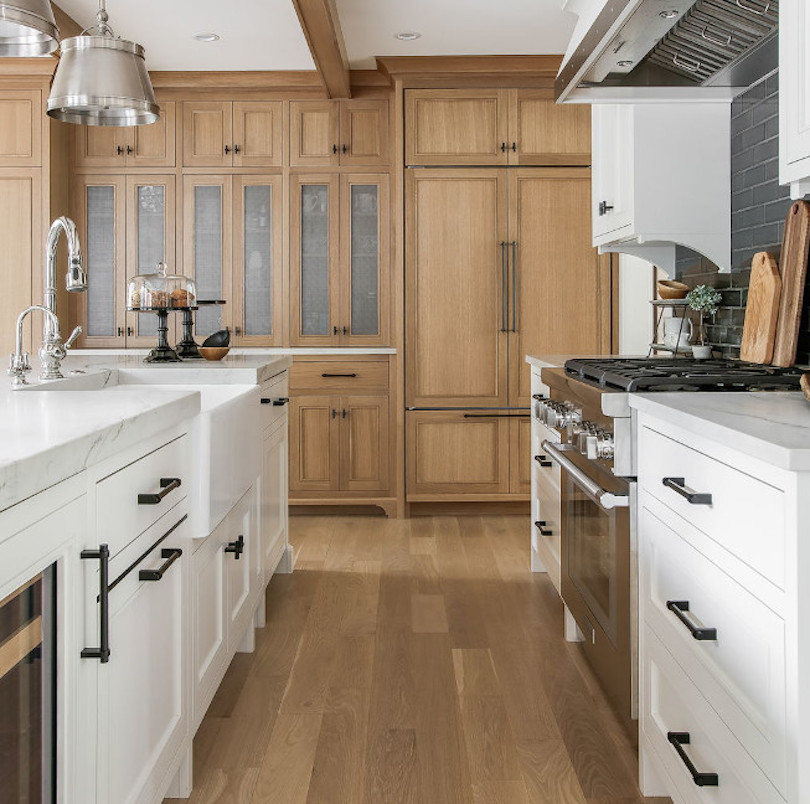 This increasingly common approach has many advantages. We have discovered that working with white oak has several benefits, some of which are listed below:
Durable
With a 1360 hardness rating, white oak is more resilient than most other kinds of hardwood. This makes it a great pick for kitchens that get a lot of use because other types of cabinets could get dents or dings easily there. White oak cabinets can maintain a classy appearance without sacrificing durability.
Versatile
There are several applications for white oak. It can replace white-painted cabinets in modern kitchens to provide a little more warmth and character because of its contemporary appearance.
For a kitchen that looks nice without trying too hard, pair white oak cabinets with a striking backsplash or contrasting island. White oak kitchen cabinets can also be stained in a variety of ways to create a unique look. We adore how stains can draw attention to the natural beauty of the wood grain and really showcase its intricate details.
Elegant Grain Patterns
In the past, oaks had grain patterns that were typically flat cut. The massive cathedral grain patterns that most people identify with oak are produced by the flat cut, a lower cost, greater yielding cut.
Quality cabinet and furniture makers are aiming for a new look today. The board's appearance changes from cathedrals to straight grain after it is quarter-sawn and rift cut. Quarter sawn additionally enhances the appearance with intriguing cross-ring growth flecks.
Trend-Oriented Color Schemes
Simply put, the warm red hues of honey and red oak are out of trend right now. We don't know if they'll ever return, but for the time being, this style works best in retro environments. White oak, on the other hand, offers a completely different canvas that is more in line with the current emphasis on neutral colors. Its tones range from wheat to green-brown. The softer tones of white oak are also better suited to creating contrast with tiling, flooring, and countertops. White oak provides an unobtrusive backdrop for unusual accents if you want to add a splash of color anywhere in your kitchen.
How To Add White Oak in Your Kitchen
White oak's inherent adaptability makes it simple to include in the design of your ideal kitchen. However, there are a few important considerations that you must make beforehand that could affect the overall design and feel of your kitchen.
Keep Your Preference in Mind
The great thing about white oak is that it can work well in homes that have an older style or help to bridge the gap between modern, traditional, or even farmhouse style homes, despite the fact that it is obvious that the warmer tones of red oak are not being used in kitchens as much as they once were. You and your family and friends will likely spend most of your time in the kitchen, whether it be cooking or simply chatting over a cup of coffee. The kitchen is frequently the focal point of a house. As a result, it ought to look like the remainder of the house.
Utilize North American White Oak
White oak comes in a variety of forms, although North American variations are the most sought-after. Due to its uniformity, sturdiness, and longevity, Appalachian white oak is particularly well-liked. The superb oak from Appalachia is well worth the initial cost if you're looking for a higher-end variety of white oak that will remain gorgeous even after years of intensive use.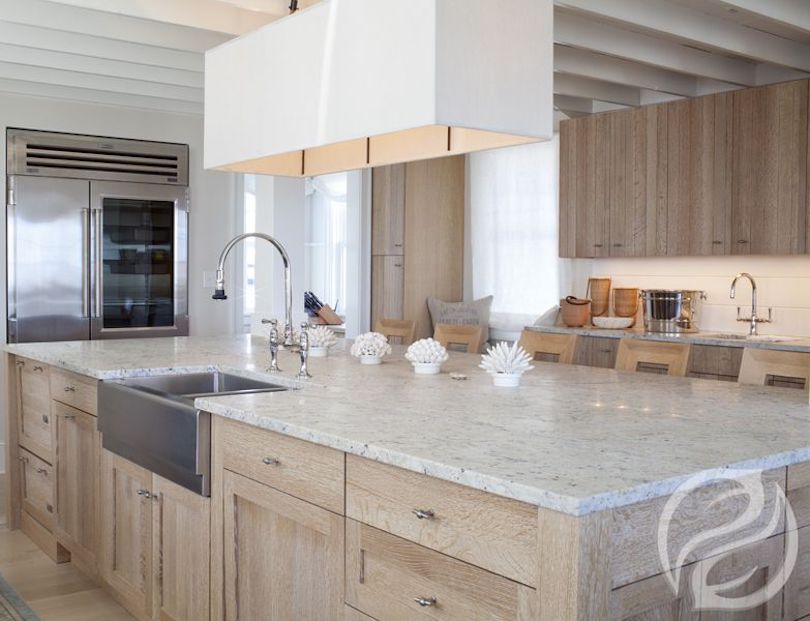 Add Contrasting Elements
The overuse of red oak is the reason many people don't consider oak for the kitchen. But the stylish and subtle appearance of white oak prevents this issue. But to give a kitchen some depth, you need to add some contrasting elements.
To do this, one can use a number of details. The variety of colors, patterns, and alternate textures that can complement the wood and bring attention to specific design features that you want to emphasize make the backsplash a perfect choice. An excellent location to experiment with contrast is on countertops.
Choose white marble or quartz counters for a refined, clean design. Or if you'd prefer something a little more subdued, look into alternatives in dark grey or black. It is easy to blend a kitchen interior with the natural wood grain of the white oak and a stone's variation.
Other elements that might have a significant impact are the lighting, hardware, and flooring. If you want to add more depth and interest, pair white oak with a matte brushed, or even highly polished brass knobs. Kitchens with two colors can also use white oak. To bring out the greatest qualities of white oak, don't be afraid to make a big statement.
Conclusion
Anyone looking to enhance the appearance of their kitchen should use white oak cabinets. They come in a wide variety of designs, sizes, and hues. To suit your style, you can even have them painted or stained. Unlike other types of wood, oak cabinets don't exhibit scuffs or scratches, making them simple to clean. They're a great investment because they're also quite stylish and lasting. If you intend to sell your house in the future, oak cabinets can also increase their worth. If you're looking for additional oak cabinet kitchen ideas, check out our blog post for more ideas.