10 Thoughtful Christmas Gifts For Mom To Show Your Love
Mothers are our real-life superheroes. They come in all shapes, sizes, and ages. And, different attitudes! Some moms run companies, others love hiking, and some still love to work for us at home. No matter what they do, everyone adores their mom. After all, our lovely mothers work so hard to provide us with the best in our lives. Therefore, you need to find the best Christmas gifts for mom to make her feel special.
But choosing the best Christmas gift for her is not easy. Especially, if they say there's no need to buy me anything every year. Nonetheless, you want to say a big thank you coupled with a thoughtful gift.
Here we have curated a list of the best Christmas gifts for mom in 2022 – 2023. All these gifts are practical and helpful. From smart kitchen gadgets to some comfy wearable items, there are various gifts to catch your mother's eye.
So, without further ado, let's jump into finding what best gifts to present to your mother this Christmas.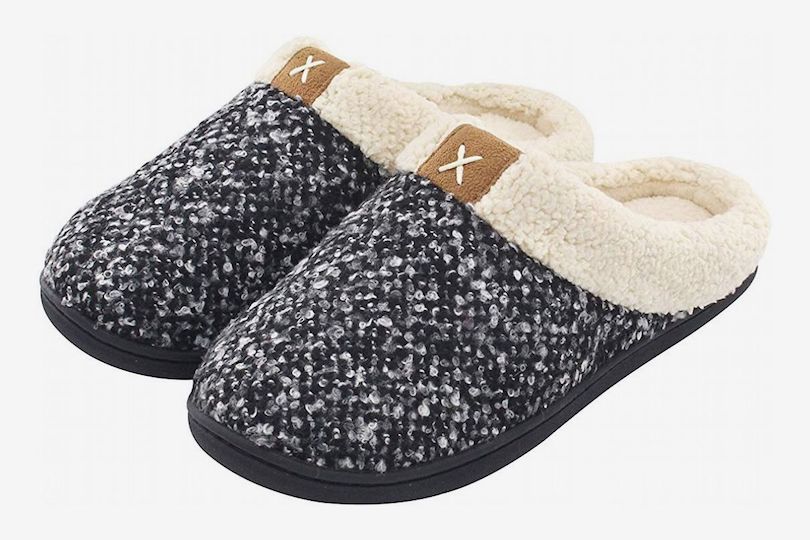 Since winter is approaching, your mom needs a pair of warm and cozy slippers to comfortably move around the house. So, get her these warm, lightweight wool slippers. Made from soft and warm fur and felt, these are less prone to degradation compared to cheap felted slippers. These are very easy to slide on/off. It means she can easily wear or remove them as per her desire. So, no need to fiddle with the footwear. Another good news is that these slippers come in slip-resistant rubber-soled versions. So, she can wear it both indoors and outdoors around the house. You'll make her feel special this Christmas with these comfy and cool slippers.
2. Comfy Robe -Christmas Gifts For Mom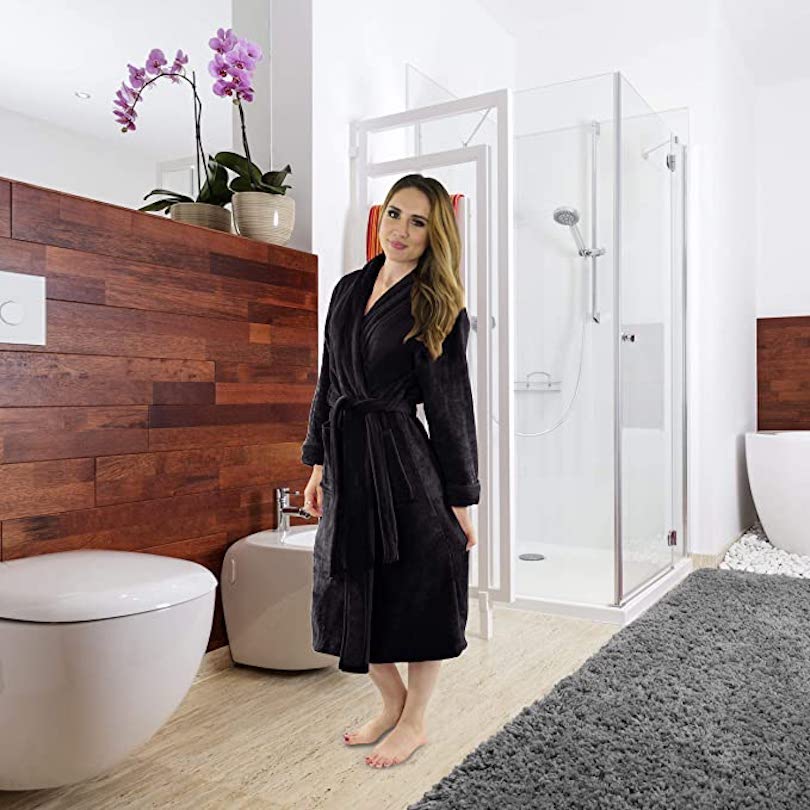 Another unbeatable pleasure for your mother is to get wrapped in a soft robe and relax on a couch on a lazy day. If you feel your mom deserves such a moment of relaxation, you can gift her this soft and cozy robe. This fleece robe seems many women's favorite, as you can see on the Amazon reviews. The best part is that it comes in a variety of color options. So, you can pick the one in your mom's favorite color. Another good thing is that it is very lightweight, so it won't feel too heavy on wear. And, it's available in various sizes to suit the special lady in your life.
3. Cashmere Knitted Shawl – Christmas Gifts For Mom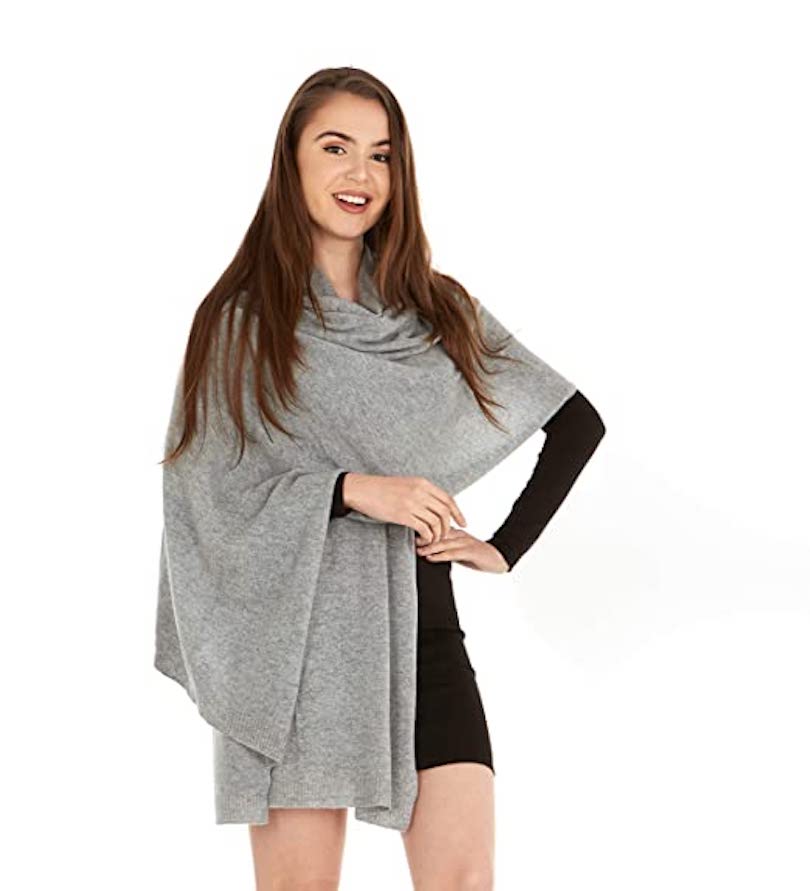 Here's another ultimate cozy hero to keep your mom warm and stylish this winter. You can gift her this soft cashmere knitted shawl. This wrap shawl is not only warm and but also a great fashion accessory. And, it comes in two colors. So, you can choose the one that goes well with most of her outfits. We are sure she won't stop thanking you after receiving this wonderful gift.
4. Digital Meat Thermometer – Christmas Gifts For Mom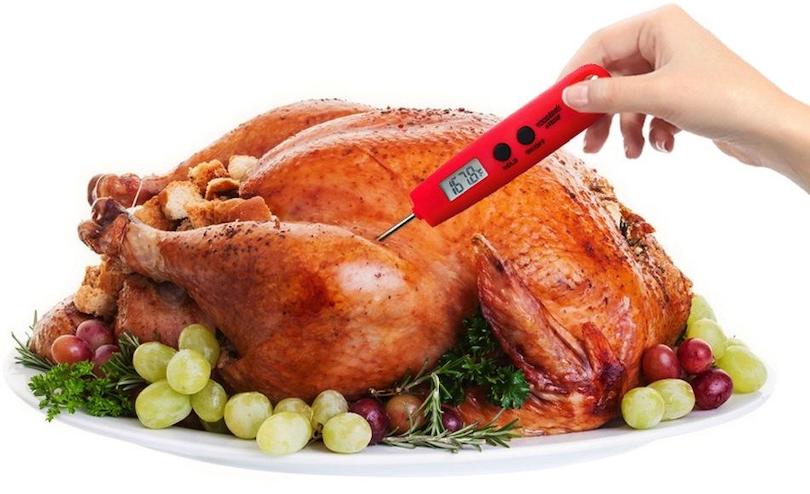 If your mom cooks amazing meat, you have to gift her the right smart tools to help with her cooking. This digital meat thermometer is a great option to consider. This thermometer gives accurate food temperature within 2-3 seconds via its high-quality sensors. All you need to do is press the °F ≤ C button for about 3-5 seconds for switching between temperatures in either degree Celsius or degrees Fahrenheit. All thanks to its instant temperature readings, you won't have to deal with undercooked or overcooked food.
The AETTL food thermometer also features five different types of meat selection features. It enables you to choose beef, mutton, chicken, turkey, and other modes. You can directly set the cooking temperature you want for a perfectly cooked meal. Your mom is going to love this gadget, especially during the festive time when she has to prepare different types of meats. Hence, it is one of the best Christmas Gifts for mom.
5. Soft & Warm Throw Blanket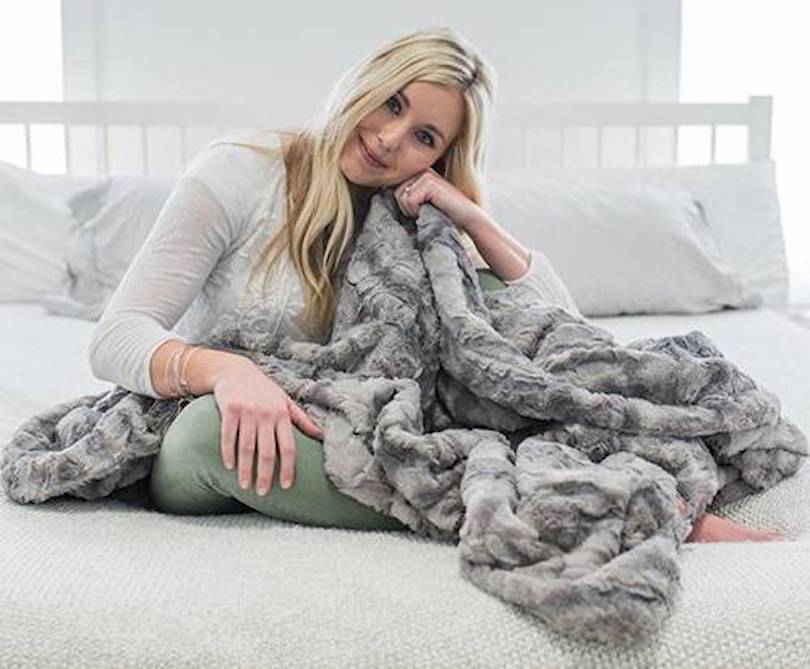 Wrap your mom in the similar comfort that she always gave you when you were little. This throw blanket is a perfect gift to keep them warm and comfortable this winter. It can be her great companion for the times when she wants to relax with her hot cup of tea or coffee. Or she can wrap it around her while enjoying her favorite TV program or watching a movie. It is also available in different colors, so choose the one that suits your living room interior or your mom's bedroom interior. According to us, all moms will love it – as they won't feel too hot when sleeping with this cozy blanket on. Hence, they will feel comfortable all night long.
6. Revlon One-Step Hair Dryer and Volumizer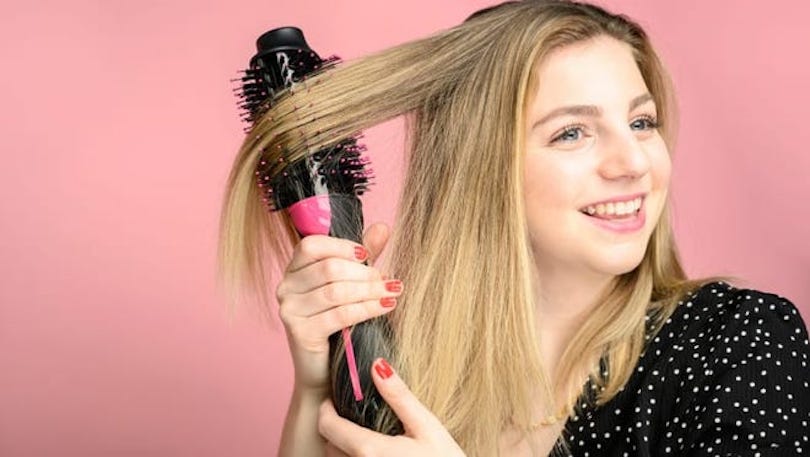 Revlon One-Step Hair Dryer and Volumizer is one product that everyone is going gaga over on the internet. This is a cult-favorite hair styling tool with over 305,000 reviews on Amazon and around 240,000 5-star ratings. Even we have tested this product and can't stop obsessing over it. So, you need to present this to your mother this Christmas, if she doesn't have it already. She will always remember your sweet gesture every time she takes out this hair styling tool to get ready. And, you'd also love how wonderful your mom looks with the more styled hairstyle.
7. Digital Photo Frame – Christmas Gifts For Mom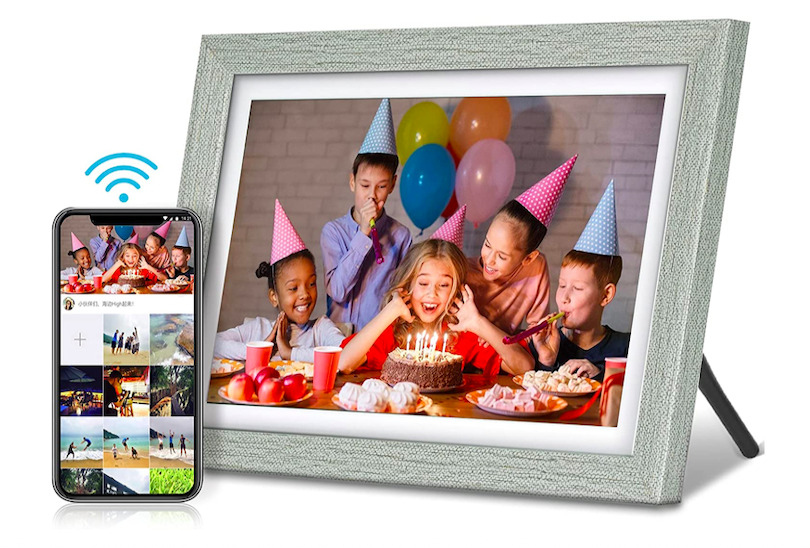 This digital photo frame may act as a direct link between your mother and your whole family. This will even let you send her new pictures directly to her digital frame – no matter how far she lives. This digital photo frame is very easy to set up and comes with both iOS and Android compatibility.
Just upload your pictures through its app and they will simply display on your frame. It also comes with more amazing functions, like Picture/Video Playback, Alarm, Background Music, Calendar, Weather Forecast, Slideshow, and Auto On/Off. Hence, it will be one of the best Christmas gifts for a mom who's quite tech-savvy.
However, one tip from our side is to start adding photos to the frame when you receive it. This way, there will already be your family picture when your mom opens the gift package.
8. Dehydration Station – Christmas Gifts For Mom
If your mother has a beautiful kitchen garden to supply her with bountiful veggies for her DIY snacks, then she may love this food dehydrator. Drying food with starch takes a lot of time. But this dehydrator can do it in a jiffy.
This product operates very easily. All you need to do is rotate its knob to turn on/off and set it at optimal temperature. There is also a transparent window cover for letting you monitor the entire drying process. Its 360-degree airflow circulation distributes heat efficiently and evenly.
It can dehydrate various foods at accurate temperatures. You can keep it at low temperature for apple slices and at high temperature for jerky for making tasty snacks. Even newbies can use this device with ease. So, do consider it as one of the useful Christmas gifts for mom who loves making DIY snacks.
9. Temperature Control Smart Mug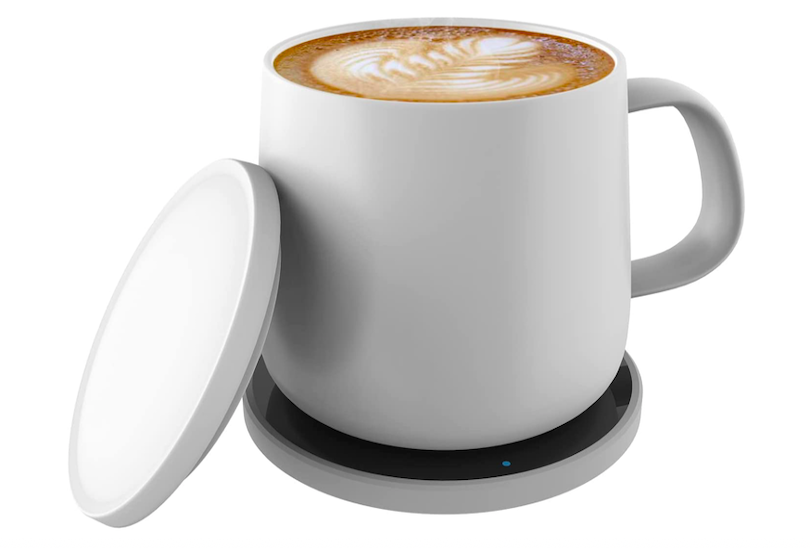 This is one of the amazing Christmas gifts for mom who loves her cup of coffee or tea. This temperature control smart mug comes integrated with advanced technology. So, it can control the temperature of your beverage with a built-in chipset. It can keep your beverage at an optimal drinking temperature all day long.
Its package also contains a ceramic cup for holding up to 380 ml of beverage. You can enjoy tea, milk, coffee, hot cocoa, or other drinks in this cup. It also comes with a wireless charging feature with 10W output. Besides this mug, it can even juice up smartphones and Bluetooth devices supporting wireless charging.
This product comes with a coffee cup, mug warmer, and micro USB cables with an adapter. So, you don't have to buy additional accessories for enjoying your beverage. We're sure your mom will love this smart mug this Christmas.
10. Bath Bombs For Mom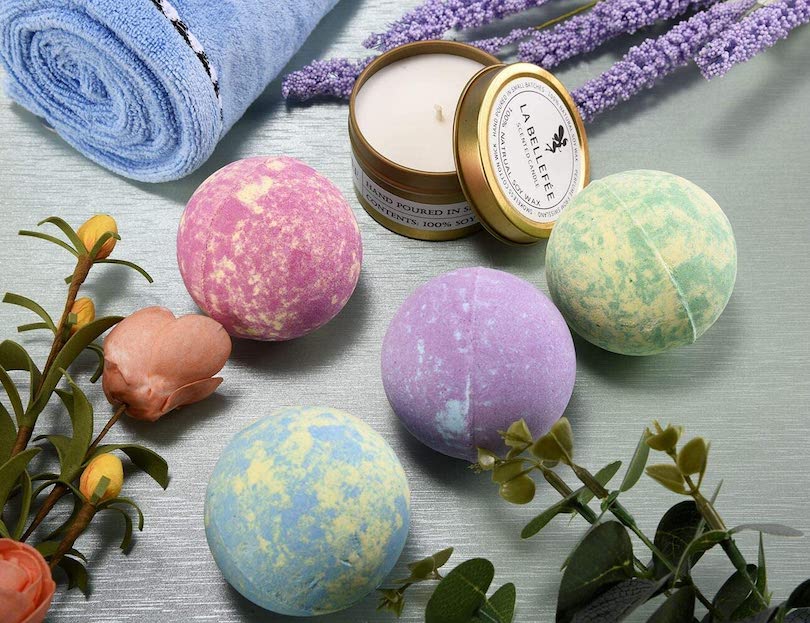 After preparing delicious meals for different festivities, your mom must be tired and need something to relax. Therefore, these bath bombs are a great gift for her to let her soak in the bathtub. Meanwhile, the bath bombs will spread their magic as soon as they explode in the water. They will fill the entire tub with a colorful, shimmering, and long-lasting aroma.
Your mom will love the luxurious spa experience while relieving skin dryness with gentle nourishing on the skin. Hence, she will get to release her stress levels and reduce fatigue.
These are some of our favorite Christmas gifts for mom this year. No matter what gift item you pick for your mother, she will feel special and cared for. So, brighten her day with these stunning gift ideas. All these items are practical and thoughtful, and will definitely make her think of you.