7 New Year Gifts for Employees To Show Your Appreciation
The arrival of the new year is only a few weeks away. So, you should start scratching your head and deciding on the best new year gifts for employees. Presenting thoughtful gifts to employees is now considered a good to develop an emotional and psychological bond with them. It's because a small gesture of gifting shows that you care for your employees. And, when you do so, your employees are likely to work for you with full dedication.
Since it's the holiday season and New Year is approaching soon, it's time to make your employees feel special while welcoming 2023. For some employees, a new year is not just about changing a calendar. But they also take it as a starting point in their life to fill up the previous year's backlog with whole new energy, zeal, and planning.
When you plan new year gifts for employees strategically, it helps them to climb a ladder of new aspirations. It's also a great way to show your gratitude and some appreciation for their hard work. That's another major reason why gifting employees is seen utmost importance to form a rock-solid bond between you and them.
Now, that you know the significance of gifting employees, one important question to consider here is: what to gift them?
Right New Year Gifts For Employees
While there are so many gifting options for employees these days, you need to consider the ones that they would use. Gifts that will help your employees unwind and take care of themselves are much more appreciated than the items that they won't use. ‍
Given below are some amazing new year gifts that your employees would love to receive:
Small Succulent Pots – New Year Gifts For Employees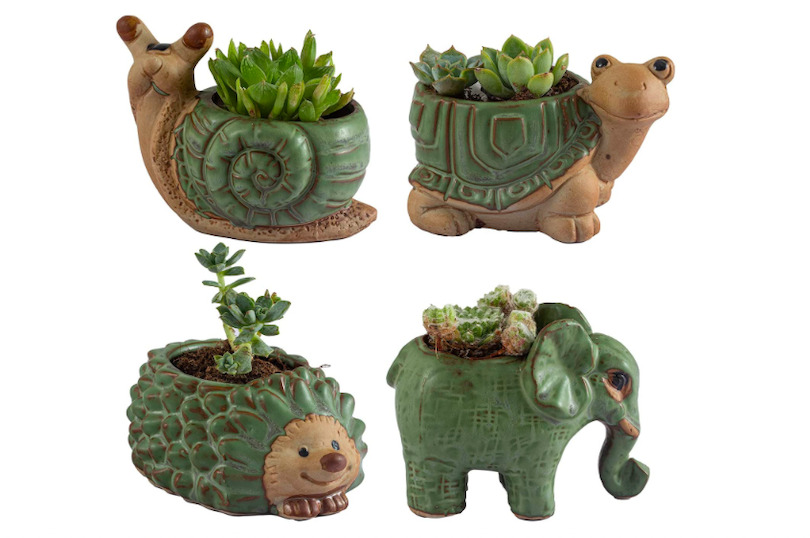 Planters are not only good for decorating your home but also fill your interior with life. It is also a great gifting item for employees with a green thumb. Using a decorative planter, as shown in the image, your employees can easily deck up their living space. Or simply add a plant and place the planter on their desk. They are suitable for both indoor and outdoor use. So, consider including it in your list of New Year Gifts for employees.
Boasting cute animal-like designs, the planters consists of durable ceramic. If you want to buy a flower pot (shown in the image above), it's indeed an interesting item due to its decorative design. With a live plant, the flower pots will bring a refreshing touch to their desk. Meanwhile, it brings harmony to the entire interior no matter where you keep it.
The planters come packed in proper impact-resistance foam. Hence, it's ensured that no one would receive a damaged pot. Or added security from damage, the flower pot comes packed in a drop-proof and shockproof thick bubble wrap.
Flight Phone Mount – New Year Gifts For Employees
Do your employees often travel in airplanes or vehicles due to work? If so, why not gift them a useful travel companion? We're talking about this flight phone mount or holder. It is lightweight, versatile, and compact. You can use it as a phone clamp, stand, or hands-free phone holder in an airplane when traveling via a cab, or simply at your office. So, they can take it and use it anywhere they go.
This phone holder opens up to around 3 3/4 inches wide. So, it can easily fit from a small iPhone mini to an iPhone 13 Pro Max along with a protective case. And, its clamp further opens to 1 1/2 inches wide. This means that it can easily fit onto a kitchen cabinet, work desk, wheelchair, gym equipment, windowsill, airplane meal tray, or even onto a headset holder.
Office Oasis Magnetic Desk Organizer For Employees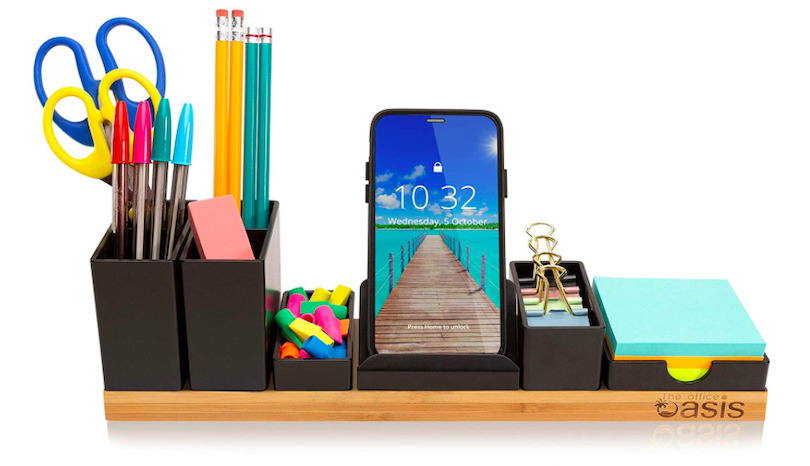 This desk organizer comes with a magnetic base along with six adjustable compartments. Due to its compact design, this magnetic desk organizer is easy to fit on any desk, nightstand, bathroom vanity, and other areas.
It is a convenient tray for all the home and office desk essentials, like pens, phones, markers, paper clips, sticky notes, pencils, and more in just one spot. According to studies, people with a properly organized desk are more concentrated and productive than those with a messy workplace.
If you are thinking to give something office-related and useful to your employees, this desk organizer is a great gift option. It will not only keep their workspace tidy and mess-free but also shows that you care for them.
The patented design of this desk organizer boasts non-slip rubber feet that prevent it from sliding from your desk. The body of this organizer is of solid bamboo, as well as high-grade plastic holders for better lifetime durability.
Donerton Smart Watch – New Year Gifts For Employees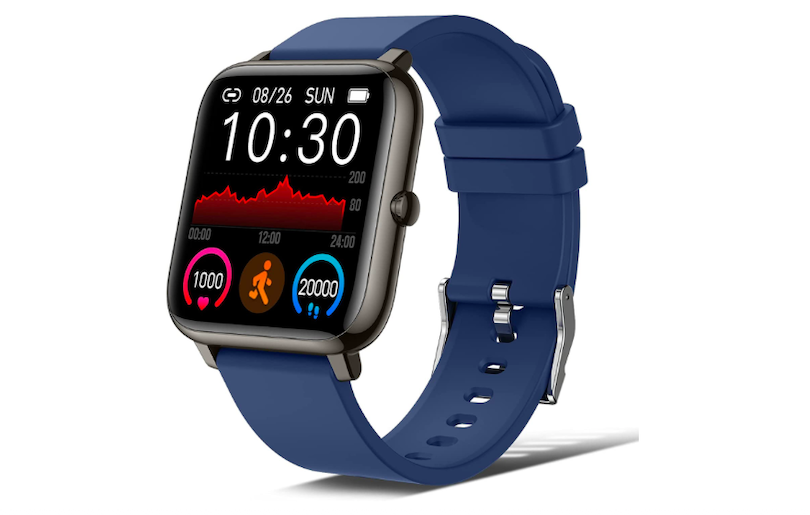 Do you care about the fitness of your employees? If so, you need to gift them this amazing smart fitness tracker watch by Donerton. It comes with a built-in motion sensor that automatically detects and monitors real-time heart rate. The smartwatch even helps you better grasp the health changes, as well as record accurate calorie consumption, steps, distance, and more.
It even shows the user's entire history in the connected app. Furthermore, the smart band can record your light, deep, and awake sleep patterns. Hence, it provides you with better sleep quality status for a better understanding of the overall health. It even makes reasonable adjustments to improve your lifestyle. You can even use it to set an alarm for waking up softly daily. So, your life will be much easier and smarter with the Donerton smartwatch.
On connecting the smartwatch with your smartphone, you won't ever miss a message or a call again. It vibrates to notify you whenever the phone receives a text, call, or notification from social media platforms (such as Facebook, Instagram, Twitter, etc.). You can even hang up certain incoming calls from your smartwatch, so, no need to take out your phone from your pocket every time.
Thanks to the integration of IP67 waterproof technology, this smartwatch won't get damaged even when you bathe or swim while wearing the watch. All these features make it a great fitness tracker. And, one of the best New Year gifts for employees to show your care and appreciation.
APEKX Gravity-Induction Coffee Mug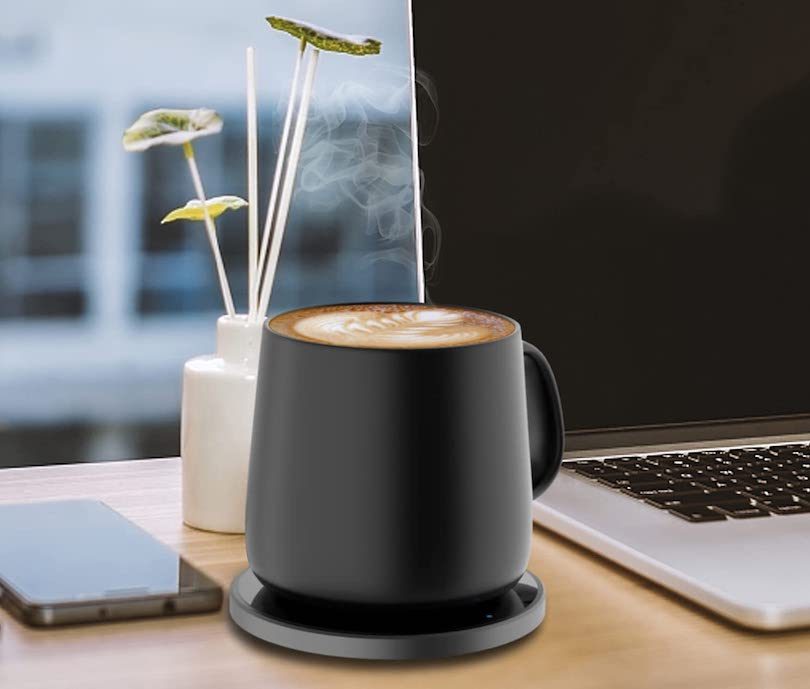 Another useful Christmas gift for employees is a smart coffee mug that can control its temperature. Apekx Gravity-Induction Coffee Mug is one such smart mug with an advanced temperature-controlled chipset. Hence, it can maintain your mug at an optimal drinking temperature range of 113°F for all day long. The mug has around 380 ml of capacity. You can enjoy your favorite tea, coffee, and other beverages at their optimum temperature.
Wondering how this mug maintains the perfect temperature all day long? Well, it rests on a wireless charging base or mugs warmer to maintain the right temperature of a beverage. Besides keeping the beverages warm, it even charges Bluetooth headsets and mobile phones with wireless charging ability. This device's maximum wireless charging output is around 10W.
The smart coffee mug uses a microsensor for controlling its automatic switch. You just need to put a power adapter to its base and further put the cup on its base. Its heater will then automatically turn on and start heating. If you don't want to stop heating, you can lift the mug and it will automatically turn off. No buttons are involved in the process!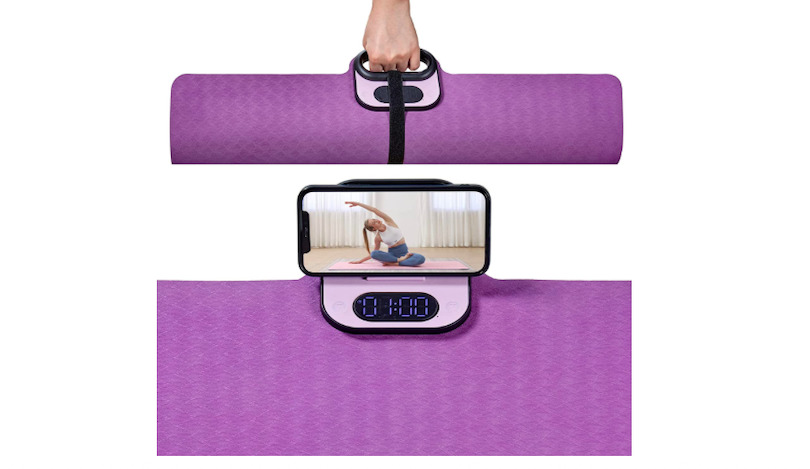 Since most people are focusing on improving their fitness these days, one requires useful equipment to keep up their fitness level. If you have health-conscious employees, consider gifting them a Chabaebae smart yoga mat. It's designed to offer you interrupted workout flow while making your exercise routine highly effective.
With its built-in phone/tablet holder for countdown timer and workout, you get to watch your favorite programs while making calls using your mobile device. You may even keep track of time for your yoga poses.
The best thing about this yoga mat is that it's grippy and durable. So, it offers ample support to the users. Due to the mat's high-density foam, it further supports sensitive joints while exercising. Made of environmentally-friendly TPE, non-toxic and PVC-free material, this yoga mat is easy on the environment. Plus, its odorless ability ensures that it doesn't stink even when you sweat on it.
We're sure your employees would love this fitness yoga mat as a gift from their boss.
Personalized Monogram Coasters – New Year Gifts For Employees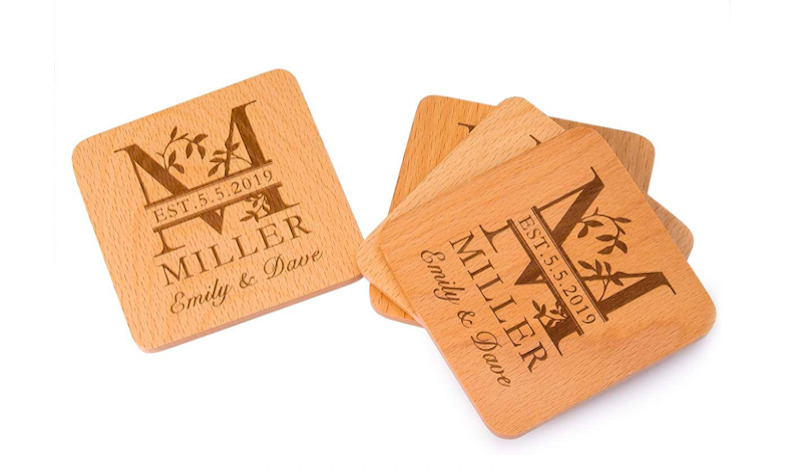 Have a look at these personalized monogram coasters. These would again make a wonderful gift option for employees. You can personalize each set with their name initial, message, special dates, joke, or whatever you feel would make your employees happy. Such fun, thoughtful gifts will give your impression of a cool boss.
Made of high-quality natural beech wood, each coaster is of 75mm thickness and 4 × 4 inches in length. This makes these coasters a perfect fit for a variety of coffee mugs and cups. Not only these coasters will protect the counters and tabletops of your employees, but also make your employees feel happy with their initials or a message on them.