Thanksgiving Table Runner Patterns
Whether you are planning a Thanksgiving dinner for 4 to 5 people or more, a little decoration is a must. This festive season doesn't miss out on the opportunity to show off your gorgeous Thanksgiving table runner patterns. No matter whether you love quilted table runners, crocheted ones, or autumn colors, the table runners add an exquisite touch of festivity to a dining table.
In this article, we will share with you various table runner ideas to deck up your dining table on Thanksgiving. But before that let's find out why to put a table runner on this festive occasion.
Why use a table runner for Thanksgiving
One of the major reasons to use a Thanksgiving table runner is that it provides more options for forming various table settings. If you have a wooden dining table, you can simply spread it on its surface for a touch of color. Moreover, the Thanksgiving table runners with textures are likely to add a dose of seasonal touch to your dining space.
For a colorful dining table, you need to keep a solid cloth that boasts a coordinating hue under a runner. This will help you create a formal yet stylish runner overlook over a neutral cloth.
No matter what style you choose and whatever your mood is, you need to pick the best options when it comes to choosing stylish table runners.
Now that you are aware of why you need to add a table runner to a Thanksgiving dinner table, let's find out what patterns to consider.
Thanksgiving Table Runner Quilt Patterns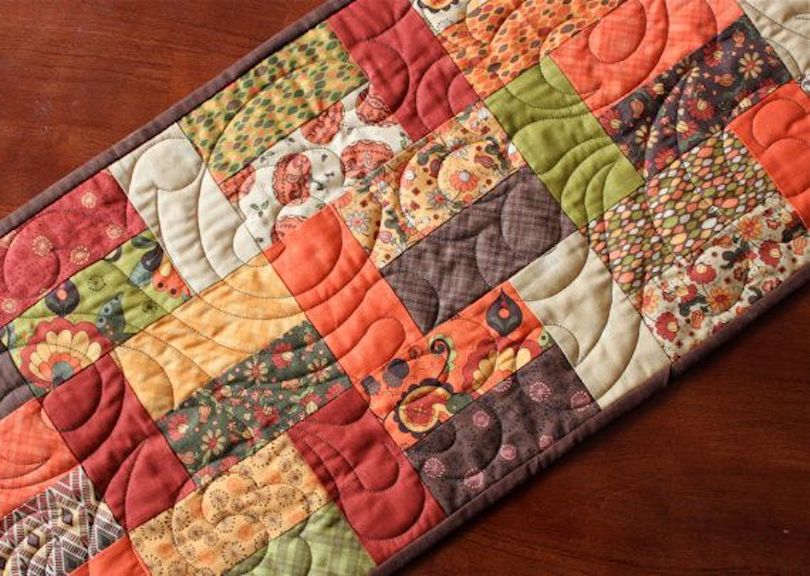 You can put your quilting skills to use for making stunning Thanksgiving decorative designs and centerpieces.
It further helps in elevating the look of your interior decor while giving your guests a welcoming feeling during the holiday season. You can also make a quilted Thanksgiving runner along with your kids during their holiday break. Follow the video tutorial (given above) to design a stylish yet practical table runner.
Strip Quilt Table Runner Pattern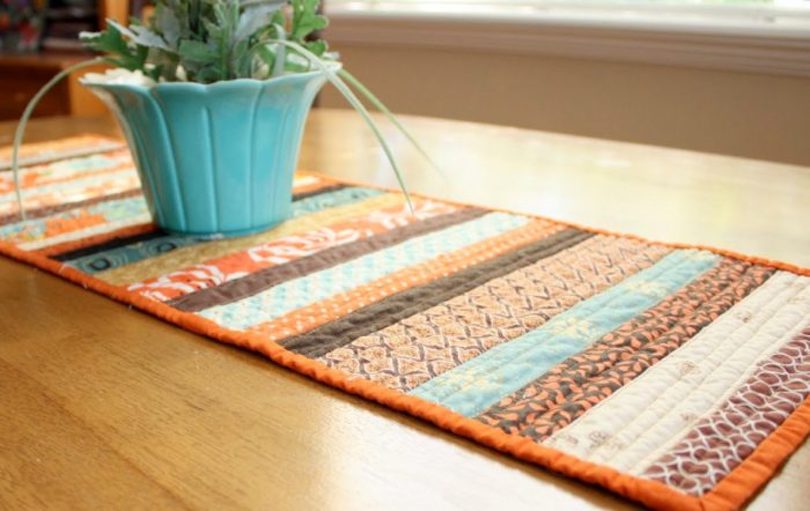 Do you have any leftover strips from different quilt projects? Why not turn those leftover pieces into something attractive at useful? You can create stacked strips of table runners using leftover cloth pieces from different projects.
This strip runner is very easy to make. All you need to do is follow the step-by-step instructions given in the tutorial above. After that, adjust the width of your strips and use as many strips as you want to use. The number of strips you attach would determine the length of your table runner.
For instance, you can use 2-inches wide strips but if you have more pieces you can use 2 and a half strips on hand. But there is no specific rule. You can increase and decrease the width as per your desire. However, you must vary the length of the strips from 3 inches to 14 inches for adding interest.
After that, sew the short ends of the strips together for making a long one. After that, mix up the color, prints, and lengths for helping create a stacked effect. Keep the seam direction in one place and you can adjust their direction if needed.
Generally, you may cut strips 17 inches wide for well-finished width of 16 inches. If you want a narrower or wider runner, cut or add the width as per your liking. After that, sew the long sides with matching ends. Trim the top of the runner, layer, baste, and quilt it as per your preference. The final product is something to admire.
Other Patterns for Table Runners and Placemats
Here are some other table runner patterns that you may consider for your Thanksgiving dining table.
Braided Table Runner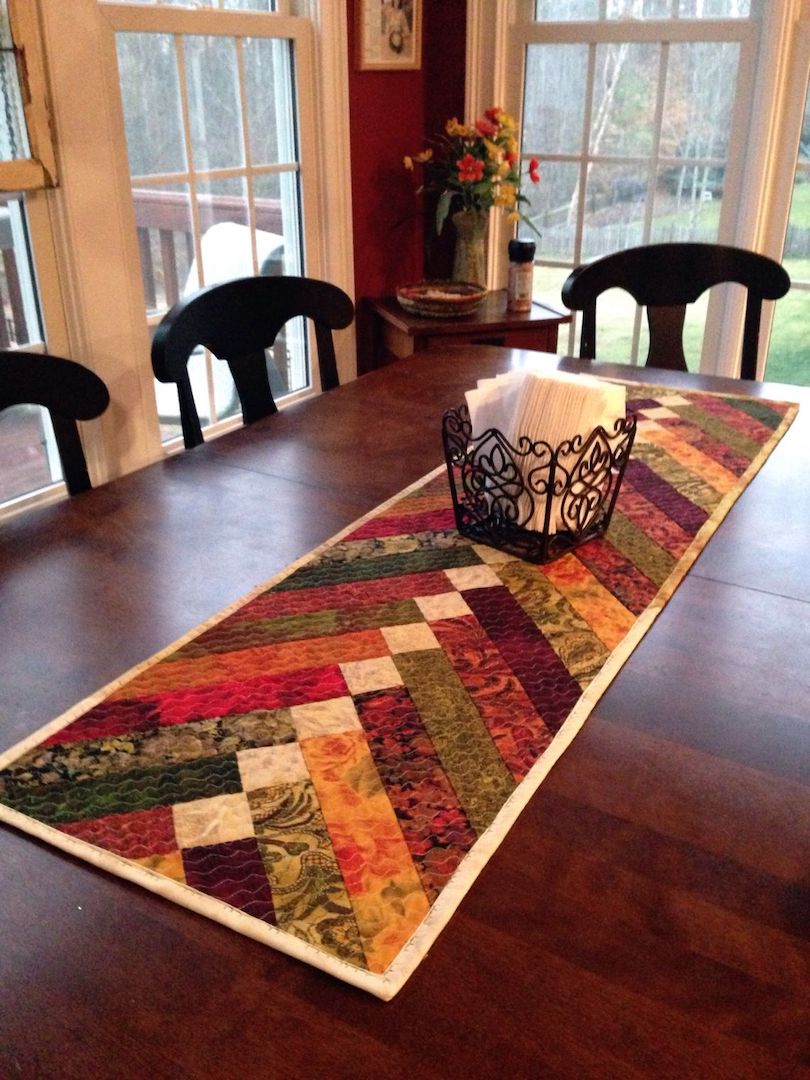 Make a stunning braided table runner with a new free table runner pattern. The aesthetic of this table runner is stunning and would uplift the visual appeal of your festive dining table. It is very easy to create too. All you need is little creativity and zeal to DIY this Thanksgiving.
Table Runner For Newbies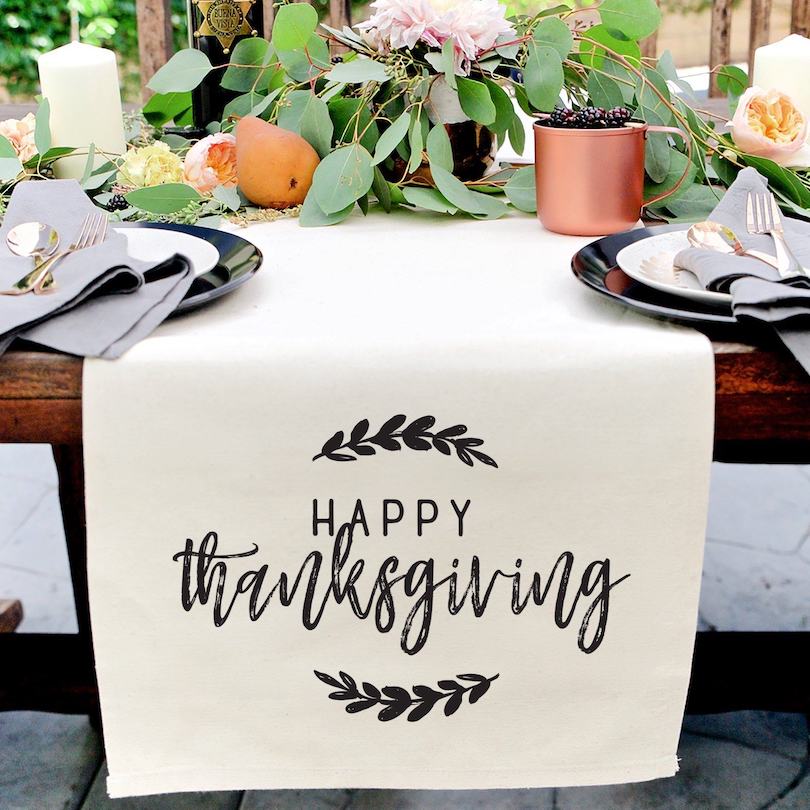 Are you smart with sewing hacks and workarounds? If so, this project is easier for you. You can make it easily using a sewing machine. This quick table runner is easy to make and even a beginner can make it with ease.
Appliqued Table Runner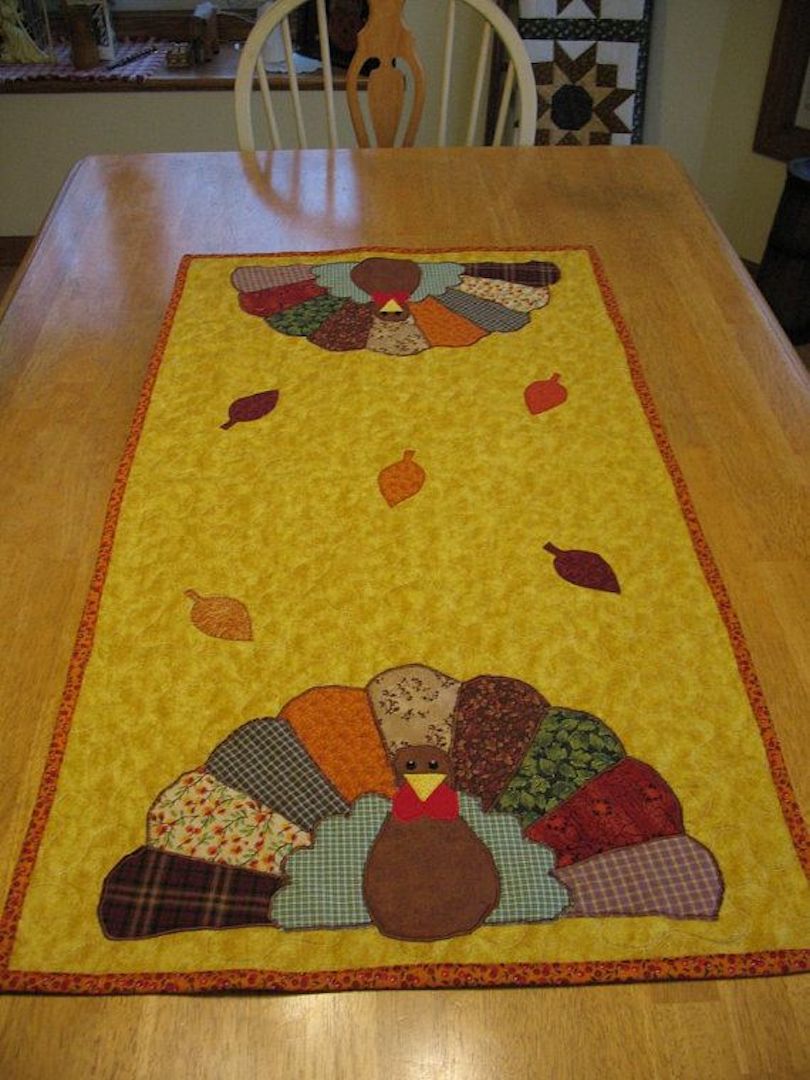 Have a look at this versatile appliqued table runner. This would add chicness and style to your Thanksgiving dinner table. We feel that it's just perfect to upgrade the look of all seasons tabletop decor. You can pick it in your favorite color and go for the DIY project without worrying. The result will be stunning for sure.
Scalloped Table Runner Pattern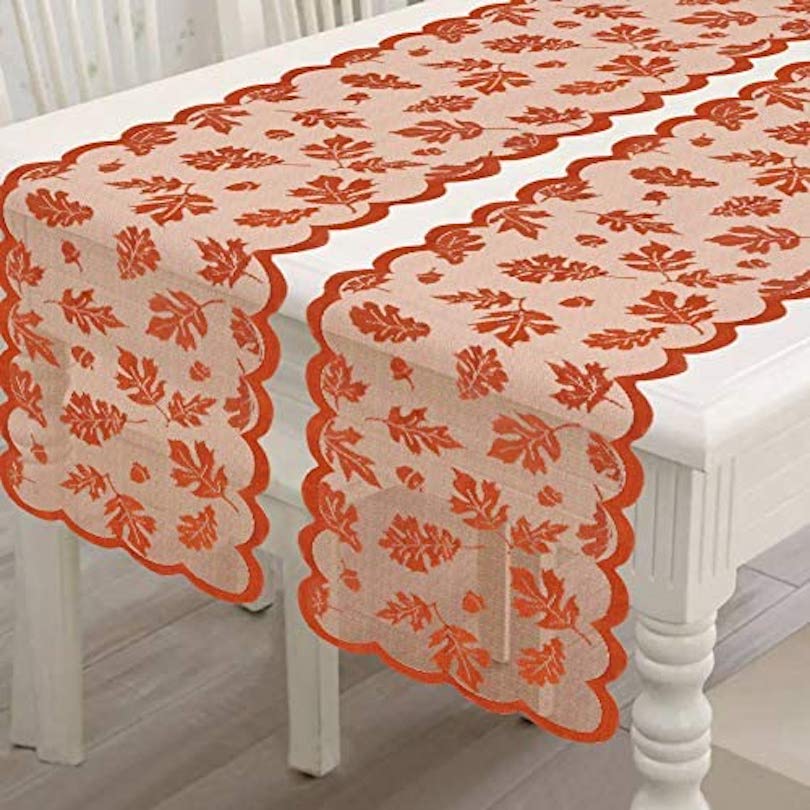 How about a cute and stylish scalloped table runner for you? It is the perfect table runner idea that's easy to sew with florals. You can go for large flower prints or subtle ones, depending on your requirement.
Vintage House Table Runner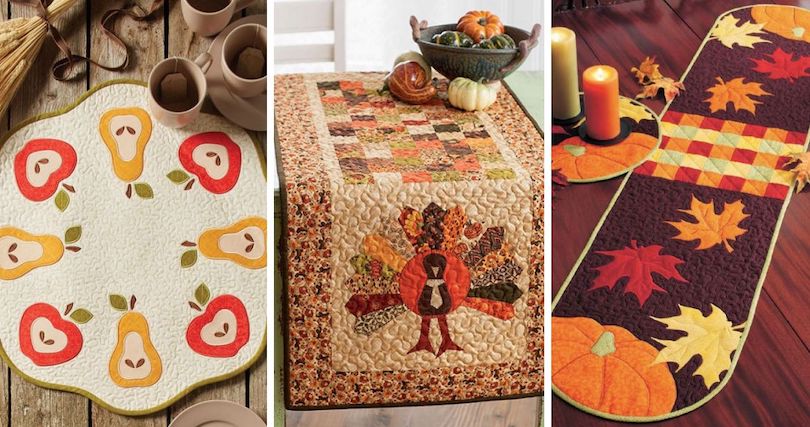 You can even consider adding a vintage table runner with a quilted pattern to your dining table on Thanksgiving. You will love the fabric lines with the quilted patterns. Plus, the vintage charm will give a classic vibe to the festive celebration.
Throughout The Year Table Runner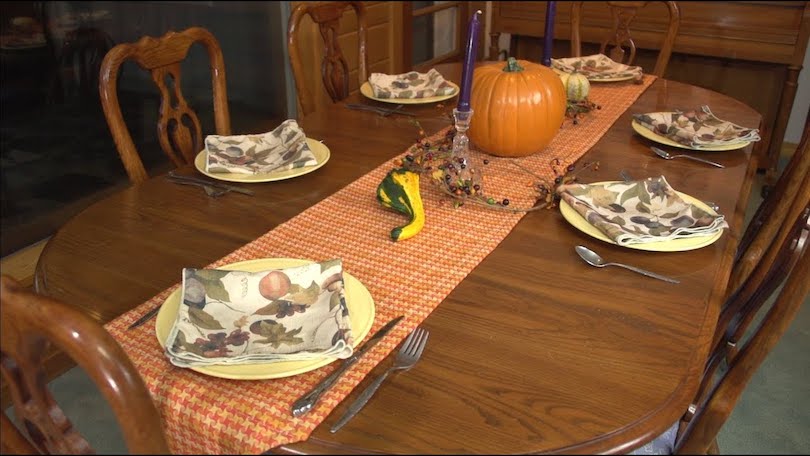 Why keep table runners just for the festive occasion? Why don't you consider adding an adorable table runner to your dining table with pieced squared and soothing color combinations? This way, it will be appropriate for the year-round table decor. Plus, it adds stunning classic appeal to the dining table. Your guests will be impressed with it.
Pumpkin Patterned Table Runner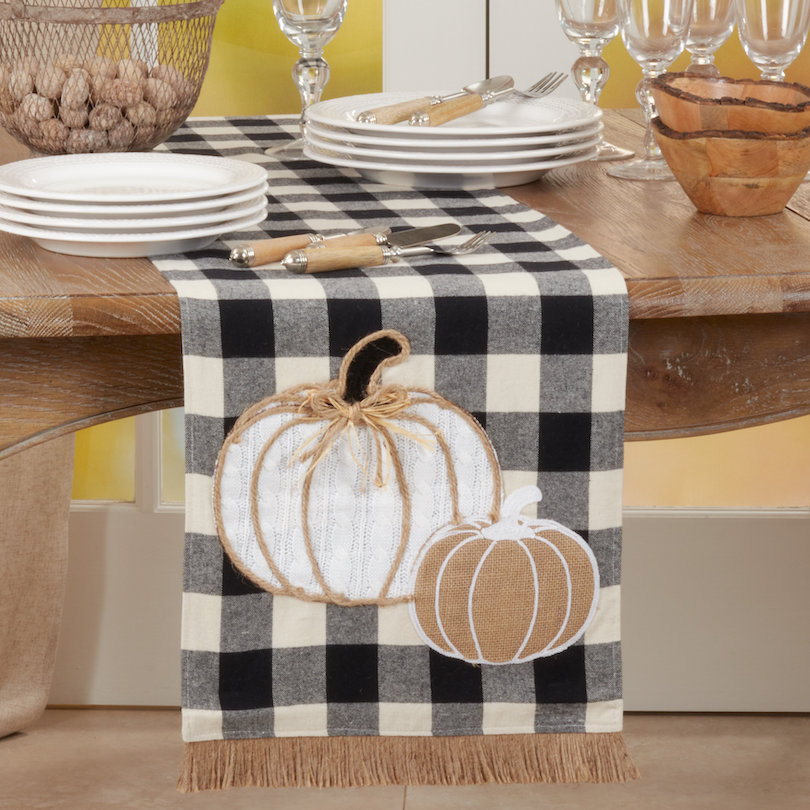 Since Thanksgiving comes in the fall, why not add a seasonal touch to your decor this year? You can consider making a cute pumpkin patterned table runner enhance the visual appeal of your festive dining space. The best part is that it is easy to make using scraps. So, collect all the leftover cloth pieces that you may have in your drawers and get started.
Customize Your Festive Time With Thanksgiving Table Runner
The given unique Thanksgiving table runner patterns and designs are great to add a festive touch to your home. You can consider any of these elegant table runners or placemats of your choice. Even the choice of fabric, colors, and patterns depends on you. While exploring the fabric options, you will start wondering why you missed out on this DIY decor last year.