How Long Does a Kitchen Remodel Take?
How long does a kitchen remodel take? This is most likely one of the questions you'd have before setting up a project for kitchen remodeling or renovation. There's no fixed time for kitchen modeling. You might completely transform the look and feel of your kitchen with spectacular kitchen designs, remodels, a variety of modern finishes, and a large selection of incredible new appliances.
Practically speaking, the length of time it takes to renovate your kitchen depends on the amount of renovation you desire. The length of time it would take to complete your renovated kitchen depends on several things, depending on whether you're planning an overhaul, big, or minor restoration job.
The kitchen remodel process is more involved and time-consuming than remodeling other rooms, including the living room, because of the close collaboration between plumbers, electricians, carpenters, and other subcontractors. Additionally, some subcontractors must wait until others have finished their job before beginning their own.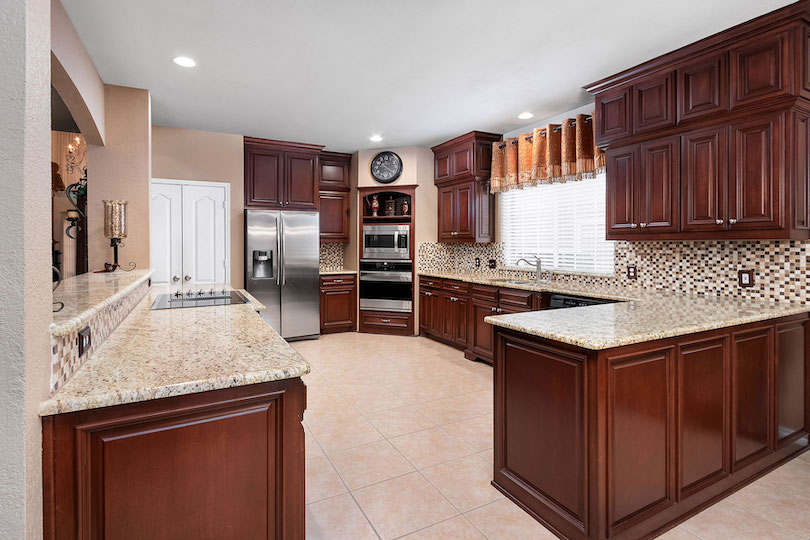 For instance, before installing a new floor and wall tiles, carpenters would always work on the cabinets first. Then, a plumber will restore the kitchen sink and plumbing. And after that, the electricians can finish up before the painters give the kitchen its finished, elegant appearance.
Not to add, whether you're dramatically altering the footprint or simply building on the existing footprint will affect how long it takes to renovate the kitchen.
Let's start now!
Timeline for the Installation of a New Kitchen
If you engage with a dependable contractor that has extensive experience with construction, installation, and plumbing and electrical remodeling, the average US kitchen makeover takes about 6 to 8 weeks.
The duration of the kitchen remodel job will likely be significantly longer if you choose to do it yourself or if you choose a less qualified, less expensive contractor.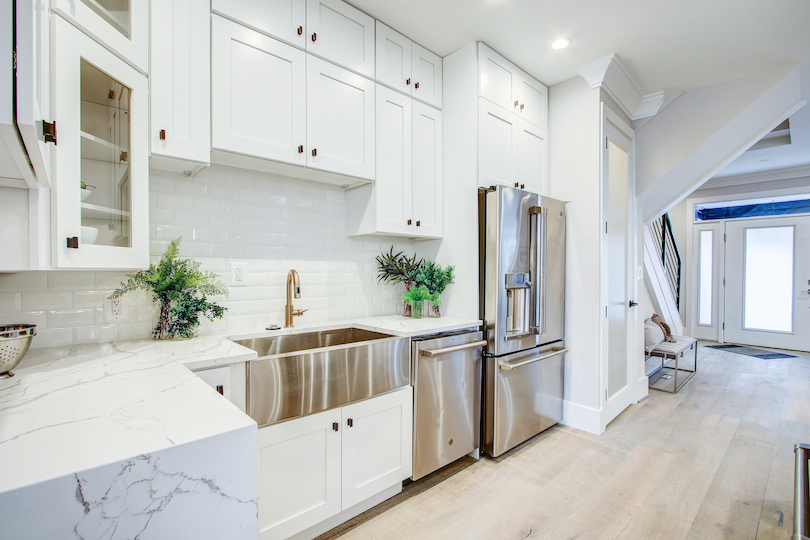 Here are some broad estimates for the anticipated timeline:
US kitchen renovations typically last 6 to 8 weeks.
Remodeling a larger or more complicated kitchen could take 10 to 12 weeks.
Large, comprehensive kitchen remodeling projects often take 3-5 months to complete.
The kitchen is a very intricate room in your house because it necessitates a lot of electrical, plumbing, and appliance work, as well as sturdy flooring, cupboards, worktops, and other furnishings.
Your kitchen remodel project will be more drawn out and delayed the more of these design elements you want to replace, so for longer remodels, you'll need to discover alternate food and cooking arrangements.
Why does kitchen remodels take so long?
Kitchen renovations take so long because you need to change several kitchen items quickly. The majority of the other rooms in your home have rather basic needs, including four walls, heating, and electricity. They move quickly and predictably.
But a kitchen is not the same as this.
Your kitchen must have adequate heating, electrical wiring, extensive plumbing, a sturdy cabinet set, resilient flooring, sufficient countertops, and all the built-in appliances (ovens, microwaves, etc.), and it must be planned so that the space can be used quickly and conveniently.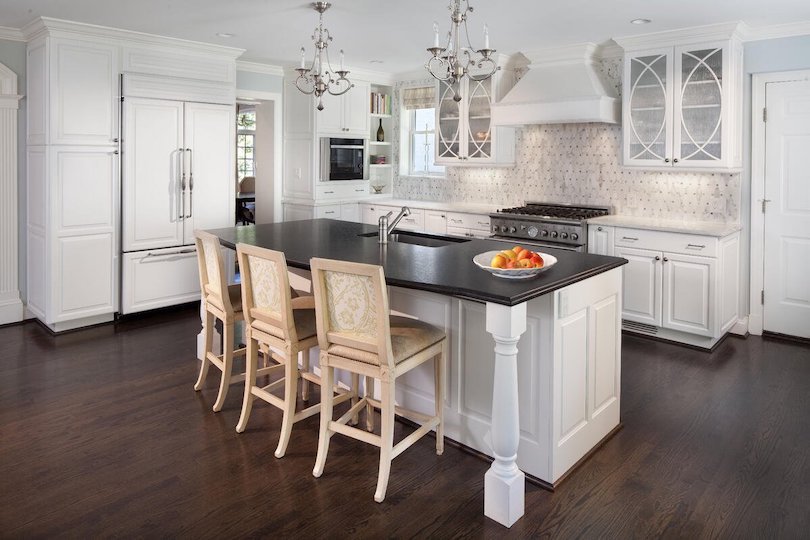 You must prepare and demolish your old kitchen before you can even start the procedure. It becomes more challenging if you rearrange sinks and ovens because the new project design necessitates a complete overhaul of the electrical and plumbing systems.
As a result, a kitchen installation's timeline is substantially lengthier and prone to unforeseen modifications!
What aspect of remodeling a kitchen is the most expensive?
Typically, the cabinets are the most expensive component of a kitchen remodel, costing between $10,000 and $20,000 for the typical US kitchen design.
The size and level of customization of your kitchen cabinets will determine how much money and time it will cost.
Consider the finish and material you choose when planning your cabinets. The cost will increase with high-end materials and fixtures, as well as with specialized shelving and storage solutions like lazy susans and adjustable shelves.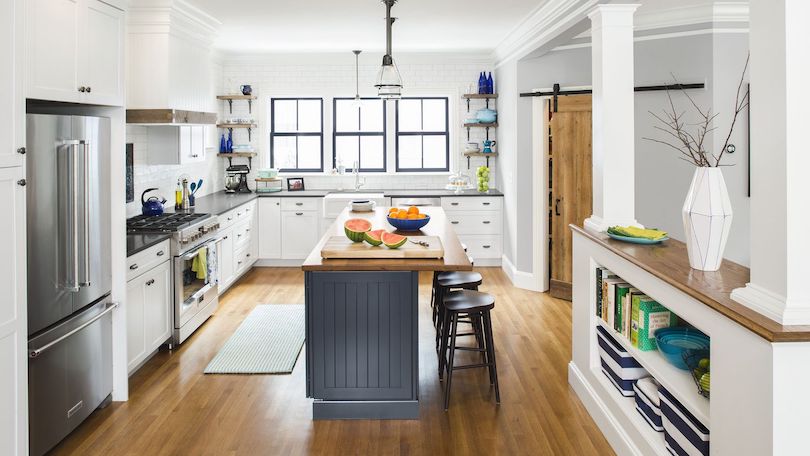 Consider prefabricated cabinets ("prefab cabinets") that are available in ready-to-go designs if you want to save money on cabinets. You can save a tonne of money by doing this!
Countertops
Counters are typically the second most expensive component of a kitchen redesign after cabinetry.
Whether it's from boiling oil, spilled liquids, knife wounds, or heat from hot pots, countertops experience a lot of stress throughout their lifetime. While there are advantages and disadvantages to each type of counter, most homeowners concur that granite countertops are the best in terms of appearance and usability.
Expect to invest between $3,000 and $5,000 if you want granite counters for your home.
By considering different materials like Corian, quartz, marble, and more, this cost can be decreased.
What is the best sequence to redesign a kitchen?
Whether it takes 2 weeks, 3 weeks, or 6 months, the majority of kitchen remodel projects are finished in the same (or similar) order and according to the most logical procedure possible.
Although this timetable varies a little from contractor to contractor, kitchen remodeling typically takes place in these 10 steps:
The 10-step process for a new kitchen (timeline)
Design and Planning –
Before construction starts, you collaborate with an interior designer (or contractor) to finish the design of the new kitchen. You finalize the project's schedule and all of your goals.
Tear-Out and Deconstruction —
Once the design is finalized, work on tearing down the old kitchen starts. You may need to demolish more or less depending on how much the existing layout and appearance will need to be altered.
Pipes, Framing, and Wiring –
The pipes and wires that ensure that your home receives water, gas, and electricity are all installed in the walls, forming the skeleton of the kitchen.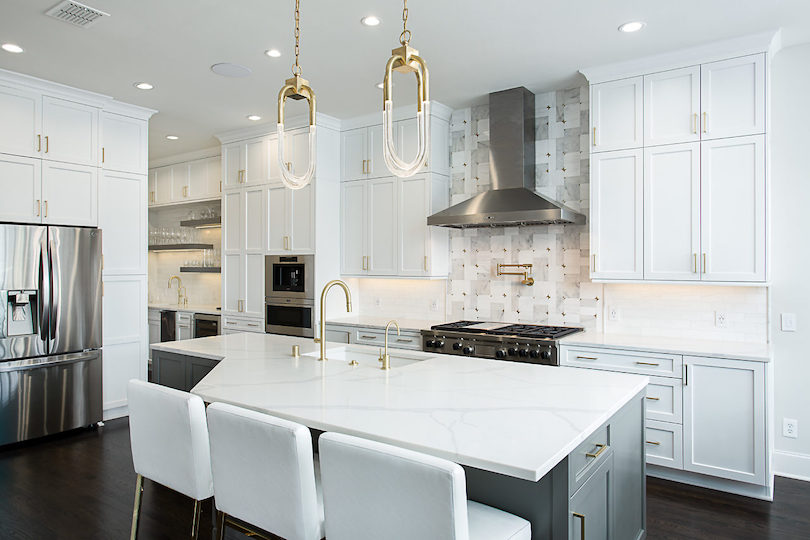 Professional Inspection –
Before project construction can move further, it is necessary to have everything inspected by the appropriate health and safety inspectors. This process can be time-consuming and is rarely completed in a single day because each inspector must adhere to their own schedule.
Finish the Walls –
After the inspectors have given the team the all-clear, the crew may begin to cover the walls, concealing all the allowed piping and wiring.
Windows and Doors Installation –
During this stage, the new kitchen's windows and doors would begin to be installed. This will go quickly if the layout stays the same as previously. It might take longer, though, if the final design calls for new windows and doors and a new floor layout.
New Flooring Installation-
The timing of this stage varies from contractor to contractor, but many construction teams feel that the floor should be installed around this time. This is particularly true if your floor is made of really sturdy wood or tile that can tolerate continuing construction.
Plumbing Fixtures, Faucets, and Cabinets Phase:
At this stage, the kitchen begins to take on the appearance of a kitchen. The major pieces of furniture are put in place, along with the kitchen cabinets, sinks, faucets, counters, islands, and other sizable portions of the room that start to complete the overall appearance.
Install Appliances –
The last set of appliances should now arrive. Ovens, microwaves, refrigerators, and any other items mentioned in the remodeling design fall under this category.
Voila! – Your brand-new kitchen is finished! Before approving the project, the contractors may add additional finishing touches, review their punch list, and generally ensure that the design renovation meets your expectations.
Conclusion
Depending on what you have planned for installation, the step-by-step procedure of kitchen remodeling could take a long time—anywhere from a few days to half a year.
While the procedure can be time-consuming and frustrating, just keep in mind that "Rome was not built in a day." To create and set up a perfect kitchen, it's best that you take your time and then enjoy the result.