Stunning Floating Staircase Design Ideas For Modern Homes
Do you want to upgrade your house? You can consider installing floating staircases to create a dramatic interior transformation. No matter you have an industrial, contemporary, traditional, country chic, or any other interior design, there are ample floating staircase design ideas to fit your existing home decor.
Whenever you want to deck up your home, floating stairs are not what comes to your mind first. But when you blend a floating, modern staircase with a minimal and sleek railing, this basic feature can turn into a statement piece. It is more like having a modern art and functional installation for your home interior.
Also Read: Amazing Staircase Designs With Steel or Wrought Iron Railings
If you want to create a perfect floating staircase for your home, you need to:
Choose a perfect stringer system
Customize your stair treads
Install a custom railing
At Pepuphome, we share with you the stunning floating staircase design ideas to install in your modern home. We understand that sometimes one needs some guidance to inspire them to get started for a perfect change in their home and life. If you are ready for that change, continue reading to find out in detail.
What Is a Floating Staircase?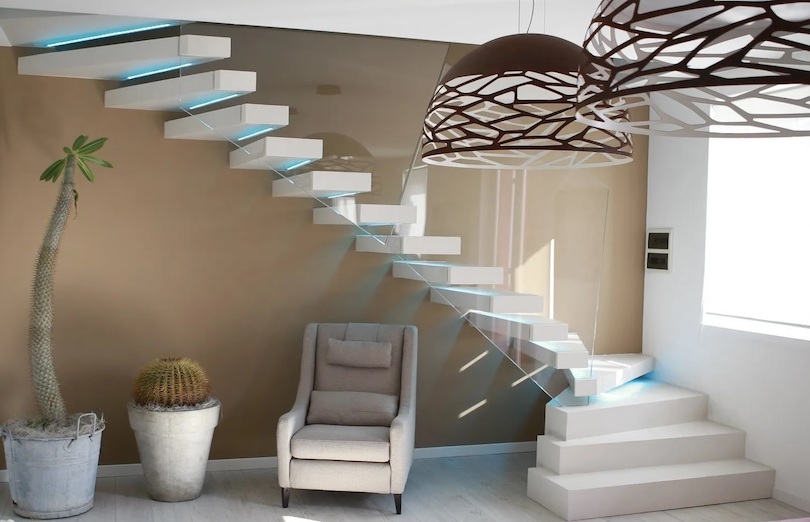 A floating staircase, also known as a self-supporting staircase, is ideally designed to hide or minimize the staircase structure. It gives them perfect mid-air, trademark floating appearance. You can depend on the current building codes as per your municipality. Depending on that, you can easily install gorgeous floating staircase designs with or without a handrail. Furthermore, you can enhance the floating look of this staircase.
Benefits of Floating Staircase Design
A floating staircase design ideas offer numerous benefits to homeowners. Have a closer look at some of the major advantages of installing floating staircases in your dwelling.
1. Floating stairs are one-of-a-kind and enhance the visual impact of an interior
A floating staircase design ideas are perfect to add flair to your home. With a unique layout of floating stairs, you can add an accent to your interior with a simple and modern appearance. The levitating look of these stairs seems to be lightweight and is likely to suit any home style or interior.
When floating stairs are paired with an open floor plan, they let in more light to enter your house. This helps you to create a naturally airy, lit, and comforting home environment. All this makes it an ideal statement piece for homeowners who would like to have an open or modern downstairs in their abode.
2. Floating stairs are very versatile
Another major advantage of floating staircases is their design versatility. One can install floating stairs in various ways that allow them to fit in a wide range of room sizes and spaces. Furthermore, there are different types of stairs, such as:
L-shaped stairs
Standard or straight
Spiral staircases
Winder stairs
U-shaped stairs
Cantilever staircases
Even there are several options for railings as well. You may even choose from several stair tread materials. It includes steel, glass, and wood. For many homeowners trying to create an inviting and warm interior look, wooden stair treads in different wood species are an ideal option. Wood is very versatile in terms of thickness to cut them easily while having various texturing options.
3. They make an open floor plan for any desired interior
With the help of traditional staircases, the adjoining room views are blocked. It can also create cramped living spaces with a limited view of your house. However, the floating staircases help you to create a perfect open space between different rooms. They also make the spaces within your house appear more expansive and larger.
The floating staircase is an ideal solution for smaller spaces. You can incorporate floating staircase design ideas in your home to have a sense of extension and openness. Alternatively, a floating staircase makes a beautiful addition even in homes with a larger space.
4. They provide convenient and practical storage
Since the floating stairs can conceal their support, it opens up the areas beneath them to have ample storage space. It is a great convenience for homeowners if their home has limited storage space. These stairs are also great if you want to have an extra room for creating an additional means of storing your personal belongings. So, consider floating your staircase well-designed with extra storage.
Design Considerations For Floating Stairs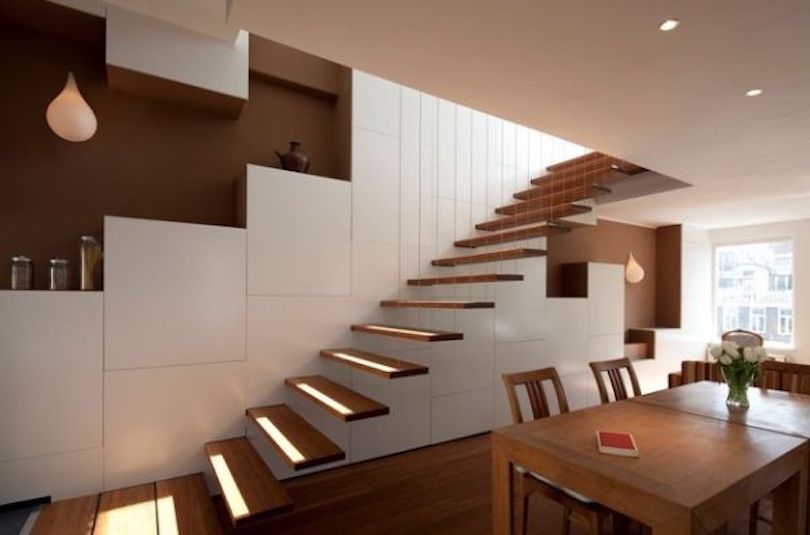 There are some important aspects of your space and structure that you must keep in mind before designing a dream floating staircase. Here are a few things that you need to keep in mind before considering the installation of floating stairs in your home.
Stair Turns
As per your design and location requirements, a staircase may be U-shaped, straight, switchback, or may include a 90-degree turn. With a floating staircase, you can accommodate each design in your mind. However, you have to understand that the path of the staircase can make other design decisions quite helpful.
Style
Floating staircase designs are simply beautiful. They are ideal for a minimal, open-floor concept design. Meanwhile, it helps you to add a modern twist to any modern or traditional space. You can create an ideal floating staircase with several design elements. Or, you can consider customizing your unique style as per your home interior.
Stringer Design
There are three stringer options to choose from, such as Stratus, flight, and terrace. Each option offers you a distinctive appearance. The flight comes integrated with an optional LED lighting fixture. The terrace also lets you select your option from a dual or single stringer option. And, stratus further comes in three distinct designs. You even have the option to customize the finish of these staircase designs to match the flooring. Hence, you can have a seamless appearance to make your space appear effortless.
Treads
Even the treads come in various thicknesses and styles, depending on a wide range of stain and wood options. They may even be pre-distressed for instant lived-in appearance. Even the treads also come with optional features, like bracket covers, grip strips, and endurance treads.
Installation Location
The floating staircase system depends mainly on the installation location in your home. The staircases needed to be perfect for indoor and outdoor spaces, no matter where you want to install them. You even need to take into account the instant surroundings and check whether the staircase needs to be floating in the middle of a room or against a wall.
Handrail Style
You can choose handrails in different finishes, profiles, and materials. Make sure that the chosen material fits well with the overall interior design of your living space.
Code Compliance
Most regions adopt the International Building Code that's created by the International Code Council. However, it is common in the local jurisdictions to meet particular code requirements. So, make sure to check the relevant building codes or consult a local expert to meet the requirements.
Materials
When looking for floating staircase design ideas, you also need to consider the right materials. There is a wide range of options to select from. You can pick from a huge list of wood finishes and species, cable, rod, or glass railings. Moreover, there are also a variety of handrail materials and styles.
It may be overwhelming to include all design elements for a floating staircase design. But choosing most of them can help you make the right decision.
Floating Staircase Design Ideas For Inspiration
Want some design inspiration? Have a look at the given unique project ideas to give a fabulous visual appeal to your residential interior.
1. Floating Staircase Design Ideas with Zigzag Stringers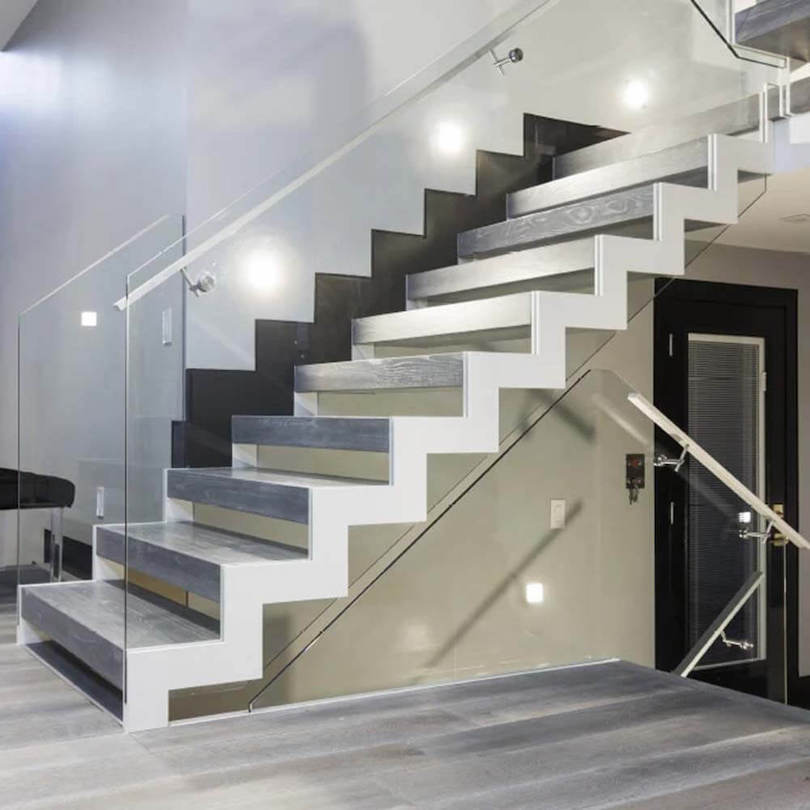 Have a look at these custom floating staircase design ideas. These boast steel zigzag stringers to have sleek and modern aesthetics on the staircase. You can even coat the stringers to have a contrasting hue from the grey stair treads. Another additional detail for this type of staircase can be an integrated LED lighting strip. When illuminated, the lighting strip will add a striking visual appeal to the stairs and the overall living space.
You can even consider the zigzag double stringer staircase with inviting wooden treads and cable railing. There are endless design options to choose from. Just go with the one that touches your heart.
2. Enclosed Double-Stringer Stairs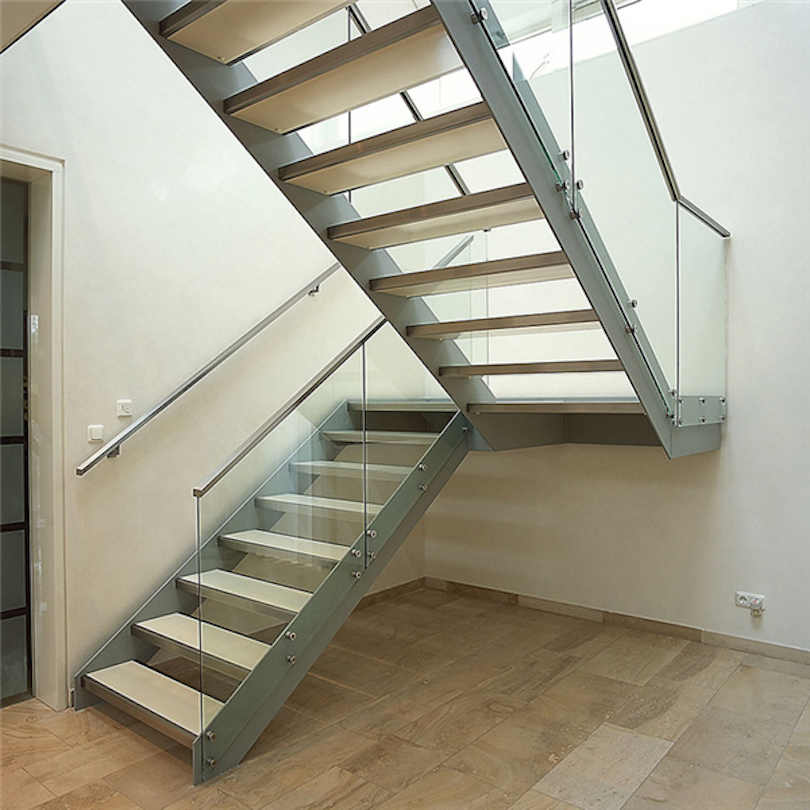 Another stunning floating staircase design to consider is the enclosed double-stringer stairs. These are perfect to add an open feel to your house along with a spacious interior. Furthermore, look for a design that does not obstruct the natural light streaming through the windows. For meeting all these design requirements, you can match the modern rustic appeal of the barn within your home.
Or consider a custom staircase design with a custom cable railing. The open riser stairs with welded stringer channels can enclose the treads on either end. For the stair treads, you can choose a thick wood material that complements the exposed flooring or beams in your living space. Or consider designing a unique style cable railing with staircases, exterior deck, and interior balconies. The railing system may even boast the "Dazzling Pewter" powder-coated posts of steel along with the wooden treads.
3. Floating Staircase Design Ideas with Glass Railing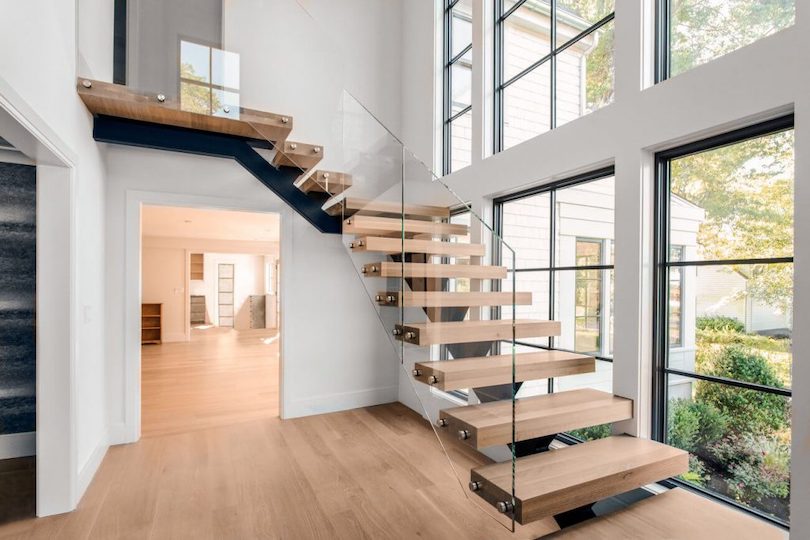 Floating staircase designs with glass railings are great for such a grand foyer. These are ideal to match with an open-concept home's architecture. The staircase boasts a mono-stringer and open-riser design. And, also features a steel stringer with copper powder coating to match the metal accents running throughout the home.
The color of the copper blends perfectly with the stair's wooden treads. Hence, it creates a perfect dramatic contrast with the walls. However, it's in a perfect sink with wooden flooring. The custom glass railing of these staircases adds transparency and simplicity improve the elegance of the minimalist and spacious entryway.
4. Industrial Floating Staircase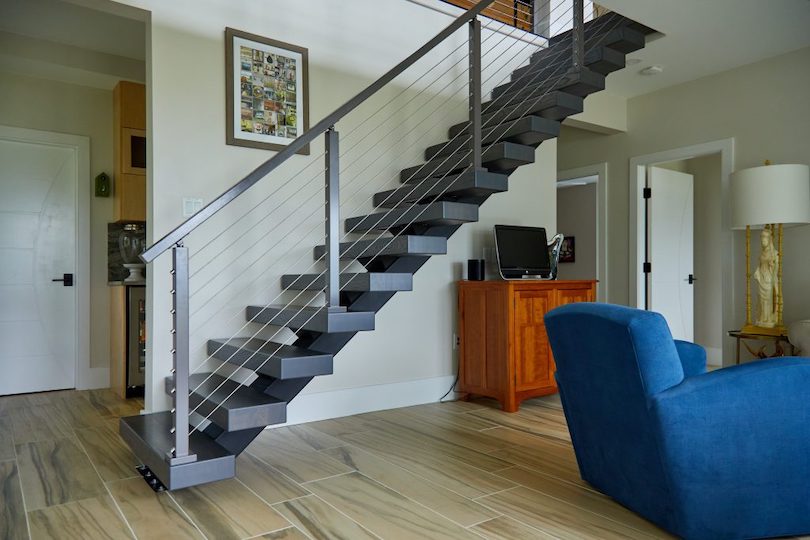 Check out this exquisite commercial-grade staircase for your home or even office space. The design adds a unique industrial feel to the interior with its metallic treads and railings. This staircase design is perfect for a contemporary and minimalist interior.
To attain a stunning aesthetic, you can consider using materials with simple or distressed looks. For instance, the industrial stairs can add a unique look to the interior. After a look at these floating stairs, we feel as if they are out strong from the mill. Likewise, you can look for some more industrial designs that appeal to you or match the interior of your home.
5. Rustic Floating Staircase Design Ideas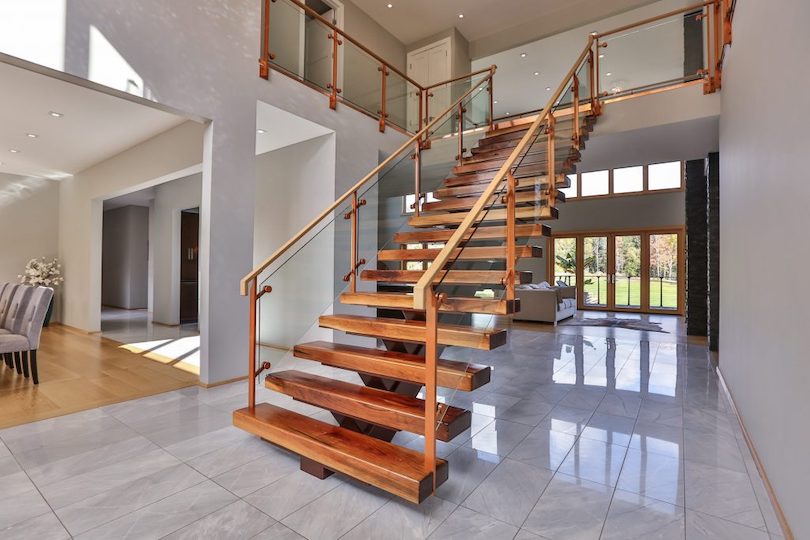 How about a completely wooden floating staircase for your home interior? Well, if you want to add a rustic flair to your interior, this staircase is an ideal option for you. It is great for homeowners who want the stairs to have a modern but rustic appeal. But if you don't have a similar rustic interior like these stairs, you can even consider adding this stair design to an all-white interior. Or into a contemporary interior with minimalist design.
For more sleek and minimalist appeal, you can design the double-stringer floating stairs with cable railings. Such stringer and cable railing posts are ideally matte with powdered-coated steel. They even add a perfect match to your warm interior. Or consider adding them to the wooden flooring and cabinets in your home. Also, consider adding thick wooden treads to balance out the support beams.
6. Monumental Floating Stairs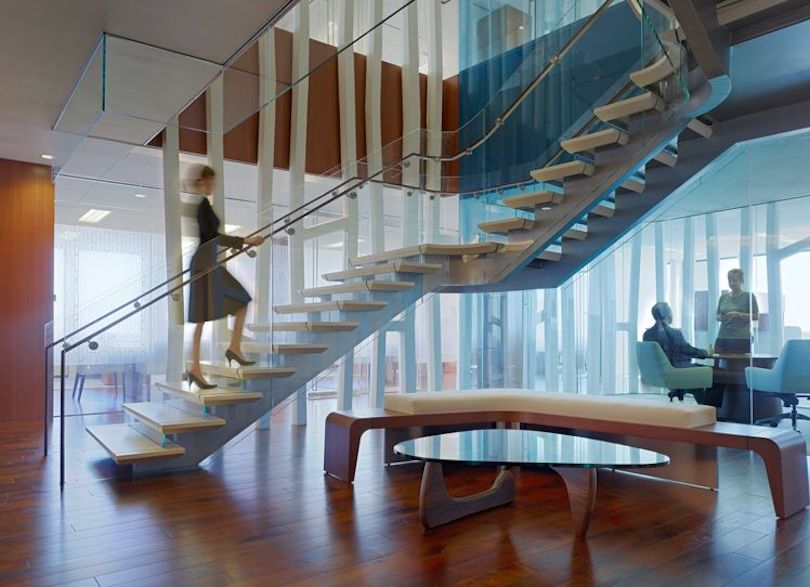 This industrial interior adds more visual appeal to your home with the addition of the monumental staircase for the stunning production floor. It boasts a modern, commercial-grade staircase with a floating layout. This whole interior setting looks as if it comes right out of an industrial setting.
If you look at the image closely, it boasts hefty stringers along with a halfway platform that runs up the stairs. And, the I-beam steel stringers can also be a wonderful addition to these stairs. The contrasting colors of the interior add more visual appeal to the given space. The railings also boast sparkling silver steel right over the glass panels. Overall, the look of this stunning staircase is striking and aesthetic to look at.
7. Grand Entry Split Floating Stairs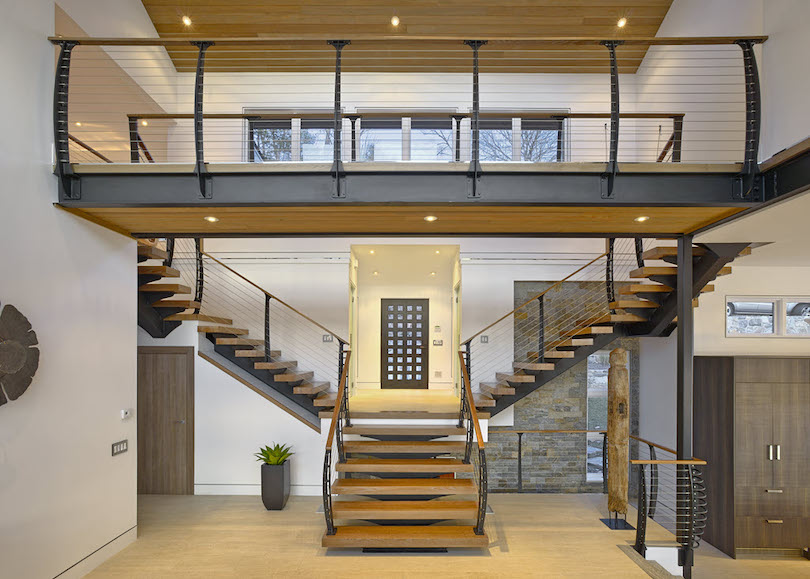 Another stunning floating staircase idea to consider for your home is this grand entry split staircase. These are great for a large-scale, open-space interior with a contemporary and unique appearance. To get this visual impact, you can add fabricated and a split floating staircase along with a stunning cable railing system. It also continues to have an upper-level catwalk in an open-concept and spacious entryway.
Each run of these stairs boasts a steel stringer along with mounting plates along thick wood treads. For matching the elegance of this grand staircase, the railing system looks appealing with the curved steel posts.
8. Cantilevered Stairs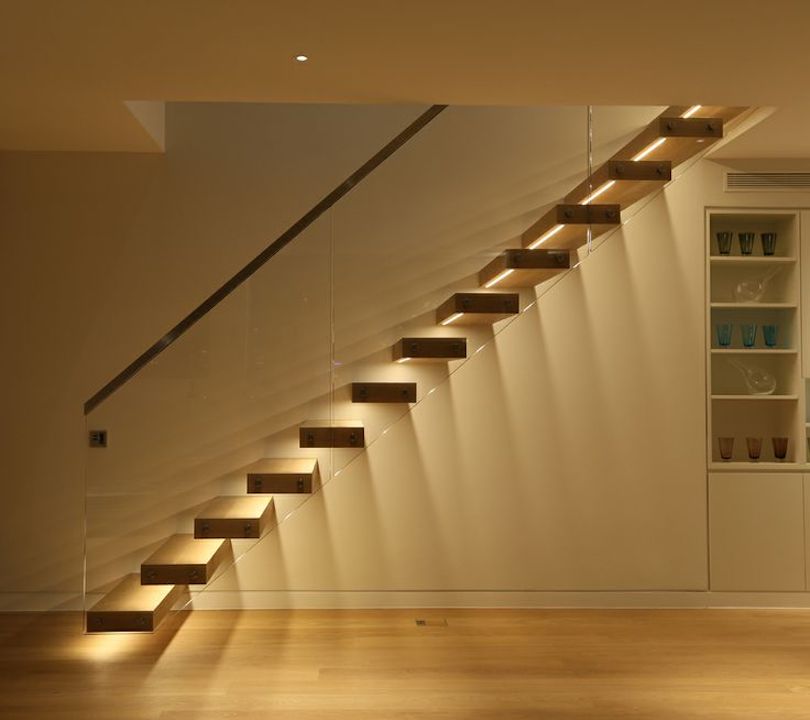 Add luxurious and modern appeal to your home with a cantilevered floating staircase design. This interior boasts a minimal layout with a custom staircase layout. You can add into your interior to have a lightweight interior with floating treads.
The staircase boasts a cantilevered and unique design. It also means that the treads are perfectly anchored on a wall. These are well-connected by a glass stringer running parallel to the wooden treads. These stairs also help you to create an illusion as if you are floating in the air whenever you walk on these treads.
9. Brazilian Cherry Tread Stairs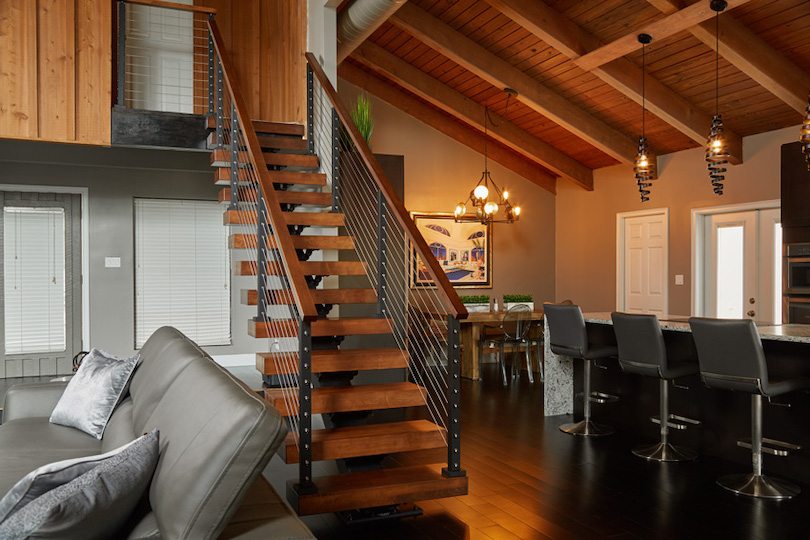 Whenever you want to renovate your home, your main priority needs to be to create a house reflecting your style. If you always liked the idea of a floating staircase, you can choose to customize a design. For instance, you can consider adding a double-stringer, open-riser staircase design along with 8″ by 2″ steel tubes.
The stringers can have a black powder coating to add more to the texture and warmth of the given floating stairs. For your stair treads, you can choose timber for adding a warm feel to your interior. The best is to select the Brazilian cherry, which is also known as jatoba. So, use this specific wood species to hold the cable railings on the top rail.
10. U-Shaped Floating Staircase Design Ideas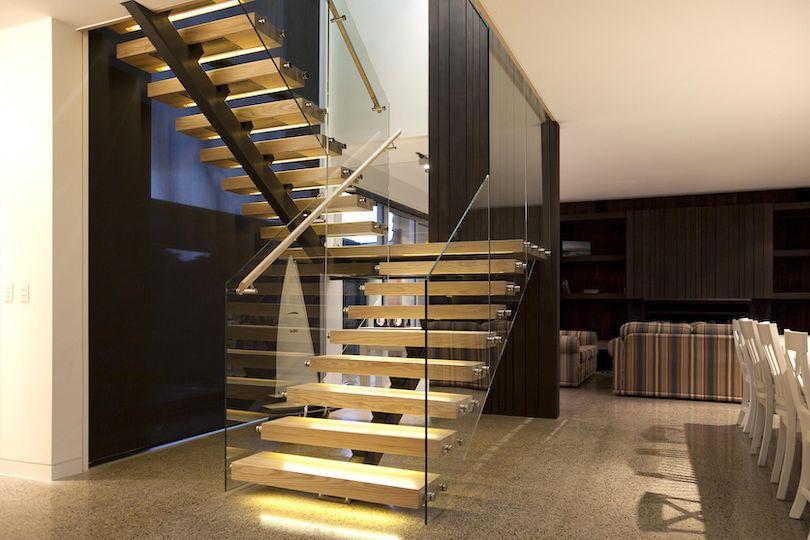 This U-shaped floating staircase design is ideal for both the outdoor and interior space of your house. It looks amazing with a cable railing with balconies and multiple decks. Due to their floating design, these stairs can fit nicely into any small space with an open home entryway.
For accommodating the floating staircase into your home, consider these U-shaped stairs. These stair styles boast two sets of straight stairs running in opposite ends. Plus, these are connected by a solid platform. Furthermore, the staircase boasts wood treads and a steel single stringer for your home. You can also give your stairs a contemporary feel to the given space.
11. Sawtooth Double Stringer Stairs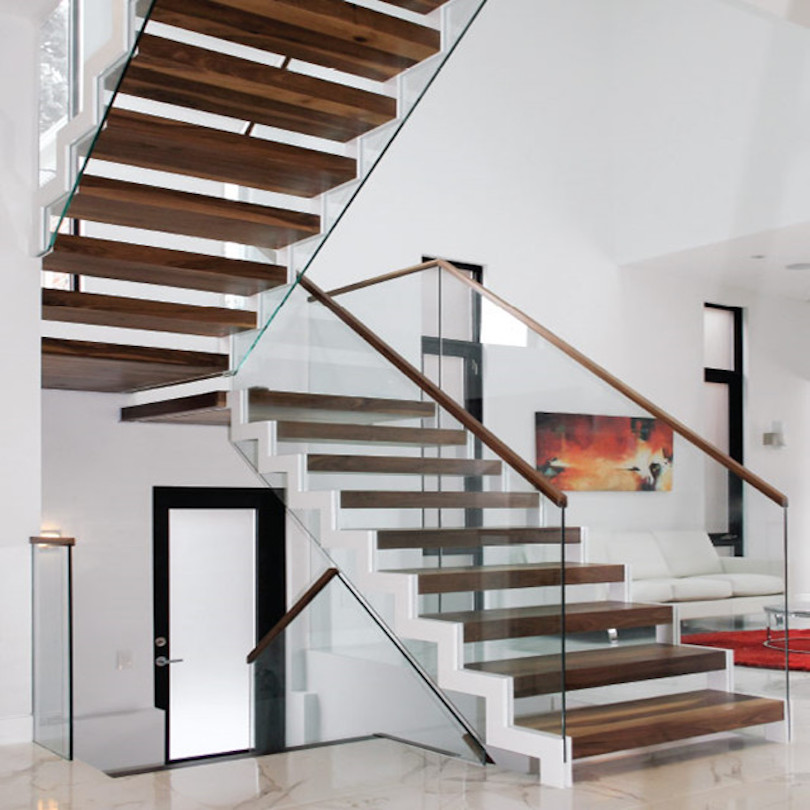 The mid-century modern home renovates your home with open space. It also enables you to through more light to flow into the room from the floor-to-ceiling windows throughout the room. The design of this interior is fabricated for its custom saw-tooth double stringer stairs with open risers. It also helps you replace your closed stairwell. The railing posts further get side-mounted, as well as welded directly to the stringer of the stairs. It is best to choose the timer for treads and glass panels for railings. The new staircase is a perfect line with sharp clean lines that are perfect to complement the interior design of any modern home style.
With these design inspirations, you can add a statement piece to your home. Besides being a striking design statement, floating stairs are simple and sleek to add visual appeal to any modern interior.