Best Wall Color for Brown Furniture
When used with the right color scheme, brown furniture can be quite fashionable. Selecting the right wall colors is the key to enhancing your favorite pieces of brown furniture. Follow these interior design suggestions for selecting paint colors to showcase your furniture in the best possible way, whether you've inherited your grandmother's mahogany dining room table or are deeply in love with a sleek chocolate-brown sofa.
Pick the right color scheme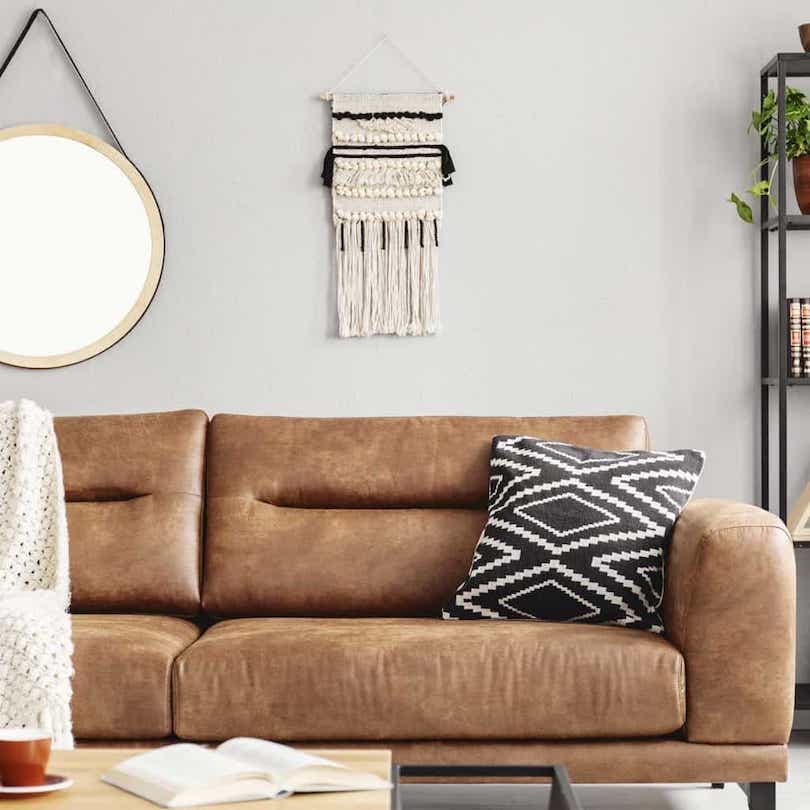 Furniture in the living room or dining room that is brown is a versatile choice because it may convey a variety of moods. A room with brown upholstery or wood as its focal point can be cozy and inviting, earthy and natural, elegant and sophisticated, or completely glam depending on what it is matched with. Determine the general vibe you want to create before choosing the walls to go with your brown furniture. Discover your brown-furniture personality by reading on.
Create Calming Haven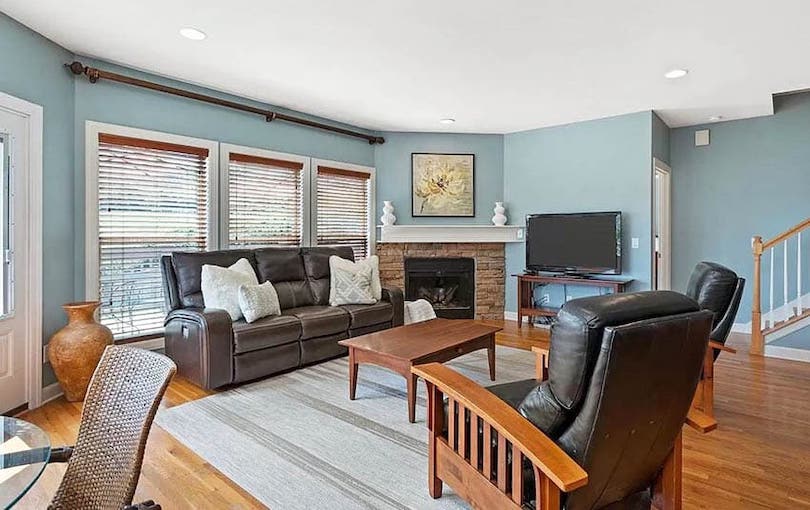 For those of us for whom "Netflix and Chill" were invented, this is the best option. If comfortable socks, a crackling fire, and small parties are your thing, you'll probably be happiest in a setting that exudes coziness and intimacy.
The ideal approach to match dark brown furniture, such as a sofa or other pieces, is with mid-toned walls. Consider warm golden yellows, mellow medium blues, tranquil greyish greens, creamy tans, or calming greys. Think softly; you don't want your walls to encompass you so much as pop them open.
Choose wall colors that are a few shades darker if your furniture is mid-brown or wood, which will increase the cozy feeling. Again, your goal is to keep everything soft and cozy, so stay away from bold or strong hues.
Natural Organic Oasis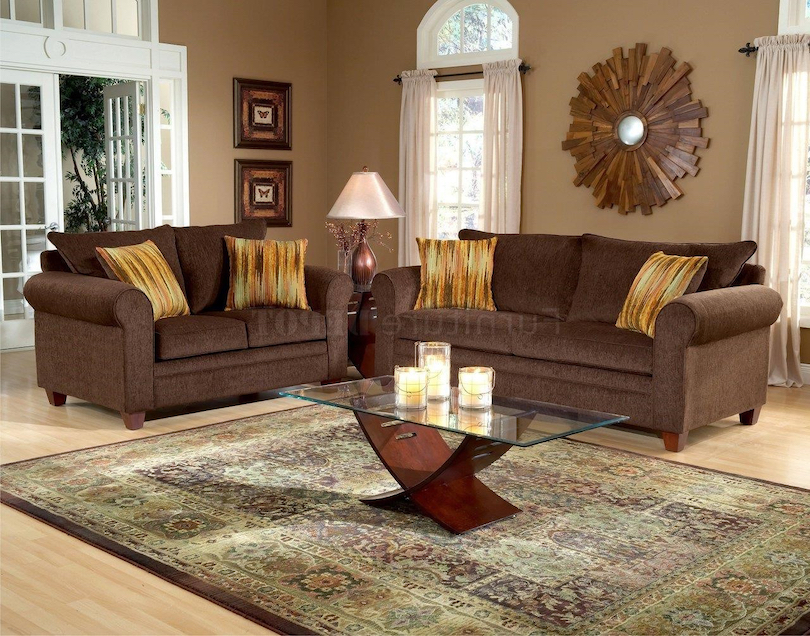 You will love living in a space that was influenced by nature if you prefer to go hiking instead of shopping. Luckily, brown furniture makes it simple to achieve this. The earthy color of the soil and the trees, brown, was chosen by Mother Nature herself with a keen decorating eye! To produce a warm color scheme in this situation, you can really lean on earth tones.
Think of rich terra cotta and mustard yellow to conjure up a sun-baked Tuscan landscape, burnt umber and warm peach for a southwestern palette, green for a verdant jungle vibe, a jumble of greys and ivories to mimic the natural mosaic of river rocks, and sky blue for a brilliant contrast to bark brown.
The texture is important in the room with a natural theme. Wallpaper made of grasscloth and rugs made of natural fibers like sisal, jute, and seagrass may both provide a lot of earthiness. Your living space offers numerous opportunities to mix up the textures. Consider a hide rug, stone-topped coffee table, nubbly boucle throw cushions, and clay pots as accents.
Sophisticated Elegant Enclave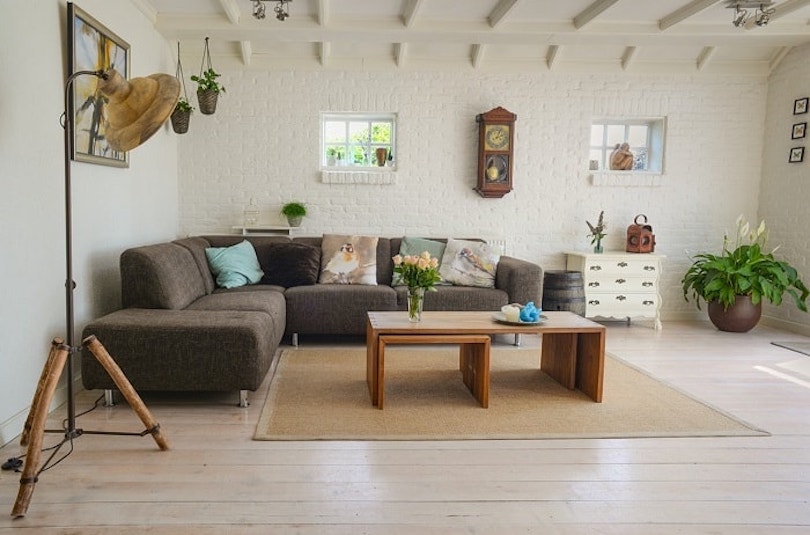 You may consider adding rich, glossy brown to your interior. After all, brown can be just as iconic and stylish as traditional black and white. Any shade of brown, from light sand to dark chocolate, appears incredibly opulent when paired with creamy ivory walls. The dramatic contrast with the brown hue gives off an affluent, classic vibe.
Consider adding a chic cornflower blue as an accent color for contrast, or stick to a tonal palette of neutral hues like ivory, sand, camel, caramel, and cocoa.
Although all tones of ivory walls go perfectly with brown, the coldness of pure white detracts from the warmth of the color, so make sure to stick with softer, mellower tones. A tonal contrast, not a glaring one, is what you want.
Glamorous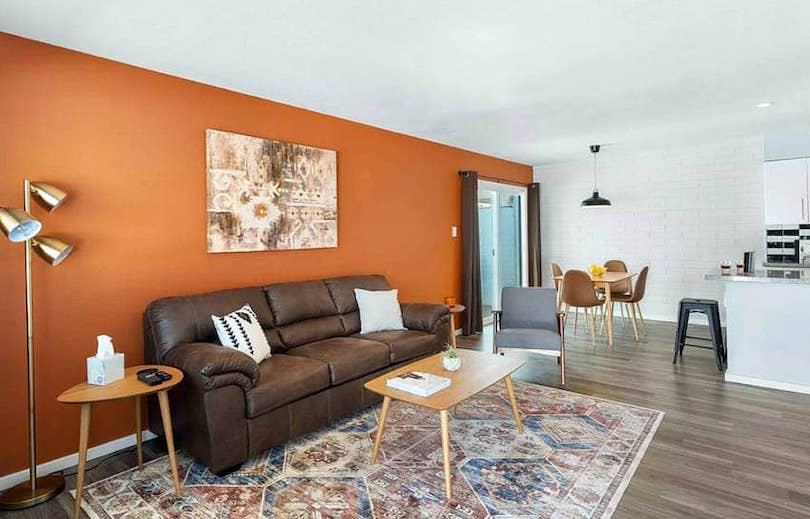 If being brash and brazen is your thing, add some color to bring out the best in your brown furniture! The contrast of deep brown and orange is one eye-catching combination that works well. Additionally, orange walls bring a lot of joy into any room.
Any orange that closely resembles a genuine orange should be used; even tangerine looks wonderful with brown. You may transform a space into a spectacular 70s-inspired glam pad fit for Charlie's Angels by adding an ivory rug or other furnishings, some sparkling brass accessories, and other finishing touches.
By the way, you don't need to paint the entire space orange to achieve the desired oomph. You may always select one wall to serve as an accent wall and still receive a lot of aesthetic impacts.
If you don't like orange but still want elegance, think about painting your walls a rich, glossy brown. Going brown over brown may seem counterproductive, but it can produce a dramatic and rich continuity. Choosing high-gloss paint for the walls to help reflect light is essential to prevent your space from feeling like a cave.
Any color looks particularly special against brown furniture when painted on the walls with high shine. However, to ensure you receive a smooth, even finish, be sure to hire a qualified professional painter to prepare the walls for high-gloss paint.
Conclusion
In a bedroom with brown furniture, any of the wall color ideas from above will look great. Many people focus all of their decorating efforts (and resources) on their living rooms, but since your bedroom serves as both your beginning and your end of the day, it deserves some attention as well. Follow these tips to make your brown furniture the stuff of dreams, whether you sleep in a contemporary wood platform bed or one covered in brown velvet.